Overview
Page created February 2021. Last updated 14 December 2021.

Flooding in Beales Corner
Bewdley is subject to significant flood risk from the River Severn and has flooded a number of times. The most significant flood events have been in 1947, 1965, 1998, 2000, 2002, 2004, 2008, 2014, 2020 and 2021. During the most recent events (2020, 2021) some homes and businesses were flooded.
These flood events impact on people's homes, businesses and the local economy. Transport links and commuter routes through the town are also affected.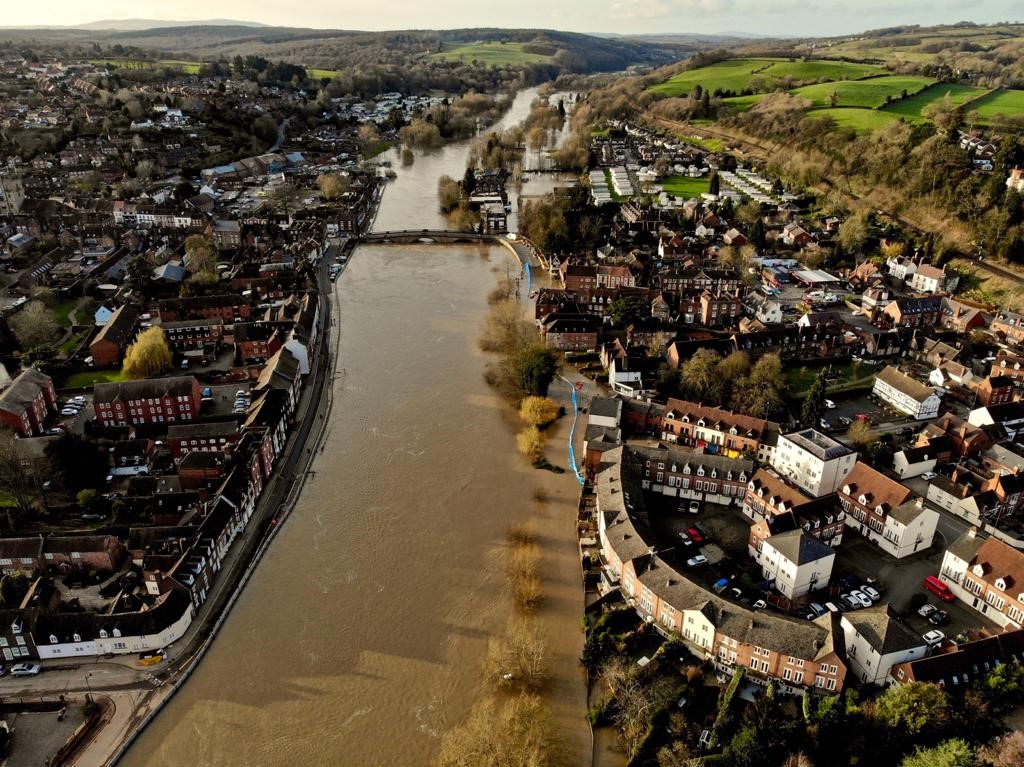 Background to the flood risk management scheme
Over the years a number of technical assessments have taken place to explore the possibility of a flood defence scheme at Beales Corner in Bewdley.
Unfortunately a Flood Risk Management Scheme has not been viable to date.  To date, measures, such as the temporary flood barriers and Property Level Resilience measures (e.g. flood gates, pumps and air brick covers for individual properties) have reduced the impact of flooding. However we recognise the limitations these solutions offer.
After the flooding in 2020, more funding was made available from Government for flood schemes nationally. This allowed us to re-look at options for a permanent Flood Risk Management Scheme for the area.
We are now at the start of the process in developing a Flood Risk Management Scheme for the area. We are currently looking at options, carrying out ground investigations and talking with the community to help shape our thinking.  
On the 27th of July 2021 Minister Pow visited Bewdley and we are delighted to say that during this visit it was announced that Government has allocated £6.2m of growth funding for the Bewdley Left Bank Flood Risk Management scheme.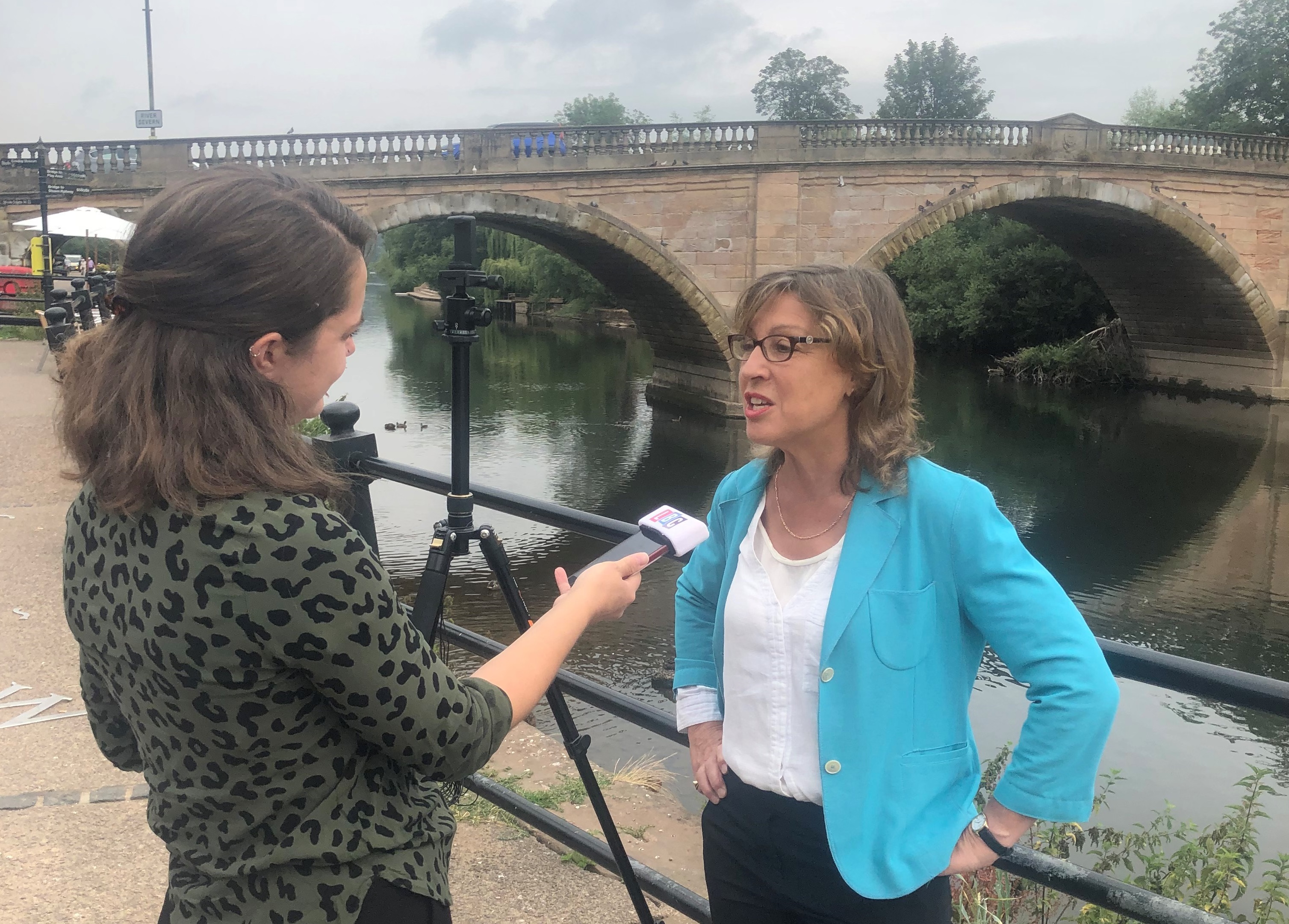 This funding combined with the funding commitments made by Worcestershire County Council and Wyre Forest District Council should allow the Environment Agency to deliver the scheme. There are still risks to delivery that the Project Team needs to work through, such as securing planning application, all historic consents and managing the large number of utilities that are located along the potential alignment of any raised defence. However, the Environment Agency together with all partners are committed to driving forward the delivery of this project.
Proposed scheme details
We are still assessing technical options but any permanent defences are likely to follow a similar line to the temporary barriers, with a view to achieve the same level of flood protection as the Severnside Flood Scheme on the opposite bank of the river.
We aim to make best possible use of the public money available and seek to maximise funding available through working in partnership. We are currently looking at possible options consisting of flood walls, glass panels and demountable barriers.
The primary purpose of the scheme is to reduce the flood risk from the River Severn. Although it is not focussed on flood risk from drainage issues, we are working with Severn Trent Water and the local authorities to review these.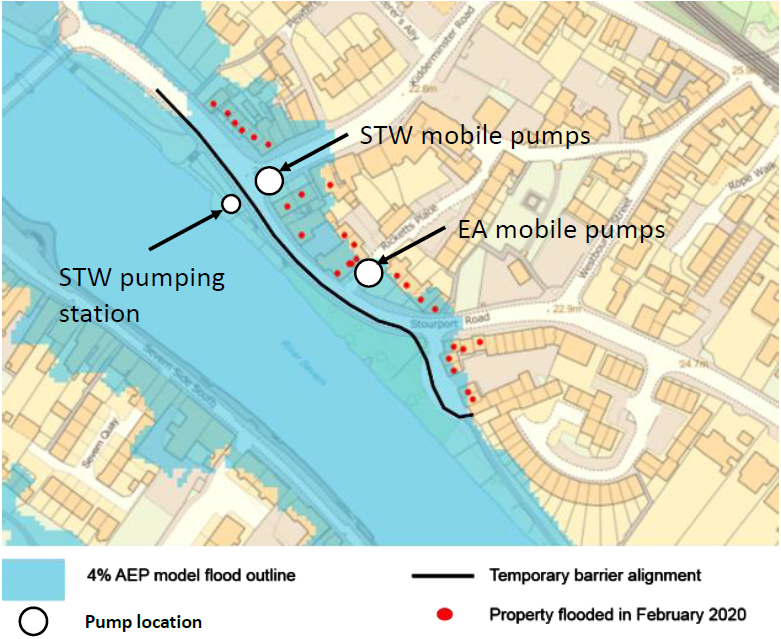 Timescales – what we are doing and when
We are at the start of the project journey and the following timeline is ambitious and subject to change. We have been working with our partners and key stakeholders to progress the scheme.
These are the timescales we are currently working towards;
Spring/summer 2021: develop the outline design with input from partners and community

Summer / autumn 2021: outline planning permission to be sought

Spring 22: secure planning permission and complete the final design to secure final approvals 
Project updates
December 2021 update
Over the last months, we have been working with our partners and key stakeholders to develop a potential outline design of a potential flood risk management scheme. 
Over recent months we have undertaken further surveys to help develop the potential outline design. 
We continue to work with Historic England and local planning authority to understand the historic and conservation impact on the preferred design.
We are talking with partners about mitigation for any environmental impacts the scheme may have. 
We are talking with the local Highways department to ensure the scheme has minimal impact on traffic flow.
Future developments
The project is progressing. 
We are undertaking the following activities:
We are working with the utility companies to facilitate the relocation of services in preparation for the scheme. 
We are finalising the potential outline design, which will be shared with key stakeholders, the community and landowners at the beginning of 2022.
We are preparing a community engagement meeting, which is likely to take place in January/ february 2022.
Please keep your eyes out for our next newsletter with more information on the consultation.
We are working with the Local Planning Authority to progress the planning application.
Update on the temporary barrier post incident review at Bewdley
Following the flood incident in February 2021 we completed our Post Incident Review for the Beales Corner Temporary Barrier System in August 2021 and shared our findings with the public.
The full report is available at the bottom of this page, alongside a letter to residents which provides a summary and explanation of the findings.
We implemented the new measures recommended by the review during the recent high flows on 11 December 2021.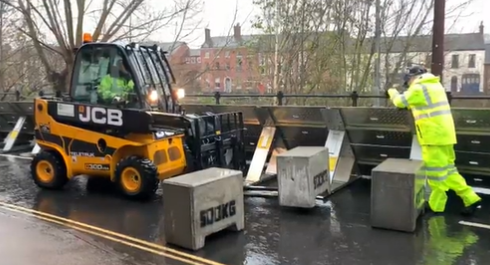 This was the first time we implemented the measures during a 'live' flood event. Feedback from the various agencies involved in the deployment was that it went well.
Sharing information with you
We want to make sure that the community is engaged with the project and kept informed of progress. Due to the current Coronavirus (COVID-19) restrictions, we will provide you with further information about the scheme in the following ways:
Our online information page

Information displayed on Town Council website

Regular newsletters (at key project points) issued via email, please see how to sign up below. 

Virtual or face to face meetings at key project points

We are also happy to attend any community meetings we are invited to
Signing up to our newsletter
 It is important to us to keep you up to date on our progress with this scheme.
If you would like to receive our newsletter and updates, please email your contact details to BLBFRMS@environment-agency.gov.uk
Alternatively, you call our National Customer Contact Centre during office hours on 03708 506 506 and we will add you to our mailing list.
PLEASE NOTE- By providing us with your contact details you consent to the Environment Agency using the details provided to contact you with updates about the Beales Corner Flood Risk Management Scheme. We will keep your contact details until the project is closed or until you withdraw your consent, whichever is sooner. You can withdraw your consent to receive these updates at any time by emailing us at BLBFRMS@environment-agency.gov.uk or calling 03708 506 506. We will not share your details with any other third party without your explicit consent, unless we are required to by law.
The Environment Agency is the data controller for the personal data you provide. For further information on how we deal with your personal data please see our Personal Information Charter on GOV.UK (search 'Environment Agency personal information charter') or contact our Data Protection team.  Address: Data Protection team, Environment Agency, Horizon House, Deanery Road, Bristol, BS1 5AH. Email: dataprotection@environment-agency.gov.uk   
You can follow us on Twitter too at @EnvAgencyMids as we will be tweeting about the work we are doing on this scheme.
Remaining flood aware
Please make sure you remain flood aware and ensure you are signed up to our flood warning service. Visit www.gov.uk/sign-up-for-flood-warnings or call 0345 988 1188 to sign up to get Flood Alerts and Warnings by phone, email and/or text message. This is a free service. Alternatively contact our Flood Resilience Engagement Advisors at Floodresilience@environment-agency.gov.uk
Know what to do when you receive a flood warning - use the 3 point plan.


Thank you for visiting our information page. Please keep visiting this page as we will be updating it regularly. This page will be open to the public until the end of construction. If you have any feedback about this page, or use assistive technology