Overview
Following a storm event in February 2022, a 20m section of the flood defence wall in Matlock, Derbyshire collapsed. Following this failure, the town, including the nearby high street, remains vulnerable to flooding. We have secured the necessary capital funding to build a replacement flood wall, which will focus on this section of the wall, extending approximately 5 m either side of the failure zone and potentially extending as far as Matlock bridge.
We are working closely with Derbyshire County Council and Derbyshire Dales District Council, alongside our contractors, Arup and Jackson, to manage the risk of flooding from the River Derwent following the collapse.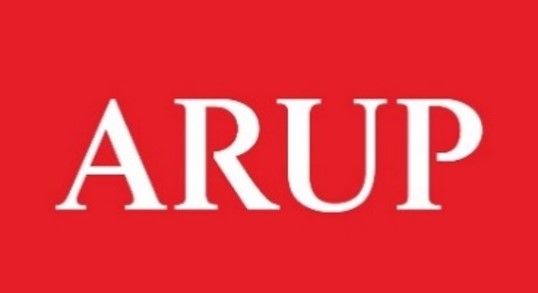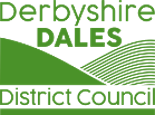 Timeline of collapse
  
Our response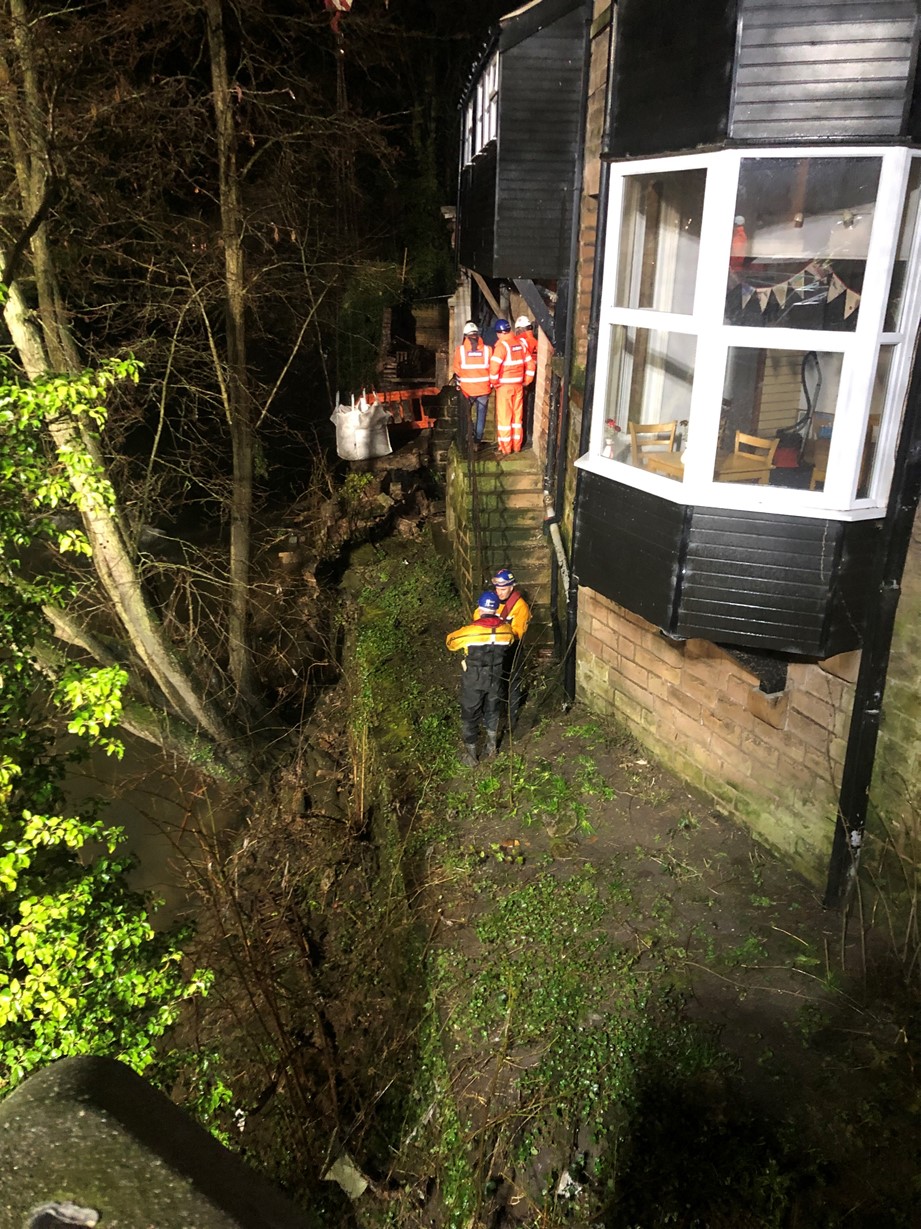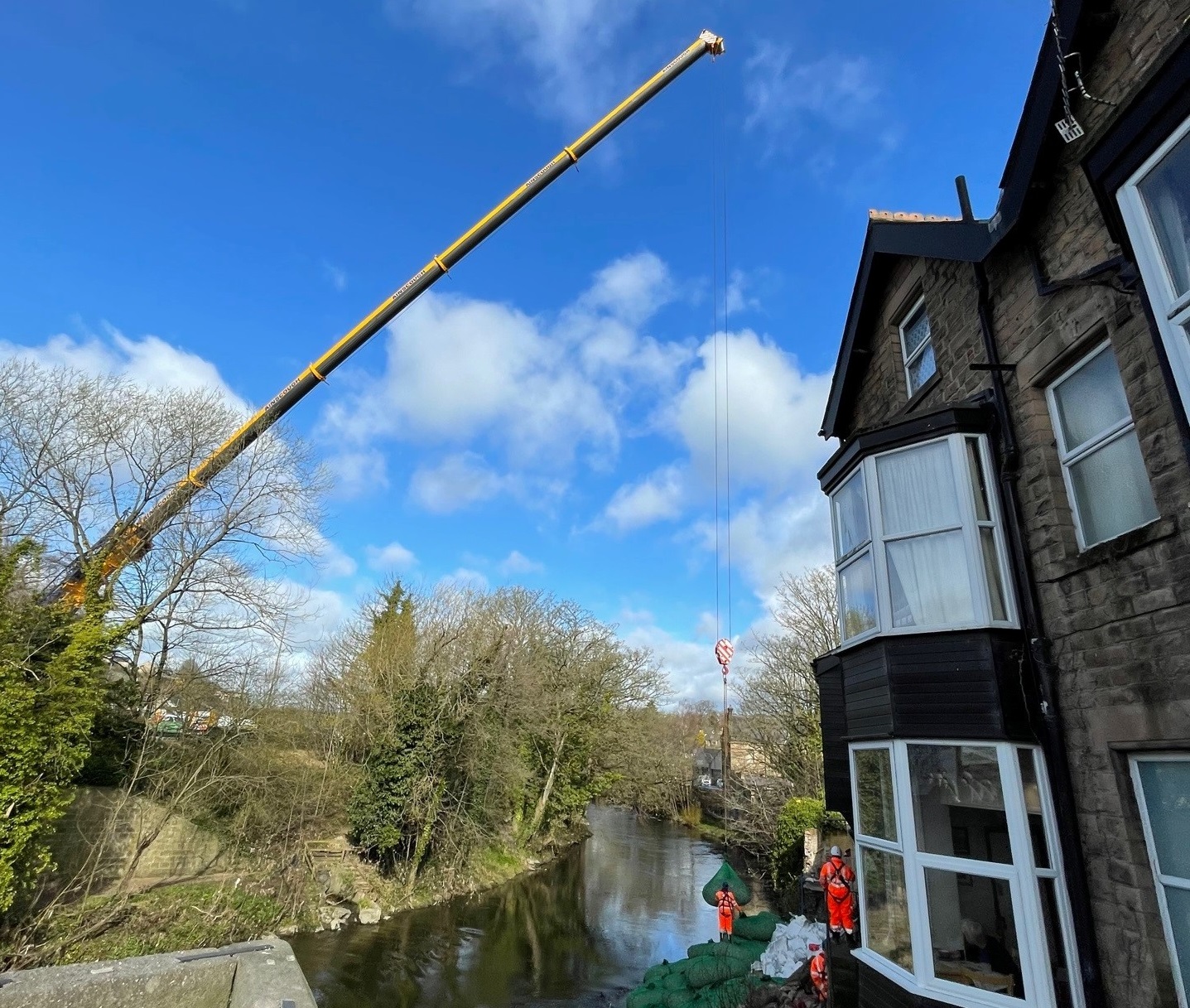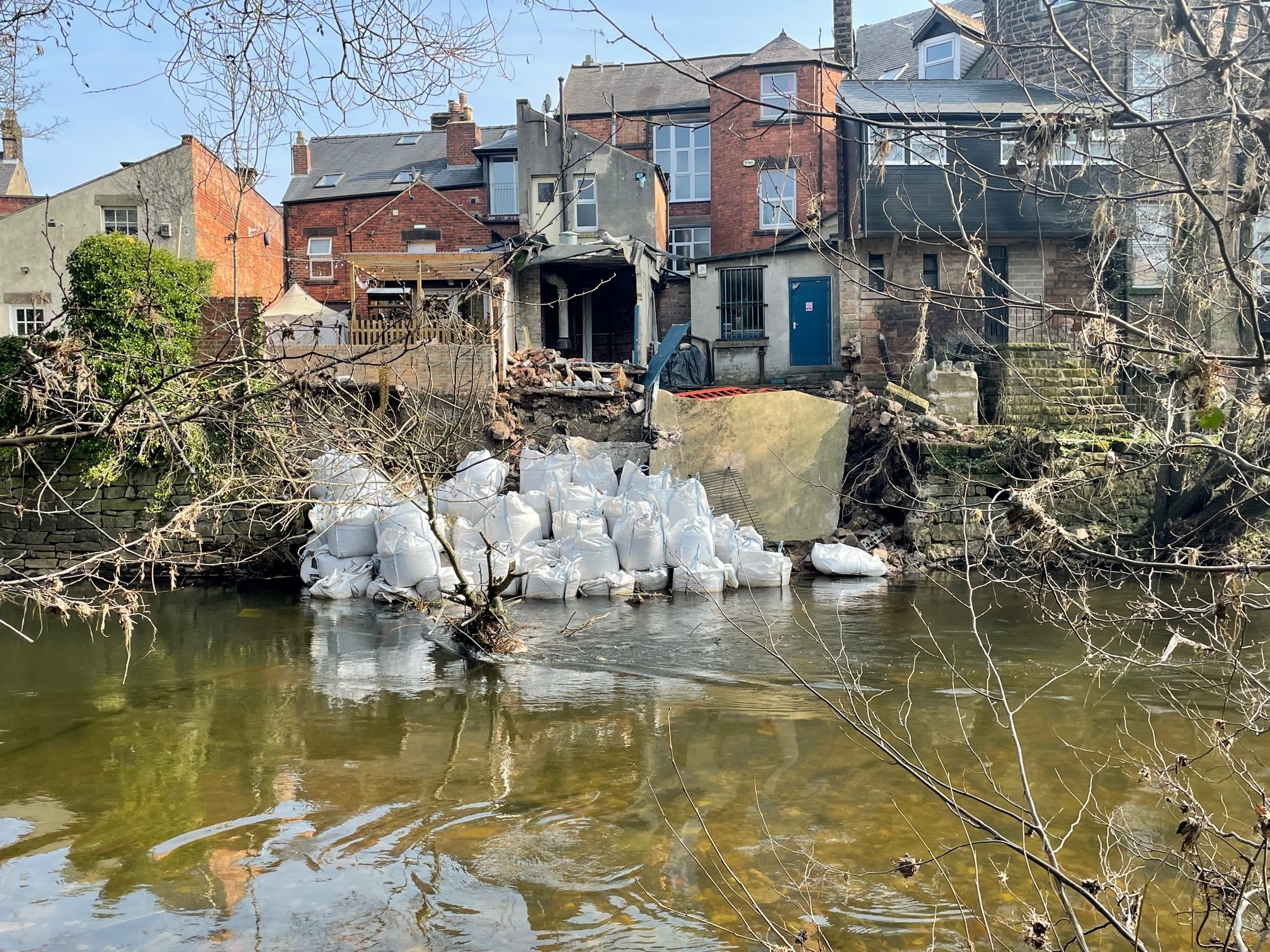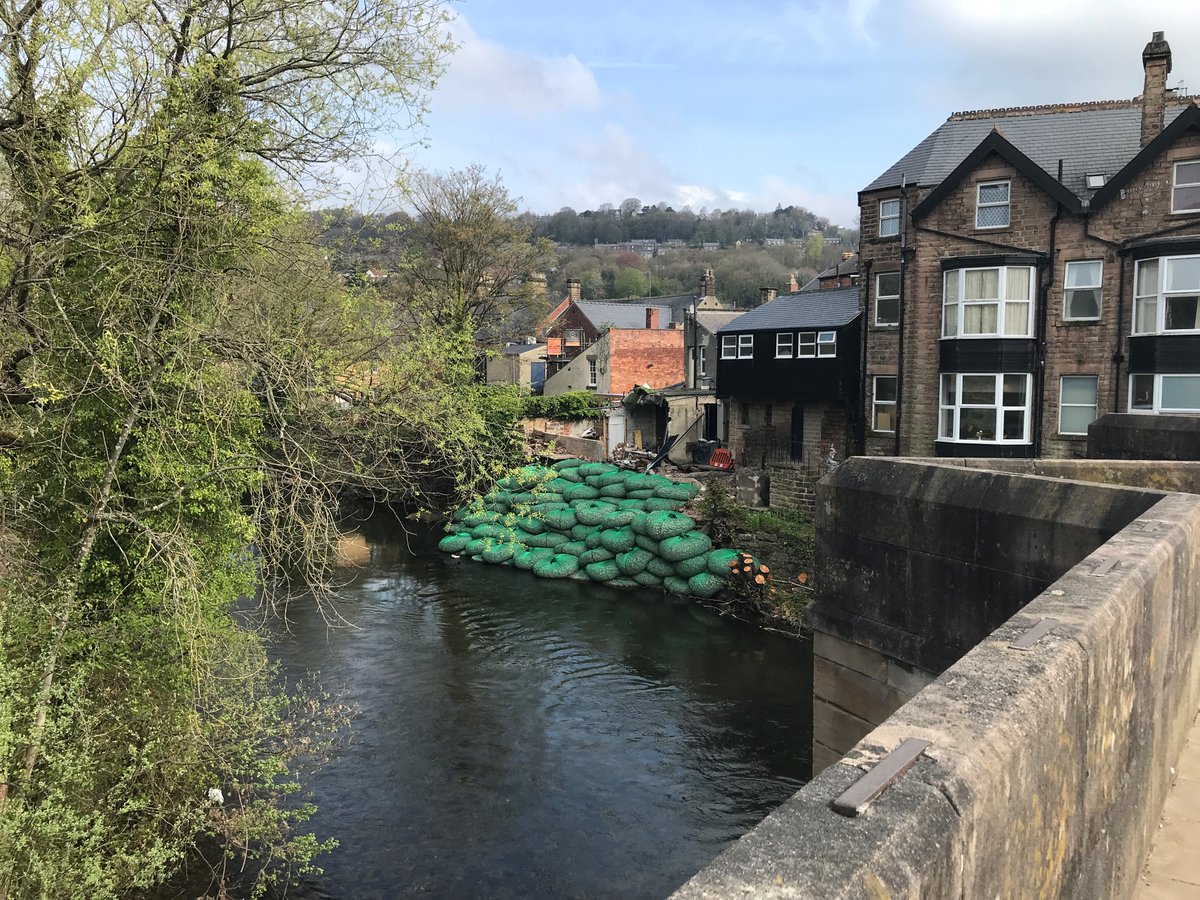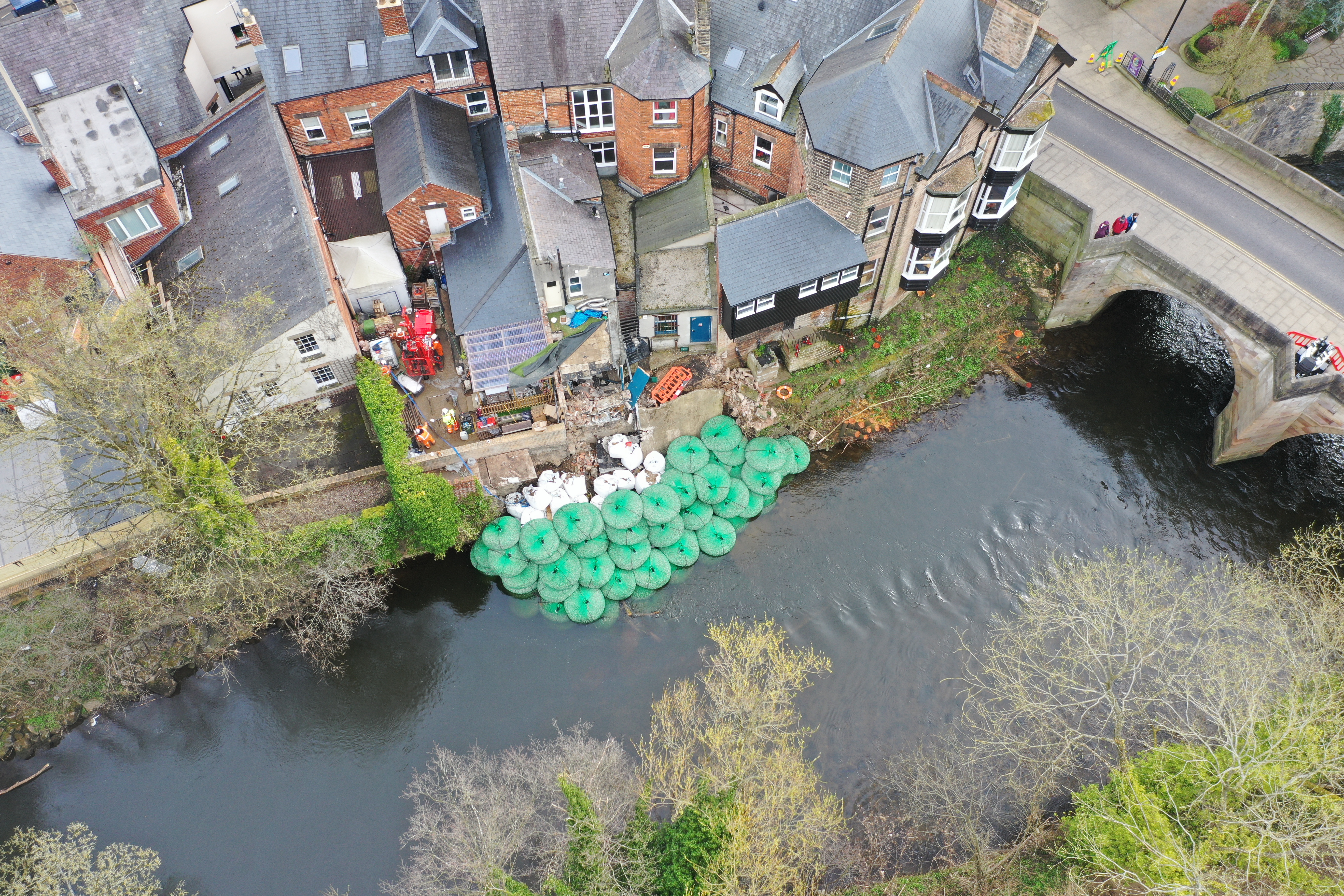 We hosted a community drop-in event with our partners on 19th May 2022 to share our plans with the local community.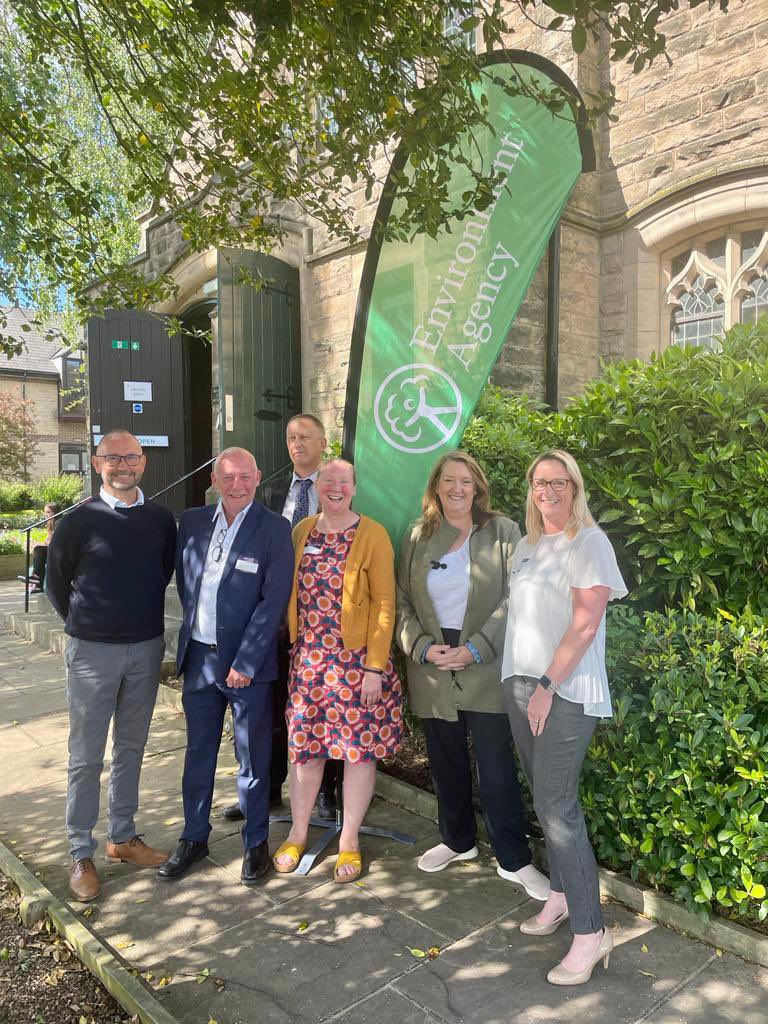 Left to right: Julian Gould, Highways Director at Derbyshire County Council, Paul Reeves, Environment Agency Media Spokesperson, Tim Braund, Director of Regulatory Services at Derbyshire Dales District Council, Naomi Doughty, Environment Agency Matlock Wall Project Manager, Sarah Dines, Member of Parliament for Derbyshire Dales, Louise Cresswell, Environment Agency East Midlands Area Director.
Plans moving forward
The project is expected to cost between £3.5m and £5m and will reinstate flood protection to Matlock from river flooding. Enabling work is expected to start in early June which will involve temporary alterations to Matlock Bridge to reinstate two-way traffic for a period. These essential enabling works will then pave the way for the main construction work, which is due to begin in summer and will replace the flood wall behind businesses in Crown Square. The main construction work is likely to be delivered in multiple phases and our aim is to have the bulk of the engineered solution in place before this winter. We then expect to continue work in stages throughout 2023 so we can make the engineered solution look more aesthetically pleasing and in-keeping with the local character and heritage of Matlock.
See below an approximate programme for the work.

Road closure details
To enable the construction of a replacement flood wall, it's essential that Matlock Bridge is closed to all traffic (pedestrians, cyclists and vehicles) from 7am on Monday 13 June 2022 until early August 2022. We apologise in advance for any temporary inconvenience caused by the bridge closure.
We'll be making temporary alterations to Matlock Bridge to allow two-way traffic over the bridge for up to 18 months.
Once the temporary alterations to the bridge are complete, the A6 at Derwent Way will be closed so a large crane can be situated on the road to carry out the necessary work on reinstating the flood defences. All traffic going north and south bound will then be able to use Matlock Bridge.
Whilst the temporary highway work is being done pedestrians should use the footbridge in Hall Leys Park for alternative access across the River Derwent.
Below is a map of the A6 road closure that will be necessary, from Matlock Bridge Snitterton Road to the Bus Station, and the type of 750 tonne crane that will be required to complete the work.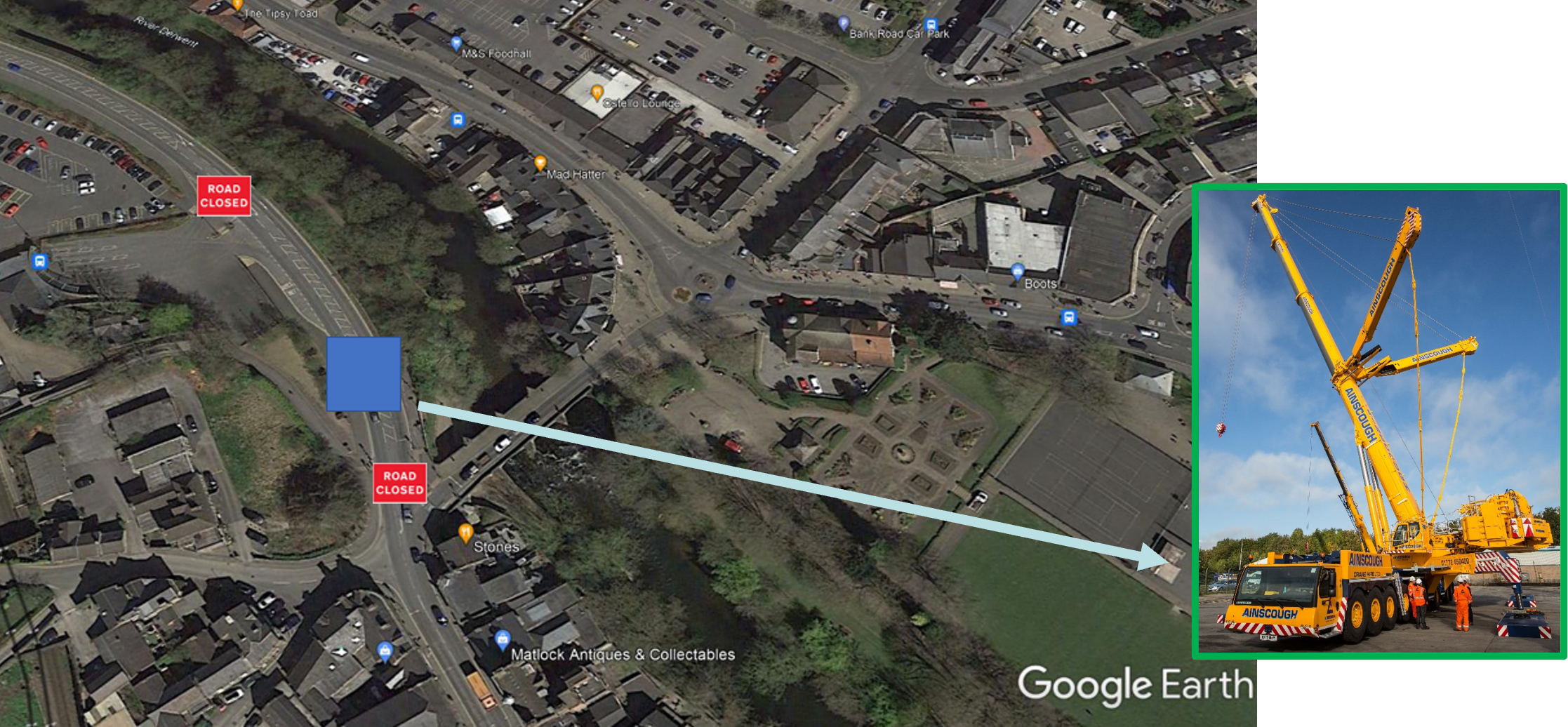 Matlock Bridge Heritage
The old stone bridge over the River Derwent at Matlock has seen many alterations since it was built in the medieval period to accommodate changes in traffic. It is believed that originally a simple ford further downstream would have allowed people to cross the river. This location may be referenced in the AD 1086 Domesday Survey with the placename 'Mestesforde' – the river crossing and settlement associated with Nestes mine, now known as the Heights of Abraham. By the 13th century a bridge 'Pontem de Matelocke' stood upstream of Mestesforde.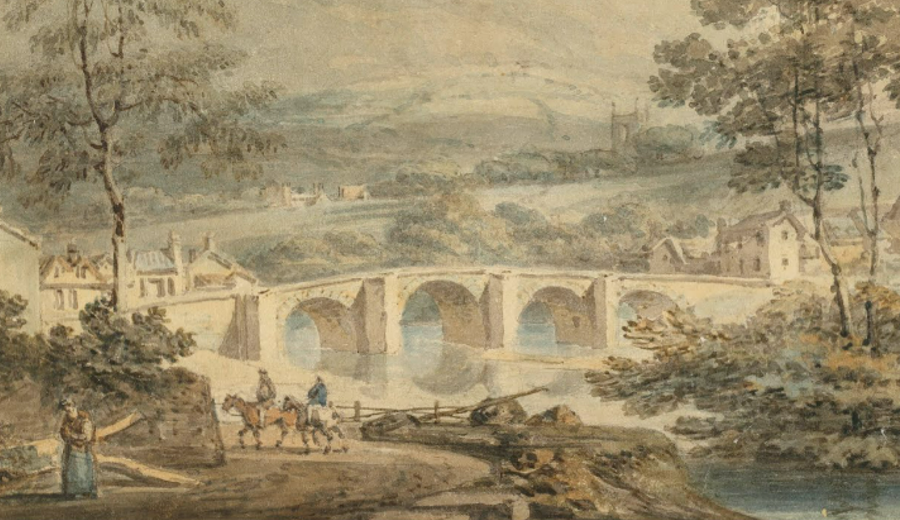 Watercolour painting by William Turner in 1794.
As the town of Matlock expanded, a new bridge was constructed at Matlock Bridge to carry people and goods across the river. The south-eastern part of the bridge dates to the mid-13th century with modification in the 15th century. From the late 19th century, the town became a popular spa destination, and a survey of traffic in August 1894 recorded around 1000 vehicles and 9000 people were crossing the bridge in a day. In 1904 the bridge was widened to accommodate two-way traffic until 2007.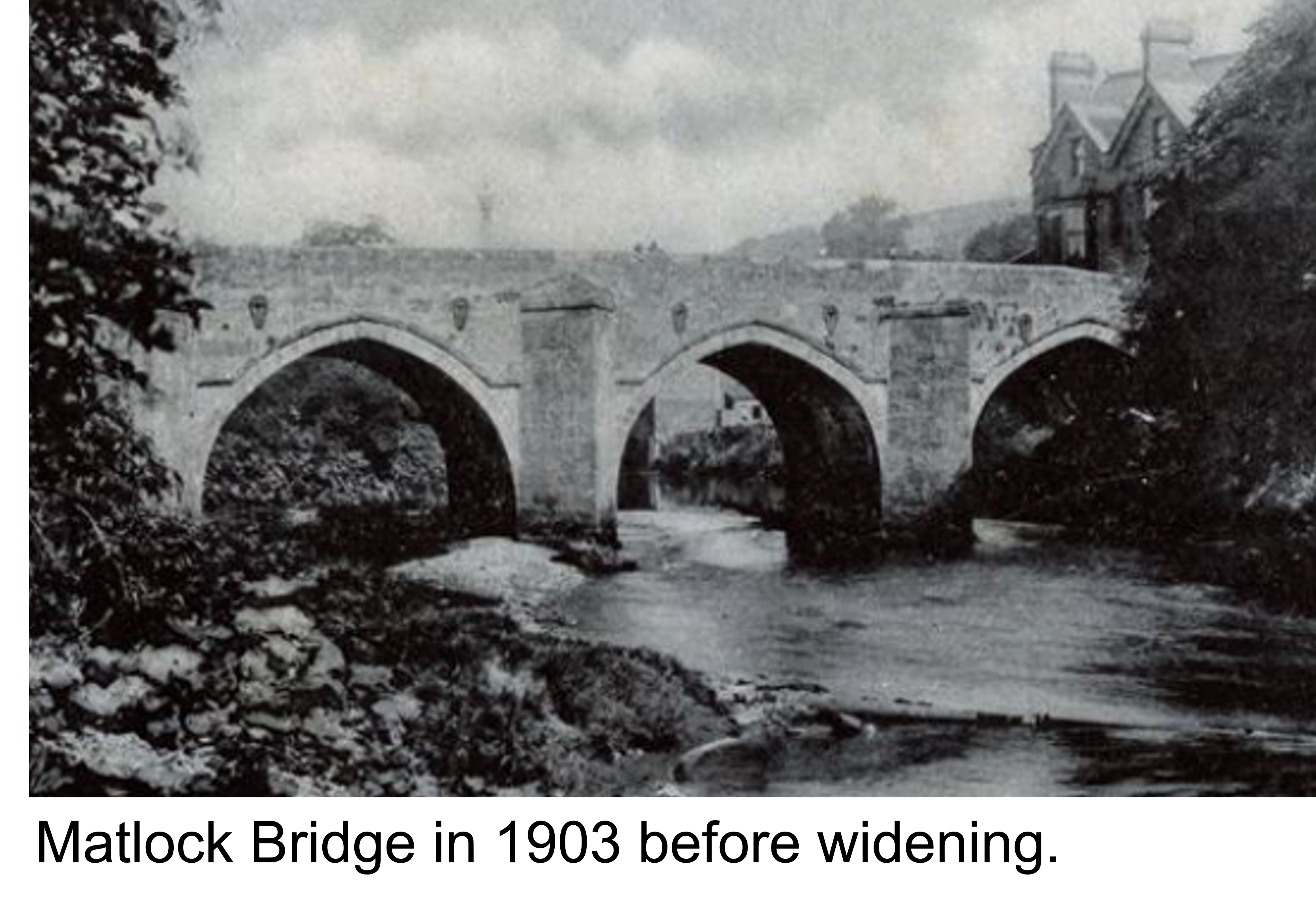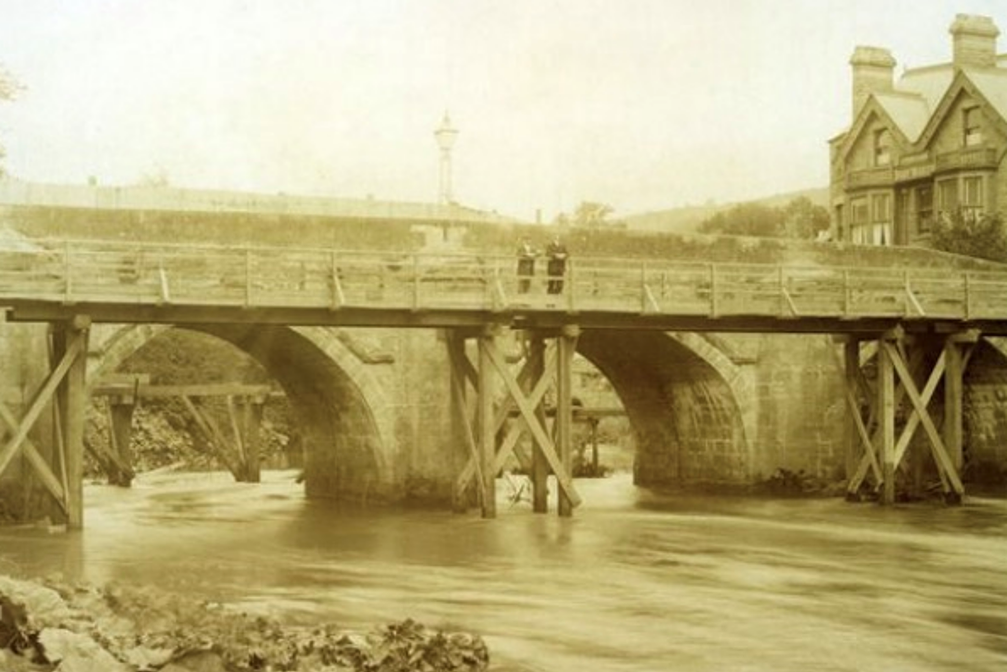 Works to widen Matlock Bridge 1903-4.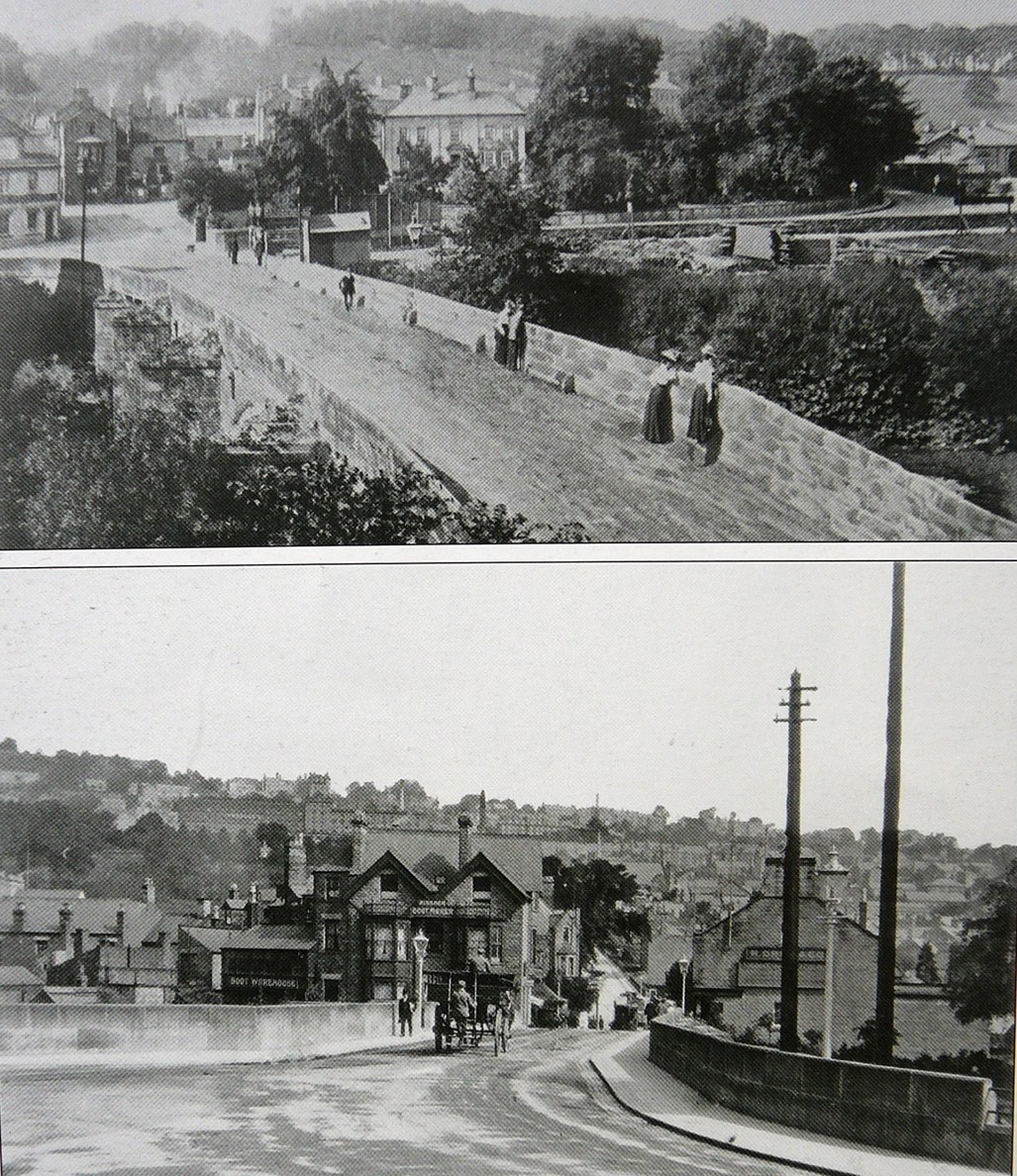 Matlock Bridge before and after widening (1904)
The bridge is of national importance and is both grade II* listed and a scheduled monument located within the Matlock Bridge Conservation Area. The Environment Agency is working closely with Derbyshire County Council and Historic England to ensure the bridge is protected during works to temporarily reinstate two-way traffic to facilitate repair of the flood wall to the north.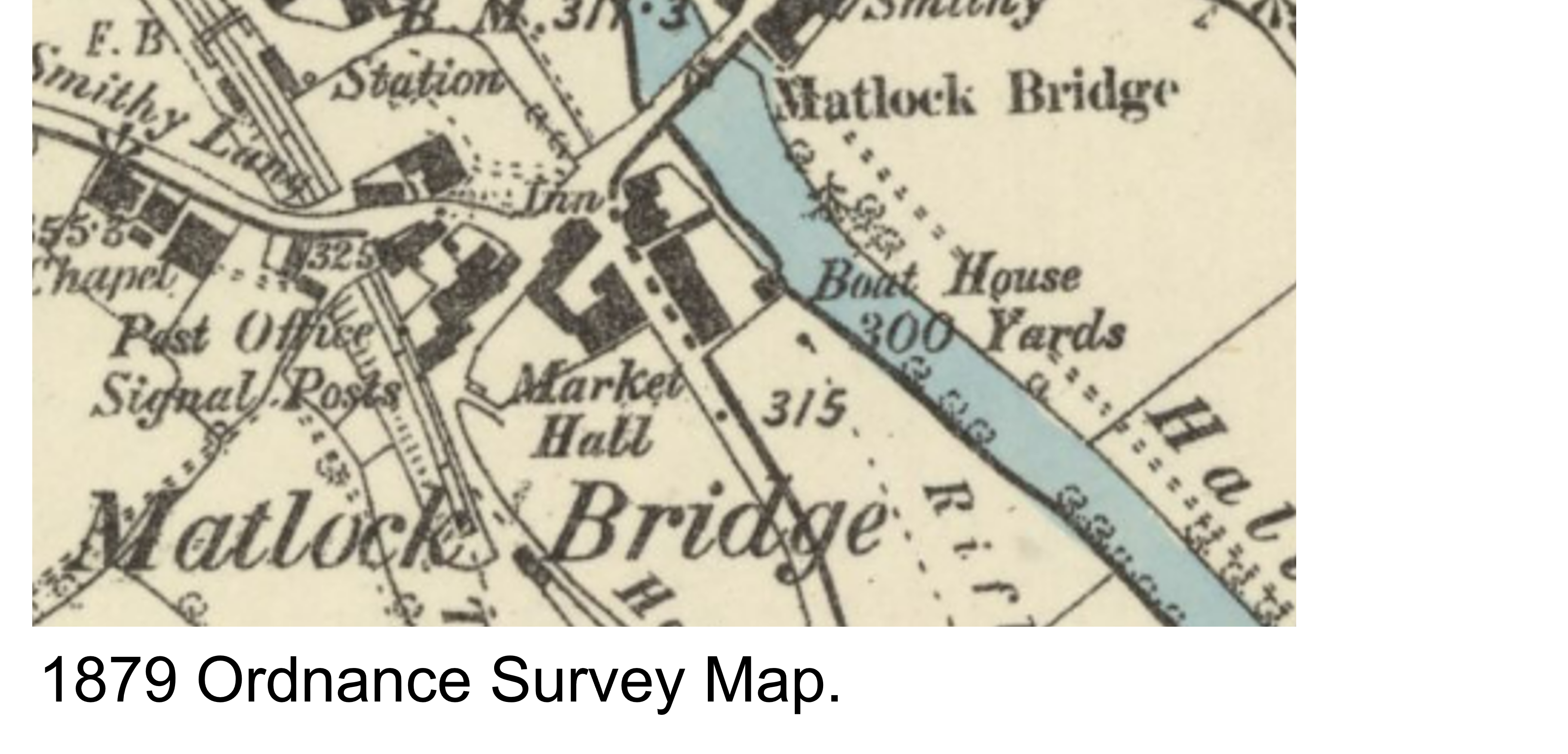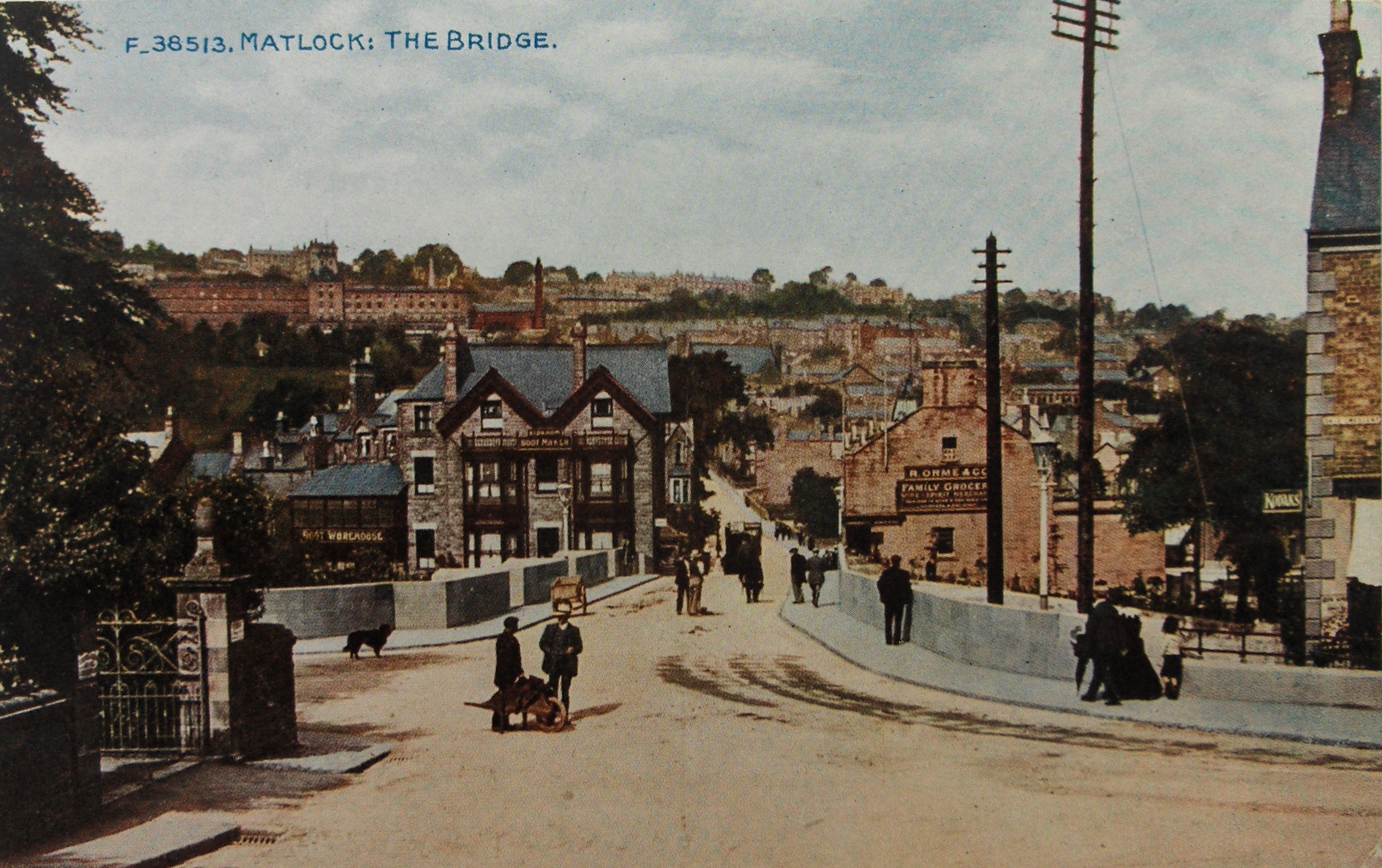 'Matlock – the Bridge' Celesque series by Polychrom Co. Ltd.
Photographs kindly supplied by Matlock Civic Association. We would like to thank them for their assistance.
How to stay informed
Regular progress updates will be added to this page.
You can get the latest information, including any expected disruption, by following us on Twitter Env Agency Midlands (@EnvAgencyMids) / Twitter
If you have any questions, please contact us on 07970 159492 or KBattelle@jackson-civils.co.uk
Feedback
We would appreciate if you could spare a few minutes to complete a short survey about this information page.