Overview
Updated November 2020
Welcome to The River Roding Project Information Page
This page provides a summary of our work to reduce the flooding to homes, businesses and infrastructure in the Woodford and Ilford areas (North East London), as well as how we plan to improve the River Roding for people and wildlife.
Current project activities
The River Roding Project is now in the detail design phase. We are working closely with our consultants Jacobs and BAM Nuttall and hope to be able to submit our planning application for the project next summer (2021).
Over the summer, we completed ecological and topographic surveys to improve our understanding of the proposed flood storage area (FSA) site.
In September, we presented at the London Borough of Redbridge External Scrutiny Committee. This was a great opportunity to update local councillors within the community at risk of flooding of our progress.
In Spring 2021, we will be carrying out archaeology works and detailed ground investigations at the FSA site in Essex to inform the design of the embankment.
We will also be hosting a Zoom event for the Clayhall ward, in the community at risk to help the residents learn how they will benefit from the project. As well as giving them practical actions they can take to be more resilient to flooding this winter.
What we are proposing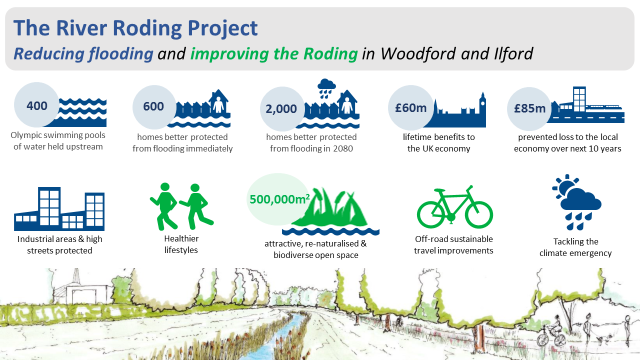 Why are we doing these works?
The River Roding has a long history of flooding causing devastating and widespread impacts to North East London. With the impacts of climate change, flooding is predicted to happen more frequently unless we act now.
On Saturday 21 December, we issued flood alerts and warnings along the River Roding due to heavy rainfall which covered areas such as Redbridge, Woodford, Ilford, Barking, Loughton and East Ham. The river peaked at 7am on 21 December, reaching 1.83m. This is the highest level on record since the 2000 floods, when major roads and approximately 400 properties were affected.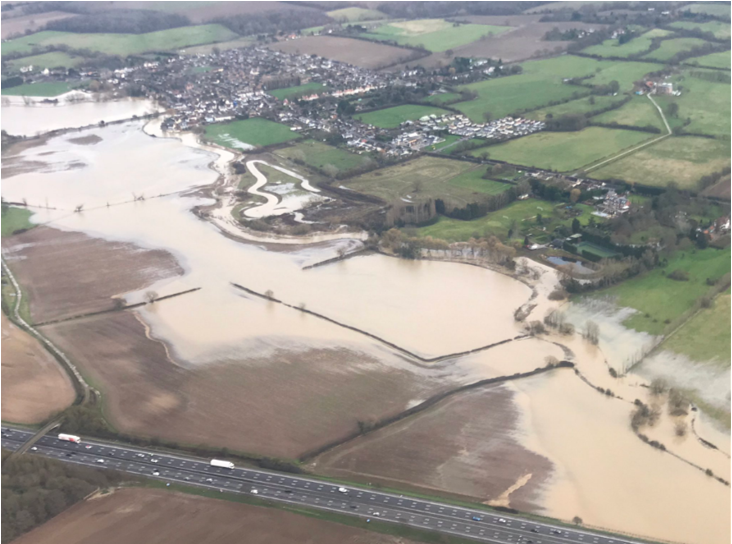 Pictured above: Ariel photograph of the Roding flooding in December 2019, taken by a local resident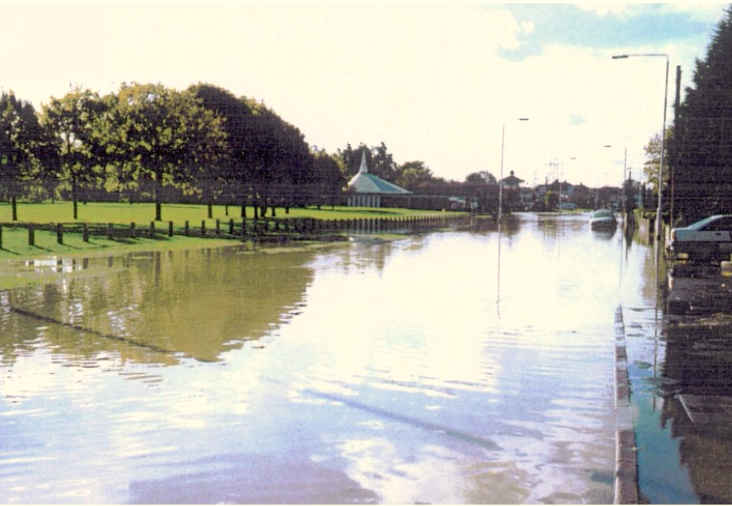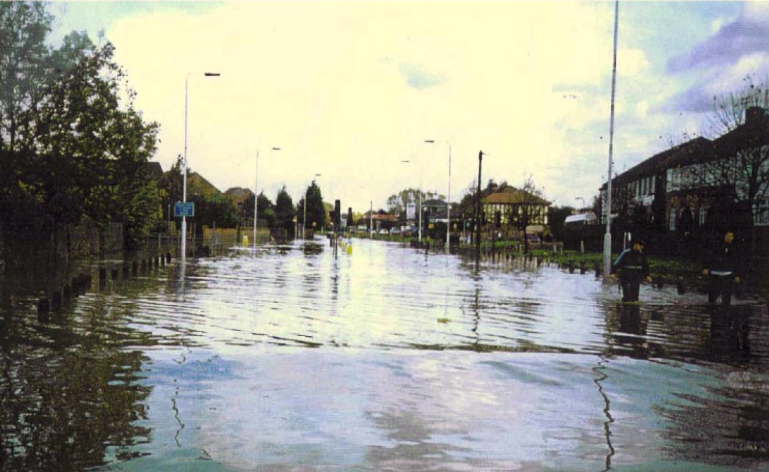 Pictured above: Photos taken during the floods in 2000 (looking up and down Chigwell Road), when over 400 homes flooded and Charlie Browns Roundabout was closed for up to 2 weeks causing widespread disruption across the borough
Please note our proposals will reduce the risk of flooding, but will not eliminate the risk of flooding altogether.
Are you Prepared for Winter?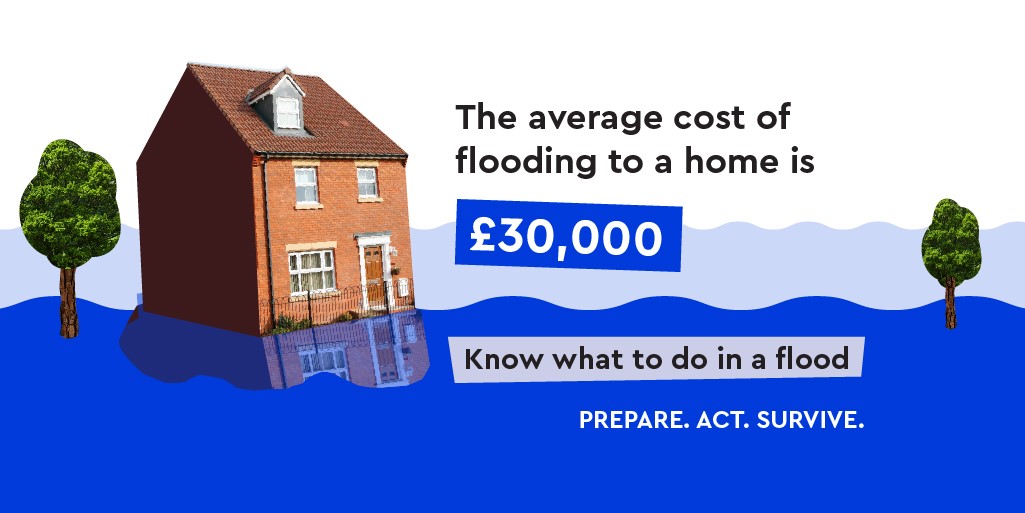 Our flood defences reduce the risk of flooding but we can never entirely eliminate the risk of flooding. So, as the winter weather gets wetter, we have put together a summary of flood advice to help you prepare to protect yourself, your loved ones and your home.
Find out if your property is at risk www.gov.uk/check-flood-risk
Sign up to receive free flood warnings www.gov.uk/sign-up-for-flood-warnings
Create a personal flood plan. Go to floodsdestroy.campaign.gov.uk to find out how you can 'Prepare, Act and Survive'.
Create a community flood plan to coordinate responses by helping you decide what practical action to take to support each other before, during and after a flood.
If you'd like to find out more information about volunteering to be a Flood Warden in your community, raising awareness or flood planning please contact your local Flood Resilience team at FRT-HNL@environment-agency.gov.uk
Be aware and stay prepared
Project Benefits

Improving the environment
Subject to full funding, we will be doing environmental improvements in the local community to create a healthier, less-polluted, and safe space for your local community to enjoy. These enhancements, shown on the map below, include:

Creating a new off-road cycling route alongside the river between Snakes Lane East and Broadmead Church in Woodford.
Planting trees and adding closed board fencing alongside the riverside paths near the M11, the North Circular (A406) and near Charlie Brown's roundabout.
Remove a weir and reconnect the backwater to improve the ecology and biodiversity.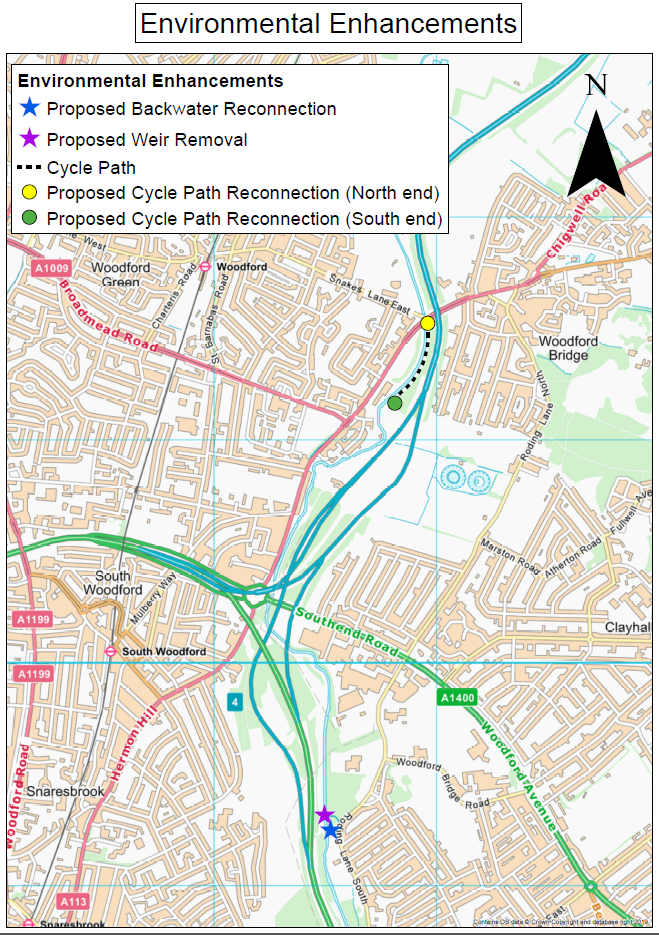 For more background information on the project, please see the related documents at the bottom of this page.
If you would like any further detail about any of the above information please get in touch at PSO-HNL@environment-agency.gov.uk
Thank you for visiting our project information page.