Overview
Updated May 2019
Background:
The Environment Agency are working with London Borough of Redbridge council to reduce flooding to homes and businesses in Woodford and surrounding areas from the River Roding. We have identified options to achieve this, but we can't do this without additional support. The river has a long history of flooding, most noticeably in 2000 when over 400 properties flooded in Woodford. Flood events have been recorded on the River Roding since 1926, occurring in 1939, 1947, 1974, 1988, 1993, 2000 and 2007. Following the flooding in 2012 we published the River Roding Strategy. The strategy identified that there are currently over 1500 properties with a 'high' chance of flooding within the River Roding catchment between Stansted and the River Thames. It recommended a catchment approach to reduce flooding to over 600 homes and businesses along with key road networks and infrastructure in the Woodford and Ilford areas.
We want to:
create a better place for people and wildlife that is more resilient to the impacts of flooding and climate change

work with local communities and our partners to help us deliver a jointly funded project

improve our understanding of flooding in the River Roding catchment

work with local communities to improve their understanding of flooding, how it impacts on them and how they can be more prepared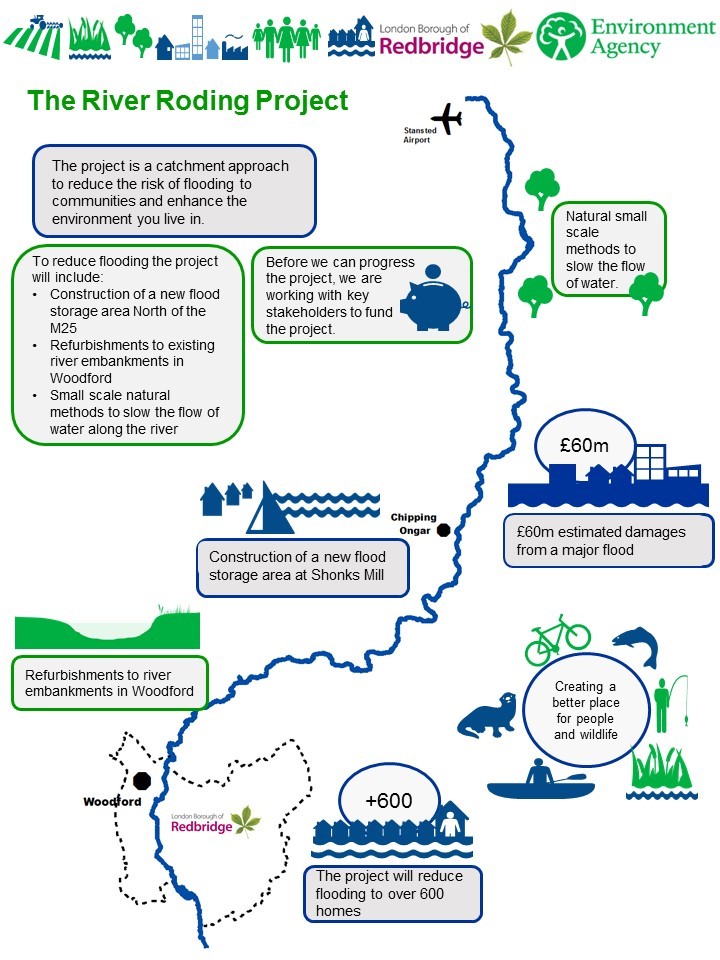 River Roding Project recommendations
We have identified the following approaches to reduce flooding to Woodford, Ilford and surrounding areas:
1. Construction of a new flood storage area (FSA)
This will be located in the upper catchment, north of the M25 in Essex, north of Shonks Mill Road. The FSA, a statutory reservoir due to its size, will include an earth embankment across the river and floodplain, behind which the water will be stored when the river levels reach a certain height. This will reduce the amount of water flowing downstream and reduce flood impacts to Woodford, Ilford and surrounding areas.
We are currently working with local planning authorities on our future planning application. See draft construction and landscape plans below.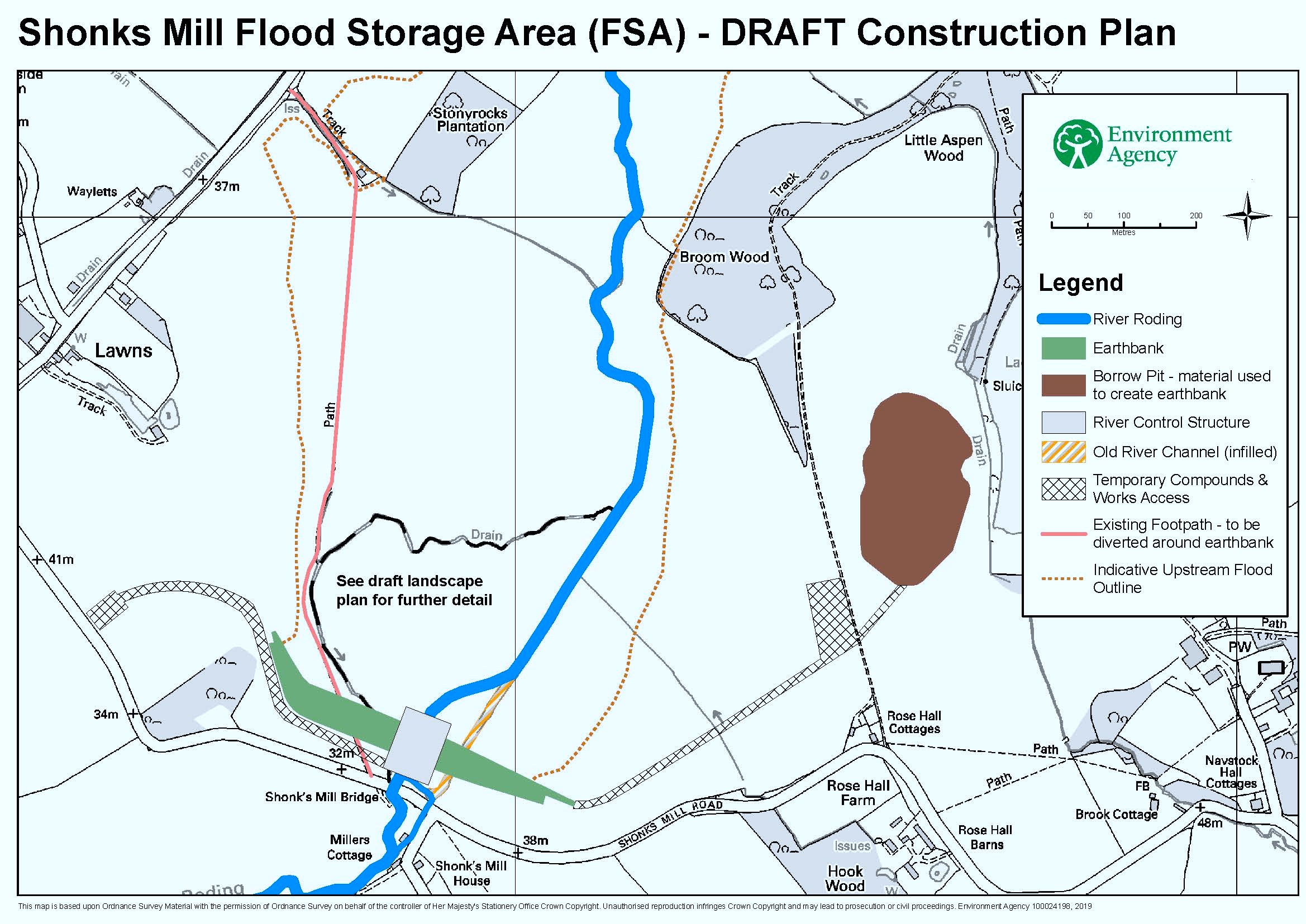 During heavy rainfall, the new FSA will temporarily hold back large volumes of floodwater, approximately the same quantity as 400 Olympic swimming pools. However, in dry weather conditions the FSA will remain a rural landscape. As an example, the photos below show Bury Farm FSA in the London Borough of Barnet when dry and in flood conditions.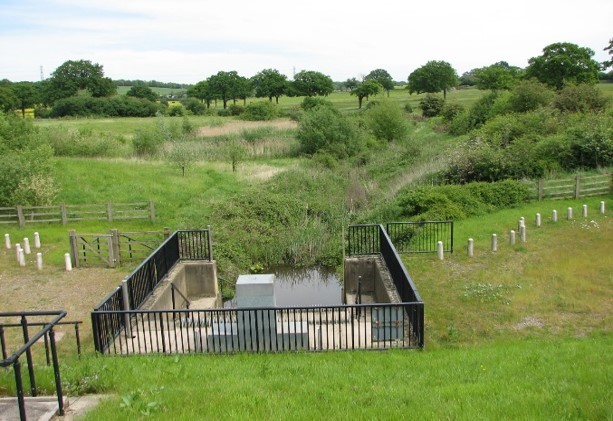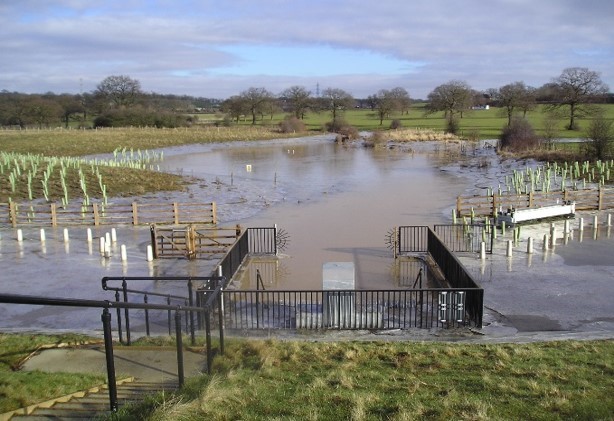 We will also have to permanently divert the public footpath that currently runs through the proposed FSA location. The public footpath is called Stanford Rivers 47.
We are keen to understand who uses the footpath to feed their comments into the designs for the new diverted route. Please contact us using the details at the bottom of the page if you have any thoughts or ideas.
2. Refurbishments of existing Woodford flood embankments
In late 2018, we carried out ground investigation works at four locations in Woodford and Ilford. These were on existing flood embankments along the River Roding. Our next steps are to analyse the information from the ground investigation works to understand what repairs are required to make sure the existing flood defences are still fit for purpose. The four locations are identified on the map below, indicated by a red circle.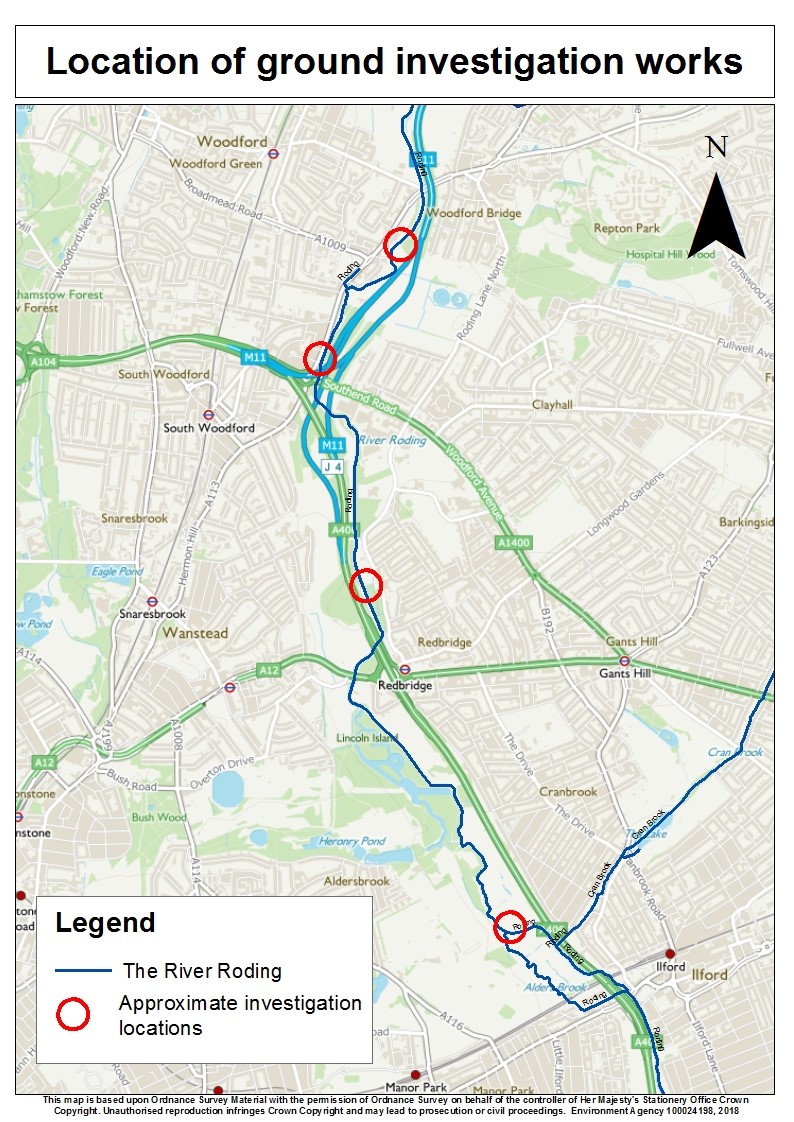 The picture below shows embankments protecting residential properties along the River Roding.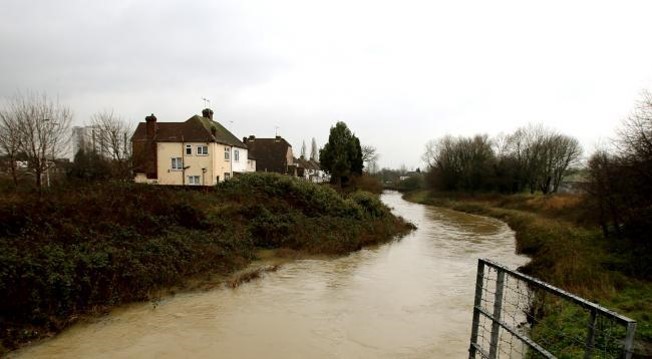 3. Natural flood management
We are also exploring opportunities to include natural options to slow the flow of water from the land into the river, following heavy rain. We call this natural flood management (NFM). The illustration below details many types of NFM techniques.
NFM examples include:
restoring bends in rivers

changing the way land is managed so soil can absorb more water

creating woodlands to slow the flow of water

leaky log dams.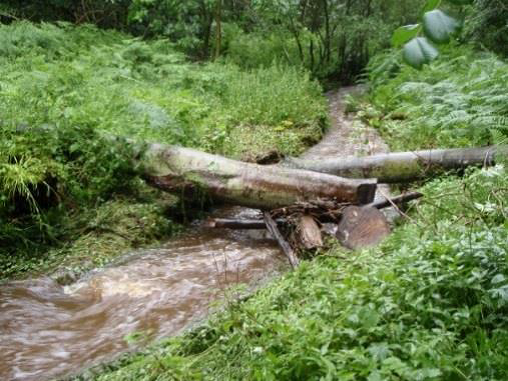 The NFM options are not yet confirmed, but may include woodland planting on smaller tributaries that connect to the River Roding. For more details on NFM, see related links at the bottom of this page.
Recent progress
Engaging with the community:
This month we held a community drop-in event at Kelvedon Hatch Village Hall, near to the site of the flood storage area. We invited local residents and community groups to learn more about the scheme and how it could affect them.
We are keen to continue working with the community. We hope to attend parish council meetings for both Navestock and Stanford Rivers in the near future. To help us tailor the meeting to your needs, please let us know what further information you would like to know. We will also be working with our land agent to arrange meetings with landowners and tenants affected by the flood storage area works.
Engaging with partners:
We have also met with representatives from Brentwood Borough Council, Epping Forest District Council and Essex County Council, to seek pre-planning advice.
So far, we have secured over £10million of funding towards the project. We are working closely with Highways England to secure the funding shortfall by demonstrating flood benefits to the M11 and other important roads.
Recent events:
In summer 2018, we expanded our engagement in the London Borough of Redbridge to increase awareness of flood risk and our project. These were opportunities for us to learn from the local community about their own experiences of flooding and how flooding has affected them. We were also able to share our plans for the River Roding Project with local stakeholders.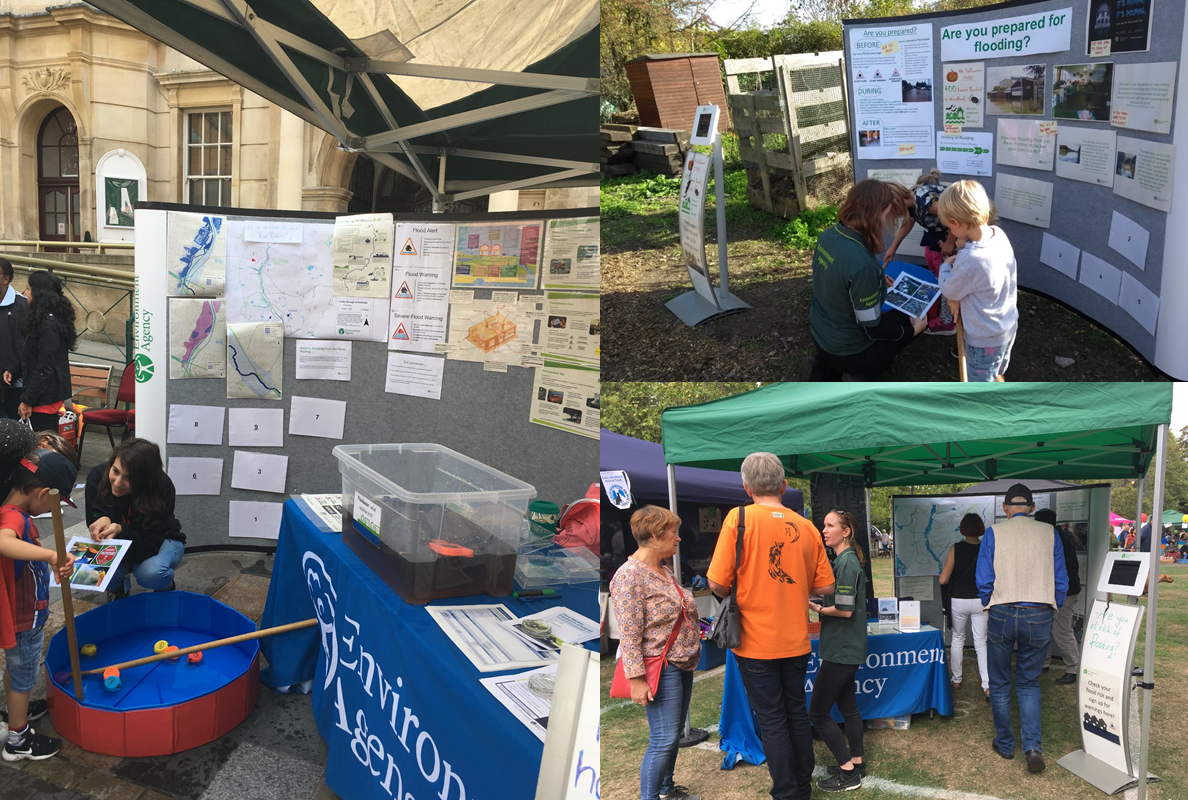 Events included Redbridge Community Day, Wanstead Festival, Healthy Halloween and our own drop in session.
In early May 2019 we held a community drop-in in the Shonks Mill area, where we are planning the FSA will be built. We invited local residents and community groups to learn more about the scheme and how it could affect them.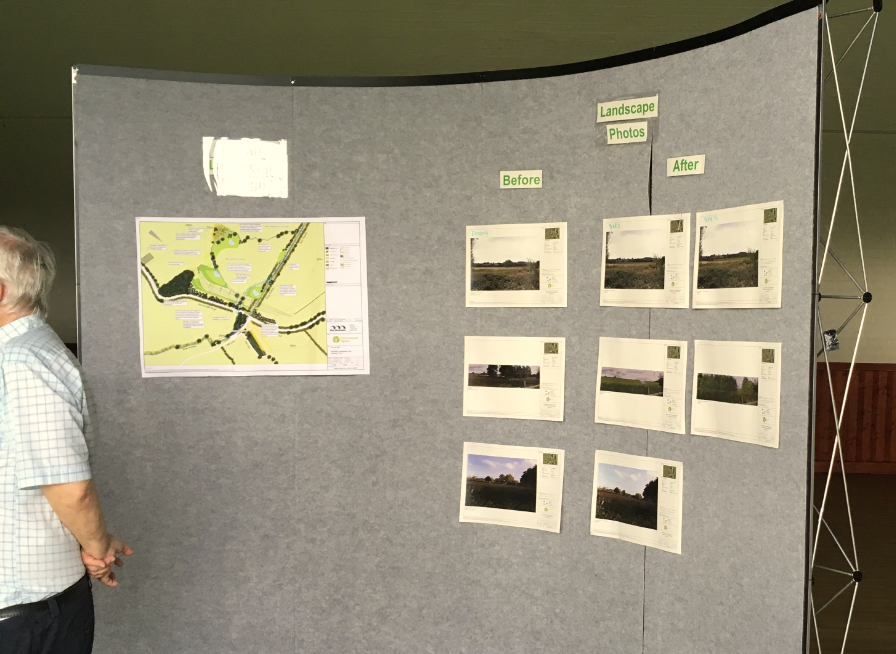 We will continue to gather the views and knowledge of local people as this project progresses. We hope to attend future parish council meetings for both Navestock and Stanford Rivers in the near future. Sign up to our stakeholder list to be kept up to date.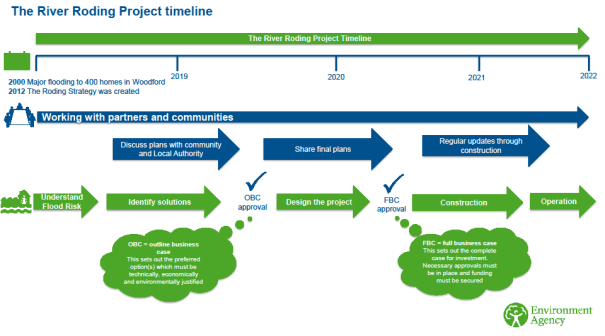 What happens next?
Over the next year, we will work with key stakeholders to meet the full costs of the project and engage with the local planning authorities to prepare our planning application. We will also be engaging with communities and local groups throughout the catchment to keep them informed. .
If you are interested in becoming a stakeholder or sharing your experiences of flooding, please fill out the forms at the bottom of the page.
Please keep visiting our information page here, as we will be updating it during the coming months. This page will be open to the public until the end of summer 2019.
Thank you for visiting our project information page. For any comments or feedback on our information page, please email PSO-HNL@environment-agency.gov.uk