Overview
Updated October 2019
Welcome to The River Roding Project information page
This page provides a summary of our work to reduce the flooding to homes, businesses and infrastructure in the Woodford and Ilford areas (North East London), as well as how we plan to improve the River Roding for people and wildlife.
What we are proposing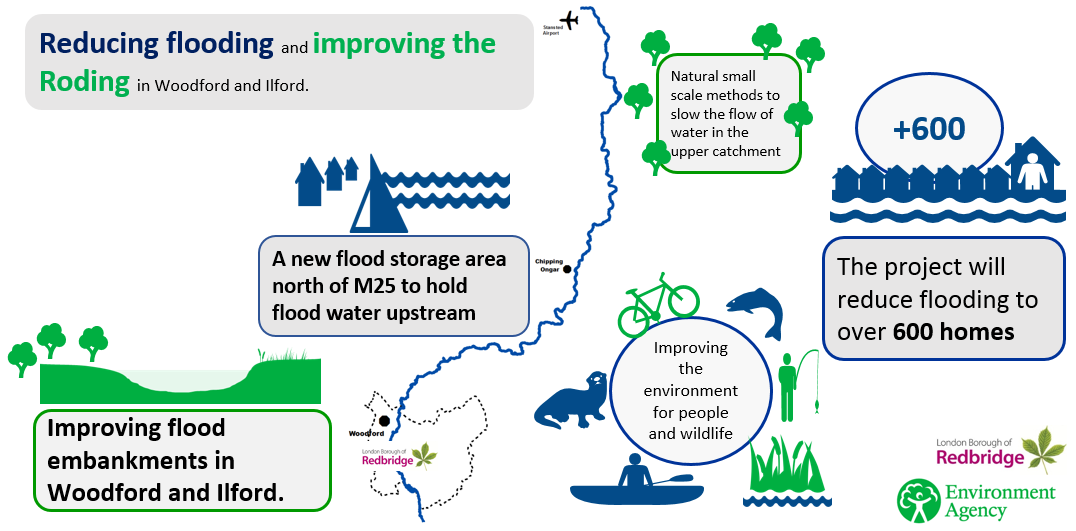 Why are we doing these works?
The River Roding has a long history of flooding causing devastating and widespread impacts to North East London. With the impacts of climate change, flooding is predicted to happen more frequently unless we act now.
The pictures below are taken during the floods in 2000 (looking up and down Chigwell Road), when over 400 homes flooded and Charlie Browns Roundabout was closed for up to 2 weeks causing widespread disruption across the borough.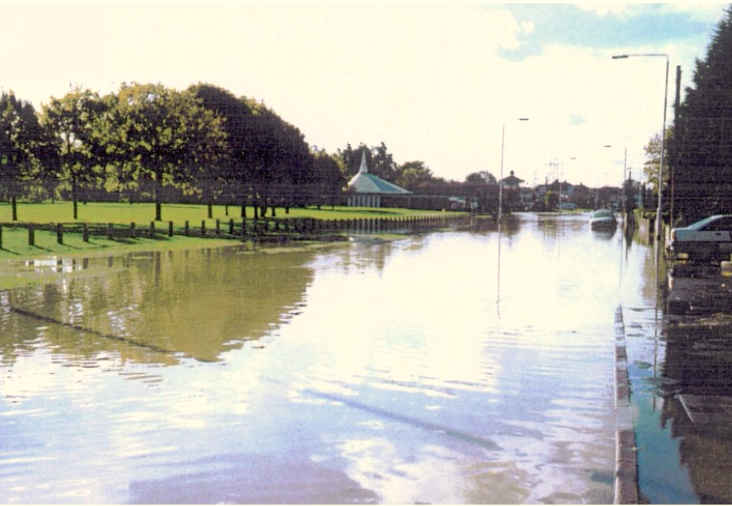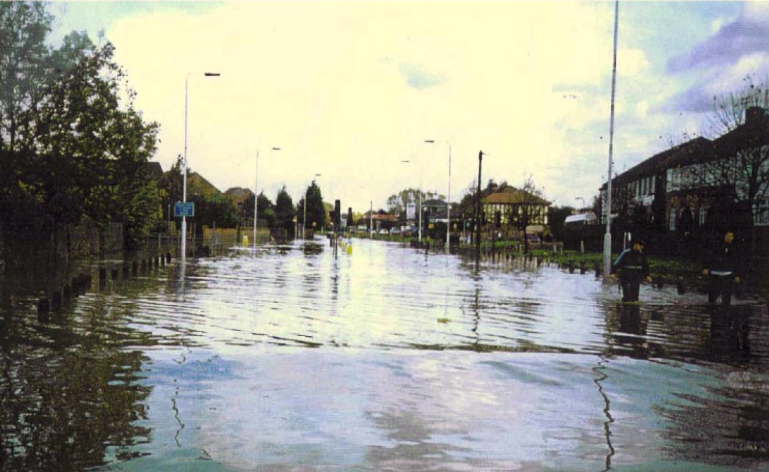 Please note our proposals will reduce the risk of flooding, but not eliminate the risk of flooding altogether.
Current project activities
1. We want to raise awareness of our project and the flood risk in the community.
Come and find out how you can prepare for flooding, and how the project will benefit you at our information stands in October.
We will be explaining how the project will reduce flooding and improve the River Roding.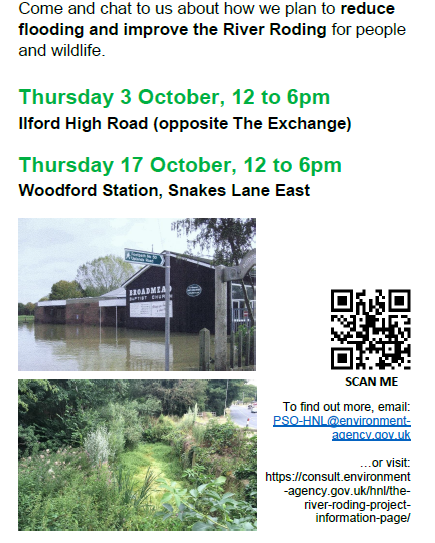 If you are unable to attend the dates above and have ideas about how we can improve the River Roding please contact us at: PSO-HNL@environment-agency.gov.uk
2. We are busy trying to secure funding to progress the project. The current bid we are working on the Mayor of London's Good Growth Fund.
This bid is all about how our project will protect local businesses and enable them to grow by reducing flooding and also improving community spaces. As part of this bid, we are proposing works to improve the River Roding environment, to make it a better place to spend time, appreciate nature or simply walk your dog. Improvements to the River Roding environment include improving fish passage by removing barriers, connecting cycle paths and providing new information boards.
3. Over the coming months we will be working with our consultants to develop detailed designs to be able to apply for planning permission in Spring 2020.
If you would like to receive project updates, please email us your contact details to PSO-HNL@environment-agency.gov.uk
Project Background
We are working alongside London Borough of Redbridge to create a better place for people and wildlife that is more resilient to the impacts of flooding and climate change. The project involves the construction of a flood storage area to hold back high flows upstream in rural Essex. The Woodford river defences will be improved and natural flood management used where possible to slow the river. We are exploring how we can also improve the River Roding in Woodford and Ilford, including riverside landscaping and re-naturalising the river.
Flood Storage Area (upstream in Essex)
During heavy rainfall, the new FSA will temporarily hold back large volumes of floodwater, approximately the same quantity as 400 Olympic swimming pools. However, in dry weather conditions the FSA will remain a rural landscape.
To date we have produced outline designs which will now be developed in detail. Once we have completed this work we will consult the local community to capture your views before we seek planning permission.
Please note we will have to permanently divert the public footpath 'Stanford Rivers 47' around the earth embankment. See the current route on the map below, (orange dotted line). If you use this footpath or have any comments about how we will divert it please get in touch.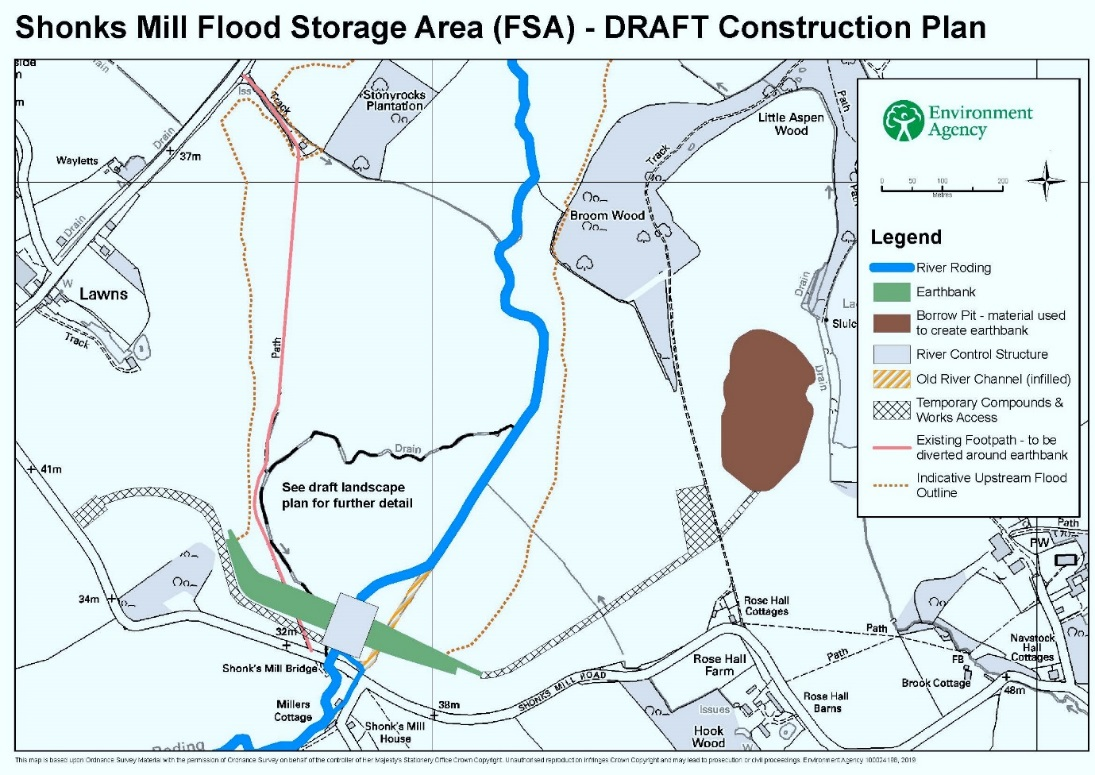 Downstream defence refurbishments (in Woodford and Ilford)
We are currently analysing information obtained in recent site investigations to determine which defences need refurbishing to make sure they are fit for purpose. The locations are identified on the map below by the red circles.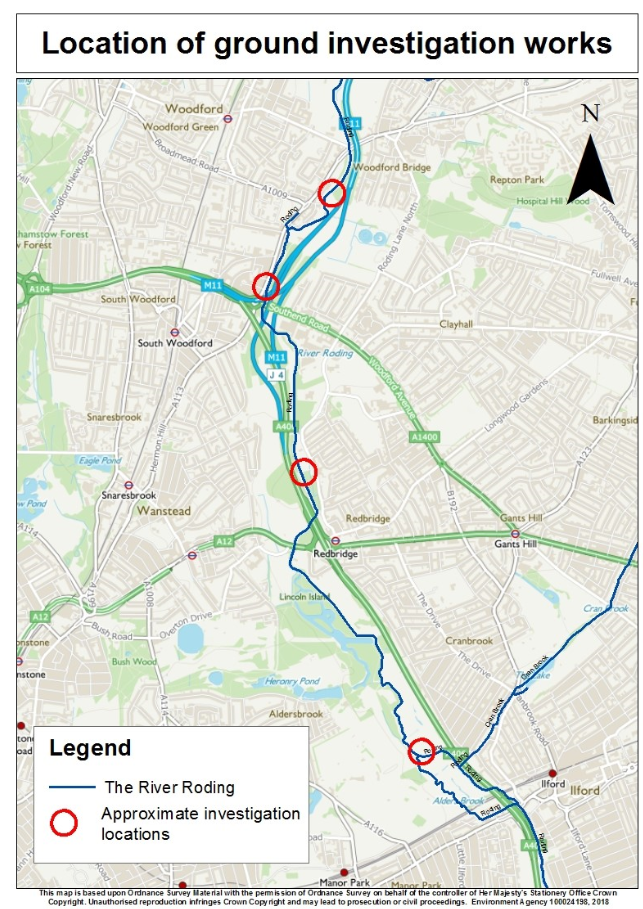 If you would like any further detail about any of the above information please get in touch at PSO-HNL@environment-agency.gov.uk.
Thank you for visiting our project information page.