Overview
The rivers Ouse and Foss flowing through York have been instrumental in the city's success, providing first a defensive role for the Roman settlers, then an artery for trade and industrial growth as the city expanded. Our relationship with the rivers has not been without problems. Throughout history the city has regularly flooded, though none as fresh in the mind, nor as painful as the events of December 2015. The city's flood defences have protected residents on many occasions, and the people who live here have shown remarkable resilience.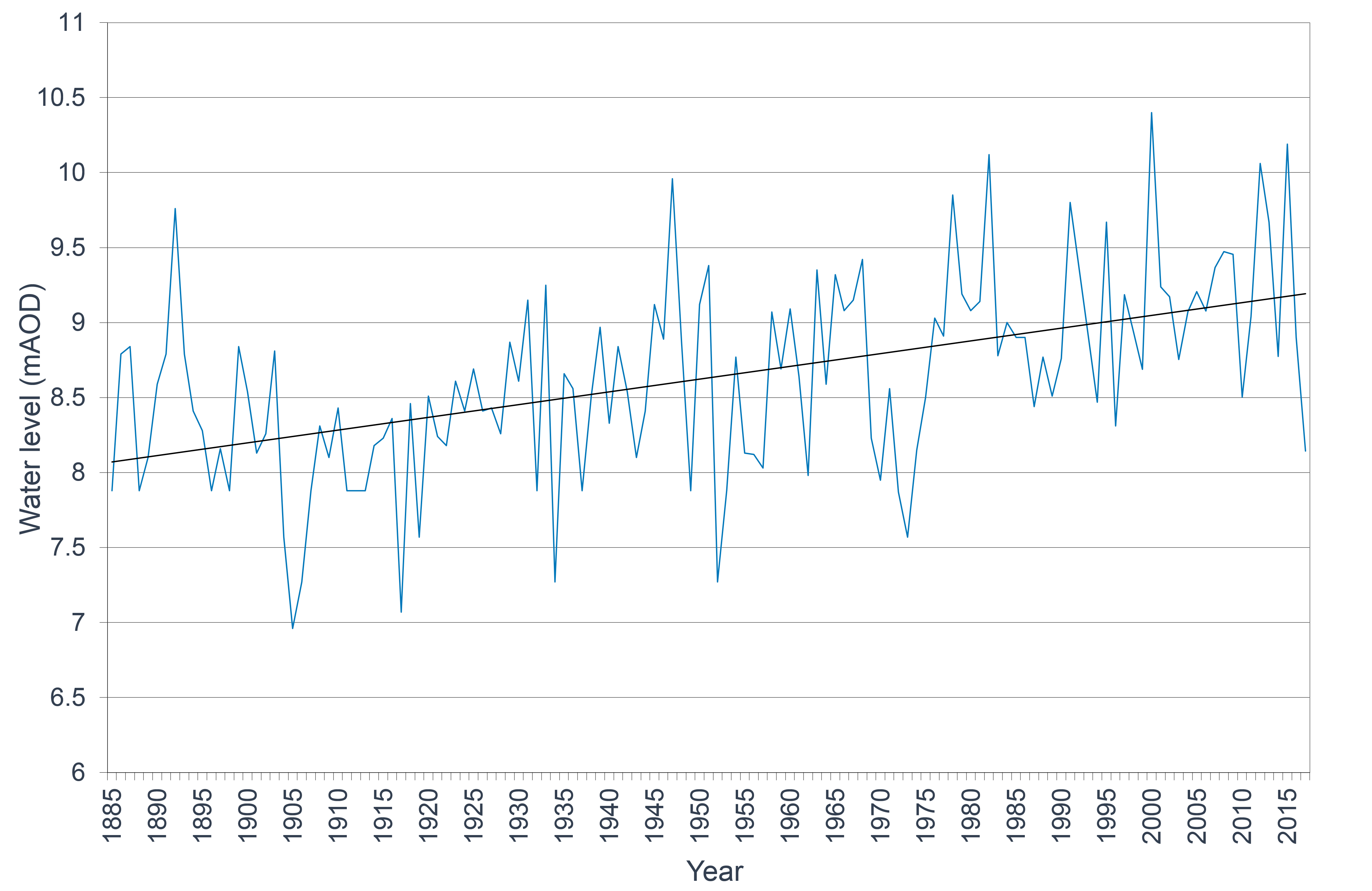 The steady increase in the annual maximum levels at the 'Viking' river level recorder in central York, showing a rise of around 8mm in peak river levels for the River Ouse. Historic data has been taken from a historic document about flooding in York and recorded at the Guildhall (opposite the Viking recorder).
We must remember that we cannot prevent all flooding. What we can do, and what we must do, is manage water better. This will involve building new and improved defences throughout the city, and looking upstream at the catchment as a whole for new ways to slow the flow, store water, and reduce the impact of flooding on York. The £45 million investment provided to York by the government is the first step towards that.
We will continue working with City of York Council between now and 2021 to carry out a major programme of flood defence upgrades within the city. Our initial ideas were identified within the York 5 Year Plan, published in November 2016.
The original 5-year plan focused on ten 'communities' – areas within York's administrative boundary, alongside the River Ouse, the River Foss and their tributaries, where there is a risk of flooding. Since publishing this plan, our work has further identified 29 separate 'flood cells' within eight of these communities where flooding occurs in different way. We intend to propose new or improved defences in 19 of these flood cells where they meet cost benefit rulings, as part of our aim to better protect 2,000 properties in York over the next 5 years.
The interactive map below will provide the latest information on progress for each of the flood cells, just click on the cell you want to find out about.
Please use the links below for information on how the Environment Agency aims to reduce the risk of flooding for homes and businesses in eight communities in York.
The Clifton & Rawcliffe Community
The Foss Confluence to Fulford Community
The Naburn & Acaster Malbis Community
The Osbaldwick and Tang Hall Beck Community

Why We Are Engaging
Whilst we can assess the feasibility and cost effectiveness of individual schemes, it is important that we consult with residents and businesses to understand what defences and modifications are most appropriate in each area.
York has a valued yet complex relationship with the rivers Ouse and Foss. We want to have an open and honest conversation about this relationship so that we can provide flood alleviation with the city's best interests at heart. In partnership with City of York Council, we are engaging with communities and local interest groups throughout the city to provide up-to-date information and give everyone an opportunity to join the conversation.
As part of a wide programme of engagement, we have opened a Community Hub on Wellington Row where you can speak to project officers about what we've done so far and what we're planning for the future. The Hub is open Mondays, Wednesdays and Thursdays, from 10am to 4pm. We are also consulting an advisory panel consisting of representatives from local interest groups, and regularly display new information in the Hub and share it via newsletters and social media. If you would like to receive information about these, please email us at yorkfloodplan@environment-agency.gov.uk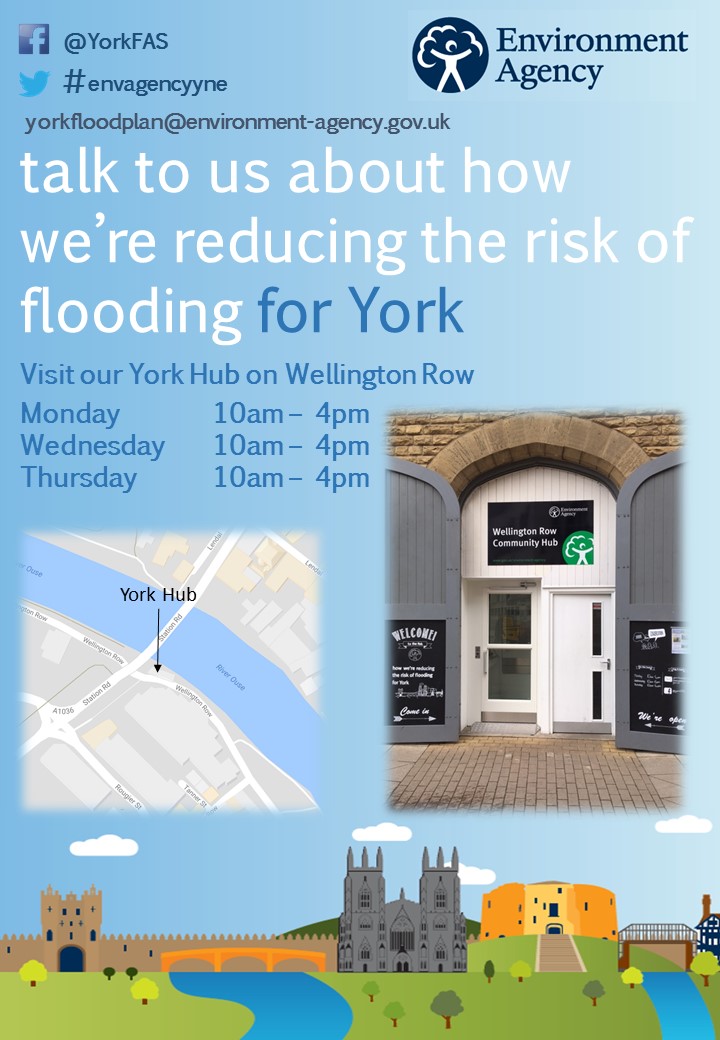 In addition we will provide newsletters with the latest information covering the whole city - the most recent is available below and historic newsletters can be requested via our email address. If you would like to request newsletters or join our e-mailing list please contact yorkfloodplan@environment-agency.gov.uk.
York FAS Planning Approach
The York FAS considered three approaches for obtaining planning consent for the modifications/new defences proposed. We reached agreement with City of York Council that we will submit individual planning applications for all proposed works requiring planning permission in each flood cell, whilst using our Permitted Development rights where applicable.
Permitted Development rights allow certain building works and changes of use to be carried out without having to make a planning application. One example of where we might use our Permitted Development rights would be to increase the height of an existing flood wall.
For a technical explanation of our approach to planning, please see the York FAS Planning Approach document at the bottom of the page.
The Foss Barrier
An additional £17 million has been invested in improving the Foss Barrier. For more information about how these works are progressing, visit our Foss Barrier page.