Overview
The York Flood Alleviation Scheme (York FAS) is a programme of works to better protect 2,000 properties in York from flooding.  Work on this scheme started in 2016 and continued alongside the refurbishment and upgrade of the Foss Barrier. 
We are pleased to announce that more than half of the projects within the programme are now completed, and we have already met our initial target of 2,000 properties better protected.   
How We Engaged with You
Since the scheme began, we have engaged with many different stakeholders ranging from individuals, local communities and voluntary organisations in the city, to local government and statutory consultees.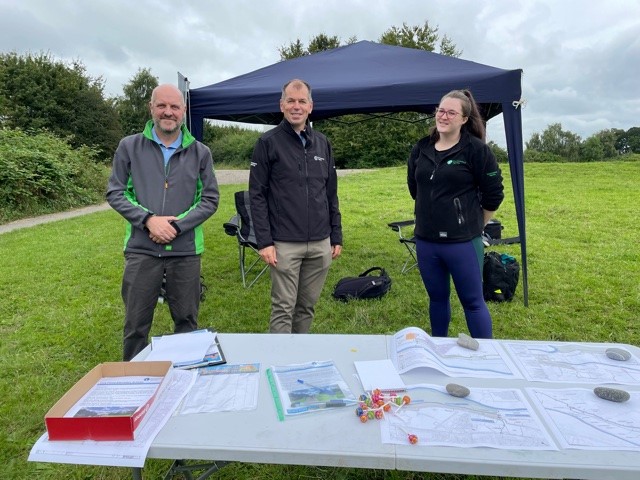 Photo: Open air drop-in on Clifton Ings to provide information on our scheme there in 2021
We used varied routes and forums to keep people informed about what was happening and how they could get in touch with us if they had any concerns. Our engagement included public 'drop in' events, postal and electronic newsletters as well as online meetings during COVID 'lockdowns'. We also held meetings with ward councillors, parish councils, environmental organisations and other groups affected by our work.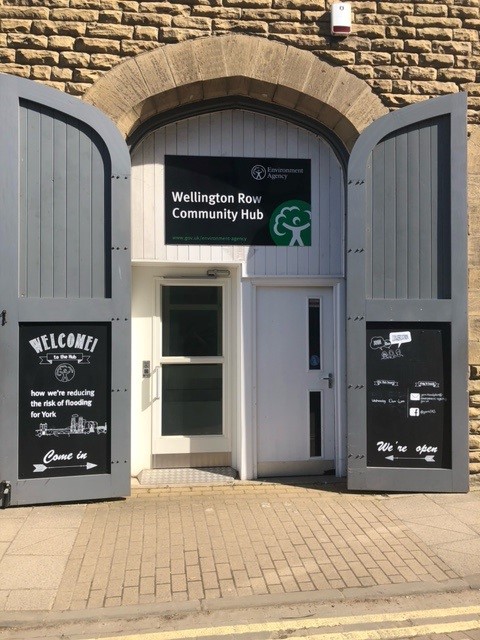 Photo: Entrance to the Community Flood Hub
We opened the Community Flood Hub on Wellington Row in 2018 to create a space where people could come and speak to us directly.  In addition we set up a project email address to make it easier for stakeholders to communicate with us electronically.  We have also posted information on Facebook and Twitter, placed articles in local newspapers and radio stations as well as installing signage where we were working.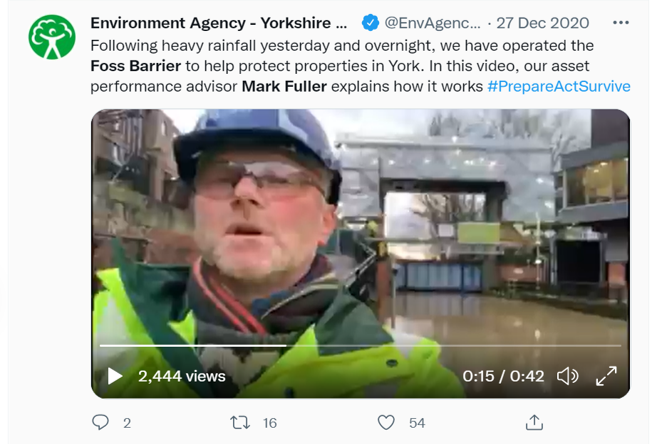 Photo: One of the tweets we sent out as part of the engagement programme
The Purpose of our Engagement
The main aims of our communications and engagement work over the last seven years has been to provide information which would:
keep a wide range of stakeholders informed about our flood defence work in York;

keep those directly affected by our work informed about progress and  any disruption that may have arisen as a result of it.
Purpose of this survey 
We would like to hear your views on how well we have kept you informed as the York Flood Alleviation Scheme has progressed, so that we can learn lessons and improve our engagement approach for future projects. 
Why your views matter
Why your views matter
We would now like to understand how this information has been received and how we could improve our communications and engagement in future.  We are interested to hear your feedback on this aspect of our work.
Thinking about your personal experience, please could you answer the questions in our survey below. 
Consultation principles
We are running this consultation in accordance with the guidance set out in the government's consultation principles.
 If you have any queries or complaints about the way this consultation has been carried out, please contact the Environment Agency's Consultation Enquiries Team by post at Horizon House Deanery Road Bristol, BS1 5AH. Or email consultation.enquiries@environment-agency.gov.uk