Overview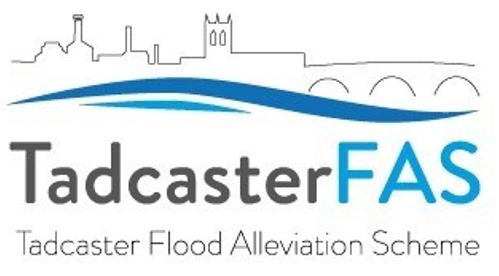 Welcome to the Tadcaster Flood Alleviation Scheme Information Page.
We have created this page to provide easy access to information on what is happening in Tadcaster, including background information to the recent flooding and a summary of our work to reduce the flood risk to homes, businesses and infrastructure along the river.
We will be updating this site as the scheme progresses so please keep checking back for what's new.
Up-to-date information about progress and upcoming events is also available on our Facebook (@TadcasterFAS) and Twitter (@EnvAgencyYNE) pages.
We are issuing regular newsletters which highlight our recent progress and any upcoming engagement events. To request this newsletter in an accessible format, or to be added to the mailing list for this newsletter, email us at tadcasterfas@environment-agency.gov.uk
Coronavirus (COVID-19)
As an organisation we are doing everything we can to support communities, the government and the NHS, abiding by measures set out by the government during the COVID-19 pandemic. Our priority in these difficult times is the health, safety and wellbeing of residents and our staff.
We will continue to monitor emails and respond to correspondence where possible. We are also liaising with the Town Council and Flood Action Group. As we can no longer hold public events at this time we are looking at alternative arrangements to ensure we can maintain our engagement with you. Please be assured that we are doing all we can to ensure work continues and that delays caused by the knock-on effects of the pandemic are kept to an absolute minimum.
---
Tadcaster is a brewery town located approximately 12 miles from Leeds and 10 miles from York in the county of North Yorkshire. It is situated on the River Wharfe and the road bridge crossing the river in the centre of the town is a vital route connecting communities on the two sides of the town.
The town's existing flood defences were constructed in the 1980s, and comprise of a combination of raised embankments and flood walls along both banks of the River Wharfe. There are also a series of washlands upstream and downstream of the town known as Tadcaster Ings. The Ings store water in order to reduce flood levels and can regularly be seen holding water after periods of high rainfall and river levels.
Whilst these defences have protected the town many times from flooding over the years, more recently the frequency and severity of events have resulted in the town suffering a number of flooding events.
October 2000

Fluvial flooding
3.79m
30 properties flooded
Flooding caused by overtopping of defences
Flood warning issued

September 2012

3.7m


Bridge closure only
Flood warning issued
December 2015

Fluvial flooding
4.51m
79 properties flooded and bridge collapsed
River flood was preceded by surface water flooding
Flood warning issued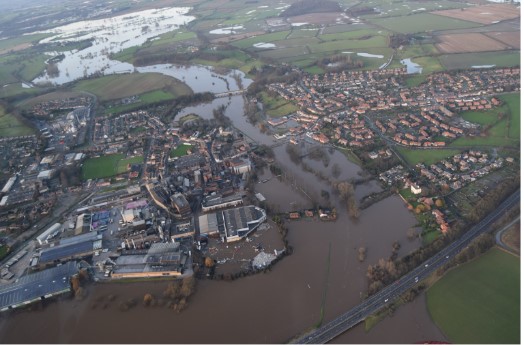 Aerial photograph of flooding in Tadcaster December 2015
Boxing Day 2015
Widespread and substantial rain fell over West and North Yorkshire throughout November and December 2015. Many rivers, including the Wharfe, recorded their highest ever flows by a significant margin during December 2015. On the 25th – 26th December heavy rainfall associated with Storm Eva saw the River Wharfe flowing at Tadcaster reach its highest ever recorded level on the town's gauge (4.51m) and overtop the town's existing flood defences. In total 79 properties (36 homes and 43 businesses) in the town were flooded. The flooding and subsequent collapse of Tadcaster Bridge resulted in the closure of the A659 at the bridge, separating the two sides of the town either side of the River Wharfe.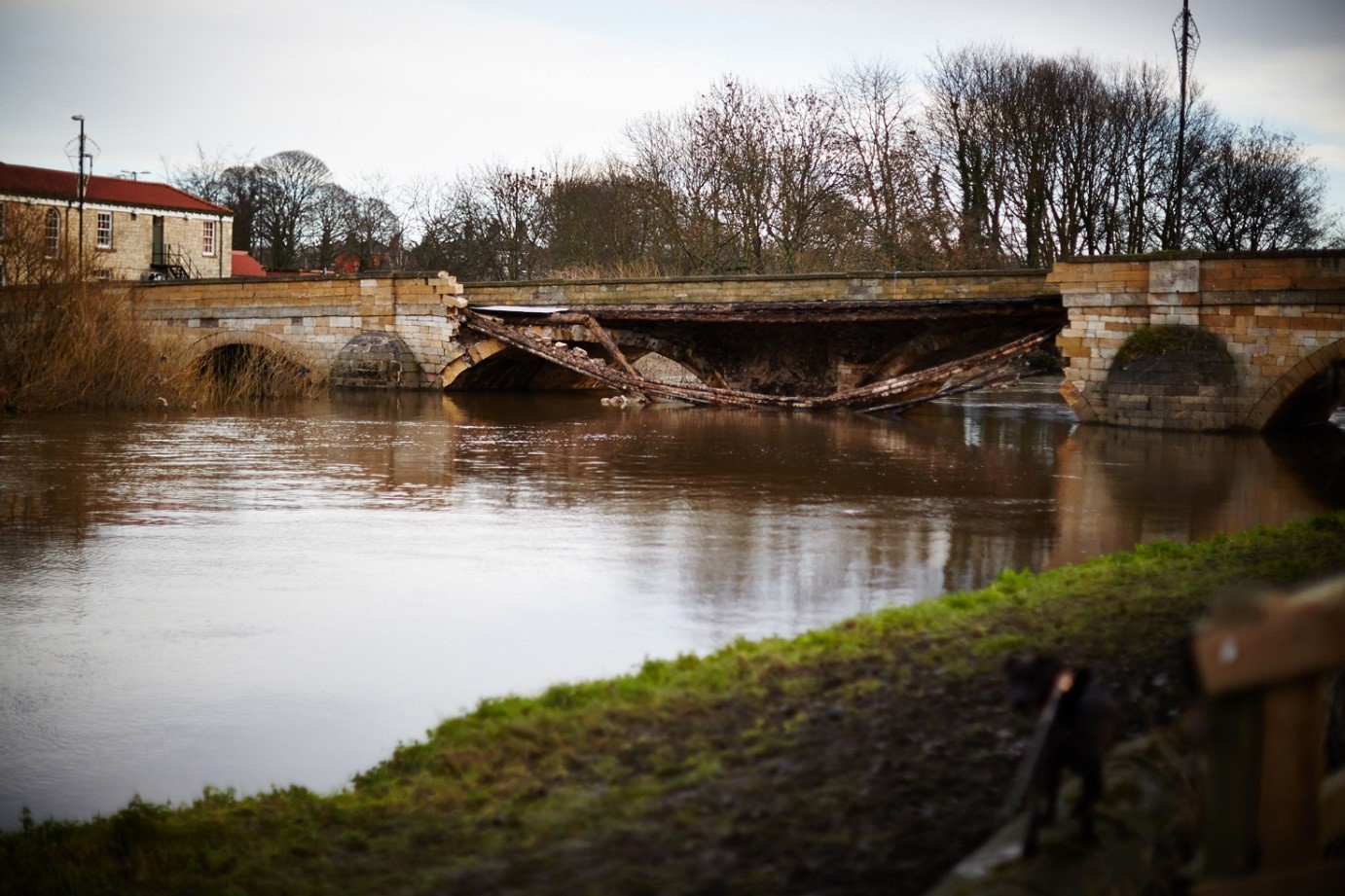 Tadcaster Bridge collapse, December 2015 – image courtesy of David Lindsay Photography
As part of the multi-agency response to the incident, to which the community made a significant contribution, a temporary footbridge was installed by North Yorkshire County Council's Highways team to provide a pedestrian route during repairs to the bridge structure. The bridge itself remained closed until fully repaired, and reopened some 13 months later.
Funding a new Flood Alleviation Scheme
In 2005 the Environment Agency looked to provide an improved standard of flood protection for Tadcaster.
The proposed scheme progressed to the planning permission stage with Selby District Council. However, this was withdrawn and the scheme was put on hold due to significant opposition from local residents, businesses and landowners against the raising of the town's defences.
However as a result of the Boxing Day 2015 flooding, subsequent Section 19 report recommendations and local political pressure, a review of these plans was conducted in 2017. The aim was to help identify a potential new flood alleviation scheme that could benefit, and also be accepted by, the town community. Based on this review, the total cost of a scheme is expected to be in the region of £10 million.
The York and North Yorkshire Local Enterprise Partnership (LEP) have provided £1.02 million of Local Growth Funding, and the Tadcaster project was awarded £9 million in September 2019 from the £62 million government fund to better protect communities from flooding. As a result of this funding, we are now in a position to progress with the scheme.
The Environment Agency has continued to work with the town's residents, businesses and other stakeholders to develop a new flood alleviation scheme. Stakeholders involved include: York and North Yorkshire LEP, North Yorkshire County Council, Selby District Council, Tadcaster Town Council, the office of Nigel Adams MP, the Tadcaster Flood Action Group, and members of the local community including residents and businesses.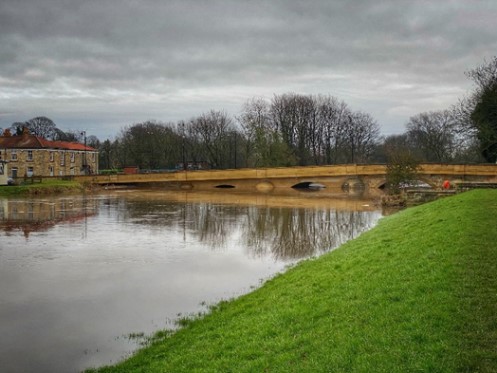 High river levels at the repaired Tadcaster road bridge, March 2020 – image courtesy of David Lindsay Photography
Involving the local community
Tadcaster has a valued yet complex relationship with the River Wharfe so it is important that residents, businesses and land owners have the opportunity to tell us their views on what flood defences and modifications are the most appropriate for this area.
By working in partnership with Tadcaster Town Council, Selby District Council, North Yorkshire County Council and Tadcaster Flood Action Group, we are able to engage with the local community and interest groups throughout the town, providing up-to-date information and giving everyone an opportunity to join the conversation.
It began in November 2019 when we hosted a drop-in event at The Barn to help launch the project to the community. We welcomed the news of the additional government funding, introduced ourselves, and began engaging with the community.
Progress to date:
We have:
• continued liaison with the community and stakeholders by issuing Tadcaster FAS newsletters and updates via local networks including Tadcaster Today, TFAG, the Town Council's website and social media;
• launched our Tadcaster FAS Facebook page: @TadcasterFloodScheme;
• placed suggestion boxes around the town to give the community opportunity to input into the options for the scheme; and
• formally signed contracts with our delivery partners, ARUP & Partners Ltd, who we have worked with on other large schemes in the region such as the Leeds FAS and Skipton FAS. They will be working in partnership with Jacobs Ltd to deliver the options appraisal for Tadcaster FAS.
In addition, the following work is progressing:
• Our consultants have continued to undertake modelling to ensure we have a full understanding of the impacts of flooding on the town. They are also scheduling in environmental and ecological surveys of the river, the surrounding area and its habitats (due to be completed in July 2020).
• We have continued work to produce a feasible short list of options ready to be presented to the community.
• We continue to hold meetings with landowners and other stakeholders.
• We have established the Tadcaster Community Client Group to provide town representation on the project. We are working together so that the town has its voice heard, feels listened to and responded to. The group will also help disseminate and collate information through their networks. Please use your local contacts (listed below) to help feedback your comments.
The group members are:
Tadcaster Town Council – Cllr Steve Cobb

Office of Nigel Adams MP – Howard Ferguson

Tadcaster Flood Action Group – Nicola Eades

Tadcaster Flood Prevention Group – Patrick Tunney

Tadcaster Businesses – David Gluck

Tadcaster Residents (East and West) – Mick Malkinson,

Dave Lindsay & John Horton

Tadcaster Medical Centre – Dr Andrew Inglis

Tadcaster Albion AFC – Andrew Charlesworth

Tadcaster Angling Association – Chris Burton

Tadcaster Historical Society – John Firth

Selby District Council – Cllr Richard Sweeting

North Yorkshire County Council – Cllr Caroline Goodrick
What's next?
We are working hard to identify solutions that are environmentally and socially acceptable as well as being technically feasible and affordable. Each community that we work in has its own characteristics and complexities; there are often many factors to consider that influence or constrain the choice of solution/s. Tadcaster is no different. We need to ensure that the solution is right for the town's flood dynamics as well as being suitable for the local environment, whilst at the same time not increasing the risk of flooding in neighbouring communities.
Engagement
We always seek to engage with the local community during the development of a scheme to ensure that we listen to and learn from their views. Where possible, we also include features in the design of our schemes that enhance the natural environment or provide other benefits, such as better access or improved facilities. We have begun this process, but engagement is now increasing as we begin to promote our shortlist of options to you for comment as we move towards a final design.
Public Consultation – coming soon!
We would like to hear your views on the shortlisted options for the Tadcaster FAS. The launch of the short list of options will see the use of a new and innovative approach to public engagement, providing a virtual drop in facility that is available to you as and when you are free to 'visit' and not limited to our opening times.
The public consultation will be open from Wednesday 30th September – Wednesday 14th October and will be available in two formats:
ONLINE VIRTUAL ENGAGEMENT ROOM


(live from 30th September)


This is a virtual on-line site which will provide details on the outline designs of those options considered feasible to help reduce flood risk in the town. The 3D program allows you to 'virtually' walk around the room to read the information panels on each option. There is also a short video to watch.





Visit www.virtualengage.arup.com/tadcaster

Or scan the QR code:




The TADCASTER TODAY community newsletter
(arriving on your doorsteps soon)
The community newsletter article provides those without access to the online resources the same opportunity to view the information and provide feedback.
Give Us Your Views
We will ask for your views on each of the options. Full details on how to give us your feedback will be available on both the on-line site and in the Tadcaster Today newsletter.
Both these avenues will provide you with more detail on each of the shortlisted options. We want to seek your views on these and will use your feedback to help inform the work we are doing to review the suitability of each potential option.
At this stage we are not specifically consulting on things such as how potential new defences may look. We will consult on this in a separate event at a later date, once the preferred option has been identified, to enable your views to feed into the detailed design of the selected option.
We are therefore interested in understanding:
Which of the options you prefer and why?

Your thoughts on the potential alignments of new flood defences or new locations for flood storage; and

Any parts of Tadcaster that you feel would not be defended through our proposals, which you think should be, as well as any areas you feel shouldn't be defended?
Your feedback will be used to help us to identify the final design for the Tadcaster FAS.
What's Next?
Further events will be planned to ask the community to provide additional comments on the finished look of the scheme (including defence height, defence type, finish etc). These will be advertised using this information page; our Facebook page; twitter; (links below) and the Tadcaster Today newsletter etc.
Throughout this project there will be numerous opportunities for you to feed into the development of the flood alleviation scheme, either through formal engagement events such as this or via one of the communication channels below. We will continue to increase the level of communication with you and update you with progress.
Once safe to do so we will look to provide town centre information points including noticeboards and monitors in shop windows, and our main aim is to eventually have an information hub set up for you to call in to.
We would encourage all interested parties in Tadcaster and neighbouring communities to sign up to updates / e-newsletters by registering your interest at tadcasterfas@environment-agency.gov.uk . We would also encourage you to support any family members, friends or neighbours who cannot access online information, by sharing our updates with them.
Over the coming weeks you may begin to see an increase in the presence of project staff around the town and the river, working to strict social distancing rules. Please respect these rules as we go forward. We will endeavour to keep you all updated as to what is happening and when. If you have any questions or concerns in the meantime you can contact us:
By email: tadcasterfas@environment-agency.gov.uk
By telephone: 03708 506506 and ask to speak to a member of the Tadcaster Flood Alleviation Scheme project team (Yorkshire Area FCRM Partnership and Strategic Overview)
By post: Tadcaster Flood Alleviation Scheme, C/o Tadcaster Town Council, The Ark, 33 Kirkgate, Tadcaster, North Yorkshire, LS24 9AQ
We are aware that not everyone has access to or confidence in digital communication methods. We are making every effort to use other, more traditional methods where we can, whilst staying in line with Government Covid-19 restrictions. If you know of anyone who may prefer to have a printed newsletter, or written update, please ask them to contact us directly as above.
We look forwarding to engaging with you during the next phases of this project.
Be prepared
Remember that homes and businesses which receive increased protection are still at risk of flooding. (To view a larger version of this leaflet - Flood Warnings Leaflet)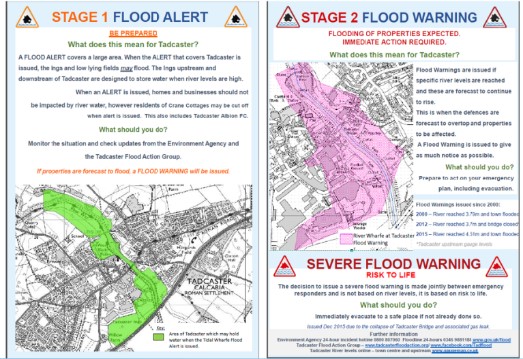 February's storms and high river levels showed the excellent level of awareness and preparedness there is in the community. This is something that will need to continue. Please continue to be prepared and resilient towards flooding by signing up to receive advanced warnings of flooding. Register by calling
Floodline 0345 988 1188
, or visiting
www.gov.uk/sign-up-for-flood-warnings
. If you are already registered to the Floodline Warning Service, again please check if your details need updating by visiting
www.fws.environment-agency.gov.uk/app/olr/login
.
Tadcaster Flood Action Group also provide an excellent local service. Please take the time, if you haven't already done so, to sign up for their system which is linked to our incident response. You can do this by visiting
www.tadcasterfloodaction.org/
or
www.facebook.com/Tadflood/
.
You can also download and keep a copy of our guide to the meaning of a flood alert and a flood warning for Tadcaster by visiting www.tadcasterfloodaction.org/what-we-do