Overview
Page created January 2020. Last updated 28 February 2020.
Background
We regulate the Environmental Permit held by Biffa Waste Services Ltd for Poplars Landfill Site and Anaerobic Digestion Facility. The permit contains conditions relating to site operations, which includes the waste types allowed, the handling of them and any relevant emissions standards and monitoring requirements.
A copy of the Environmental Permit for the site can be viewed here
Mobile Monitoring Facility (MMF)
To enable us to further understand the potential impact on air quality from the Biffa Poplars Landfill site, we installed a mobile monitoring facility (MMF) on 31 January 2020 in the car park of the Newhall Farm Pub in Cannock. This MMF contains equipment capable of measuring methane (CH4), hydrogen sulphide (H2S) and oxides of nitrogen (NOX).
The MMF will collect data continually for four months to allow sufficient data for meaningful analysis to be undertaken. At the end of this four month period, a summary of the results will be provided to local residents. The full report will also be made available. All data will be provided to the Local Council, and to Public Health England for them to update any advice as necessary.
Initial monitoring observations – February 2020
Although a report on the measurements and findings will not be available until after the monitoring exercise has been completed, which is likely to be late summer, early indications on the measurements suggest the levels of hydrogen sulphide detected have been below the World Health Organisation air quality guidance limit.
The photograph below shows the mobile monitoring facility in the pub car park.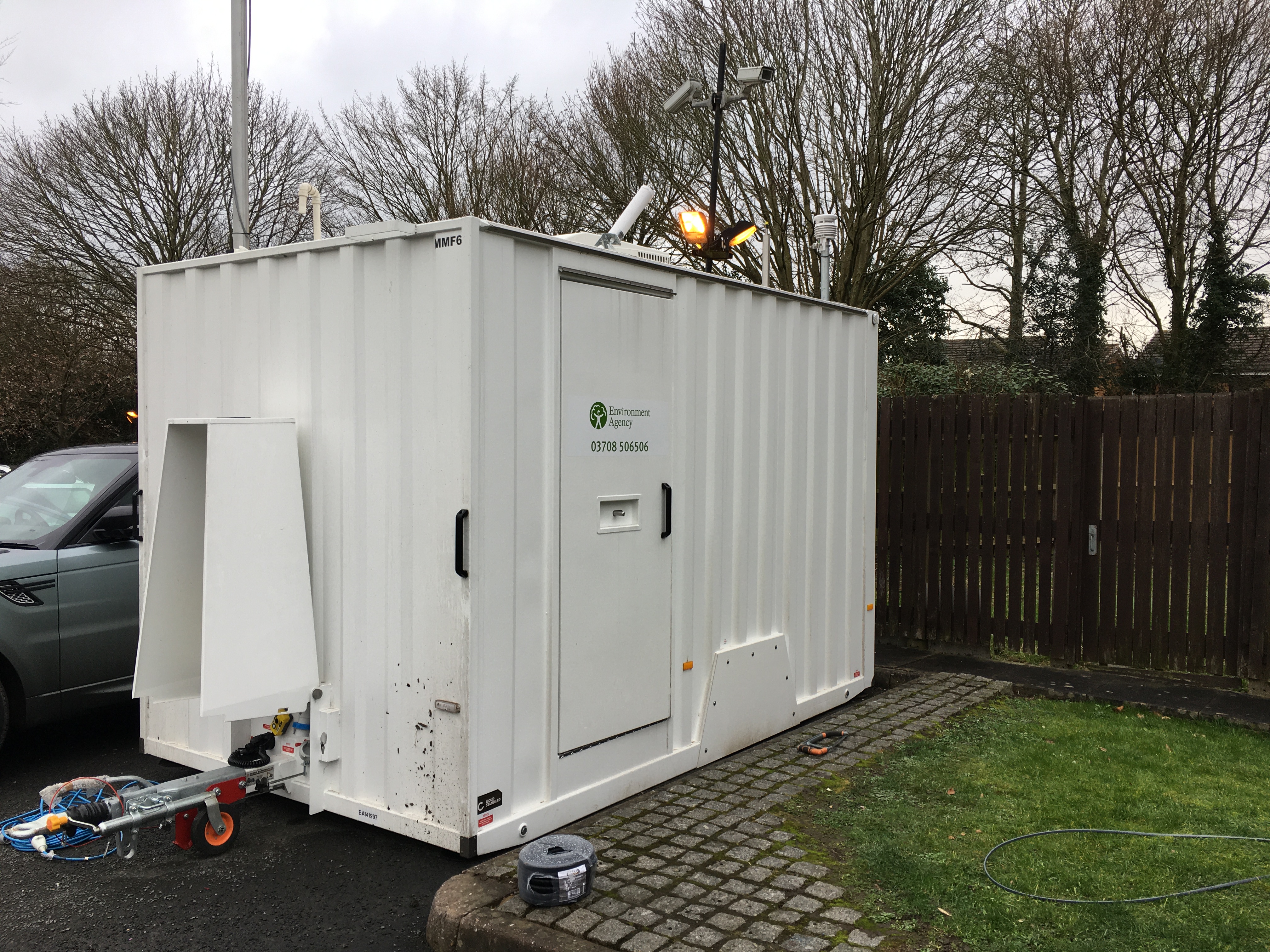 Current Landfill Situation - Late February 2020
Improving gas capture
The work on capping the slopes of the active tipping cell was completed by Biffa on the 14 February 2020. Since completion of these works, the number of complaints we have received regarding the Poplars Landfill has significantly reduced.
The photograph below shows an Environment Agency Officer inspecting the temporary capping work on the slopes of the active tipping area.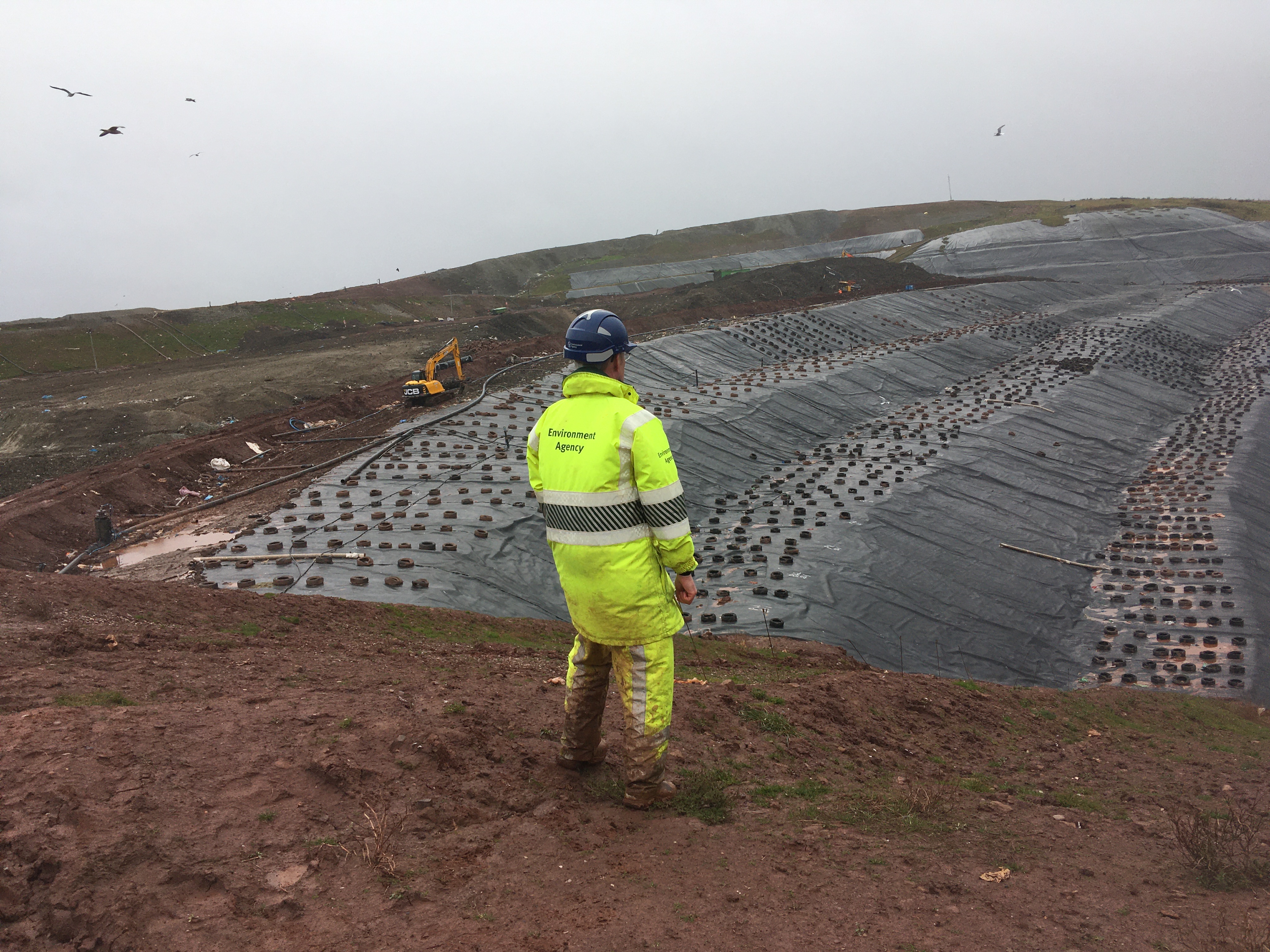 Further improvements for the site that we have agreed with Biffa include;
installation of additional gas extraction wells

using geo-membrane plastics in the future for temporary capping to cover slopes of active tipping areas, and

reducing the operational area of the site, which is the uncapped part where waste is being tipped.
Our regulation
As part of our ongoing regulation of the Poplars landfill, we will continue to conduct site inspections and hold regular review meetings with Biffa to ensure the site are progressing with identified improvements and using appropriate measures for odour control. In addition to reviewing the monitoring data submitted by Biffa, we will continue to conduct gas management audits to test the effectiveness of Biffa's infrastructure on capturing landfill gas.
Keeping local residents updated
We understand the importance of face to face conversations, and in January 2020 six of our experienced Regulatory Officers visited the Heath Hayes area of Cannock to distribute our latest newsletter to the local community by hand. This enabled us to speak personally with over fifty local residents and address their concerns directly.
We will continue to provide updates through this information page and via our newsletter. If you would like to receive our newsletter, please email your contact details to Engagement_WestMids@environment-agency.gov.uk and we will add you to our mailing list.
You can follow us on twitter too at @EnvAgencyMids #PoplarsCannock.
We also attend liaison meetings organised by Biffa Waste Services Ltd, where the regulation of the site is discussed.
You can view our previous community updates below:
Frequently asked questions (FAQs)
We have produced a generic landfill FAQ document, which you can read here.
Whenever people are concerned about their personal health, they should visit their General Practitioner (GP) or contact NHS Direct on 111 or https://www.nhs.uk/
For any concerns regarding the operational life of the site, final height and profile of the landfill, hours of operation and traffic movements to and from the site, please contact Staffordshire County Council on Regulation@Staffordshire.gov.uk or via their general enquiries number on 0300 111 8000.
Incident reporting
We want to hear from you if you have an environmental incident or concern to report, including any odour concerns.
To do this, call our free 24 hour incident hotline on 0800 80 70 60
Reporting odour incidents
When reporting odour incidents to us, we will ask you to assess the strength of the odour on a scale of 0 to 6. To help with your assessment, an explanation of this scale is as follows:
0 – No odour
1 – Very faint odour (need to inhale into the wind to smell anything)
2 – Faint odour (you can detect an odour when you inhale normally)
3 – Distinct odour (there is clearly an odour in the air as you leave your car or enter the area)
4 – Strong odour (a bearable odour but strong, you could stay in the area for some time)
5 – Very strong odour (unpleasantly strong, you will want to leave the area quickly)
6 – Extremely strong odour (likely to cause nausea and a strong need to remove yourself from the odour immediately)
No landfill will ever be completely odour free. However, the level and type of odour from such operations should not be causing offence. The permit conditions require an Environment Agency officer to make a judgement about whether an odour is offensive and we can only take enforcement action where it is deemed offensive and the operator is not using all appropriate measures.
Further information
Thank you for visiting our information page.
Please keep visiting this page as we will be updating it regularly. Our next newsletter update is due in March 2020.