Overview
Page created 15 December 2021, last updated 26 January 2023.

Flooding in Hereford
Hereford is subject to significant flood risk from the River Wye and has flooded a number of times. The most significant flood events have been in 1960, 1979, 1998, 2002, 2004, 2012, 2019, 2020 and 2021.
In 2008 a Flood Risk Management Scheme was completed for the south bank of the River Wye reducing the risk of flooding in the Blackmarstone area of Hereford. Properties on the north bank of the River Wye situated on Greyfriars Avenue, Wye Terrace, Bridge Street and Gwynne Street do not benefit from a scheme and flooded recently in 2019, 2020 and 2021. We will refer to this area as the 'Greyfriars' community. The area is represented in the map below. These flood events impact on people's homes, businesses and the local economy.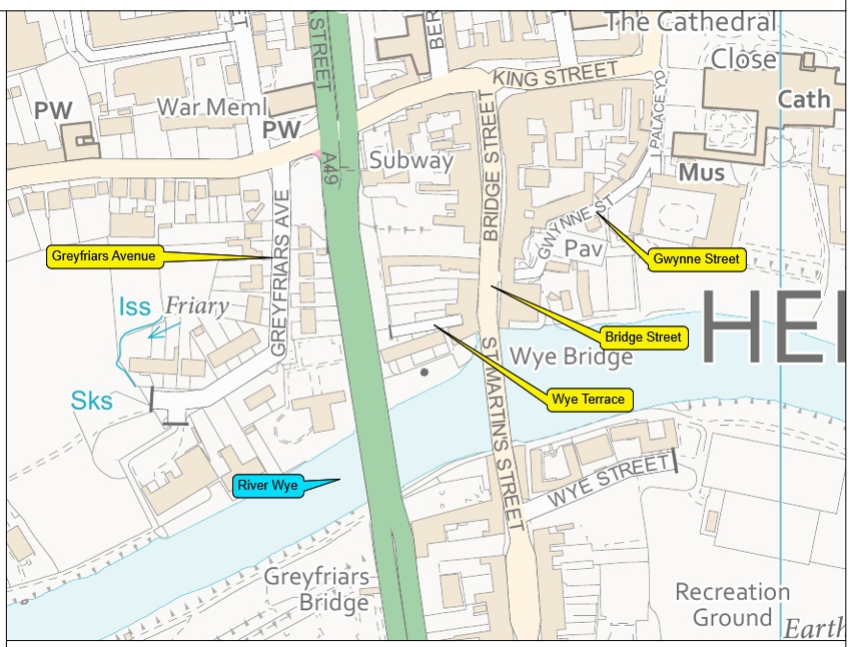 Flooding in the Greyfriars Community
During the Winter of 2019/2020, consecutive storm events led to high-water levels on the River Wye. The riverbank was overtopped in October 2019 causing flooding at Greyfriars. Following Storm Dennis in February 2020 the highest ever river level of 6.11m was recorded at Wye Bridge river gauge. Flooding in some properties was a metre deep. The level was 11cm higher than the estimate of the historic 1795 flood. Greyfriars community was affected again in January 2021.
Flooding tends to occur when the river levels rise as a result of intense and prolonged rainfall in the Welsh Hills. Flooding from the River Wye in Hereford typically occurs approximately 48hrs following the rainfall events.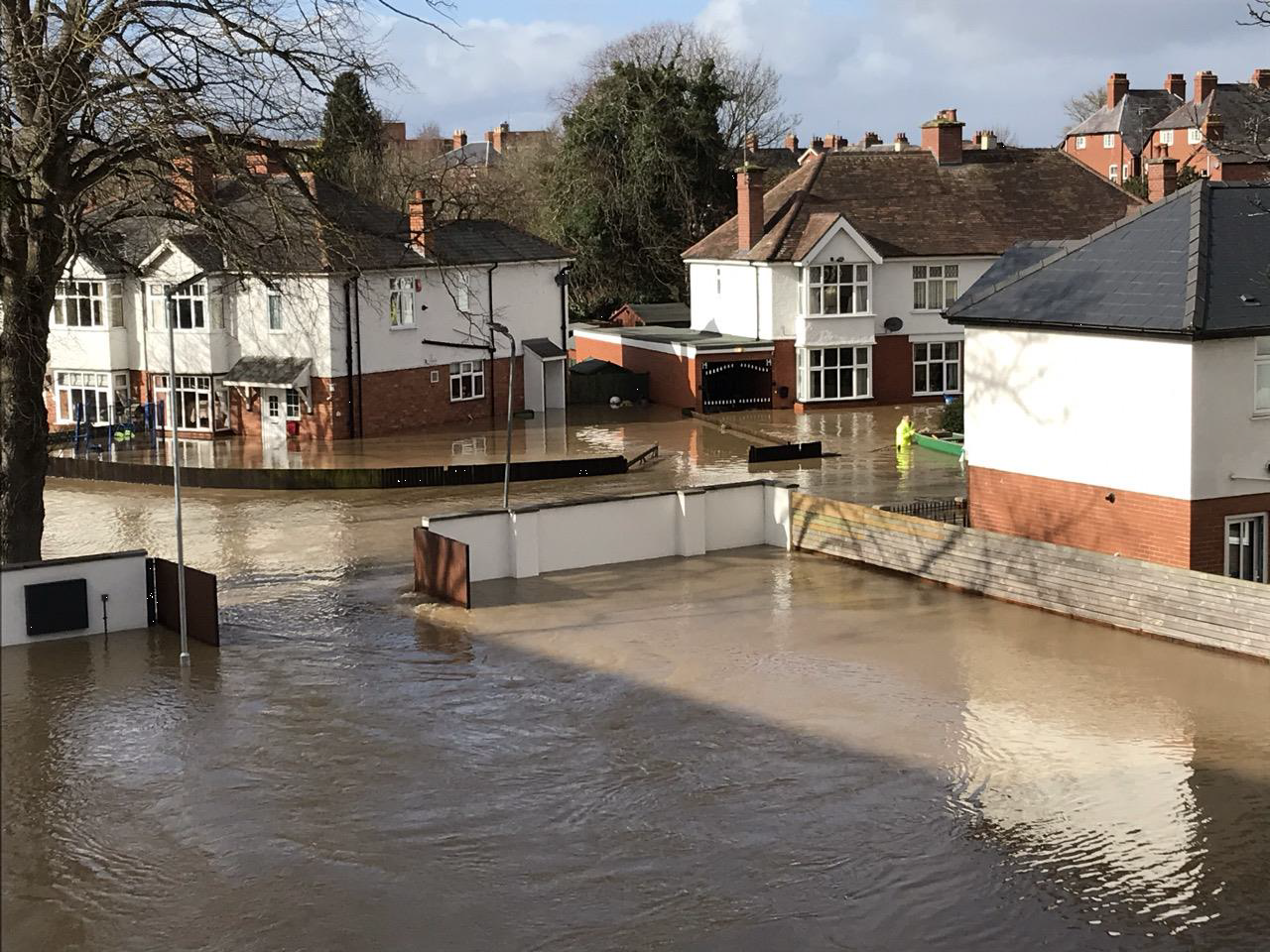 Background to a Flood Risk Management Scheme
Over the years a number of technical assessments have taken place to explore the possibility of a scheme to reduce the risk of flooding for the Greyfriars community in Hereford. Unfortunately a Flood Risk Management Scheme has not been viable to date. 
After the flooding in 2020, more funding was made available from Government for flood schemes nationally. This allowed us to re-look at options for a Flood Risk Management Scheme for the area.
We have started developing a potential scheme for the area. We are currently looking at options, building a business case, considering additional funding opportunities and talking with the community to help shape our thinking.  
Potential Scheme Details
Our consultants undertook a high level desktop assessment in 2020 to look into the flood risk in the Greyfrars community. This indicated a scheme could be viable. The project team are now progressing a business case to assess technical options and will carry out a number of surveys to help inform the potential outline design of the scheme.
As we are early in the process, we do not know how much funding is required and if we are able to go ahead with the funding available. We aim to make best possible use of the public money available and seek to maximise funding available through working in partnership.
Climate Change – what are the Environment Agency doing?
Climate change is the biggest risk we face – the most recent climate change predictions confirm we will experience wetter winters and drier summers, with an increased likelihood of more intense rainfall leading to flooding.
We're already planning for climate change – we will take climate change into consideration during the design of flood defences at Greyfriars to make sure they are fit for the future. We also keep our data and modelling under constant review and examine it rigorously after every flooding incident. We plan for the worst case scenarios.  
Project Updates
Next Steps and Timescales
The following timeline is ambitious and subject to change. We have been working with our partners and key stakeholders to progress the scheme.
To ensure we justify use of public funding, when developing a scheme the Environment Agency is required by Treasury to go through 3 stages of developing a business case. Each stage requires different level of detail.
These are the timescales we are currently working towards:
Winter 2021/22 - The first stage of the business case has been completed and approved.

Throughout 2022 - Gather technical data to support the second stage of the business case for a scheme.

During 2023 - We will work on a potential outline design and shape this with professional partners and the community in advance of any planning permission or final proposals. Any planning application we submit will be a major milestone for the project and likely require several supporting technical reports and investigations depending on the nature of the proposals. Should planning permission be granted we would need to secure full funding for any scheme before we could proceed with construction works, along with other relevant consents and permissions.
Frequently Asked Questions (FAQs)
We understand that you may have questions regarding Greyfriars Community Flood Scheme, we have put together a document that includes FAQs and other information that covers a wider range of questions regarding flood schemes. We hope this will be able to reassure and answer any questions that you may have about this potential scheme. The document can be viewed here.
Future public engagement
We want to work closely with the community and key stakeholders and are keen to engage with you throughout the project. We will share more detailed information about the scheme at key stages.
Updates will be published on this webpage or we can provide a hard copy to residents without access to the internet. We will run engagement events or provide updates either virtually or face to face depending on Coronavirus implications. We will contact residents to let them know when we plan to hold an engagement event.
Your local Flood Group.
We are working closely with the Greyfriars Flood Group who have provided us with information on the group and how to get in touch.
Keeping up to date- Sign up to our mailing list
Keeping you up to date on our progress with this scheme is very important to us. We will continue to provide updates through this information page and via engagement events. If you would like to receive notification about these updates or have any questions, please use the contact information below:
Emai

l your contact details to

enquiries_westmids@environment-agency.gov.uk quoting the scheme name of 'Greyfriars Community Flood Scheme Hereford'

Telephone

between 8am to 6pm on 03708 506 506 and we will add you to our mailing list.

Write

You can also write to us at:
Environment Agency
National Customer Contact Centre
PO Box 544
Rotherham
S60 1BY
United Kingdom
Before signing up to our mailing list please read our Data Protection Information below: 
Remaining flood aware
We offer a free flood warning service in the Greyfriars community. Please make sure you remain flood aware and ensure you are signed up to our flood warning service. Visit www.gov.uk/sign-up-for-flood-warnings or call 0345 988 1188 to sign up to get Flood Alerts and Warnings by phone, email and/or text message. This is a free service. You can also check your flood risk on https://www.gov.uk/check-flooding. 
Alternatively contact our Flood Resilience Engagement Advisors at Floodresilience@environment-agency.gov.uk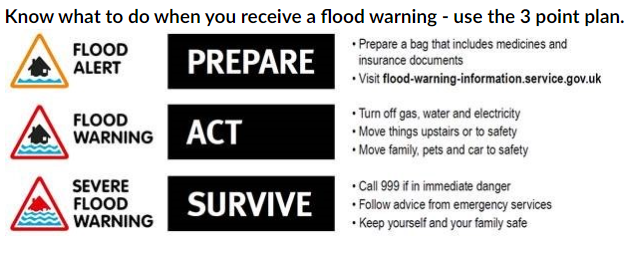 For more information about preparing for flooding, please visit the Herefordshire Council  website.
Thank you for visiting our project information page. Please keep visiting this page as we will be updating it regularly. This page will be open to the public until the end of the project.