Overview
Updated 25 November 2022 - next update due Spring 2023
Latest Update
The Environment Agency had submitted a planning application for these works, but as the design developed it evolved into something which it was felt didn't require full planning approval. As a result we submitted an application for a Lawful Development Certificate, to undertake these works under our Permitted Development powers. We received notification that this has been granted by the Local Planning Authority, paving the way for the completion of the business case. We expect the full business case to be completed by January 2023 and with our designs having reached the 100% mark across all sites we are expecting to start construction on site in the spring of 2023.
Background
The Fowlea Brook is a tributary of the River Trent with a catchment area of approximately 28 square km. It is an unattractive, heavily engineered, concrete lined channel through the centre of Stoke-on-Trent and is designated as a Rapid Response Catchment (water levels can increase by 1m in 15 minutes).  Flooding from the channel has a > 2% chance of occurring each year (2% AEP) which means development adjacent to it is restricted. Flooding has occurred on several occasions including 1947, 1996, 1997 and 1998.  Previous flood events have been attributed to blockages at the culvert at Liverpool Road where improvements have been made, but significant flood risk remains.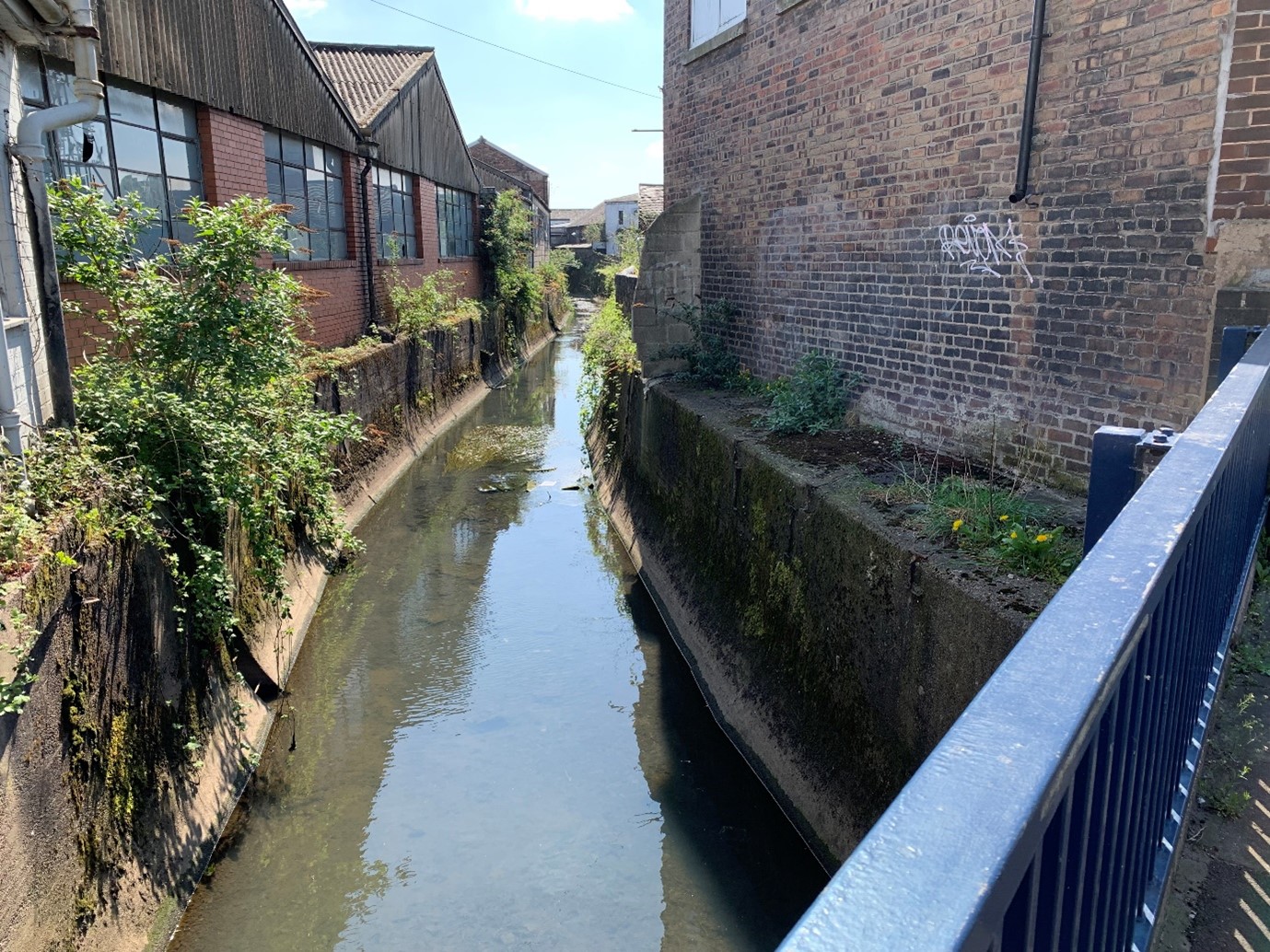 There are no existing flood defences along the channel, which is a heavily modified concrete channel. It was understood that this channel had enough capacity to hold the flood water but recent modelling has indicated that above the 2% AEP event the channel is overwhelmed and flooding occurs at a number of locations along its route through Stoke Town Centre.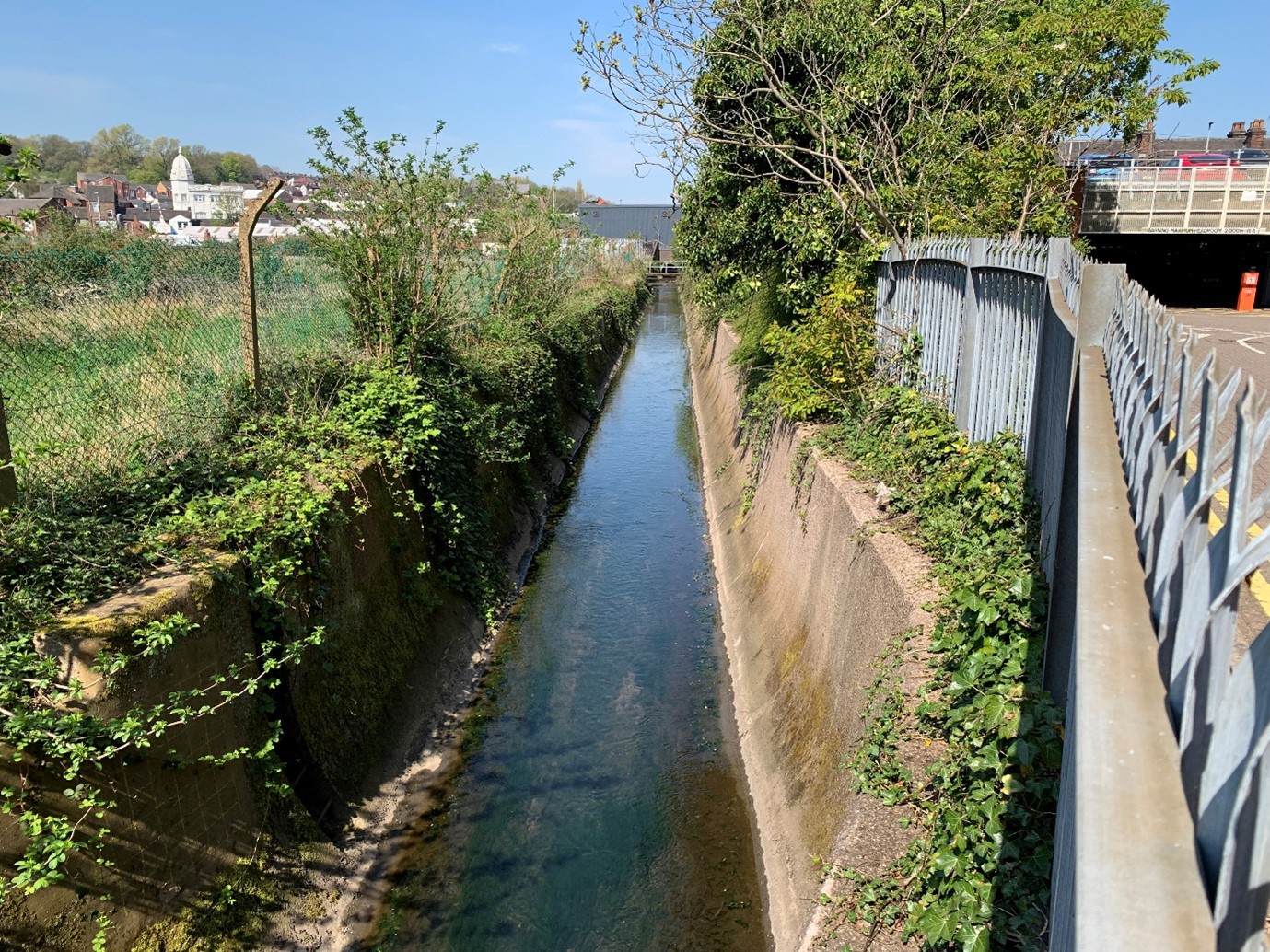 What are we doing?
This section of the Fowlea Brook is characterised by challenging access issues, with buildings built immediately alongside the channel through much of the 400m length related to these works. As a result, it has led to a complex design process with a number of traditional construction methods having to be discarded due to the access constraints. The design largely involves the raising of flood defence walls on top of the existing channel to increase the capacity of the channel.
These defences will protect residential properties and businesses from larger flood events and also include a provision for the future impact of climate change.
A key element to the scheme is to bring the existing channel back up to standard, so we will be undertaking significant repairs to ensure it can be protecting Stoke Town Centre for another 60 years.
We are also looking to ensure there are as many environmental enhancements as possible within this section, for example we will be removing the 1.4m Spode weir that currently acts as a barrier for fish passage.
Scheme area:
The project is split into 4 work areas, each of which will require a different design based upon physical and operational constraints to provide a flood defence solution
Site 1 - Old Shelton Road to Liverpool Road

Open green space around existing EA trash screen

Site 2 - Liverpool Road Bridge Parapet

Highways crash barrier alongside footpath between two buildings

Site 3 - Liverpool Road to Elenora Street

Predominantly enclosed section of channel sandwiched between residential and commercial buildings

Site 4 - Former Spode pottery works

Large open space alongside right bank of channel on former industrial site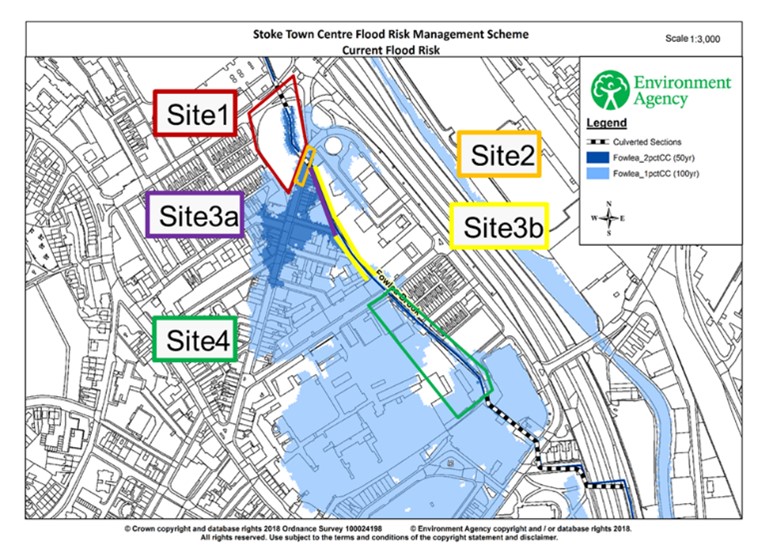 Benefits
The scheme will have wide ranging benefits to the local community, with 214 residential properties and 119 non-residential properties being better protected as a result of the new defences. This equates to £62million in direct damages which are avoided. Alongside that, removal of a weir on the Spode site will unlock 6.5km of river for fish migration from the Trent to the headwaters of the Fowlea Brook. The increased standard of protection will benefit over 200,000 square m of land which is currently designated as flood zone 3, after construction this area will be protected to a higher standard and the restrictions of being at flood risk will be removed. This increased protection will enable regeneration estimated to be worth £31.5million and up to 570 jobs.
Timescales
As detailed above, our planning application is no longer required, having been granted approval to undertake these works under our own permitted development powers. Designs have reached the final review stage and the final business case should be submitted in January.
We expect to enter into construction and be on site from March 2023, with the construction programme extending for 12-18months – with lengths for each site varying.
Please keep visiting our information page as we will be updating it every two to three months. Our next update is due Spring 2023. This page will be open to the public until the end of construction in 2024.
Thank you for visiting our project information page.