Overview
Updated 10 November 2020- next update due 31 January 2021
Background
Burton is entwined with the River Trent, its history is fundamentally linked to the river and its growth has depended on it.
Before the defences were built flood events regularly impacted on Burton.
Approximately 9km of defences; walls, embankments and high ground, first built as a result of the 1932 floods, currently protect Burton. Without these defences the town would regularly experience flooding.
On 17 February 2020, when the water level was at its highest, the defences stood firm. The photo below shows how the water reached up to the flood defences by Meadowside Leisure Centre and the library.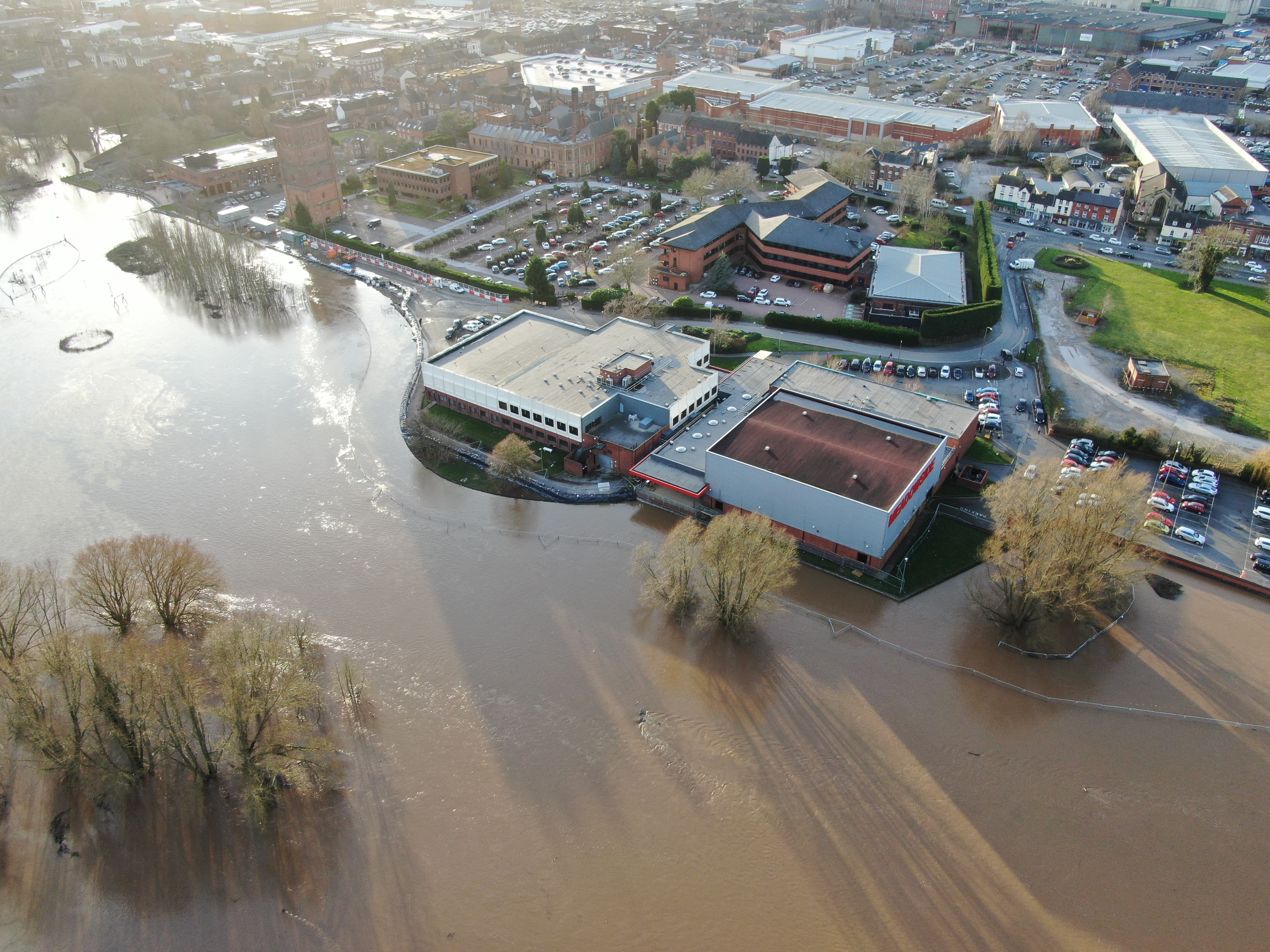 It was a reminder of how important it is to have good defences protecting Burton.
We last improved parts of the defences in 2005-07, known as 'Phase 1' of the current programme of works.
We are now working on phase 2, upgrading the rest of the defences, not tackled in 2005-07, and tying into phase 1, so that Burton has a single set of defences at the same level. The current work planned amount to about 3.7km of defence work.
The figure below shows red lines on the locations where we are improving the defences.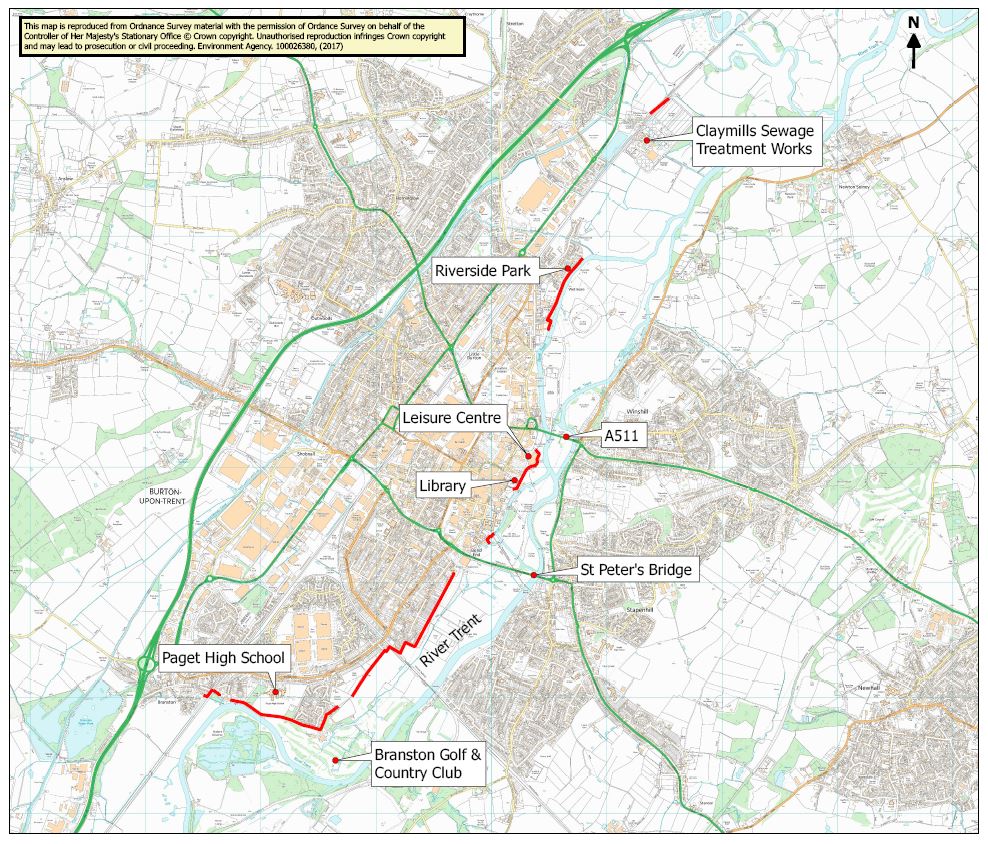 Our objectives for the Burton Flood Risk Management project are:
To improve flood defences for over 4,500 homes and 1000 businesses

To provide additional environmental improvements- work with partners, such as East Staffordshire Borough Council, to help achieve more than just flood defences

Engage with the town and it's communities to educate them about the flood risk and the defences - highlighting that the river is at the heart of this community
What we are doing
We are improving the quality of the defences currently already protecting Burton from river flooding.
Part of the current defences are at the end of their life span. If we didn't improve the defences they may 'breach' and cause parts of Burton to flood.
The photo below show erosion to the current embankment at Regatta Lane Allotments, caused by high foot fall.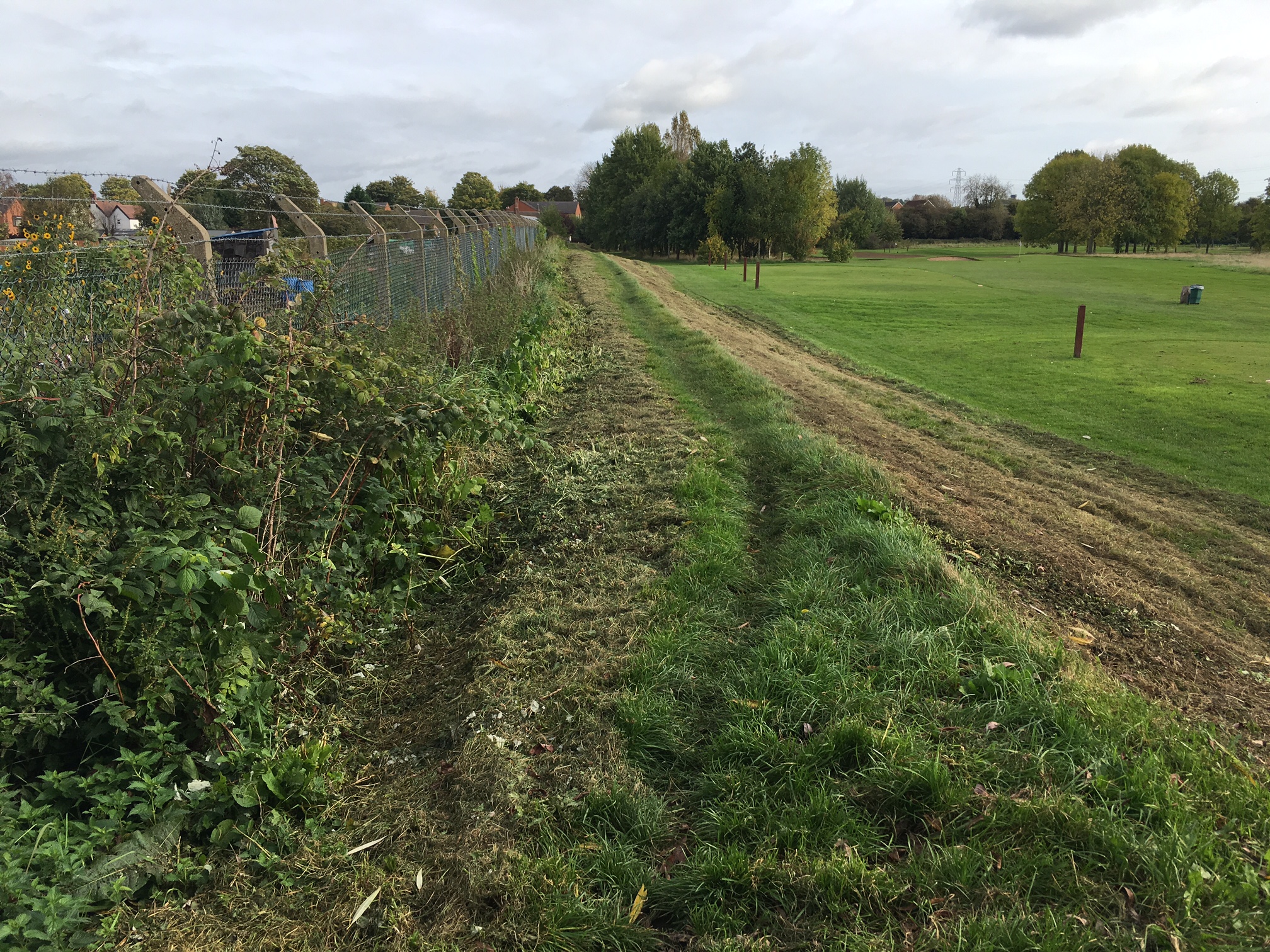 The scheme will provide Burton with a better level of protection from the River Trent.
The main aim of this scheme is to improve the quality by using better material, such as sheet piling (driving metal plates into the ground) where required or replacing the current embankment with a clay core embankment. The method of construction is dependent on what is currently in place and what space we have to work with.
More detail on what we are doing in your area can be requested by contacting the Public Liaison officer- details provided on the top right hand side of this page.
Project funding
Costs are currently approximately £30 million and the scheme is funded mainly by flood defence grant in aid with some Local Levy funding support.
Timescales
We started construction in June 2019 and expect to complete the work by March 2021. Some areas will require grass to be regrown, which means that in some areas we are not able to reopen the working area until spring.
Construction is now well underway at a number of sites and in many areas work is largely complete.
We have now re-opened the embankment between Riverside Restaurant and the golf course, as per photo below, as well as the access through Toadhole. We aim to open the rest of the embankments by the golf course by the new year.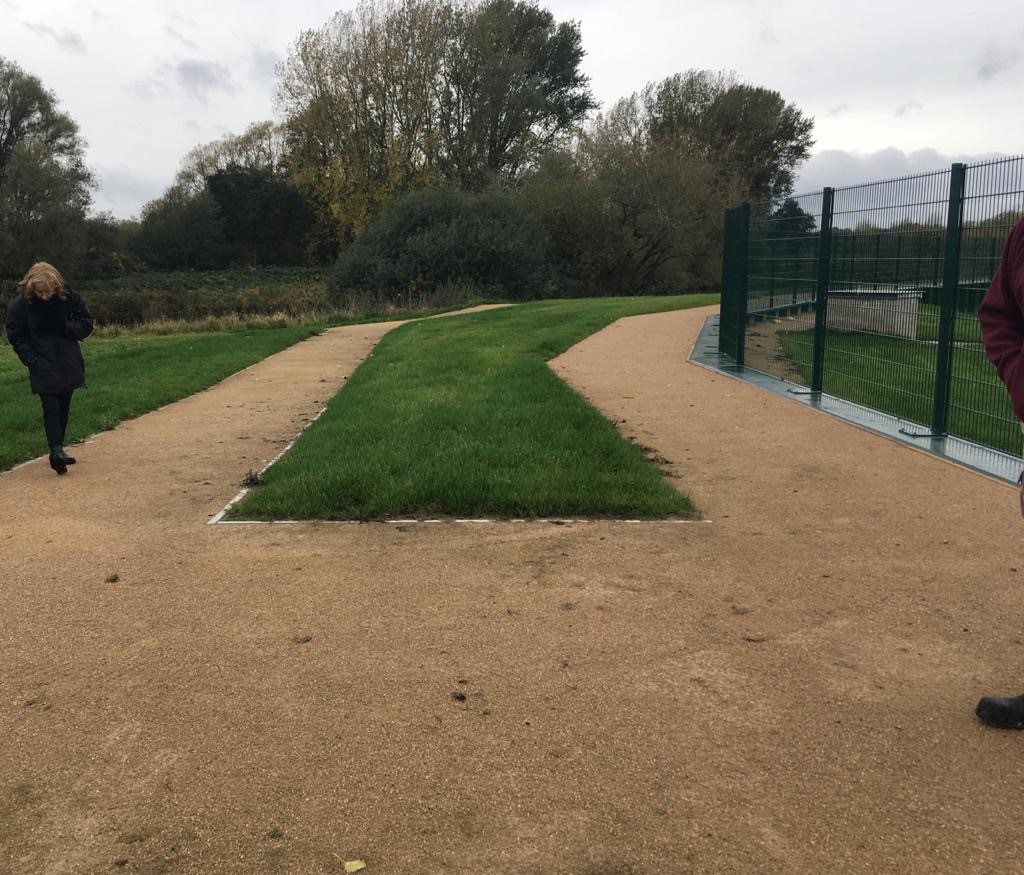 Below is an image of the new flood embankment between the golf course and the housing estate, taken in October 2020.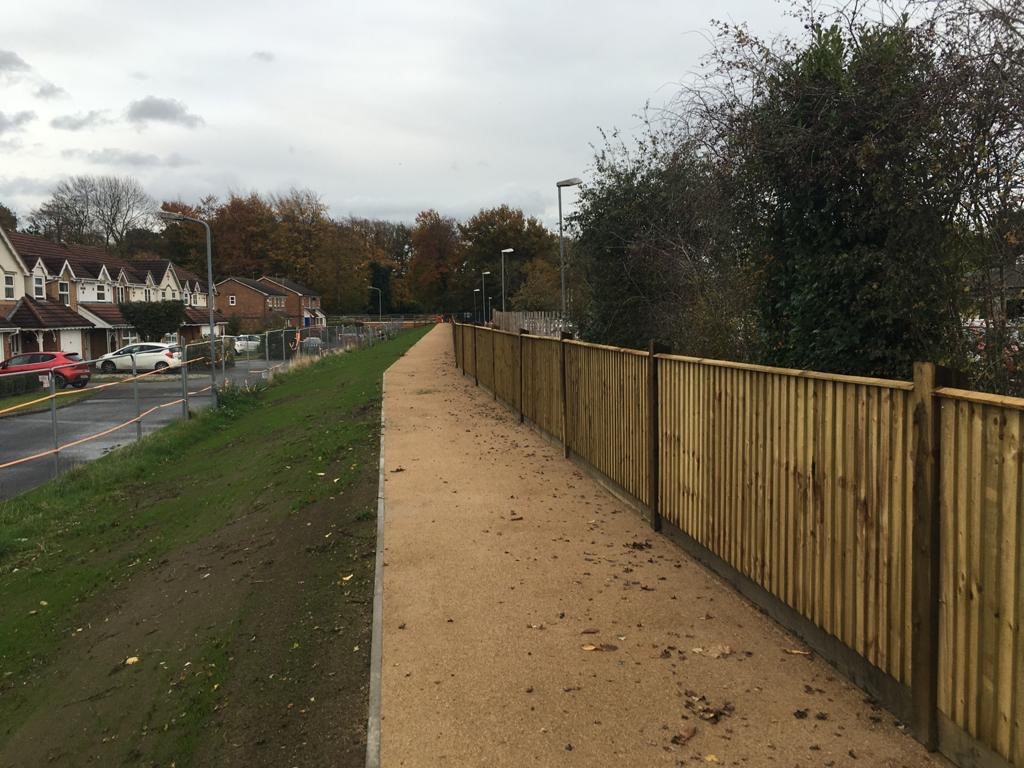 The photo below shows progress on the work by the allotments in early June 2020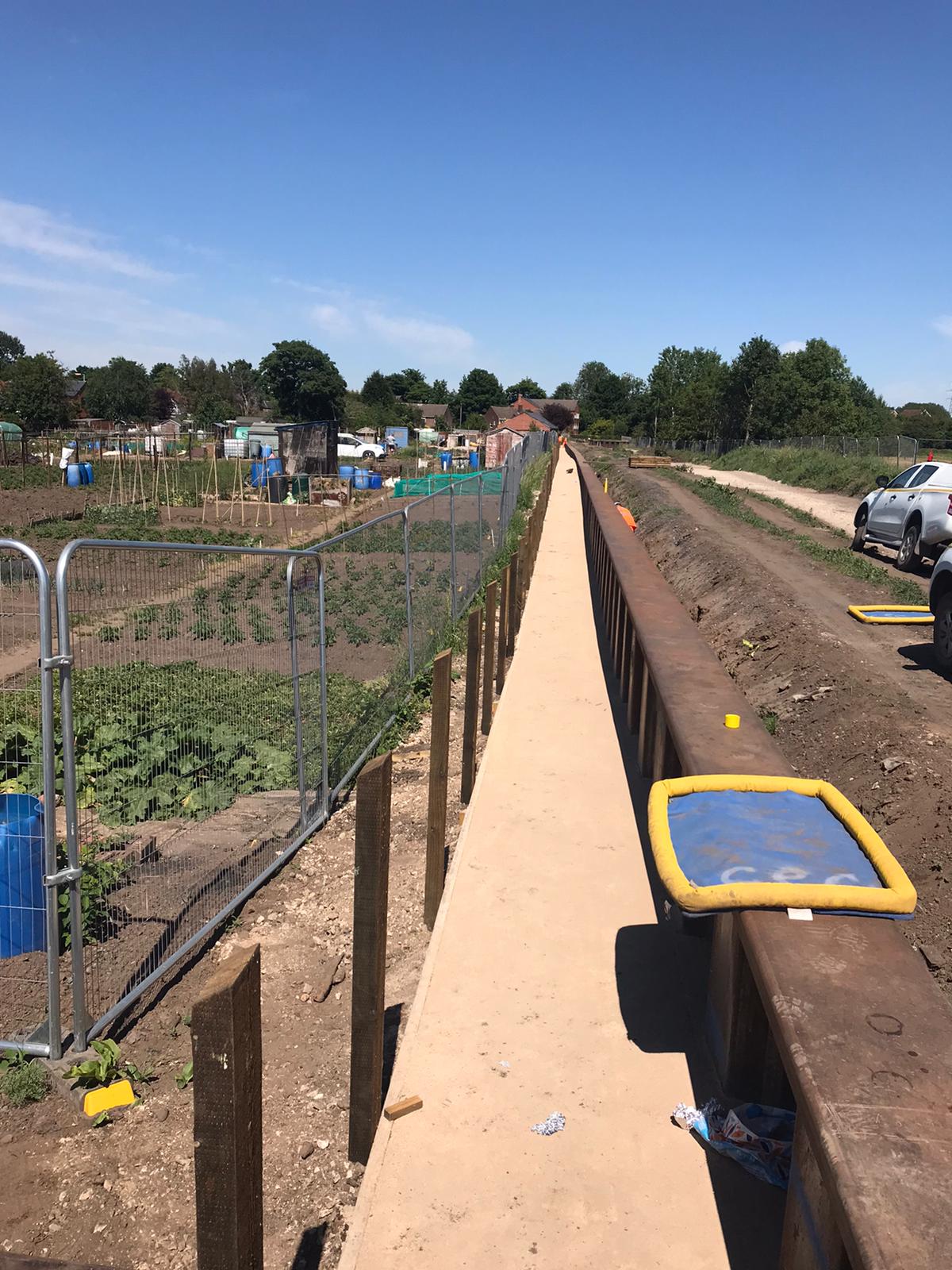 The work on the embankment at the end of Warren Lane has now been completed. This section will be reopened as soon as the grass has had sufficient time to regrow.
Work at Bramell Close, is nearly finished. This should be completed by the end of the year.
We have finished work at Branston Leas
We are currently working at Branston Pumping station and associated culvert. This work will last until early 2021 and will involve work by the pumping station as well as in Branston Water Park.
We are currently on site working on the embankment by Watchman's cottage, behind Blackpool Street and have worked on the railway tie in near St Matthews Street over the summer. Footpaths around this area are reopening as and when the grass seeds will take on these locations.
We are working on the section in Green Street, which has resulted in partial road closure. Works on Green Street will be completed by the end of December 2020.
We are finalising work on the wall along Meadowside Leisure Centre towards the library. We expect to reopen this area by new year.
The area around the amphitheatre steps has already reopened earlier this year.
The photo below shows the new steps by Burton library.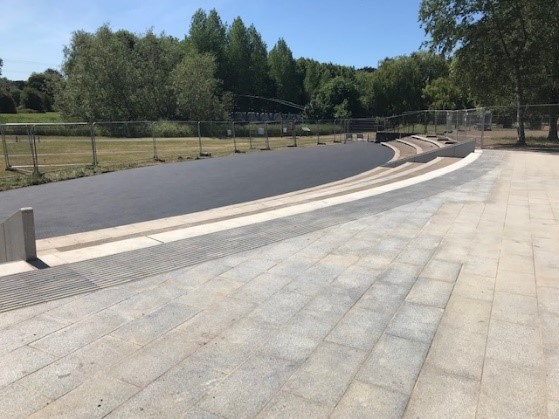 We have nearly completed the work in the Wetmore Lane area. This involved raising defences which are extremely close to properties on the Riverside Residential Park. We are in close liaison with the residents and park owners to make sure we leave the area in a condition which works well for both ourselves and the parks residents. We expect to complete the works by the end of the year.
The photo below shows progress on the embankment by riverside Mobile Home park in late May 2020.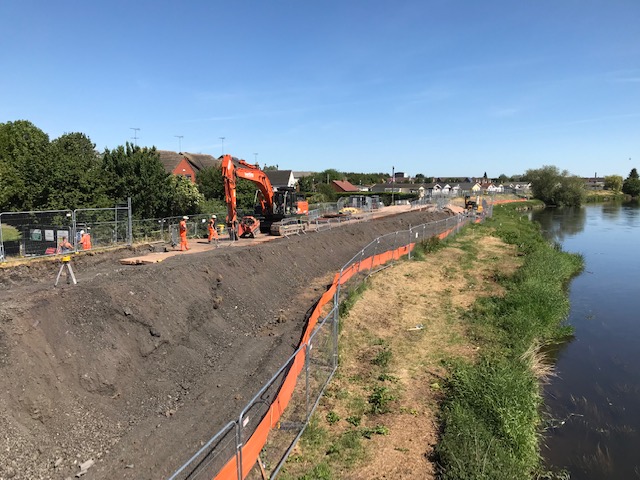 The table below shows when we are working on the different locations in more detail. We are still on schedule despite high river levels causing some delays over the autumn and Winter period and the impact Covid19 had on our working practices.
This programme is subject to change and will be updated frequently.
| | | |
| --- | --- | --- |
| Section | Construction Start | Construction Finish |
| Blackpool Street (Railway line to Watchman's Cottage) | June 2019 | November 2020 |
| Blackpool Street (Watchman's Cottage to Tesco) | June 2019 | November 2020 |
| Paget High School | July 2019 | April 2020 |
| Toad Hole | June 2019 | October 2020 |
| Branston Golf and Country Club | September 2019 | December 2020 |
| Regatta Lane Allotments | September 2019 | December 2020 |
| Lansdowne Road (Branston downstream of Riverside Hotel) | September 2019 | October 2020 |
| Burton Library /Leisure Centre | October 2019 | December 2020 |
| Bramell Close (Branston) | July 2020 | November 2020 |
| Branston Pumping Station | July 2020 | January 2021 |
| Warren Lane | July 2020 | September 2020 |
| Wetmore Lane Area | Feb 2020 | December 2020 |
| Riverside Residential Park | June 2020 | December 2020 |
| Farm at Meadow Lane (most downstream section near Clay Mills sewage works) | TBC | December 2020 |
| Completion of scheme | | End March 2021 |
Impact of Covid-19
Our flood defence work continues in line with PHE guidance. We're ready to respond to flooding, and during coronavirus we continue to maintain and operate our defences to ensure they protect people and property from flooding. We also maintain our assets that support public water supply, industry, infrastructure, food production and the environment.
The flood defence work has been identified as essential by the government, so we continue to deliver this project. We have ensured that everyone involved has been trained on social distancing and will not put anyone at risk. If the work cannot be done safely, it will stop.
All our work is impacted by the controls we and government have put in place. It is possible that completion dates for the project may slip. We will keep affected communities informed of any delays and the action that we are taking to minimise them.
Unfortunately, due to Covid-19 restrictions our staff are having to use additional vehicles and therefore there will be an increase in traffic and parked cars in the area whilst we are working here. We will remind our staff to park considerately at all times and will consider best locations for parking to cause minimum disruption to residents.
Engaging with communities
We have been engaging with residents along the flood embankment since late 2017 to make them aware of the planned work and to ensure that they can feed in any comments and concerns.
We continue to engage with residents, in particular as and when we start construction near their homes. This has been more challenging for us during Covid 19, as we are not able to meet people face to face.
During this period of physical distancing, we would ask for your help in ensuring we keep the workforce and the public as safe as possible;
Avoid/Minimise your contact with our site staff as much as possible. Please follow the 2m distancing guidance and avoid talking through site fencing to staff.

Do NOT enter site at any time, even when there is no activity taking place on site. There are hazards and dangers on working sites and no unauthorised entry is permitted.

If you have concerns/queries relating to the work, do not ask staff on site, please contact our liaison team instead. They will be able to help you.
We continue to liaise with people on our database, post newsletters in notice boards and to houses directly impacted by some of our work and remain available by phone and through our email. We recently attended a virtual Parish Council meeting over Zoom and will be happy to attend other virtual meetings where invited.
You can sign up to our database by contacting the Public Liaison Officer on the details on the top right hand side of this page.
Environmental improvements -Washlands Strategy
We have supported East Staffordshire Borough Council (ESBC), who have been successful in securing £3m from Greater Birmingham Local Enterprise Partnership. This will enable additional public realm enhancements beyond the scope of the flood defence works around the library and leisure centre area.
There are some important things to be aware of regarding these enhancements, which will create a feature wetland area with a boardwalk and improvements to the public realm. ESBC will lead these works but we will deliver some of the public realm works where it forms part of, or is close to, the flood defence scheme. This means that when we finish the flood defence works the public realm works may appear unfinished. They will be completed as part of phase 2 of the public realm improvements, led by ESBC. The plan was to complete the remainder of the amenity and enhancement works by end of March but Covid-19 has delayed this work. These works will be done in between April 2021 and March 2022.
We will be delivering the following public realm improvements in this area;
-New flood wall between the library and leisure centre
-Wider path which can accommodate more users at once, including cyclists
-Raising and resurfacing the library concourse with granite paving to accommodate a new raised step
-2 new sets of pedestrian stair cases and hand rails
-A raised and newly resurfaced path from the library to the remembrance garden.
The image below shows who will be working where;
Blue areas will be enhanced as part of the flood defence works, as phase 1. Red area as part of phase 2 by ESBC.

More information about the vision can be found on: www.eaststaffsbc.gov.uk/washlands-project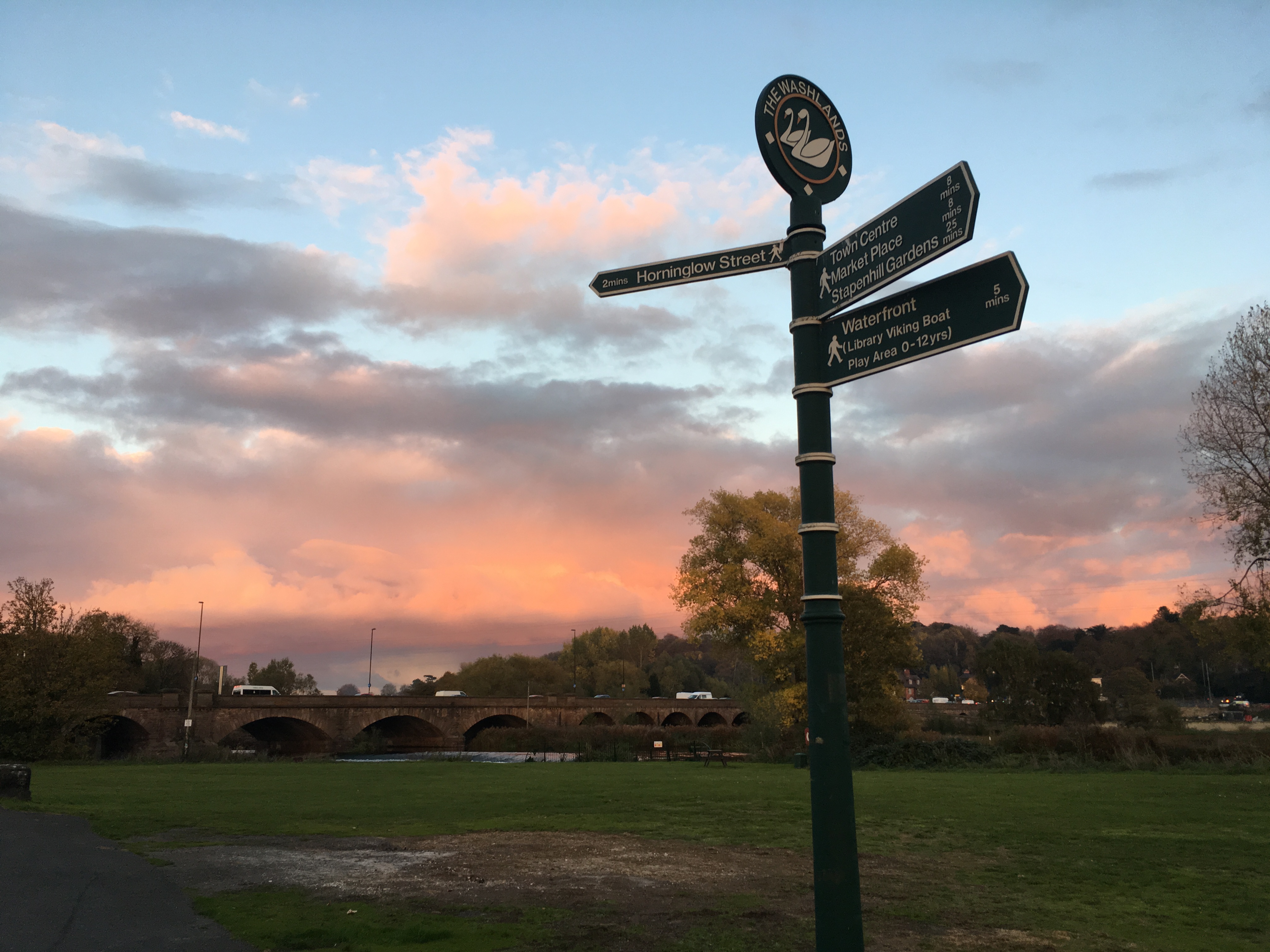 Footpath closures during work
Unfortunately footpath closures are necessary during the works. This is mainly for health and safety purposes.
We will do our best to reduce disruption and suggest suitable alternative routes, as per below;
From June 2019 to end December 2020 the footpath behind Blackpool Street between Watchman's cottage and St Matthew Street will be closed to the public whilst we are carrying out the work. An alternative route on this stretch will be through Blackpool Street and Burton Road.
The footpath between Lansdowne Road and the golf course is now open. The sections along the side of the golf course are expected to be re-opened by the end of 2020.
Toadhole Nature Reserve has now re-opened.
The footpath by the allotments is expected to be re-opened by the end of 2020. There will be an improved path on top of the defence to allow access between the cricket club and the allotments once the work is completed.
Work by Burton Library is nearing completion and by the Leisure Centre is likely to complete October 2020. The footpath between the current flood defence and the Washlands is now closed. A temporary diversion is in place, which provides safe passage across the Washlands, avoiding the immediate working area. The library car park is now also closed until late 2020.
We are working on the flood defence by Electric Street. Pedestrian access to playing field continued to be available during construction.
The informal footpath by the side of Riverside Mobile Home Park will be closed until the end of the year.
The footpath at the end of Warren Lane I closed until the grass seed is fully regrown.
Please keep visiting our information page as we will be updating it every two to three months. Our next update is due 31 January 2021. This page will be open to the public until the end of construction in 2021.
Thank you for visiting our project information page.