Overview
Updated 11 April 2019- next update due 30 June 2019
Background
Burton is entwined with the River Trent, its history is fundamentally linked to the river and its growth has depended on it.
Before the defences were built flood events regularly impacted on Burton.
Approximately 9km of defences; walls, embankments and high ground, first built as a result of the 1932 floods, currently protect Burton. Without these defences the town would regularly experience flooding.
In 2000, when the water level was at its highest since 1947, the defences stood firm. The photo below, courtesy of Burton Mail, shows how the water reached up to the flood defences.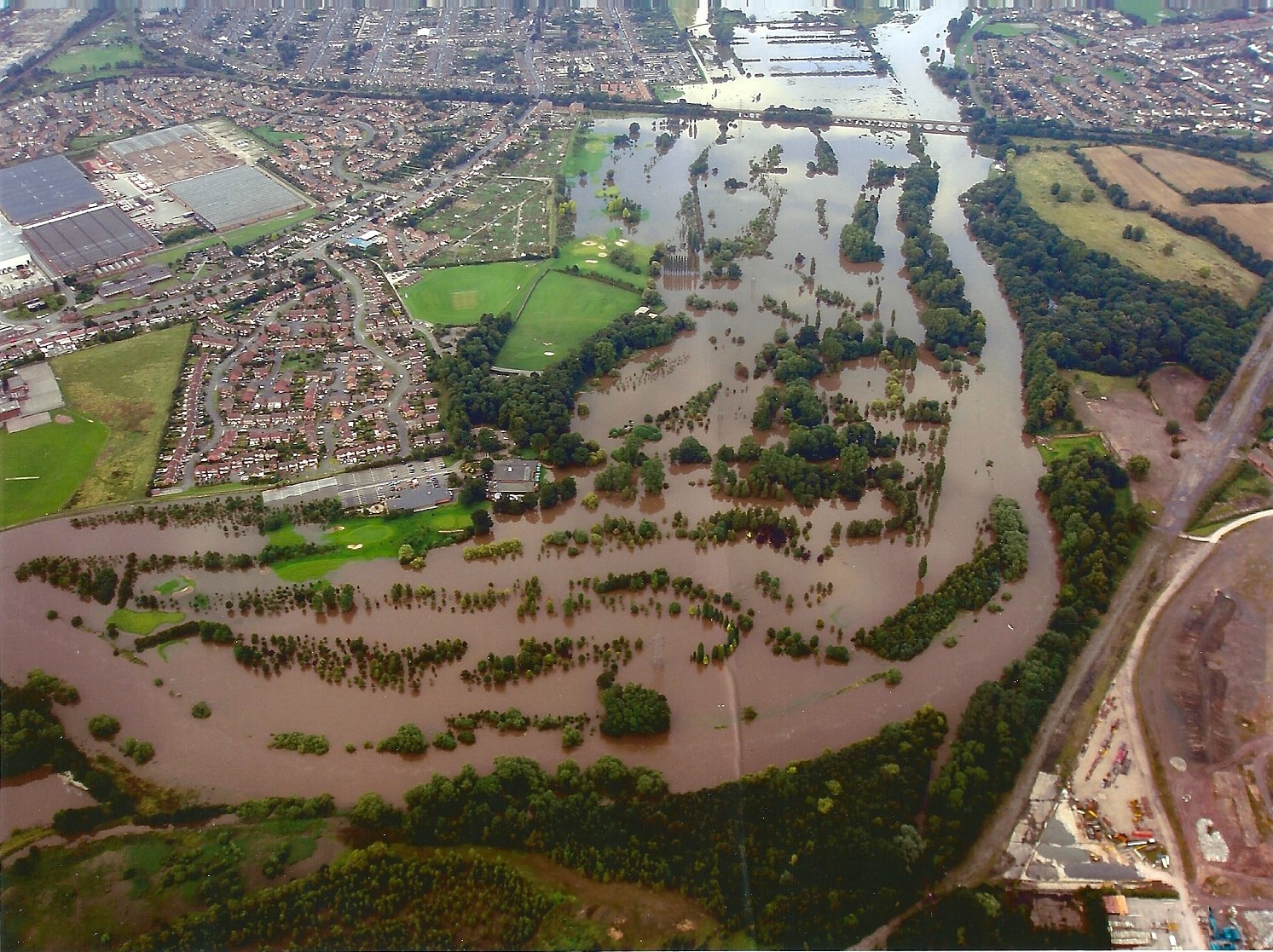 However these defences are old and need updating and improving to protect the town.
We last improved parts of the defences in 2005-07, known as 'Phase 1' of the current programme of works.
We are now in phase 2, upgrading the rest of the defences, not tackled in 2005-07, and tying into phase 1, so that Burton has a single set of defences at the same level. The current work planned amount to about 3.7km of defence work.
The figure below shows red lines on the locations where we will be improving the defences over the coming years.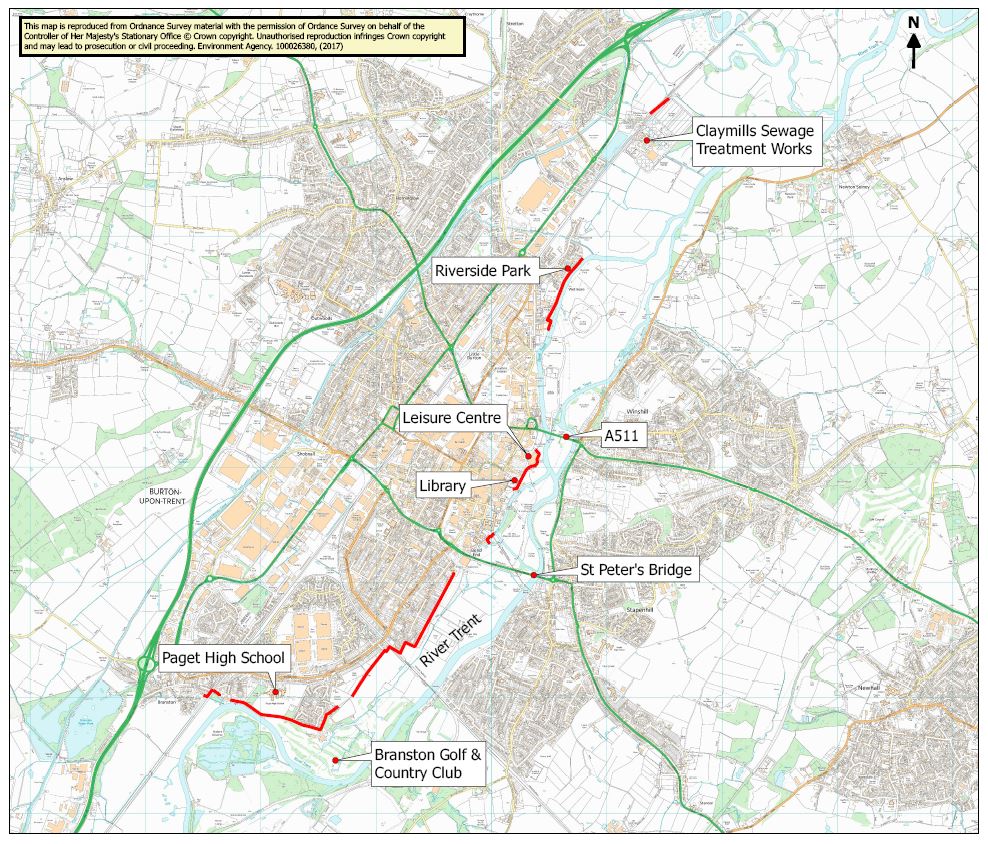 Our objectives for the Burton Flood Risk Management project are

:
To improve flood defences for over 4,500 homes

To provide additional environmental improvements- work with partners, such as East Staffordshire Borough Council, to help achieve more than just flood defences

Engage with the town and it's communities to educate them about the flood risk and the defences - highlighting that the river is at the heart of this community
What we will be doing
We are improving the quality of the defences currently already protecting Burton from river flooding.
The current defences are at the end of their life span. If we didn't improve the defences they may 'breach' and cause parts of Burton to flood.
The photos below show erosion to the current embankments at Riverside Mobile Home Park and Regatta Lane Allotments, caused by the water and by high foot fall.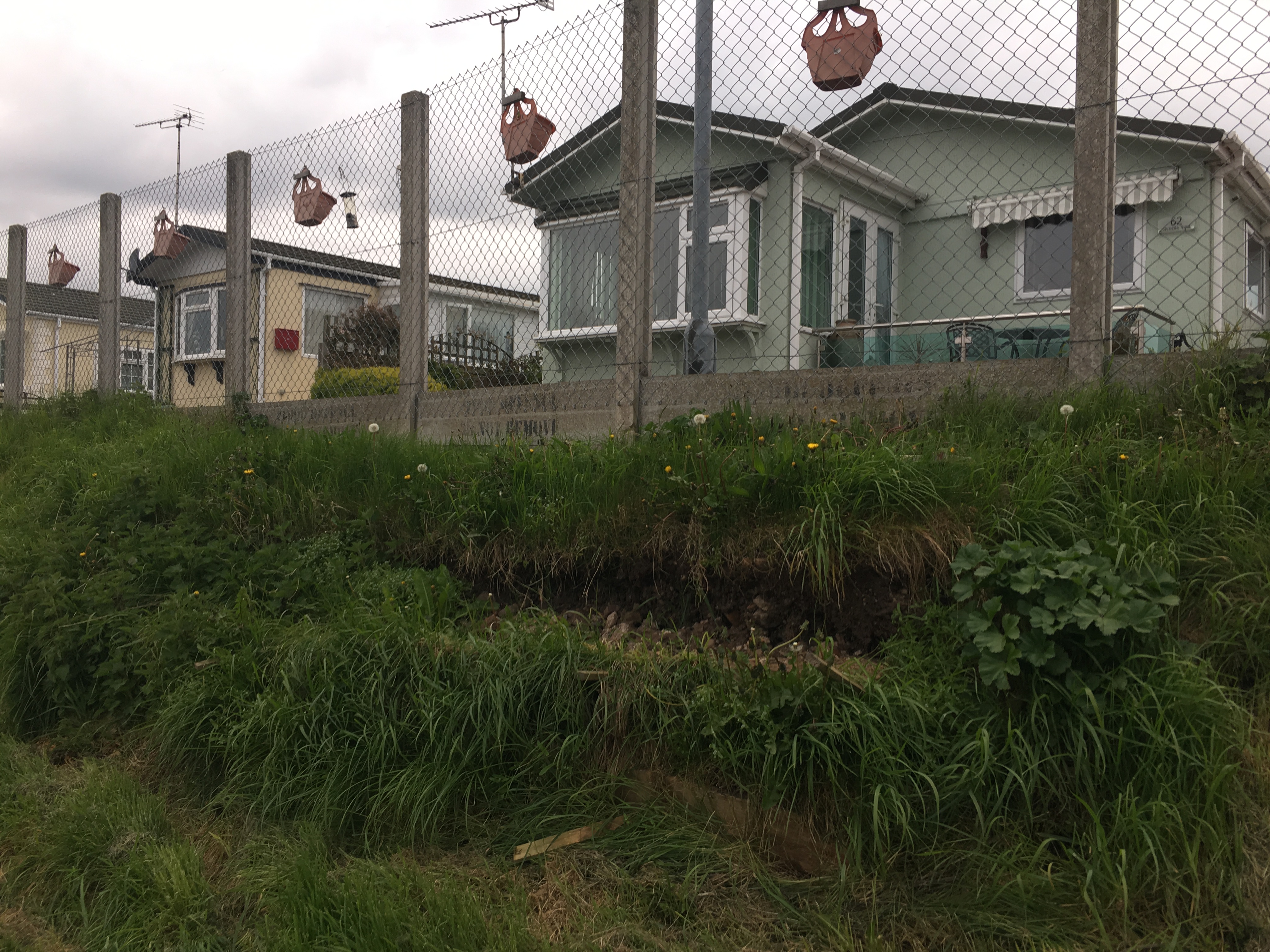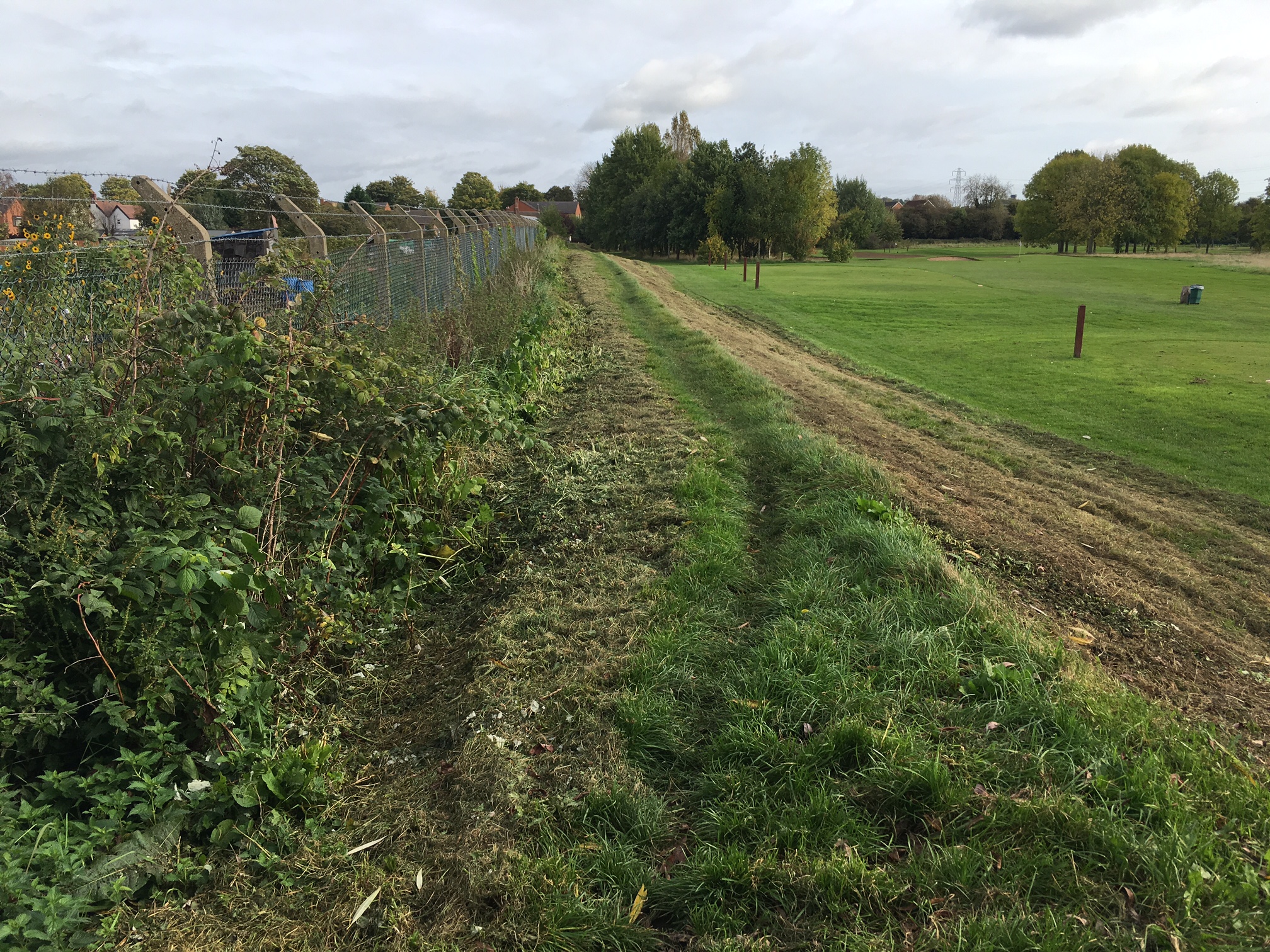 The scheme will provide Burton with a better level of protection from the River Trent.
The main aim of this scheme is to improve the quality by using better material, such as sheet piling (driving metal plates into the ground) where required or replacing the current embankment with a clay core embankment. This will be carried out in various different ways, depending on what is currently in place and what space we have to work with. More detail on what we will be doing in your area can be requested by contacting the Public Liaison officer- details provided on the top right hand side of this page.
Project funding
Costs are currently approximately £30 million and the scheme is funded mainly by flood defence grant in aid with some Local Levy funding support.
Timescales
You may have seen us carry out ground investigation in recent months. This work continues to take place throughout detailed design but should be of minimum disruption to the public.
Construction is planned to start in June 2019 in the area between the Washlands and Blackpool Street. We aim to complete all work by March 2021.
Although the work won't commence until June 2019, we have started preperation work in January 2019.
The main compound for the scheme on Wetmore Road is now open. It will remain there throughout the construction period.
The table below shows when we will be working on the different locations.
This programme is subject to change and will be updated frequently.
| | | |
| --- | --- | --- |
| Section | Construction Start | Construction Finish |
| Blackpool Street area | June 2019 | December 2020 |
| Paget High School | July 2019 | November 2019 |
| Toad Hole | July 2019 | January 2020 |
| Branston Golf and Country Club | October 2019 | April 2020 |
| Regatta Lane Allotments | August 2019 | August 2020 |
| Lansdowne Road (Branston downstream of Riverside Hotel) | October 2019 | February 2020 |
| Burton Library /Leisure Centre | November 2019 | December 2020 |
| Bramell Close (Branston) | January 2020 | January 2021 |
| Warren Lane | January 2020 | August 2020 |
| Wetmore Lane area (including Home and Trade builders yard) | May 2020 | October 2020 |
| Riverside Residential Park | May 2020 | December 2020 |
| Farm at Meadow Lane (Most downstream section near Clay Mills sewage works) | tbc | |
Engaging with communities
In late 2017 we ran a series of drop in sessions alongside the stretch of the defences. This was an opportunity for us to make people aware of the proposed defences and allowed local residents to raise initial issues and concerns for us to consider.
We continued liaising with key communities through Parish Council meetings and resident meetings in the year thereafter.
We completed a second series of drop-in sessions in November 2018, talking to residents and interested parties on 5 locations along the River Trent. This series of drop-in sessions allowed people to comment on the detailed design of the scheme. All comments will now be considered as we are continuing detailed design.
There will be further drop –in sessions ahead of construction to inform people of final design and access routes. These will happen on individual locations around a month before we start construction along different stretches of the defences.
The following events are currently planned:
Date

Venue

Target Audience

10 May 2019

1.40pm

Presentation at meeting

Pakistani Community Centre, 228-230 Uxbridge St, Burton-on-Trent, DE14 3LW

Residents from area around Blackpool Street, Harrow Drive, Winchester Drive and St Matthew's Street

10 May 2019

4.00-6.00pm

Drop in session

Uxbridge Arms Public House, 1 Queen St, Burton-on-Trent, DE14 3LR

Residents from area around Blackpool Street, Harrow Drive, Winchester Drive and St Matthew's Street

25 May 2019

11.00-3.00pm

Attendance at community event

Branston Community Engagement Event Clays Lane Pavilion Branston

Residents of Branston

19 June 2019

5.00-7.00pm

Drop in session

Branston Golf and Country Club, Burton Road, Branston, DE14 3DP

Residents from estate by Branston Golf and Country Club, area around Paget High School, Toad Hole, Lansdowne Road and Warren Lane

20 June 2019

5.00-7.00pm

Drop in session

Riverside Restaurant, Riverside Drive, Branston, DE14 3EP

Residents from estate by Branston Golf and Country Club, area around Paget High School, Toad Hole, Lansdowne Road and Warren Lane
We will post information about further drop in sessions on this website and inform all people who have signed up to our email database. You can sign up to our database by contacting the Public Liaison Officer on the details on the top right hand side of this page. We will leaflet the area most directly affected by the work at that stage of construction ahead of drop in events.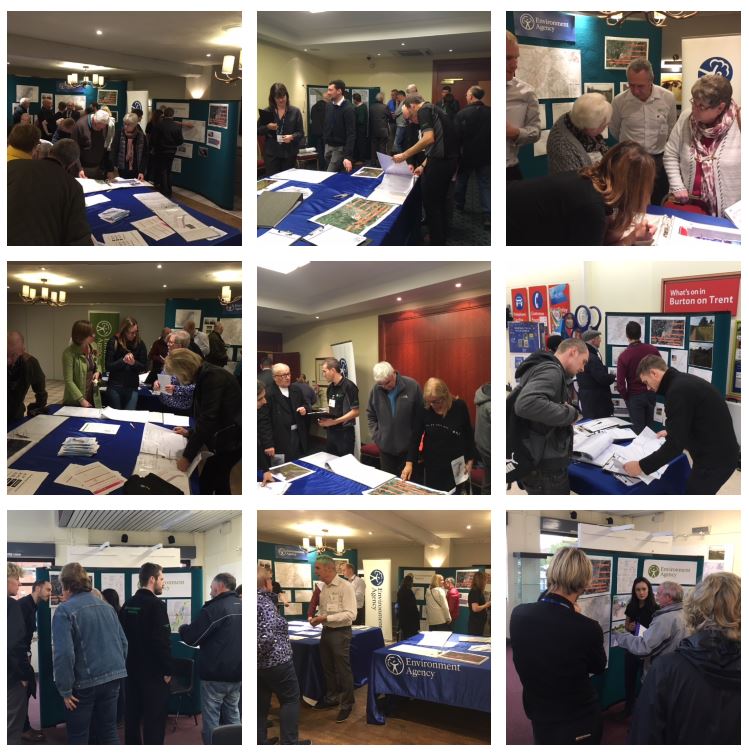 E

nvironmental improvements -Washlands Strategy
As part of our commitment to deliver more than just flood defences, we have worked with East Staffs Borough Council to create a landscape vision.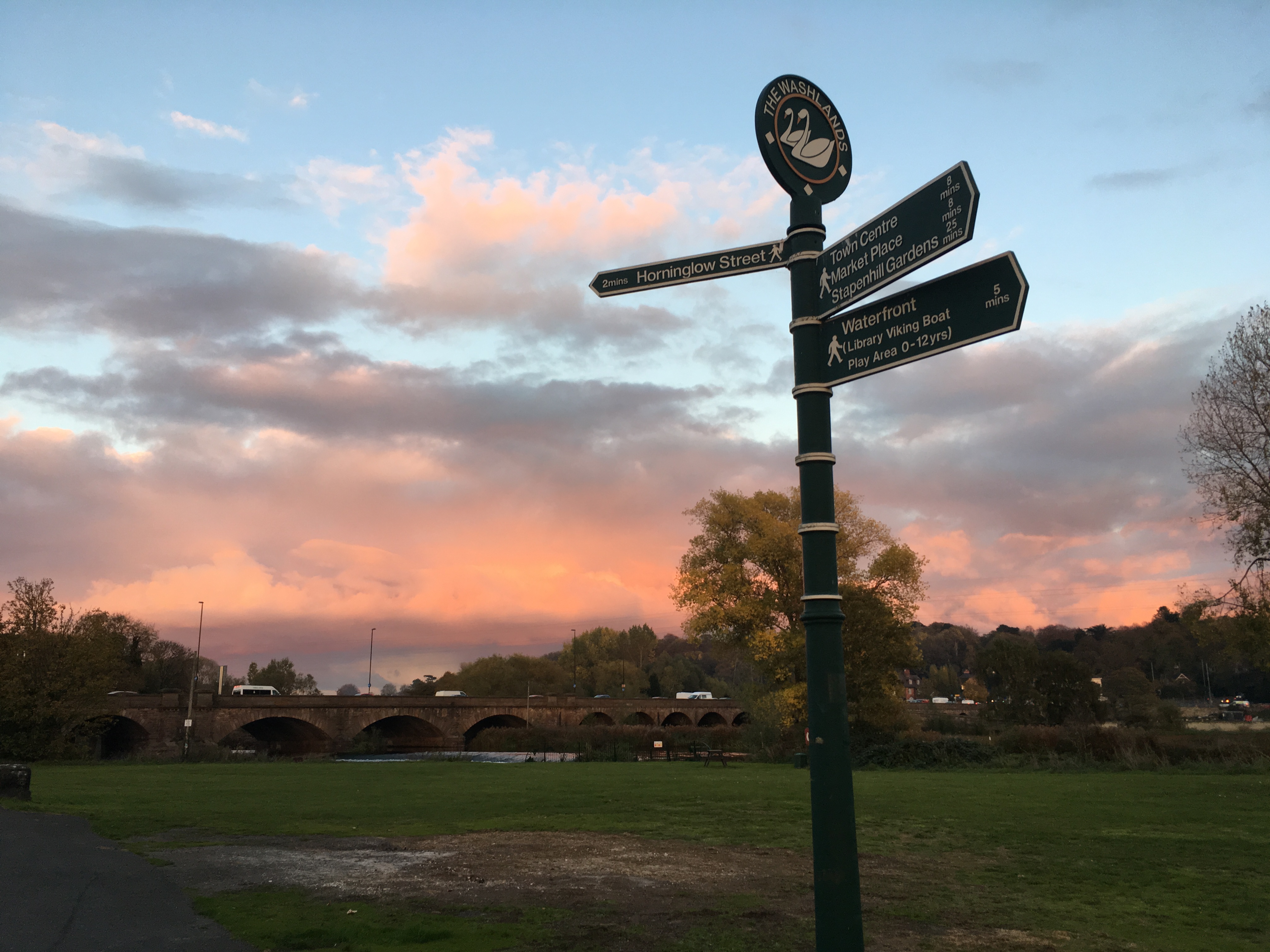 The vision shows what the Washlands could become with investment.
We will be working with the council to deliver some of the recommendations in the vision as part of the flood defence scheme as we always aim to build environmental enhancements into our schemes.
The vision for the Washlands is currently being consulted on by the council.
More information about the vision can be found on;
www.eaststaffsbc.gov.uk/washlands-project
Footpath closures during work
Unfortunately footpath closures will have to take place during the works. This is mainly for health and safety purposes.
As most paths are permissive paths we are not required to provide alternative routes. However, we will do our best to reduce disruption by notifying local residents in advance and suggesting suitable alternative routes, as per below;
From Spring/ Summer 2019 to winter 2020 the footpath behind Blackpool Street between Watson Street and St Matthew Street will be closed to the public whilst we are carrying out the work. The alternative route on this stretch will be through Blackpool Street and Burton Road. We will also have to close the playground by St Matthew Street for the duration of the works on this location.
The footpath between Lansdowne Road and the golf course will be closed for approximately 6 months to 1 year from mid-summer 2019. The footpath will be re-opened and much improved after completion of the work. There will be no diversion, but we suggest using Burton Road as an alternative route.
The footpath between the cricket club and the allotments will also be closed for the duration of the work, estimated to be from Autumn 2019 to Autumn 2020. There will be an improved path on top of the defence to allow access between the cricket club and the allotments once the work is completed.
Work by Burton Library and the Leisure Centre is likely to take place between autumn 2019 and Winter 2020. The footpath between the current flood defence and the Washlands will have to be closed during this time. The alternative route is through town.
In Spring/ Summer 2020 we anticipate to work on the flood defence by Electric Street. We anticipate access to playing field to be through the already available alternative entrance off Wetmore Lane during construction.
The informal footpath by the side of Riverside Mobile Home Park will need to be closed from spring 2020 to winter 2020.
Please keep visiting our information page as we will be updating it every two to three months. Our next update is due30 June 2019. This page will be open to the public until the end of construction in 2021.
Thank you for visiting our project information page.