Overview
Timeline
This page shows the engagement timeline for the Thames Valley Flood Scheme.
This is the first consultation on the scheme. We aim to engage with partners, stakeholders, landowners and communities as the project develops.
As we are in the early stages of the project and haven't yet established which of the approaches will be most effective, it is too early to say exactly how long it will take to deliver a scheme on the ground. We are engaging early so that public views can be taken into consideration as the project develops along with: ​
Technical feasibility, which means, can it physically be built? ​
The cost of the project relative to the flood risk benefits it will bring​
Other benefits associated with delivery including improvement to the natural environment  ​
Environmental constraints, for example heritage buildings  ​
Technical sustainability, will it stand the test of time?​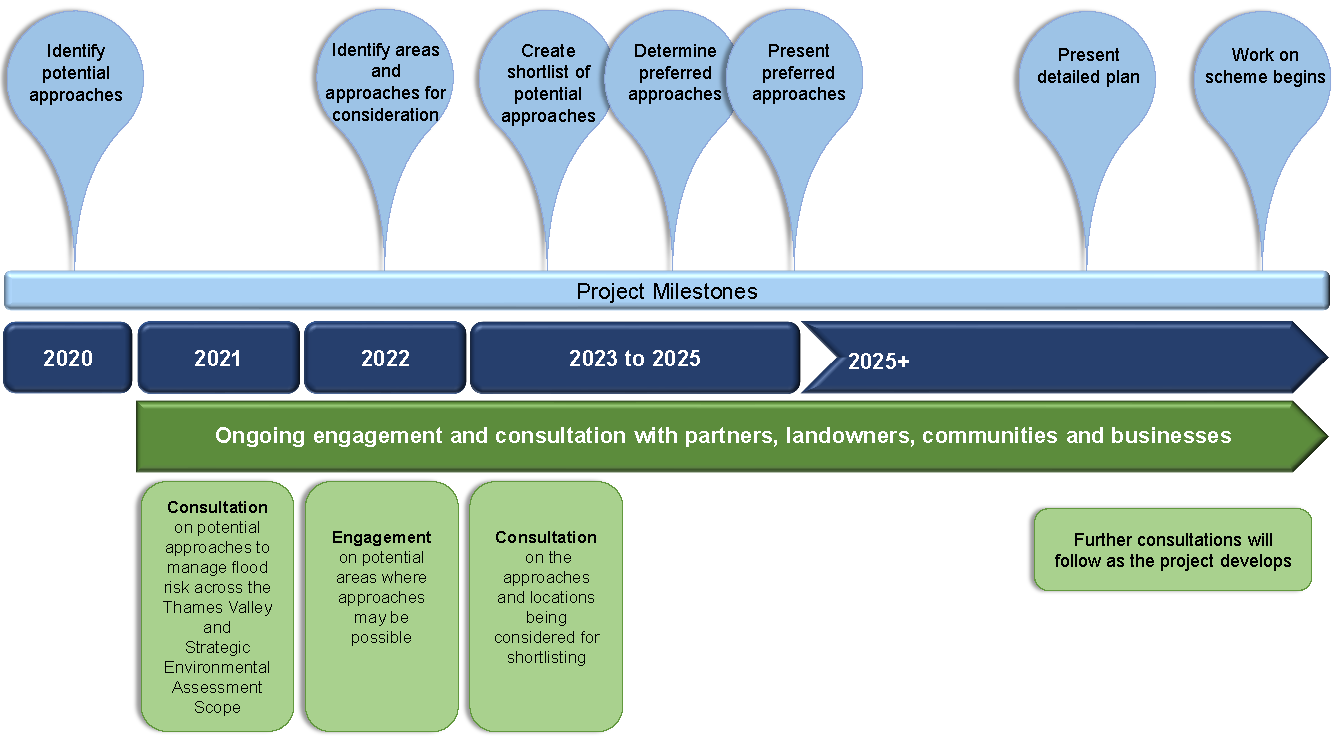 Project Milestones 
This timeline shows some of the main project milestones. As with any project of this size these timescales are approximate and may change as the project develops. 
This year through the public consultation and technical work we will review the potential approaches.   
By 2022 we hope to have identified areas and approaches for consideration. 
Through 2023 to 2025 we will create a shortlist of potential approaches, determine the preferred approach or combination of approaches and present them. 
We estimate that it will be beyond 2025 when we will begin to draw up a detailed plan. At this stage, without knowing which approaches are going to be taken forward we cannot provide a date for when works on the ground would begin. 
We will carry out ongoing engagement and consultation with partners, stakeholders, landowners and communities. 
This consultation covers the potential approaches to manage flood risk across the Thames Valley and Strategic Environmental Assessment Scope. 
During 2022 we will carry out engagement on potential areas where approaches may be possible. 
In 2023 we aim to run a public Consultation on the approaches and locations being considered for Shortlisting. Further consultations will follow as the project develops. 
Next: Frequently Asked Questions