Overview
What is the Thames Valley Flood Scheme?
On this page you can find out what approaches are being considered by the Thames Valley Flood Scheme. At this stage there are a long list of approaches. It is important to remember that for these approaches to be taken forward they will need to be applied at a catchment scale.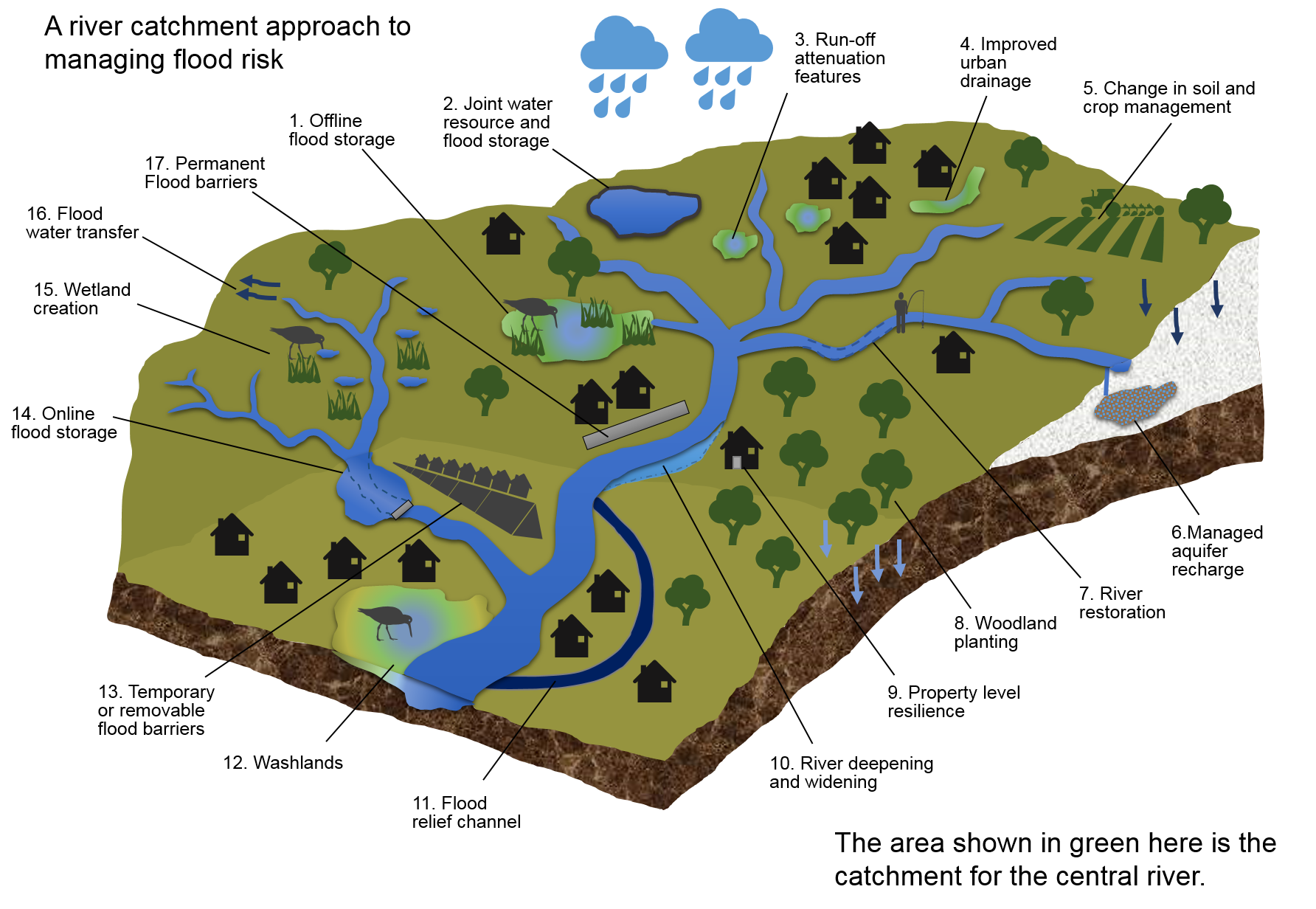 A diagram of the River Thames Catchment. The green area shows us the catchment for the central river.  All rain falling in this catchment will eventually flow into the central river or seep into the ground. The 17 approaches to reduce flood risk are listed here.
The 3 layered approach to reducing floods
Layer 1: Homes and businesses
The first layer is at the home, it can include measures like putting flood gates on your property and using flood resilient materials in the home like tiles instead of carpets.

Thames catchment diagram showing images of flood gates. These are examples of the home and business layer.
It also includes signing up to flood warnings and making a flood plan, so you know what to do if a flood is forecast.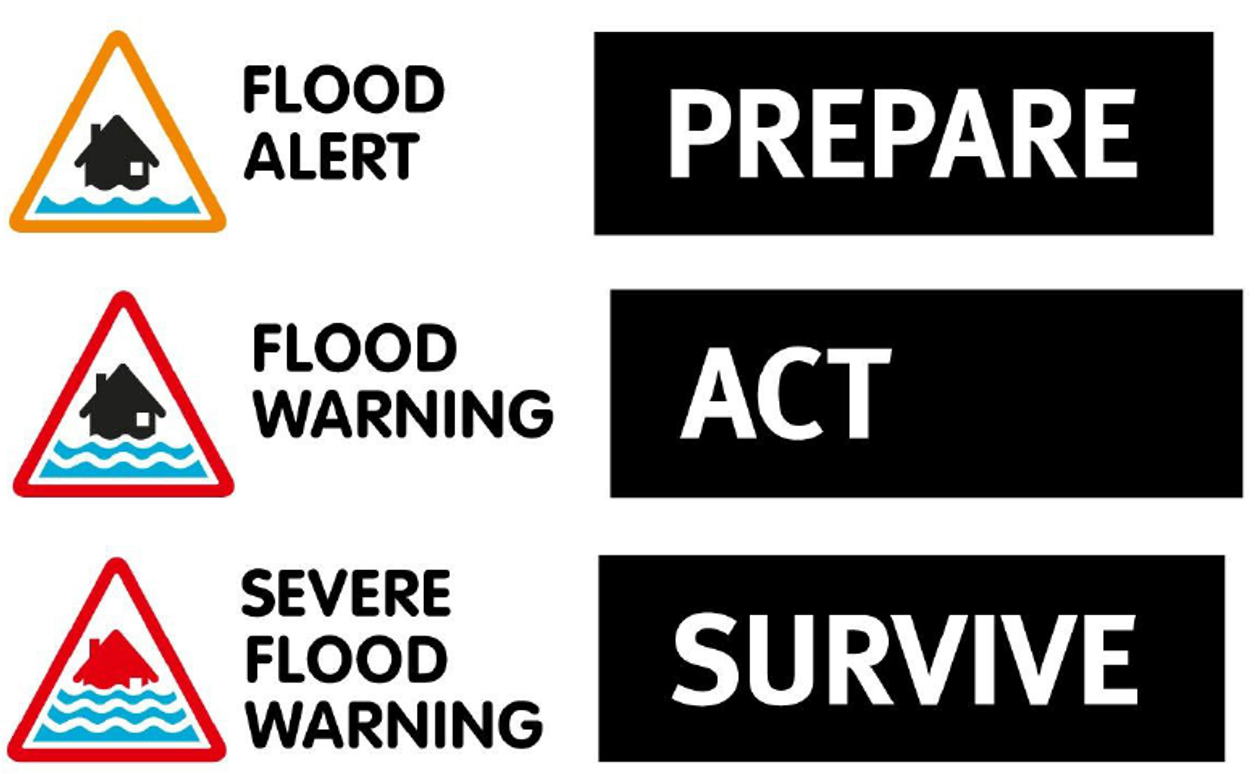 You can use the Environment Agency website to check if you live in a flood risk area by putting in your postcode.
You can sign up for flood warnings, this is a free service and you will receive a text or email when flooding is expected and how severe that expected flooding is likely to be.
To help make quick decisions when you receive a flood warning it can help to make a flood plan.
For some people this can be as simple as taking some time to think about what they would do if flooding was expected. For others it could be writing down a detailed plan. This might include making sure important phone numbers are stored and having a flood bag with essentials like a first aid kit, fresh water and medication ready in case it is needed.
Layer 2: Community
The second layer in reducing flood risk is to look at the community where flooding is happening. There are a number of ways to reduce flooding to a community, some of these are schemes that are in place all the time, like flood walls and embankments or bypass channels.
Other community level approaches are only put up when flooding is expected. These include temporary flood barriers or demountable flood barriers, often combined with pumps.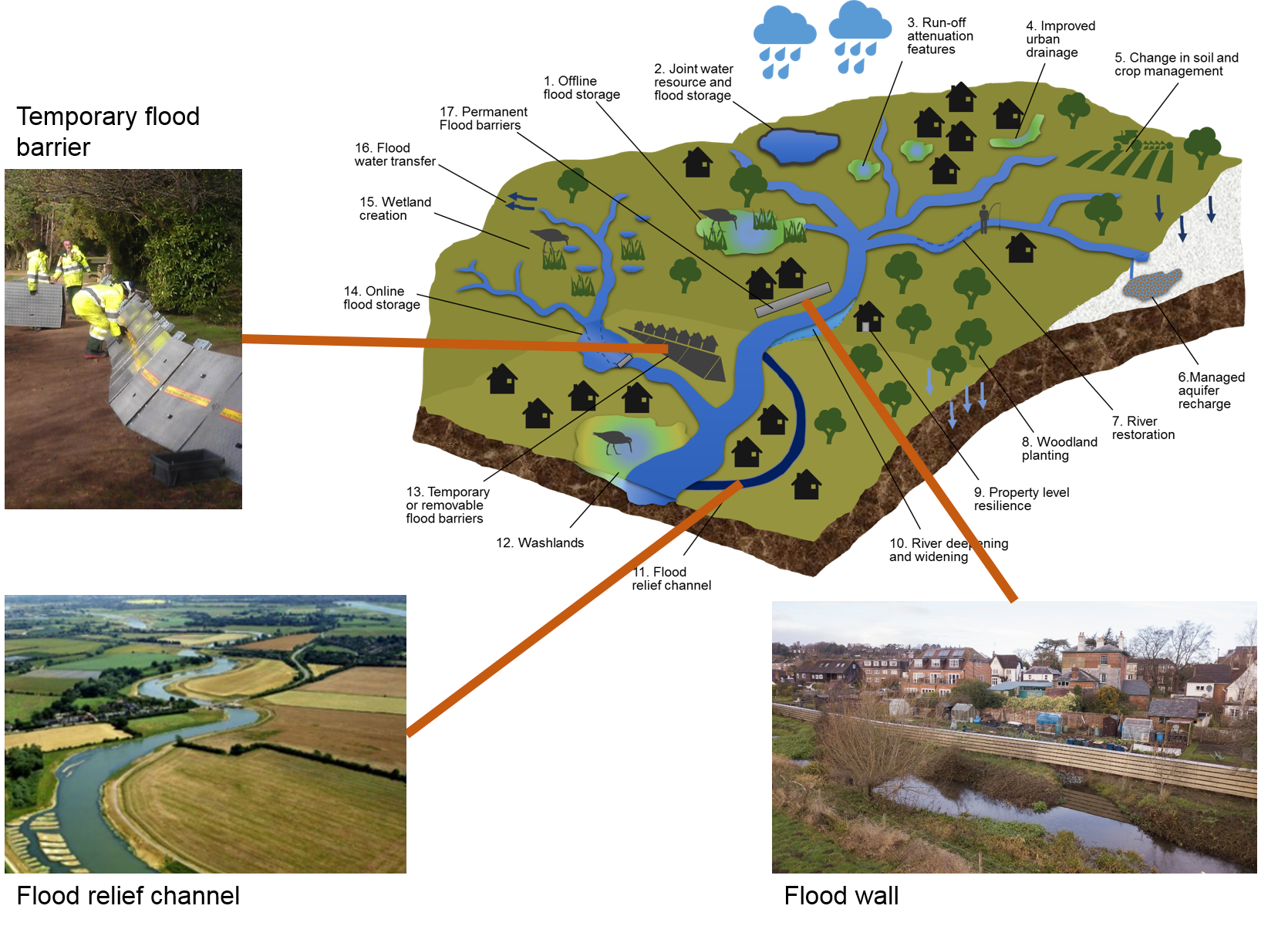 Thames catchment diagram showing temporary or removable flood barriers, a flood wall and a flood relief channel. These are examples of the community layer.
Layer 3: Catchment
The diagram here shows a river and its catchment. The catchment is the whole of the valley, from the hills to the floodplain.
The green area, the river's catchment, is where rain falls, this water then drains towards the rivers. Some rainfall seeps into the ground while some runs across ground into the streams which in turn feed into the central river.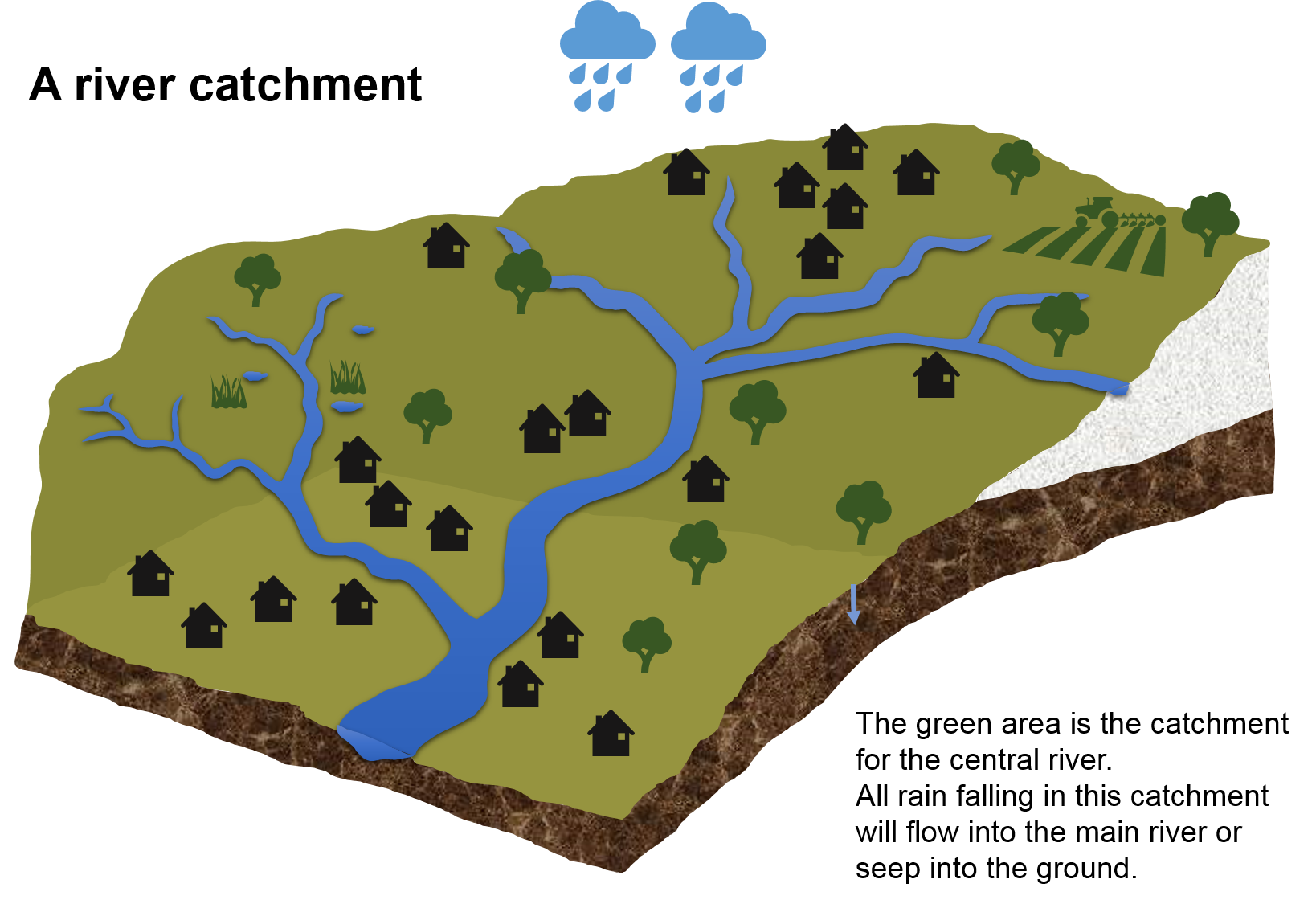 The catchment scale for the whole of the non-tidal part of the River Thames – which is everything upstream of its tidal limit in West London - is the scale of the area we are looking at for the Thames Valley Flood Scheme.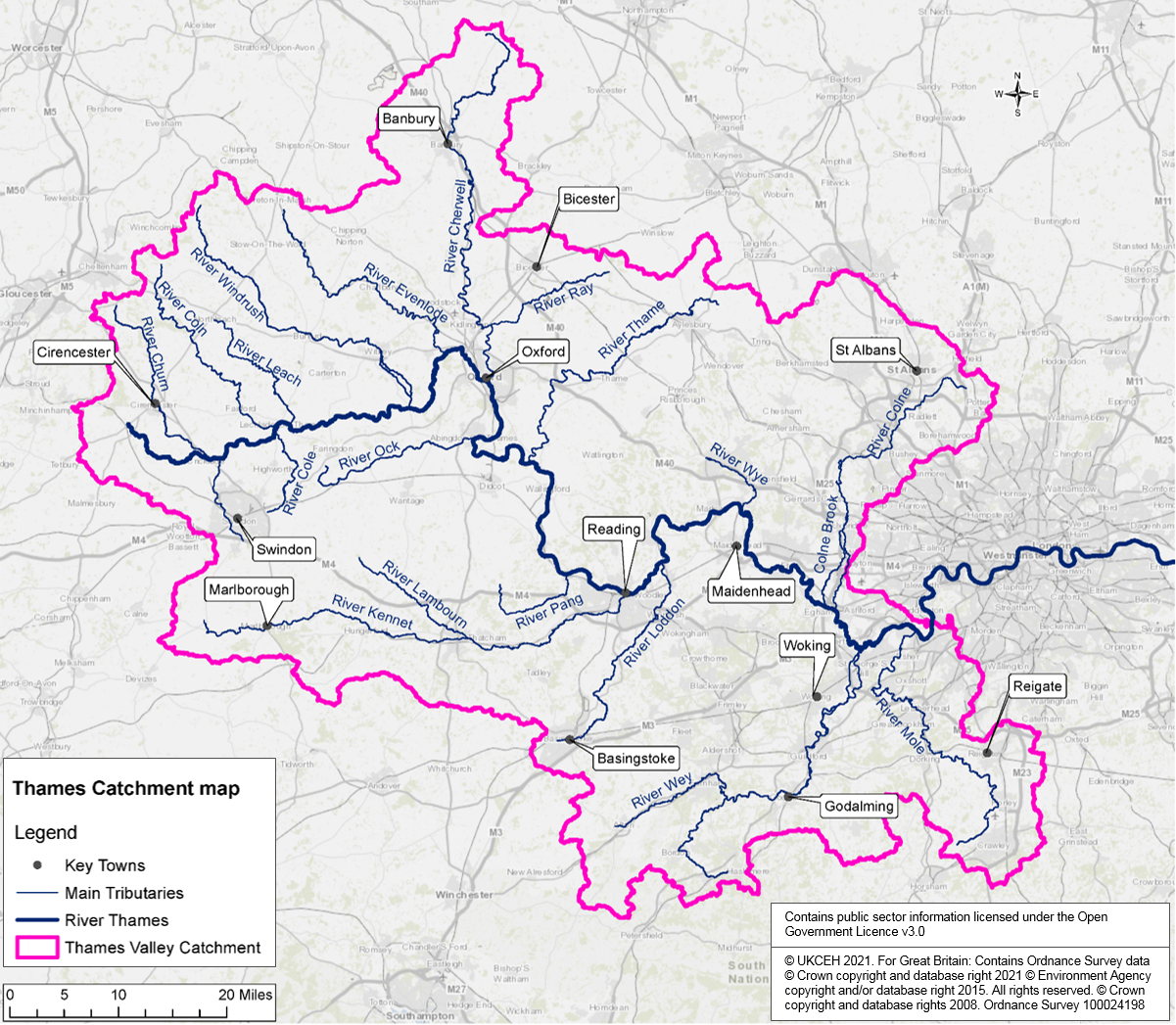 Map of the Thames Valley catchment along with the key towns and tributaries that run into the River Thames.
The Thames Valley Flood Scheme is looking to complement the community and household level approaches. It will act as an 'overlay' across the catchment, looking at what can be done to make a big difference to flood risk over a large geographical area and providing climate resilience.
The Thames Valley Flood Scheme is considering all these approaches, but will be looking at which ones have the most potential to contribute to managing flood risk at a catchment (or large geographical) scale.
As part of this consultation we will be asking you whether you think there is another approach that we should be considering that isn't on the list.
How will we decide which of these approaches to managing flood risk will be taken forward?
We do not yet know which of these approaches to managing flood risk the scheme will include. We are at the early stage of the project where we look at all options to make sure we are considering everything. There may be some we haven't thought of yet, that will come up through the consultation process.
As the project develops we will need to decide which of these ways of managing flood risk are the most effective or appropriate for the Thames Valley.
The decision on which approaches to take forward will depend on a large number of factors including:
Technical feasibility - can it physically be built?

The cost of the project relative to the flood risk benefits it will bring

Other benefits associated with delivery including improvement to the natural environment

Environmental constraints, for example heritage buildings 

Technical sustainability - will it stand the test of time?

Information provided through engagement and consultation
The 17 approaches to reduce flood risk
These images are designed to illustrate what the different approaches are. Any change in flood risk would vary depending on the scale and location of the approach.
Next: Project ambitions and working together