Overview
Background
North Reading and Lower Caversham have flooded many times in recent years. In 2012 and 2014, homes and businesses in low lying areas of Caversham flooded and in 2003, many houses were surrounded by floodwater and a number of roads were closed to vehicles, some for as long as 5 days.
We are  working with partners to investigate how we could reduce flooding from the River Thames in north Reading and Lower Caversham. We have identified a number of options all of which need further investigation to decide which, if any, we could take forward.
We would like to hear your views on the options we have been investigating as well as general feedback to help make sure we have considered all possible options before developing a design.
The proposals will not eliminate the risk of flooding, only lessen it.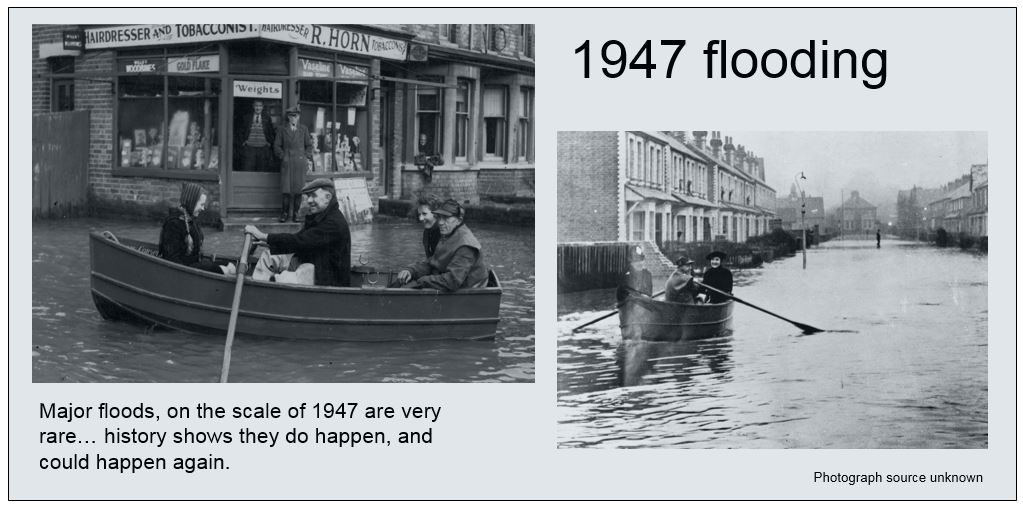 Why your views matter
We have been looking at how we can reduce flooding from the River Thames to north Reading and Lower Caversham. We have found a number of different options that could reduce flooding, each one benefits slightly different areas and each has challenges which we need to overcome.
We would like your views on which, if any of the options we have been investigating you think we should take forward. We would also like to know if you have any other ideas that we have not considered.
We will use the results of the consultation in combination with technical information, practical restrictions, funding available and required approvals when deciding how we will reduce flooding in north Reading and Lower Caversham.
What happens next
We will consider all of the following information and use it together to make a decision on which, if any of the options we will take forward.
•Landowners wishes, as shared through results of this consultation, feedback from individual meetings and feedback from the landowner drop-in held on the 26 June 2018.
•Public views, as shown by the results of this consultation and feedback gathered at our public drop-ins. 
•Planning application requirements and recommendations.
•Technical restrictions. When we develop the detail of the design we may discover physical restrictions that have not shown up during our initial investigations, these could include space available for construction, size of foundations required, archaeological findings, endangered species, to name a few. Any such findings could mean that we have to change the detail of the option or even consider a different, previously discounted option.
•Cost of the proposal and funding available. The project would be partly funded by central government, but there is still a need to find more funding, for example from organisations and businesses that will benefit.
•The time it will take to design, build and construct
•Maintenance. We would need to agree who would be responsible for maintaining any new structures before putting a new structure in place.
•Wildlife and landscape. If we develop an option then wildlife and landscape will be taken into consideration, and where possible we will look to improve landscape and habitat. We will always mitigate for any habitat and species that has been unavoidably impacted as a result of work we do to reduce flooding. 
The display mateial from our public drop-in, detailed maps of the flood walls and embankments and a Word response form can be found in the Related section below.
If you are experiencing any difficulties responding online please contact us at reading&cavershamscheme@environment-agency.gov.uk