Overview
Welcome to the Farlington Marshes Project information page.
As the project progresses, we will provide updates through this information page and via our newsletter. To be added to the mailing list for the newsletter, please email us.
Background
The Environment Agency is working in partnership with Portsmouth City Council to investigate options for a sustainable solution to flood risk management at Farlington Marshes.
Farlington Marshes is a 125ha area of undeveloped land situated on the south coast near Portsmouth and owned by Portsmouth City Council. It is one of Hampshire & Isle of Wight Wildlife Trust's flagship nature reserves and is home to an array of important habitats and wildlife.
The marshes are currently defended by a sea wall approximately 3.5km long, which is also a popular public footpath. The Environment Agency currently maintains the sea defence and recent studies have found that parts of the defence are deteriorating. This, coupled with the challenge of rising sea levels due to climate change, creates an uncertain future for Farlington Marshes and finding a sustainable solution is the key objective of this project.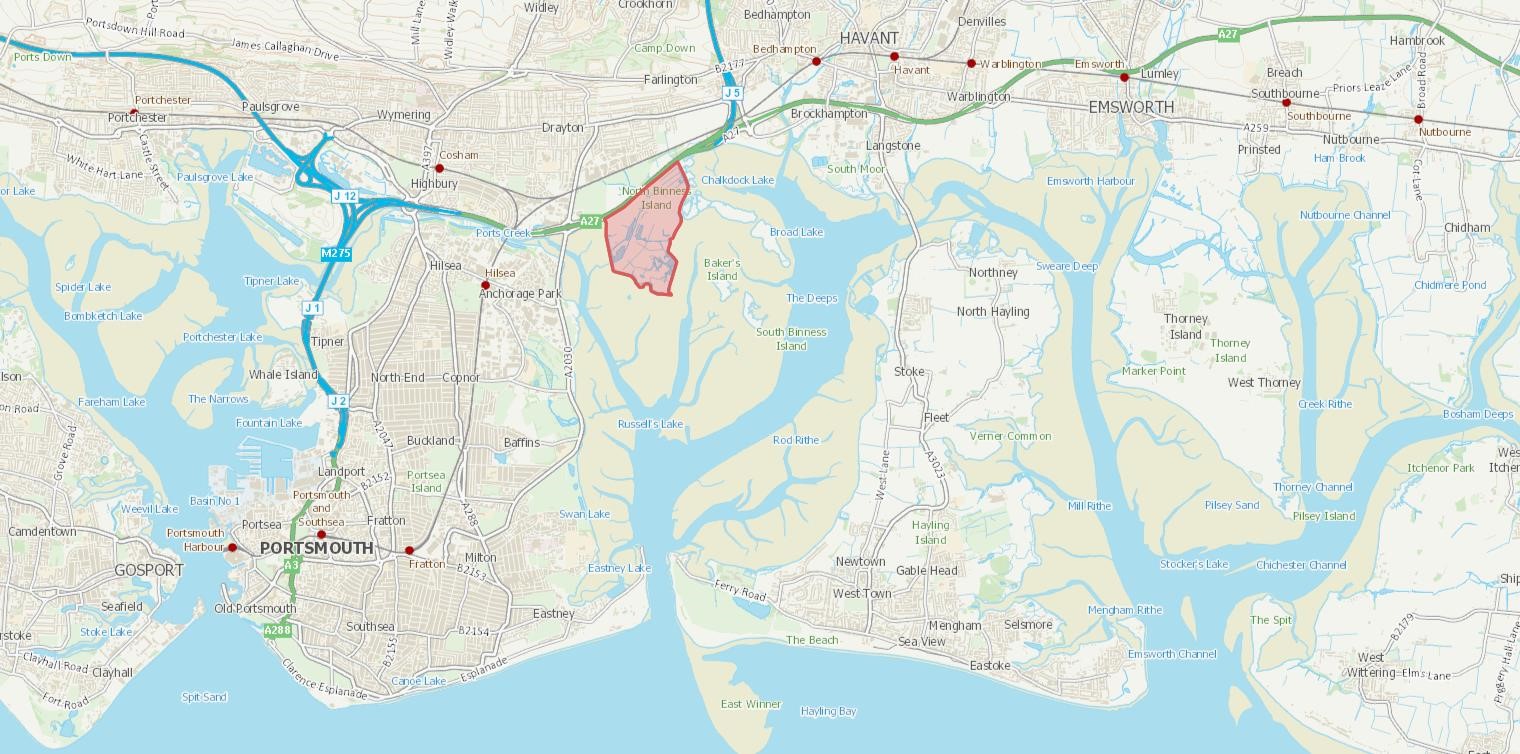 (Image above) Location of Farlington Marshes on the south coast of England
Be prepared for flooding
Please continue to be prepared and resilient towards flooding by signing up to receive advanced warnings of flooding. Register by calling Floodline 0345 988 1188, or visiting www.gov.uk/sign-up-for-flood-warnings . If you are already registered to the Floodline Warning Service, again please check if your details need updating by visiting www.fws.environment-agency.gov.uk/app/olr/login
Contact us
By email: FarlingtonMarshes@environment-agency.gov.uk
By phone: 03708 506506 and ask to speak to a member of the Farlington Marshes Project team
By post: Farlington Marshes Project, Environment Agency, Romsey Office, Canal Walk, Romsey, Hampshire, SO51 8DU.
Get in touch
Thank you for visiting our project page.
 Please contact:
FarlingtonMarshes@environment-agency.gov.uk
if:
you are not able to access any of the info on this page.
you have any comments or feedback on our information page.
you have any questions or concerns about the project.
If you would like to be added to our distribution list to receive updates on the project, please complete and return the form below.
For more information on how we will use and share your data, please see our Privacy Notice below and our Personal Information Charter