Environmental Importance
Farlington Marshes includes extremely important areas of lowland meadow, coastal grazing marsh and saline lagoon and is part of the wider estuarine system of Chichester and Langstone Harbours. Farlington Marshes represent a large proportion (around 125ha) of the remaining coastal grazing marsh found along the South Coast. Regionally and nationally this is a habitat of significant conservation concern.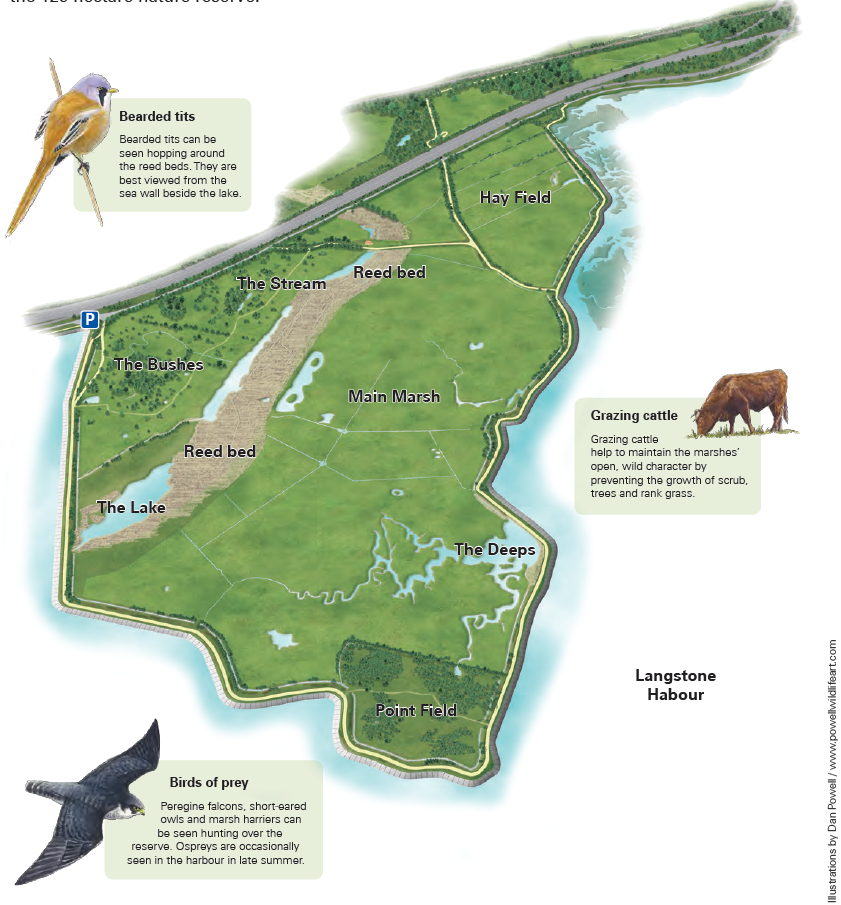 (Above image) Wildlife found at Farlington Marshes, reference: HIW Wildlife Trust.
The marshes are internationally designated as a Special Protection Area (SPA), Special Area for Conservation (SAC) and Ramsar site for the habitats and species that it supports. It is also a Site of Special Scientific Interest (SSSI) and a Local Nature Reserve (LNR).
Farlington Marshes SPA is designated due to being one of the top sites in the country that supports the UK's population of the Dark-bellied brent goose (Branta bernicla) - it ranks 3rd in the South for overall Dark-bellied brent goose numbers. It is also an exceptionally important habitat for breeding birds such as Redshank and Lapwing, species that are under threat nationally, and provides important feeding and roosting grounds for a number of coastal bird species.
Under the Conservation of Habitats and Species Regulations, there is a legal requirement for public bodies to maintain the features for which nature conservation sites are internationally designated. A key objective of the project will be to make sure that any option for Farlington Marshes does not negatively impact on the designated sites and species using the site.
Amenity Value
Farlington Marshes is located in one of the most highly populated areas of the South Coast. A lack of available green space and poor air quality are among the major challenges faced by local communities. The Marshes provide opportunities for walking, running and bird watching and are easily accessible by bicycle. It is a strategic open space and one of Portsmouth's only two Natural Green Spaces over 100ha.
The Solent Way long distance footpath route currently runs along the sea wall, as will the forthcoming England Coast Path. National Cycle Network Route 22 passes the northern boundary of the marshes.
Farlington Marshes attracts approximately 100k visitors per year and The Outdoor Recreational Valuation Tool (University of Exeter) estimates that Farlington Marshes has a welfare value of £700k per year. A key objective of the project will be to make sure that the option chosen maintains the current amenity value of the site and look at opportunities to enhance this.
History
Originally protected from the sea to secure land for grazing in 1771, Farlington Marshes has seen a wide variety of uses in its history. For instance the marshes saw significant use during the wars as a decoy site and as a munitions dump. The past use of Farlington Marshes and the impact on any buried artefacts will be considered carefully when developing options.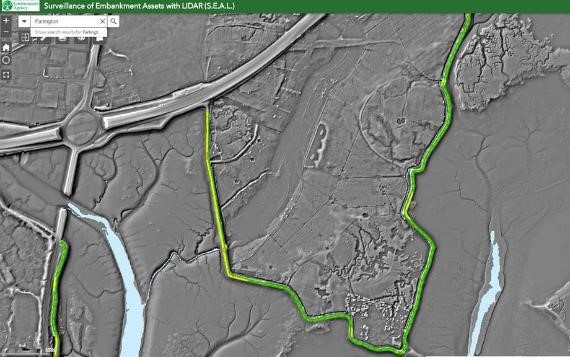 (Image above) Lidar image of Farlington Marshes revealing evidence of historic works