Overview
Welcome to the Information Page for phase 2 of the Arundel Tidal Walls Scheme.
We have created this page to provide easy access to information on this project. The Environment Agency will be updating this site regularly, so please keep checking for what's new.
If you would like to speak to our Public Liaison Officer, Madeleine Spellman about the project, please ring 07721 248275 or email ArundelTidalWalls@environment-agency.gov.uk
Our latest newsletter, an indicative timeline of the works and frequently asked questions are available to read or download by clicking on the following links:
Arundel Tidal Walls Indicative Timeframe - Phase 2
Arundel Tidal Walls Scheme- Phase 2- FAQs. 
To be added to our mailing list for newsletter and project updates, please let us know by emailing ArundelTidalWalls@environment-agency.gov.uk
Latest Update
Background
Who
The Environment agency are working in partnership with JBA Consulting, VolkerStevin and Mott Macdonald. As well as working alongside Arun District council (ADC), Arundel Town Council (ATC) and West Sussex County Council (WSCC) to undertake essential repairs to the river wall in Arundel town centre.
Where
The repairs will be taking place along the Arun River wall, from the memorial gardens (adjacent to Arun street) extending approximately 40 metres downstream along the river. This location is shown by a red line on the image below.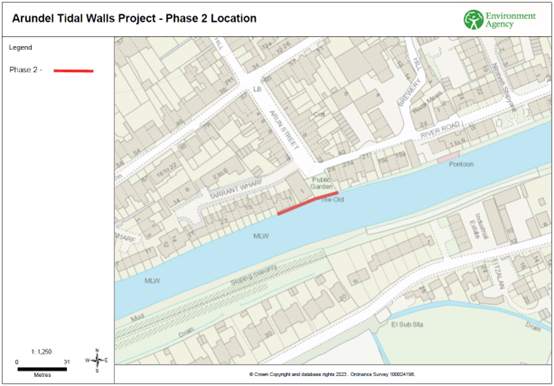 Flooding Information
Please continue to be prepared and resilient towards flooding by signing up to receive advanced warnings of flooding. Register by calling Floodline 0345 988 1188 or visiting www.gov.uk/sign-up-for-flood-warnings . If you are already registered to the Floodline Warning Service, again please check if your details need updating by visiting www.fws.environment-agency.gov.uk/app/olr/login
Contact us
By email: ArundelTidalWalls@environment-agency.gov.uk
By phone: 03708 506506 (8am to 6pm, Monday to Friday). This is the National Customer Contact Centre. Please ask to speak to Michael Carleysmith or Marc Pohl
By post: PSO West Sussex, Environment Agency, Guildbourne House, Chatsworth Road, Worthing, West Sussex, BN11 1LD
For more information on how we will use and share your data, please see our Privacy Notice below and our Personal Information Charter