Overview
We are planning to have stopped all our flood risk management (FRM) activities between Pallingham Weir and Pulborough in the Arun Valley, West Sussex by the end of 2021. We refer to this area as Strategy Unit 1 or SU1. (See Map 1 - River Banks and FRM Structures: SU1).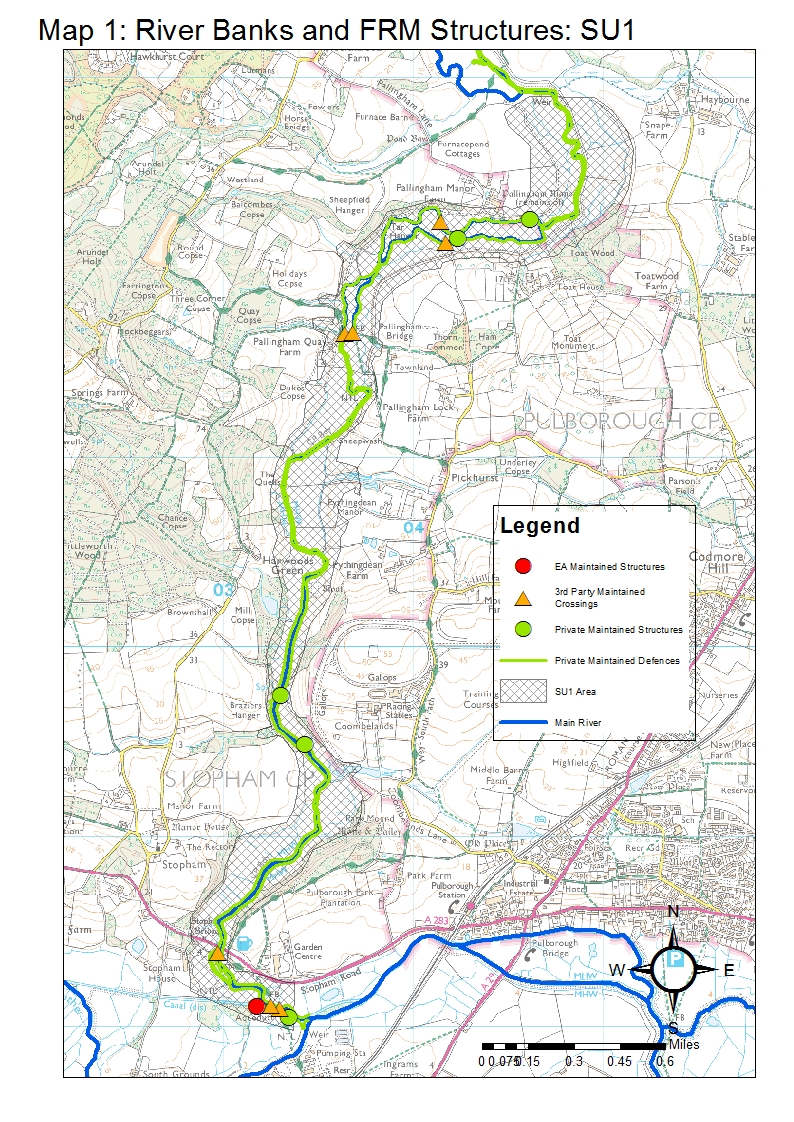 Click image to enlarge map.
This is because it is uneconomic to continue our current FRM activities here as there are so few houses at risk of flooding. Further detailed information can be found below.
We invite you to respond to our consultation on a reasonable notice period by completing the 'online survey'. The link to the 'online survey' can be found at the bottom of this page.
This plan is separate to the proposed abolition of the River Arun Internal Drainage District (IDD) currently being considered by the Secretary of State for the Environment.
Why your views matter
We want your views on:
what impact our stopping our flood risk management activities has on you
what you regard as a reasonable notice period in order to make alternative flood risk management arrangements
options for future flood risk management activities when we stop our flood risk management activities in this area
any other issues or concerns you have in relation to this plan
Please click on the 'online survey' link below to answer the consultation questions. Submitting your response online will help us gather and summarise responses quickly, accurately and cost effectively.
However, if you prefer, you can submit your response by email or post by downloading the relevant response form below and sending it to:
LTRAS SU1 Project Manager
Environment Agency
Chichester Office
Oving Road
Chichester
PO20 2AG
or email
Teresa.Willway@environment-agency.gov.uk using the heading 'SU1 consultation'.
What happens next
In January 2020, we will consider all representations received.
We will publish a summary document of the consultation within 12 weeks.
We will continue to work with those affected to ensure plans are in place to resolve outstanding issues before or during the notice period.
We will issue all riparian landowners/tenants with a formal letter giving notice of the date after which are flood risk management activities will stop and inform other interested parties.