Overview
Ponteland has experienced flooding from the River Pont in previous years. In order to mitigate against flood risk, the Environment Agency maintains a range of assets in the area, such as flood walls, flood embankments and pumping stations.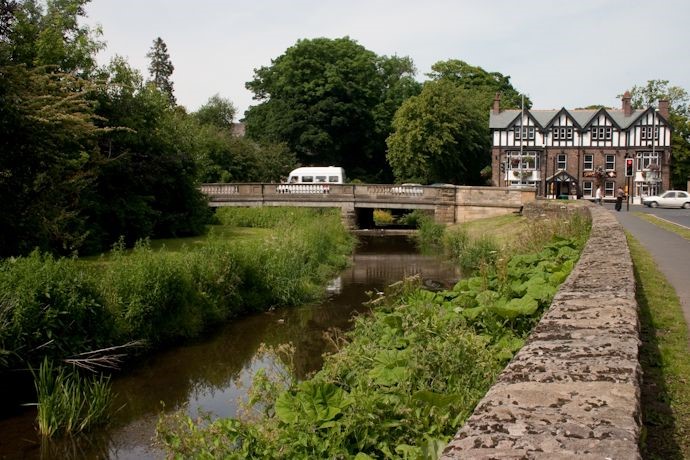 What have we done so far?
We have been working to improve our understanding of flood risk in Ponteland. In 2018, we carried out ecological, ground and current defence investigations,to understand the existing situation.
We have also updated the flood model for Ponteland, which shows the existing defence height for fluvial (river) flooding to a 1% Annual Exceedance Probability (AEP)* offers a good standard of protection in Ponteland.
We then undertook an Economic analysis of the modelling outputs, to demonstrate the benefit to cost ratio, which is needed to apply for Government funding. This was successful and approved in an Outline Business Case, for detailed design of new defences.
We published an options document and held a public event in January 2019 as part of our appraisal, to gather information from residents and understand preferences for the shortlisted options. A summary of responses to our recent consultation is now available to download. We have also now published a full consultation response report that responds to all the ideas and comments obtained. Please see links to the reports below.
Our structural assessment identified three flood defence assets on the south bank of the River Pont that were nearing the end of their asset life and needed to be replaced.
Whilst the initial assessment looked at the larger area of Ponteland, we are now focusing on the defences on the south bank of the River Pont, between Memorial Hall and Callerton Burn.
*Annual Exceedance Probability (AEP) refers to the probability of a flood event occurring in any year. The probability is expressed as a percentage.
What's next?
We are signing a contract with our Collaborative Delivery Framework partners, consultants Arup and contractor BAM Nuttall to progress with a detailed design of the assets that need to be replaced, which we aim to complete by Spring 2020. The intention is to gain full business case approval for funding of replacing the assets later in 2020.
The asset replacement also provides an opportunity to reduce anti-social behavior linked to trespass on the existing assets, which was raised at earlier consultation as a priority.
We are undertaking ecological surveys in advance of the works to identify and mitigate any impact on any protected species. We are also undertaking tree surveys, as some tree removal will be needed to allow the refurbishment works to take place. We will replant five trees for every one tree removed and we will work with the local community to identify where the replanting could take place around the Ponteland area.
How can you get involved?
Many thanks for the information and feedback that we have recived from Ponteland residents, landowners and businesses so far through earlier consultation events, and also for landowners accommodating our various surveys and investigations. We've already responded to queries from residents about the project and the work done by our field teams to maintain our assets, and plan to continue open communication as the project progresses.
Community drop-in event
Please join us at our Community Drop-In Event at Ponteland Memorial Hall on Wednesday 18th September from 2pm to 7pm, to find out more about the Ponteland Flood Alleviation Scheme (FAS). Our officers will be at the event to answer any questions you may have, to update you about the scheme and to listen to your feedback.
Online Consultation page
You are also welcome to give us your feedback online on our Consultation page, by following the link below. The Consultation will be open from midnight on 16 September 2019 and run for five weeks until 21 October 2019.