Overview
Ponteland has experienced flooding from the River Pont in previous years. In order to mitigate against flood risk in the area the Environment Agency maintains a range of assets in the area, such as flood walls, flood embankments and pumping stations.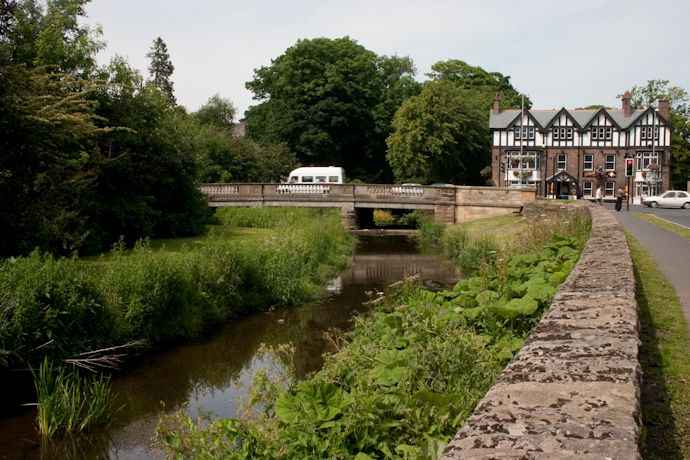 What have we done so far?
We have been working to improve our understanding of flood risk in Ponteland.
In July and August 2018 we carried out topographical and environmental surveys along the River Pont.
In November and December 2018 we carried out ground investigations. These were the last of the surveys we plan to complete in this appraisal.
In December 2018 we had our first outputs from the updated flood model, which indicates that the existing defences currently offer a good standard of protection in Ponteland – defending from fluvial flooding to a 1% Annual Exceedance Probability (AEP)*.
In January we published an options document and held a public event as part of our appraisal, to gather information from residents and understand preferences for the shortlisted options.
In February we received draft out puts of the Structural Assessments, which we have reviewed. We have shared this information with affected landowners where we are considering asset replacement.
In March we have received the Economic analysis of the modelling outputs, and begun the drafting of the Outline Business Case. We expect to submit this in April 2019, to gain approval to proceed with the detailed design. We have also published a summary of the consultation response.
*Annual Exceedance Probability (AEP) refers to the probability of a flood event occurring in any year. The probability is expressed as a percentage.
What's next?
A summary of responses to our recent consultation is now available to download below. We have also now published a full consultation response report that responds to all the ideas and comments obtained.
We will await approval of the Outline Business Case, while working in parallel to develop a detailed design scope.
We are planning to hold a second round of consultation in Summer 2019.


How can you get involved?
Thank you to the Ponteland residents,landowners and businesses that have been so accommodating during each of our surveys. We've already had questions from residents about this work and the work done by our field teams in Ponteland as we continue to maintain our assets while this appraisal is ongoing.
We are keen to hear your views throughout the project to help make sure we have considered all possible options as we refine our approach.