Overview
Ponteland has experienced flooding from the River Pont in previous years. In order to mitigate against flood risk, the Environment Agency maintains a range of assets in the area, such as flood walls, flood embankments and pumping stations.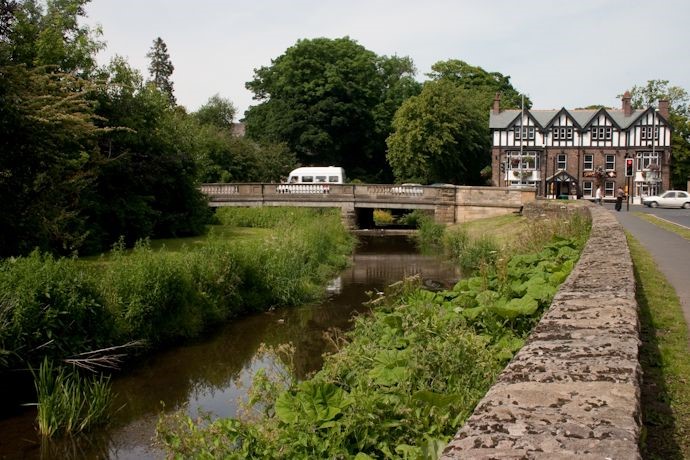 What have we done so far?
We have been working to improve our understanding of flood risk in Ponteland. Initially in 2018, we carried out an appraisal which included ecological, ground and current defence investigations, to understand the existing situation for the whole town.
We have also updated the flood model for Ponteland, which shows the existing defence height for fluvial (river) flooding offers a good standard of 1% Annual Exceedance Probability (AEP)* protection in Ponteland.
*Annual Exceedance Probability (AEP) refers to the probability of a flood event occurring in any year. The probability is expressed as a percentage.
As part of our appraisal, we published an options document and held a public event in January 2019 to gather information from residents and understand preferences for the shortlisted options. A full consultation response report that responds to all the ideas and comments obtained is available. Please see links to the reports below.
A structural assessment undertaken during the appraisal identified three flood defence assets were nearing the end of their asset life and needed to be replaced. These defences are located on the south bank of the River Pont, between Memorial Hall and Callerton Burn. So whilst the initial appraisal looked at the whole of Ponteland, we are now focusing on this on area of the south bank of the River Pont.
We then undertook an Economic analysis to demonstrate the benefit to cost ratio of each option, which is needed to apply for Government funding. This allowed the project team to gain approval of an Outline Business Case, to fund the detailed design of new defences we are working to replace.
In September 2019, we started working with our Collaborative Delivery Framework partners, consultants Arup and contractor BAM Nuttall to progress with a detailed design of the assets that need to be replaced, which were completed in Spring 2020,.
We also conducted a second community event and consultation exercise in September 2019, on the preferred option for detailed design to replace the current wall - embankment - wall defence arrangement, with one complete flood defence wall. A consultation response report is also available. Please see links to the reports below.
We have undertaken ecological surveys in advance of the works to identify and mitigate any impact on species and habitats. We have also undertaken tree surveys, as tree removal will be needed to allow the refurbishment works to take place. Tree removal provides more variety and light along the river corridor and encourage a more diverse range of plants and wildlife.
The asset replacement also provides an opportunity to reduce anti-social behaviour linked to trespass on the existing assets, which was raised at earlier consultation as a priority.
Various enabling works have been undertaken to check for protected species and remove outbuildings from the construction footprint.
In August 2020 we gained final business case approval to proceed with construction.
What happens next?
We are now on target to start construction phase in September 2020 to replace the assets on the south bank of the River Pont (Callerton Lane side) between the Memorial Hall footbridge and the Callerton Burn Pumping Station. These current assets, which are a mix of red brick covered flood walls and flood embankments will be replaced with one continuous sheet piled wall.
Current assets to be replaced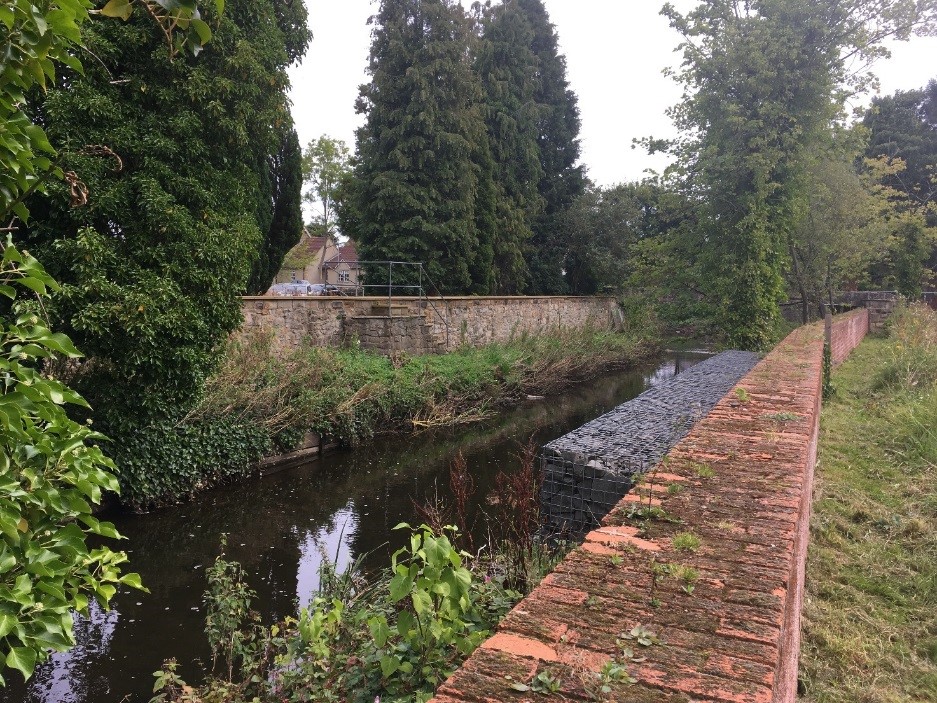 Existing downstream brick covered flood wall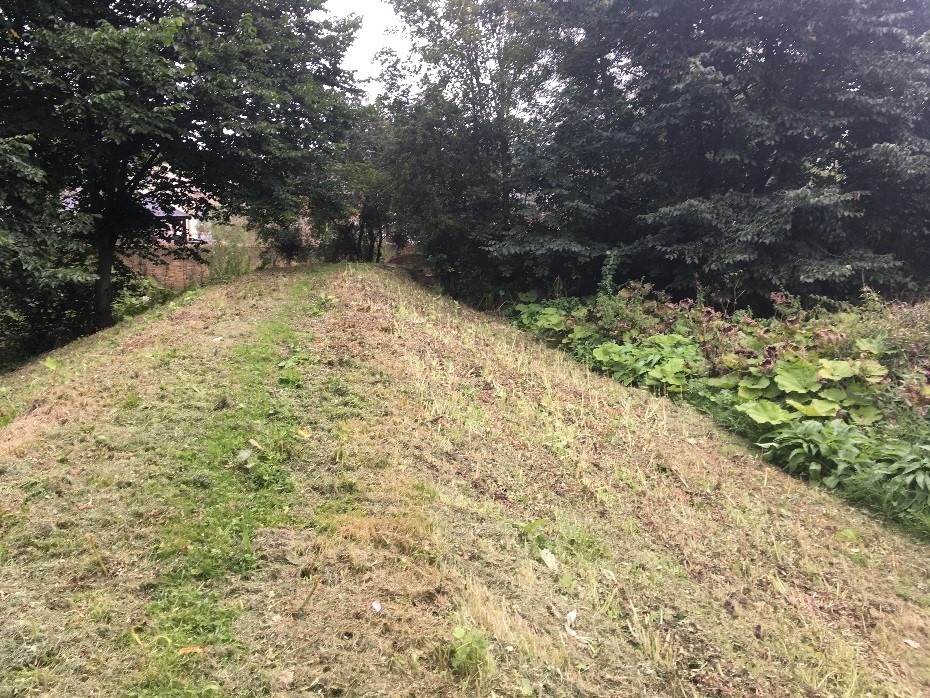 Existing flood embankment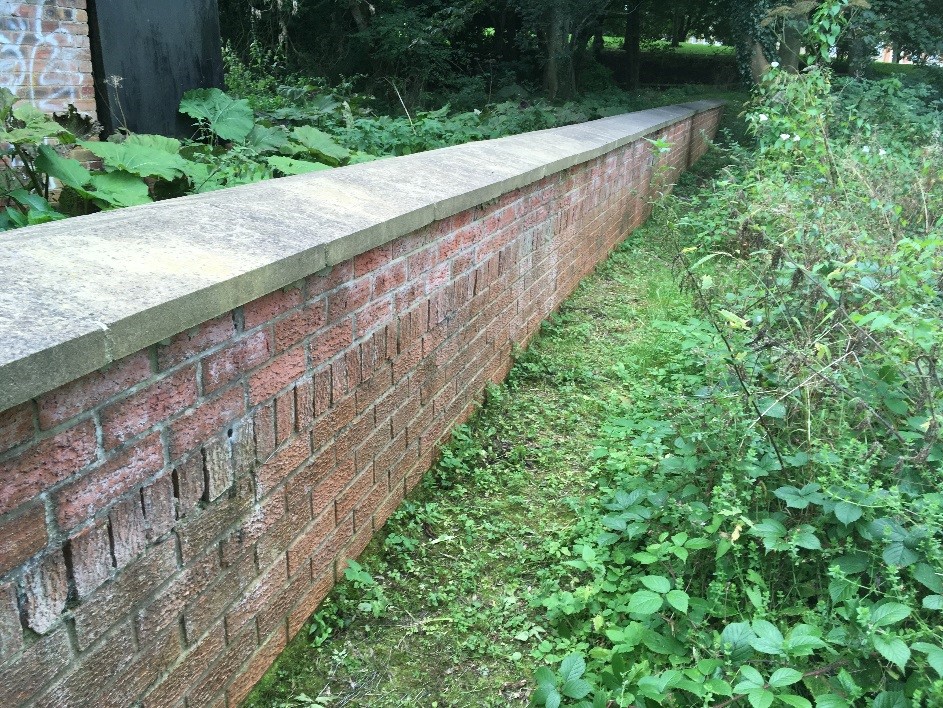 Existing upstream brick covered flood wall
The new piled wall will be encased in pigmented concrete to give a stone effect and colour so the final finished wall will look more like those on the opposite bank near Waitrose and the Seven Stars and further downstream at the A696 Road Bridge.
The defence will provide the same standard of protection of a of 1% Annual Exceedance Probability (AEP)* and will protect 259 properties in Ponteland.
The piling phase, which will ensure flood protection, is due to complete by December 2020, after which it will be encased with coloured concrete. The final completion date is due in Spring 2021, current dates are weather dependent.
The design of the new flood defences include an allowance in the foundations so they could be raised at a later date, should the wall need to be raised in future due to climate change.
Localised environmental enhancements included re profiling of the river bank from a current steep gradient, to a more natural shaped stepped terrace which will be planted with native river corridor plants to encourage flora and fauna diversity.
For any queries on the scheme, please email Kirsty Harwood, Project Manager, at enquiries@environment-agency.gov.uk.
Please reference Ponteland Flood Alleviation Scheme in your email subject.
Improve your resilience to flooding:
To find out if you are living in a flood risk area and for information on how to sign up for flood alerts, visit https://flood-warning-information.service.gov.uk/warnings