Overview
The River Nent is the second most metal polluted river in England, and the most polluted in northern England. 
This pollution by cadmium, lead and zinc comes from several different sources and the effects on water and sediment quality, and aquatic life can be seen for 60km along the River South Tyne and in the Tyne Estuary.
Pollution of rivers by metal mines in the Tyne catchment.
Although most mining activity had stopped by the mid-20th century, more than 150km of rivers in the Tyne catchment are still being polluted by cadmium, lead and zinc. These metals harm fish and other river life, and will continue to do so for hundreds more years unless action is taken. As well as polluting the river water, the metals collect in river sediments and ultimately accumulate in the Tyne estuary. The estuary sediments are regularly dredged to maintain access to shipping berths for both industrial and leisure use (for example, North Sea ferries). The concentration of metals in the sediments is often too high to allow safe disposal to sea, particularly in the deep-water shipping berths on which thousands of jobs depend, bringing £139m of economic activity to the region each year. 
The Water and Abandoned Metal Mines Programme aims to reduce the current level of pollution by installing a series of measures to stop metals entering rivers, and limit the impacts from metals already in the river system. Mine water treatment schemes that capture metals will immediately improve river water quality and over time, the concentration of metals in sediments will decrease.
The River Nent is the biggest source of metals to the Tyne catchment, followed by the River West Allen. Mining also took place in other tributaries in the South Tyne catchment which we are also investigating (see map below).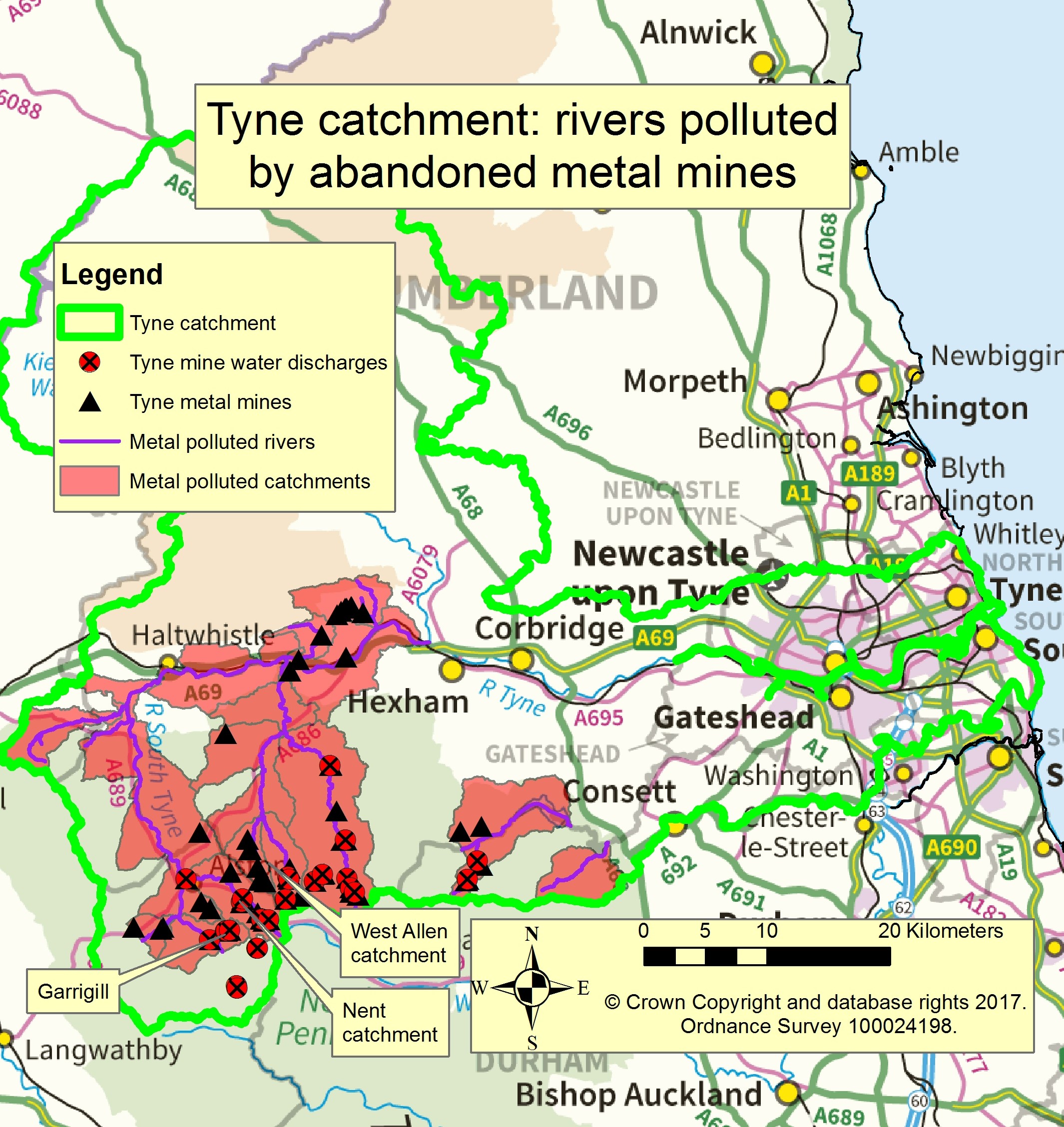 Protecting the Environment
The WAMM programme aims to clean up the 1,500km of English rivers that are polluted by abandoned metal mines, in support of the Government's 25 Year Environment Plan and statutory River Basin Management Plans. 
River Basin Management Plans are required under the Water Environment (Water Framework Directive) (England and Wales) Regulations 2017 (WFD Regulations) and Ministerial Guidance on river basin planning 2021. The plans establish environmental improvements alongside a programme of measures setting out the steps required to meet them.
Northumbria's River Basin Management plan recognises the challenge of tackling pollution from abandoned mines and the work the WAMM programme is doing to deal with the legacy of water pollution from abandoned coal and metal mines. For more information on the history and current issues of pollution from abandoned mines, see Mine waters: challenges for the water environment - GOV.UK (www.gov.uk)
Click here to return to the homepage.
This project is part of the Water and Abandoned Metal Mines (WAMM) programme, a partnership between Defra, the Environment Agency and the Coal Authority to clean up river pollution caused by historical metal mining.