Overview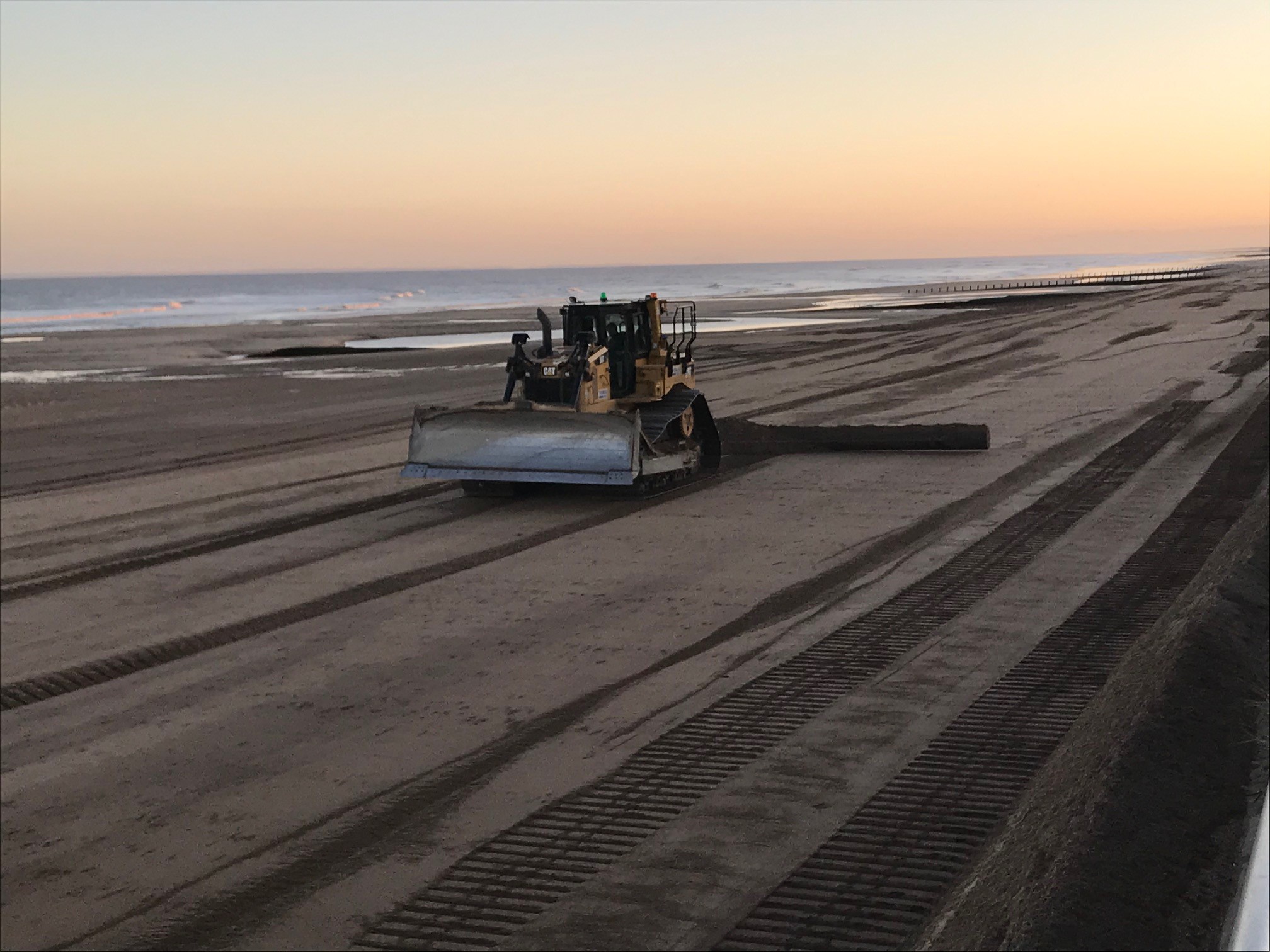 By restoring beach levels lost over the year, the Environment Agency protects its hard sea defences from the impact of waves and tides. The coastline between Mablethorpe and Skegness has benefited from beach nourishment, the present flood risk management approach, since 1994.
Just over 45,000 people live within the Saltfleet to Gibraltar Point Strategy area and each year a further 2.7 million people visit the area generating almost £500 million annually for the Lincolnshire coastal economy. Our flood risk management work in this area is vital for the continued success of Lincolnshire's coastal communities, its bustling tourism industry, and its strong agricultural sector.
As climate change predictions increasingly become reality, it is crucial that we consider and plan for the effects of severe weather and sea level rise throughout our work. We regularly review our flood risk management strategies and plans to ensure we continue to provide a sustainable and affordable future for all.
The Lincolnshire coastal flood plain has had a long history of flooding from the sea and many forms of defence are now in place including sand dunes, seawalls, rock/timber structures and beaches.
Over the last 24 years, we have nourished the beaches in Lincolnshire between Mablethorpe and Skegness with sand to provide a wide defence which reduces the impact of wave action and tides, in combination with the existing hard and soft flood defences. This work has proved very successful in managing tidal flood risk for Lincolnshire. However, our estimates suggest it will not be sustainable to continue with this method of flood risk management in the future due to the increased levels and frequency of sand that would be associated with the effect of climate change.
Our strategy for the next 100 years is adaptable to a changing climate which will enable us to continue to provide and maintain coastal sea defences with healthy beaches for the enjoyment, wellbeing and prosperity of people visiting, working and living in Lincolnshire.
The strategy sets out a plan to change the management regime where we may introduce structures onto beaches, in combination with continued beach nourishment, to form a sustainable flood risk management approach for the next 100 years.
Moving to the new approach will be a gradual process over many years whilst further information to help with the design process is assembled. During this transition period, the existing practice of beach nourishment will continue alongside maintenance of the sea walls and drainage outfalls.
Beach management for 2021-2024 will continue to provide great benefit for people, property, land, and the environment by managing the risk of flooding from the sea. This work will include routine maintenance and investigations.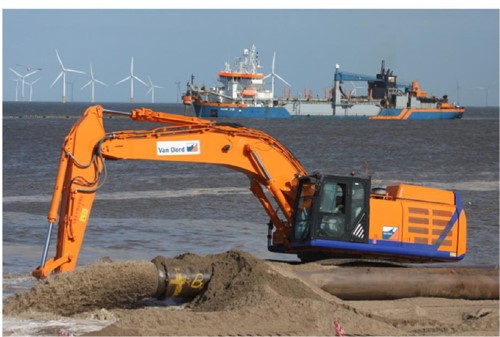 During the Coronavirus pandemic, we are continuing to deliver our Flood and Coastal Risk Management projects where it is safe for our teams and delivery partners to do so. We are following the latest guidance from Public Health England regarding safe working on construction sites.
What's happening?
This is the second year of works under the new long-term strategy for the Lincolnshire coastline from Saltfleet to Gibraltar Point. Through this strategy, we aim to create a better place for you, for future generations and the environment. 
As part of the Saltfleet to Gibraltar Point beach management programme, our contractor Van Oord has been carrying out some asset refurbishment work and investigations throughout the autumn, winter, and spring months.
We understand and appreciate that this area is popular with the local community and tourists, especially since the pandemic with lots of people now staycationing. Therefore, we have chosen this time of the year to complete these works.
Residual life testing
In January, we started site investigation works to determine the underlying geology beneath the beach. This work will help to inform our future investment planning for asset refurbishment. We are using a cone penetration testing method at points along the coastline. This work is nearly complete.
We also worked at locations between Skegness and Mablethorpe:
Winthorpe & Wolla Bank
The works at Winthorpe to block two redundant access tunnels that run underneath the splash and the works at Wolla Bank to redress the access road from Roman Bank to the car park, were completed in December 2021.
Anderby Creek
We have been undertaking some site investigation work to assess the ground conditions around the creek on the landward side of the defence to inform future maintenance and refurbishment works. This investigation work started in January and is now complete.
What are we doing now?
Sandilands to Huttoft
We will be carrying out maintenance work to and around the splash deck which will include resurfacing the splash deck. We have started work to prepare the surface, modifying the sea doors and steps.
This work started in March and will take approximately 7 weeks to complete.
We will carry out the resurfacing work in sections. To keep the public and our staff safe we will need to divert the public onto the beach or around the old Sandilands golf course. Diversions will be clearly signposted, and we will have staff on site who will assist the public where they can.
The resurfacing part of these works will take approximately 4 weeks and will start after the Easter school holidays.
What are we doing next?
Beach nourishment campaign 2022
This year's beach nourishment works will start in June 2022. This is later than in previous years. We are waiting for the approval of the Marine License which we need before we can start any beach nourishment works. This is expected in April for mobilisation works to start in May.
We will continue to work closely with Lincolnshire County Council, Countryside and Highways, to provide safe mobilisation and demobilisation.
We will keep you updated on the timing of these works.
Public access
We continue to understand and appreciate that the area is popular with the local community and tourists, especially since the pandemic. It is essential that we exclude the public from the areas we are working to maintain public safety. We will only close areas where we are working.
It is essential that we exclude the public from the areas we are working to maintain public safety. We will only cordon off areas where works are taking place and would like to ask you to remain vigilant and keep pets away from the works.
Please read and follow the localised signage that will be erected in advance of and during the works at each site. We will maintain existing public access as far as possible, however, during the works at Sandilands to Huttoft, we will need to close off sections of the splash deck so that the works can be completed safely. Temporary arrangements for public access will be implemented.
If you have any questions about these works, don't hesitate to contact our Engagement Officer Monica Stonham email – LNenquiries@environment-agency.gov.uk or telephone – 07534 457348.