Overview
We are pleased to be bringing you the latest Environment Agency update on our compliance work at Roxby Landfill operated by Biffa Waste Services Ltd. 
Our Commitment 
As part of our regulation of the site, our priority is to ensure Biffa comply with their environmental permit. We will continue to review odour reports and respond as necessary.
Latest news
Odour
No odour complaints have been received in April or May 2023. The graph below shows exact figures over the last 12 months.

No off-site odour was detected during the last odour survey carried out in the community on 25 May 2023.
Last 12 Months of Odour Reports received by the Environment Agency through our Incident Hotline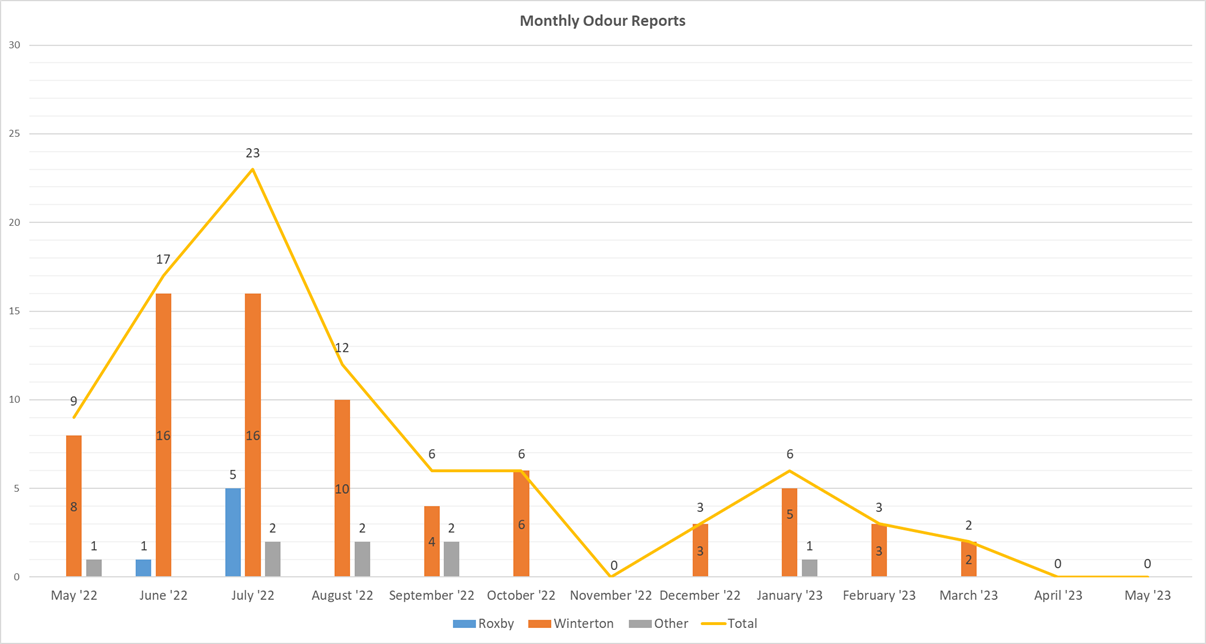 Regulating Biffa
We are currently investigating non-compliances associated with Biffa's waste acceptance procedures.

On 25 May 2023 a site inspection was conducted, and we are concluding our findings.

We are aware that the waste inputs into Roxby Landfill have reduced, and Biffa are undertaking a void survey in July, and will provide further updates of their future in-fill pattern.
Roxby Community Liaison Group
The next meeting is scheduled to be held virtually on 29 June 2023. Should you wish to attend this meeting please email LNenquiries@environment-agency.gov.uk.
Previous meetings notes and slide packs can be found at the bottom of this page, including the last liaison meeting held on 18 January 2023.
Our feedback to you
Often you will ask us for feedback following your report to the Environment Agency's Incident Hotline Number. We will endeavour to report back directly where we can, but this may not always be possible. We will continue to provide updates via Citizen Space and through regular contact with your local representatives. Biffa will continue to issue updates to the group to share with the community.
Next update
As the number of odour reports has significantly reduced, it was agreed during the Local Community Liaison Meeting on 29 June 2023 that updates to citizen space will be suspended, with a view to re-enact if the numbers of odour complaints increase.
Updates will continue to be provided at the Local Community Liaison Meeting, which is next scheduled for 29 October 2023.
If you would like to provide feedback on how useful you found this update, please email LNenquiries@environment-agency.gov.uk
Previous updates
Please see the links below to our previous updates: