Overview
UPDATE – July 2021
Please see our latest newsletters which will explain what we have done so far at Lake 5 and information about the works. 
Since our November 2020 virtual drop we have started work and successfully installed our temporary site, compound and welfare area.  
Flood defence works to take place in Thamesmead
There will be some flood defence refurbishment works taking place in Thamesmead starting in January 2021. This is expected to continue for seven months.
The refurbishment works are taking place at the pumping station on Ridges Close at the Northern edge of Gallions Lake. The postcode for the pumping station is SE28 0HT.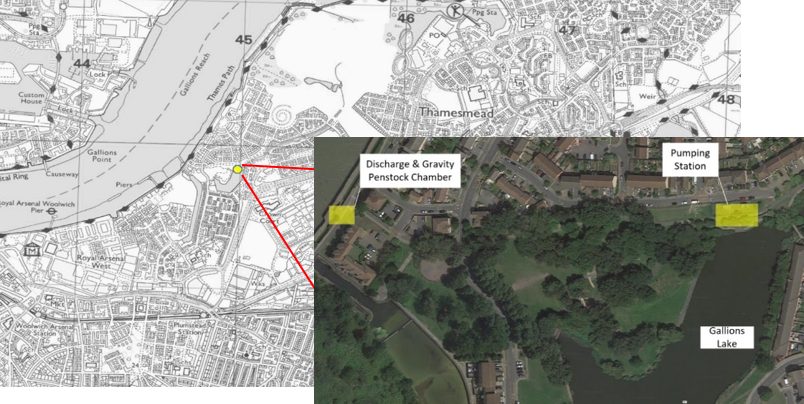 Gallions Lake collects rainwater from the surrounding area and the pumping station lifts it into the River Thames. The pumping station has been in operation since 1980 and the equipment, including the pumps now need replacement.
As part of the pumping station refurbishment we will:
Replace internal pipework, valves, pumps, electrical equipment and control panels

Upgrade fire and security systems

Provide permeable paving within the station compound

Replace external lighting with present day efficient equivalents

Upgrade safety access equipment; platforms and handrails at the station and at the lake side

Erect a temporary lifting frame in the pumping station (which will be removed when our works are complete)

Temporarily close part of the lakeside path next to the pumping station to allow installation
We will take steps to ensure that the public, residents and other stakeholders are aware of the works taking place in the area and will inform them of any diversion routes or footpath closures. There may be some noise and disruption during these works, but we have worked with the London Borough of Greenwich Council to ensure that these are kept to a minimum and that they stay within permissible limits. Please click here for more information.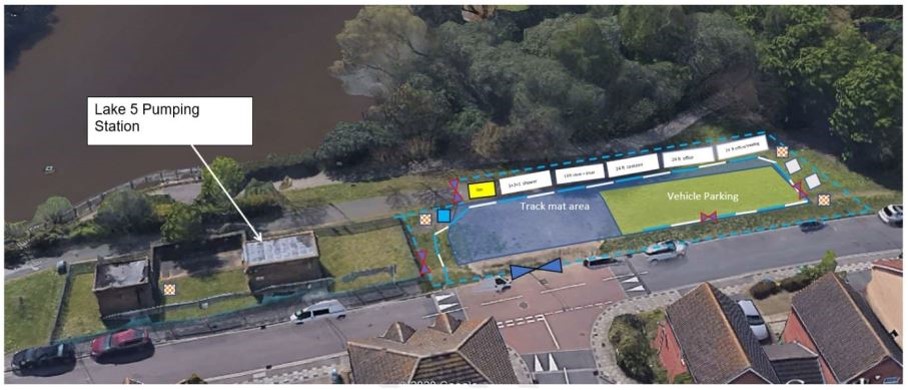 Site set up work may be starting in December (weather permitting). The site compound area will be located immediately West of the pumping station. Working hours will be from 07:00 until 18:00, Monday to Friday.
The Thames Estuary Asset Management (TEAM) 2100 are carrying out these works as part of the 10-year capital investment programme to refurbish and improve existing tidal and some non-tidal flood defences.
The TEAM2100 programme started in 2014 and is being jointly delivered by the Environment Agency, Jacobs and Balfour Beatty, along with other suppliers.
Flood defence works to take place in Thamesmead and Erith
Flood defence works are needed in this area to strengthen and improve tidal defences. The works are taking place across the following three locations in the area:
Great Breach Sluice

Abbey Sluice

Lake 5 Sluice
These three projects form the Marsh Dykes Sluices and this work is part of our 10-year capital investment programme to refurbish and improve existing tidal flood defences.
At each location, the Thames Estuary Asset Management (TEAM) 2100 will:
Install access equipment; including new access ladders and access covers

Replace existing flap valves

Upgrade safety equipment; platforms, handrails and install a davit arm (mechanical arm with a winch for lowering equipment)
This work will take place both land and river side enabling any future works to be carried out in a safe manner and allowing for easier and safer access for inspections.

Please see factsheets below for more information on each location