Overview
We have identified more than 700 properties at risk of flooding in and around Graveney. We are working with both Croydon and Lambeth Councils to develop a flood alleviation scheme to reduce this risk to 340 homes along the River Graveney and Norbury Brook.
Project Update - November 2019
In February 2018, we held a successful drop-in session to talk to residents about our shortlist of options for reducing flood risk along the River Graveney and Norbury Brook.
Firstly, we'd like to apologise for the delay in updating you. We have been working hard to select a preferred option. Over the past year, we have been working to understand how our shortlisted options may affect flood risk, the environment and the community. We've worked with our contractors to understand the cost of each option, and with Croydon Council to see how our plans will fit with their masterplan for Norbury Park. We've also been reviewing feedback from the event and using it to help with our decision-making process. We have also used it to produce responses to some Frequently Asked Questions.
The Preferred Option

After evaluating all the information, it has been established that the best option for the area is Option A (Norbury Park) from our shortlist. This is the creation of a more natural looking river by removing the existing culvert, and the creation of a flood water storage area. This option fits in well with Croydon's existing masterplan for the area and was also the favoured option for residents around Norbury Park.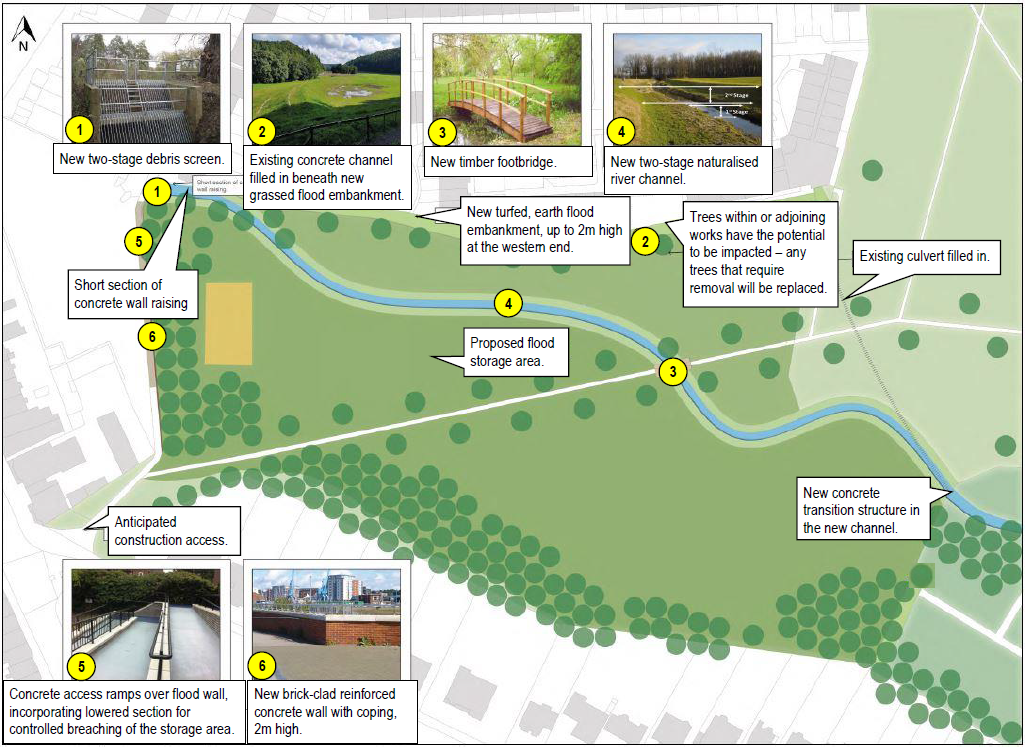 When further assessing our options for Thornton Heath Recreation Ground with Croydon Council, we identified 14 trees holding great environmental importance to the area which need to be preserved. Also, the current design would have taken away too much recreational space. Our feedback from residents told us that the trees and the recreational space are important to them. As a result, no scheme in Thornton Heath is currently being taken forward at this stage. However, further options in this area may be explored in the future.
We have recently undertaken some ground investigation works in Norbury Park. The purpose of this was to test if the soil that will need to be dug out to create the new river channel will be suitable for building the embankments. The results of this will inform any future design work.
What happens next?
We are currently applying for funding. Should this be successful, then over the next year, we'll be refining the design further and continuing our environmental surveys. We'll also be submitting a planning application.
However, whilst we have identified a preferred option, full funding has not yet been secured and the scheme will not go ahead until all necessary sources of funding have been acquired. We will update this page with any news when we have it.
Project Timeline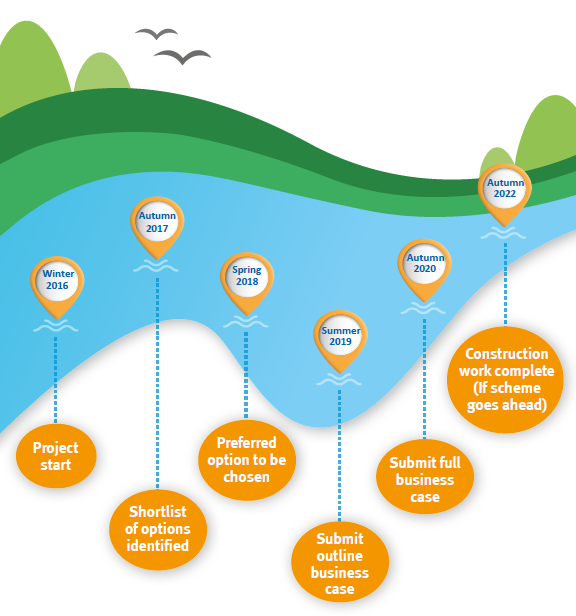 If you would like more information on this scheme, please contact Andy Bishop via email at:
PSO.SELondonandNKent@environment-agency.gov.uk, or telephone him on 020 8474 6848.