Overview
A watercourse called the Vale Brook runs through the centre of Chesham. This Brook is largely underground in a series of buried tunnels (called culverts). Some of the culvert sections are now over 150 years old and they are in varying states of disrepair.
View culvert map here
Due to the urban nature of Chesham, the culvert is subject to rapid runoff following rain (both from the drainage system and from surface water). This significantly increases the flow within the Vale Brook and contributes to flood risk to the area.
Computer modelling estimates that a culvert blockage or failure could result in the flooding of up to 228 properties from surface water, groundwater and fluvial (river) water combined. This amounts to 165 commercial and 63 residential properties.
The most recent significant flooding event in Chesham occurred in 2014, though flooding occurs regularly in the town, being particularly notable in the years of 2000, 2001, 2006 and 2008.
Current Chesham Culvert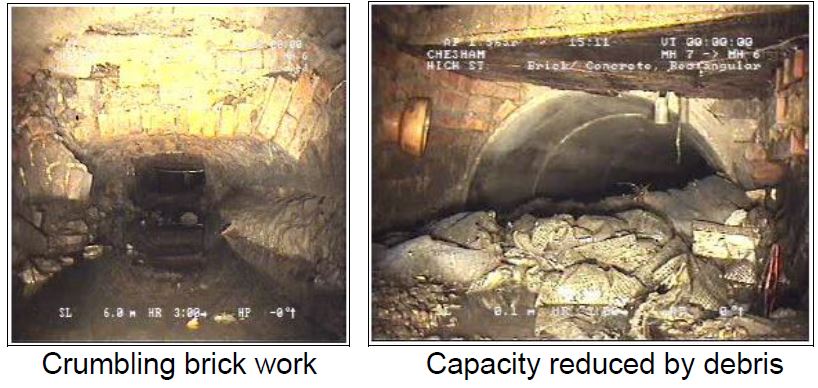 In 2014 we completed some emergency works in Market Square to prevent this from collapsing.
We are now looking to address the wider flood risk in the town. There are still sections of the culvert which are in a poor state and will need refurbishment. There is also a problem with surface water flooding. Surface water flooding is caused by water collecting on the surface rather than flooding from rivers. 
We originally had over 1,500 different ideas as to how to repair the culvert and address the problem of surface water flooding. Most of these ideas have been ruled out because they were not technically viable, would be too costly, or would cause too much disruption to the town.
We have considered what would happen if we did nothing. This option is included in the project to act as a baseline to judge how effective the other options will be in comparison. This option would mean carrying out no maintenance and not acting upon the flood risk in Chesham. We have also considered carrying out minimal work. This option would involve heavy maintenance of the culvert sediment/material with periodic inspections to monitor changes to the culvert condition and potential for blockages.
Some schemes, such as this scheme which we are considering in Chesham, require partnership support to reach full funding. Without funding from external partners we will not be able to deliver this scheme.
If we gain full funding for this scheme, construction is expected to start in 2020 and continue to 2021
Why your views matter
This consultation is presenting the potential options which could be feasible. For the purpose of this consultation, the project has been divided into three different parts:
Part 1: Town Centre
Part 2: South of Market Square
Part 3: Surface Water Options
Any scheme will not eliminate the risk of flooding, only lessen it. The proposed works will also deliver a wide range of amenities and benefits. 
How you can get involved?
We would like you to read through the information provided and let us know your preferred options and any other information you may have relevant to the proposals. We will use this information to help decide which plan to carry out in Chesham.
What happens next
We will use the responses from this consultation to help decide which option to take forward. The comments that you provide will contribute towards the decision of the preferred option. Environment Agency staff working on this consultation will see all responses.
We will provide a full summary of the responses on our website within 1 - 3 months from the end of consultation on this website.
We will also be seeking financial support from partners to ensure this scheme has the funding needed for completion. If we gain full funding for this scheme, construction is expected to start in 2020 and continue to 2021.