Overview
Updated October 2018
The River Pinn catchment is in the west of the Greater London area. It flows through the London Boroughs of Harrow and Hillingdon before joining the Frays River in Uxbridge. The Pinn is joined by several smaller rivers along its length, including the Cannon Brook in Ruislip. It is also fed by numerous outfalls which carry extra rainwater to the river. Generally the water flows in open channels made of earth, passing through various bridges and culverts.
Communities in the River Pinn catchment have experienced flooding several times, most recently in June 2016. We have been working with Hillingdon and Harrow Councils to better understand the causes of this flooding and identify actions that could reduce the risk in the future.
How you can help us:
champion the project locally
help us identify additional sources of funding
tell us how you have been impacted by the River Pinn flooding
tell us about your local environmental knowledge.
Project Objectives
Better understanding of the risk of flooding in the River Pinn and Cannon Brook catchments;

Collaborate with others to develop flood reduction proposals which maximise benefits for people and the environment;

Work with local communities to ensure they understand our proposals and what actions they can take to be more prepared for flooding;

Work with our partners to find funding from other sources to help us deliver viable flood reduction proposals.
Our proposals will not eliminate the risk of flooding, only lessen it.
Working with communities
During March 2018 over 180 people attended three public drop-in sessions in Ruislip, Pinner and Uxbridge. This was an opportunity for the public and other local stakeholders to look at our plans for the River Pinn Project and discuss them with our colleagues and specialists who attended the event. It also provided an opportunity for the public to tell us how flooding has impacted them over the last 10 years.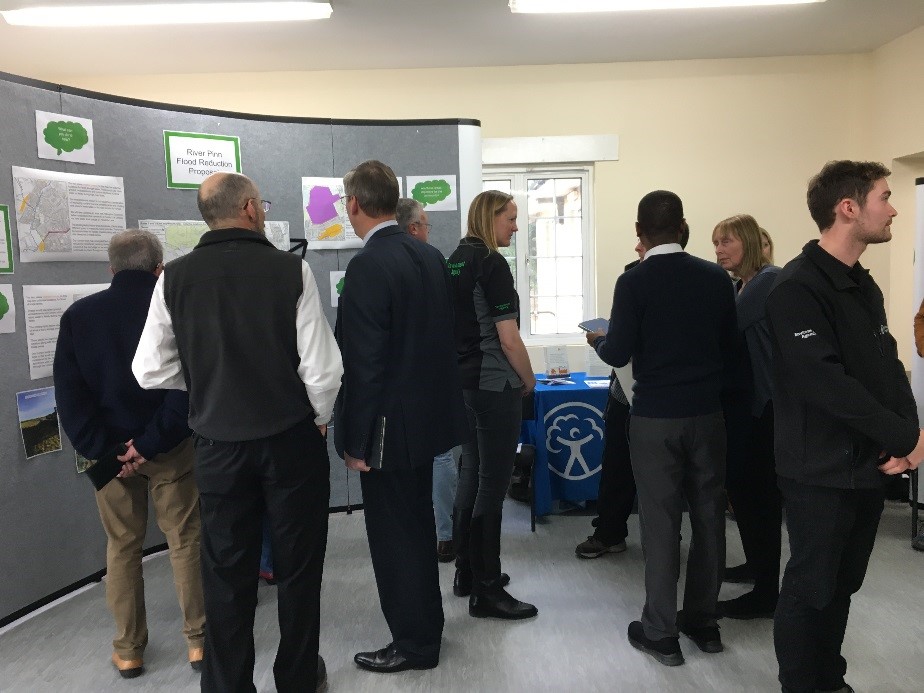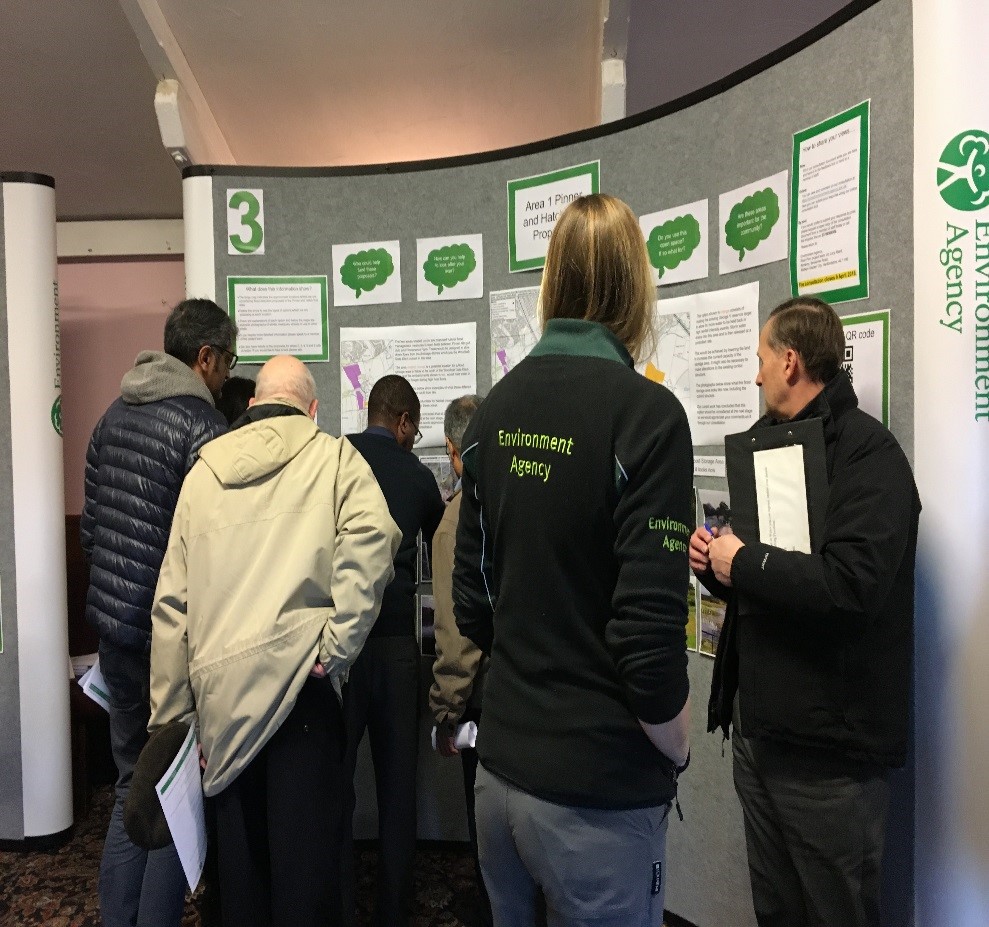 Our public consultation was available online for 6 weeks. We received over 120 responses from the public on our project plans. We would like to express our thanks to all those that participated and sent in responses. Please click here to visit the consultation page.
What the community told us at the drop-in sessions:
"I fully support any scheme which will help reduce flooding to the River Pinn…"
"The June 2016 flooding caused great damage to our house and several other houses in the road. This resulted in a big insurance claim, massive disruption….and huge personal distress. Anything….that can be done to alleviate the risk of something similar happening in the future must be done as soon as possible…"
"Although our house has not been flooded we are concerned that climate change is resulting in more frequent flash storms similar to the June 2016 incident thus putting our home at risk."
Background
Communities in the River Pinn catchment have experienced flooding several times, most recently in June 2016. According to our records, flooding has affected different parts of the catchment in 1947, 1968, 1977, 1984, 1986, 1987, 1988, 1992, 1993, 2000, 2002, 2009, 2012, 2013 and 2014. We have recently been working with Hillingdon and Harrow Councils as well as Thames Water to better understand the causes of this flooding and identify actions that could reduce the risk in the future.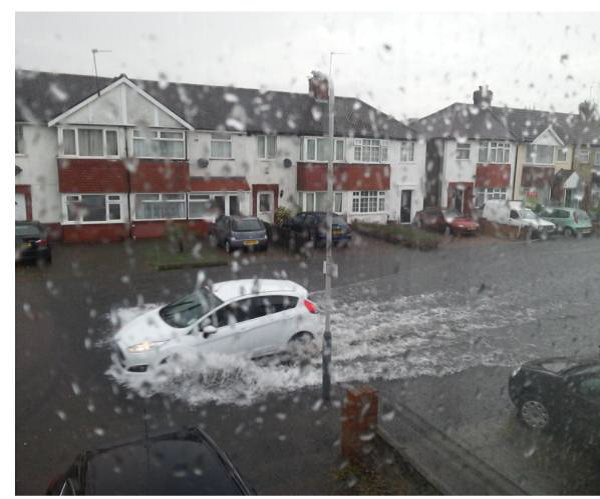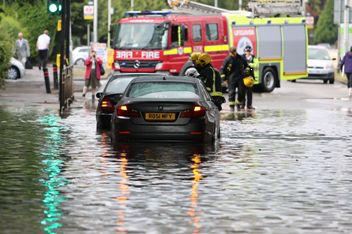 Photos above show flooding in 2014 in the London Borough of Hillingdon.
Our recent work has focussed on drawing together what we know about the catchment to identify the potential options for managing the risk of flooding. This includes looking at previous studies and gathering knowledge about the flooding issues. We have looked at the catchment in detail to better understand the risks and opportunities across the study area.
The River Pinn Project – Option development
In March 2018 we consulted with local communities on our intial ideas of how to manage flooding in the River Pinn catchment area. In order to develop these ideas further and decided on our preferred options to implement on the ground we now need to gather some more information, better understand how flooding happens and design the individual options in greater detail.
The first stages of this are to:
gather topographic survey information (so we can better understand the lay of the land and exactly where water will flow in times of flood);

use this survey data, alongside other information gathered through the consultation to update our flood computer model (so we can assess our options and understand where will be reduced from flooding);

determine which are our preferred options, work out how much they will cost and get financial approval to design those options in detail.
The responses to our consultation told us people want to see more detail about how the options will affect them. This is the phase of work we are entering now and will be able to provide more detail once it is complete.
When we have set the contract up with our consultants for the next stage of work, we will be in a position to share this information. We will provide an update on timescales in early 2019.
Since the consultation in March 2018, we have made a decision that the project will be split into 4 individual projects for the next steps. This is to enable us to focus on the specific areas, and progress them at different rates if this becomes the most time and cost efficient approach. These 4 areas are shown in the accompanying map. They are:
Pinner and Hatch End

East Ruislip

West Ruislip

Lower Pinn
For Pinner and Hatch End, East Ruislip and the Lower Pinn we will be working with our consultants to develop these options further.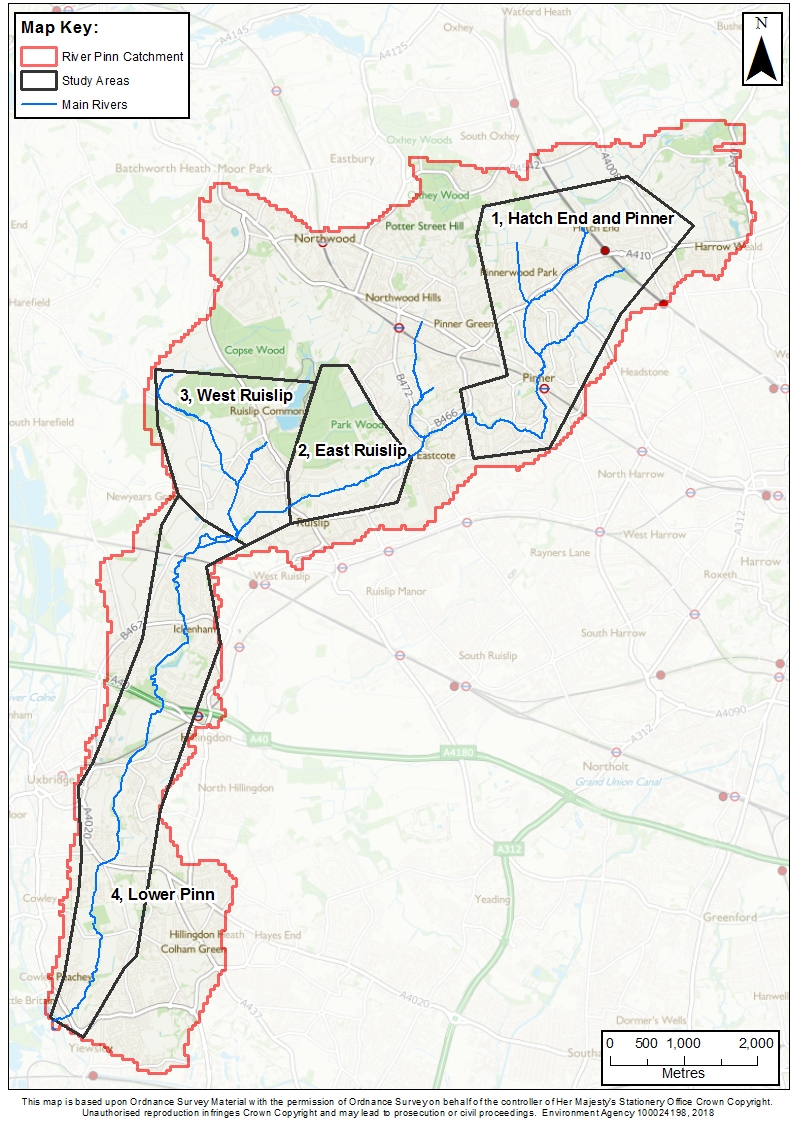 For West Ruislip we will be working with Hillingdon Council and other partners to establish the most appropriate way forward. The flood storage area we proposed on the Mad Bess Brook will not be taken forward at this stage, but we will be looking at other potential solutions to manage flood risk in this area.
Key events:
September 2018: meeting with Hillingdon council to update them on the project and discuss funding.
October 2018: meeting with representatives from the Ruislip Flood Action Groups.
Up-coming: meeting with Harrow council to update them on the project and discuss funding oppurtunties.
What happens next?
We will continue to work with our partners and communities to find funding for this project. It is currently partly funded by central government, but there is still a need to find more funding, for example from organisations and businesses that will benefit. We can only progress a project to the point where we are ready to undertake work on the ground, if it is fully funded.
We will update this information page every 3 months or sooner if more information becomes available.
Please keep visiting our information page as we will be updating it in spring 2019. This page will be open to the public until the end of summer 2019.
Thank you for visiting our project information page.