Overview
Updated: 18 December 2019
Background
Communities in the River Pinn catchment have experienced flooding several times. According to our records, flooding has affected different parts of the catchment in 1947, 1968, 1977, 1984, 1986, 1987, 1988, 1992, 1993, 2000, 2002, 2009, 2012, 2013, 2014, 2016, 2018 and 2019.
The flooding in 2016 was the most severe in this area in recent memory. The photographs below show the impact this flooding had on some of the local communities. According to Environment Agency records, flooding affected as many as 50 properties in June 2016 but many more are at risk in case of a bigger flood event.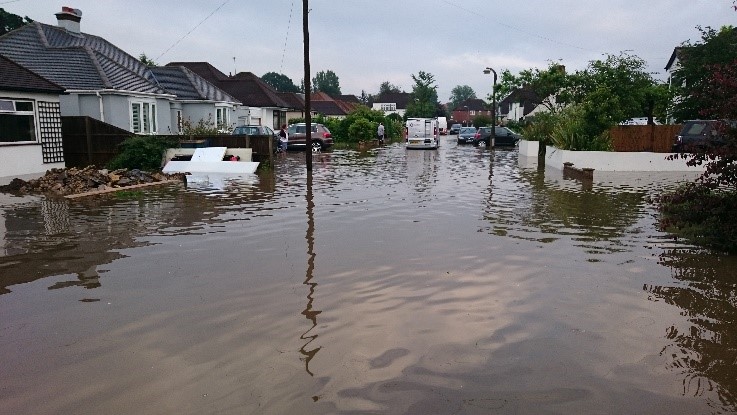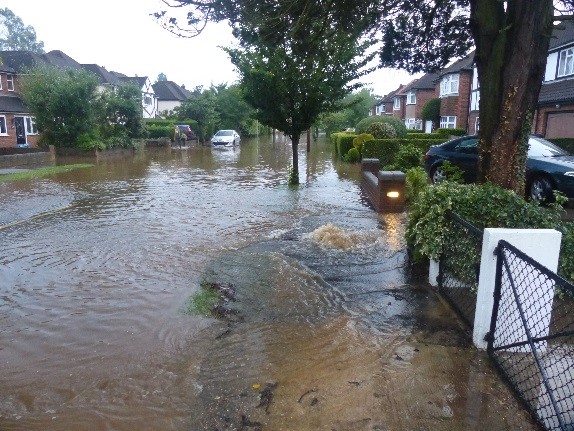 Photos above show flooding in Brook Drive and Park Avenue in 2016.
Recent flooding
As recently as 1 October 2019, communities have experienced flooding in this area. The photographs below show the impact that this flooding has on local communities.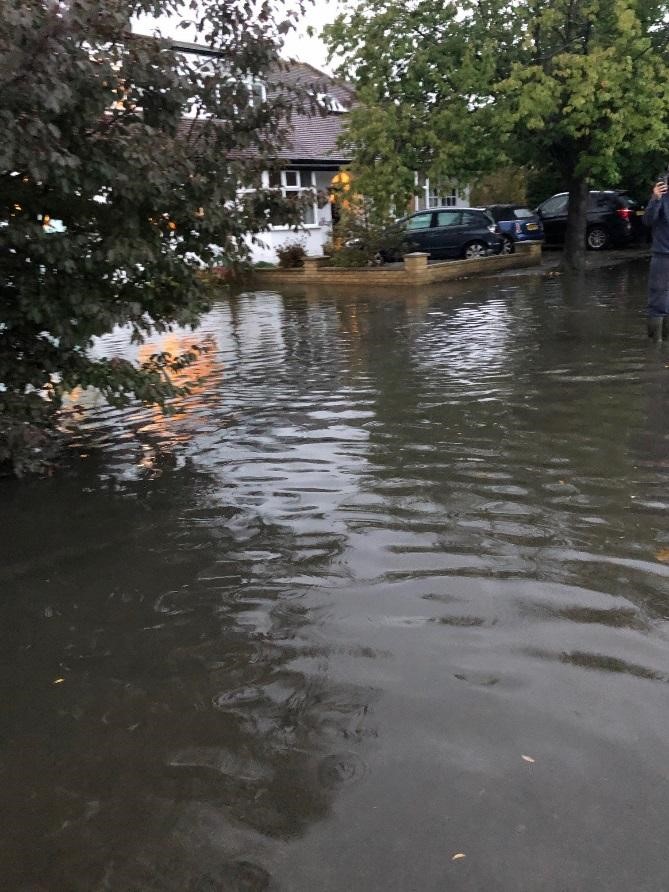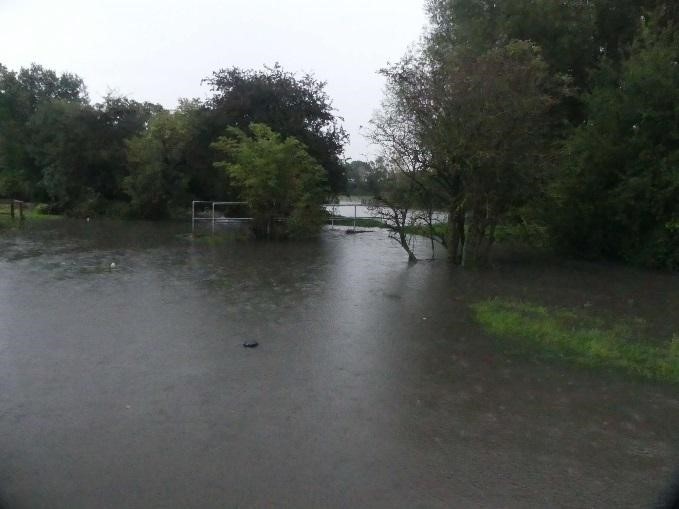 Hillingdon Council are investigating this recent flooding and will be gathering information with support and input from the rest of the project team. Once they have collated all of this information, they will publish a report summarising their findings.
Initial investigations have identified that:
Brook Drive was affected by flooding, first from surface water, then from the River Pinn
the gauge, which records rainfall in Ruislip, indicated that there was 42.5mm of rainfall received in one day on 1 October
a large proportion of this rainfall fell in a short time period around lunchtime, followed by further heavy rain later in the day
local residents didn't receive a flood warning
Any information you can provide us about your experiences of this recent flooding would be really useful for the project as it will help us better understand how flooding occurs in the area and how dependent it is on specific local conditions.
If you have information about this flooding that you haven't already passed to the project team, please send it through to Hillingdon Council, flooding@hillingdon.gov.uk or use the reporting form on the council webpages www.hillingdon.gov.uk/flooding.
Project overview
The project team, which consists of the Environment Agency, the London Borough of Hillingdon, local community representatives and Thames Water are working together to understand the causes of flooding in the Ruislip area and to identify the best solutions to reduce the risk in the future.
Ruislip - Park Wood and Pinn Meadows, for this purpose, is defined as the area shown by the image below. It includes Park Wood to the north, Kings College Playing Fields, Pinn Meadows and the communities affected by flooding in the local area.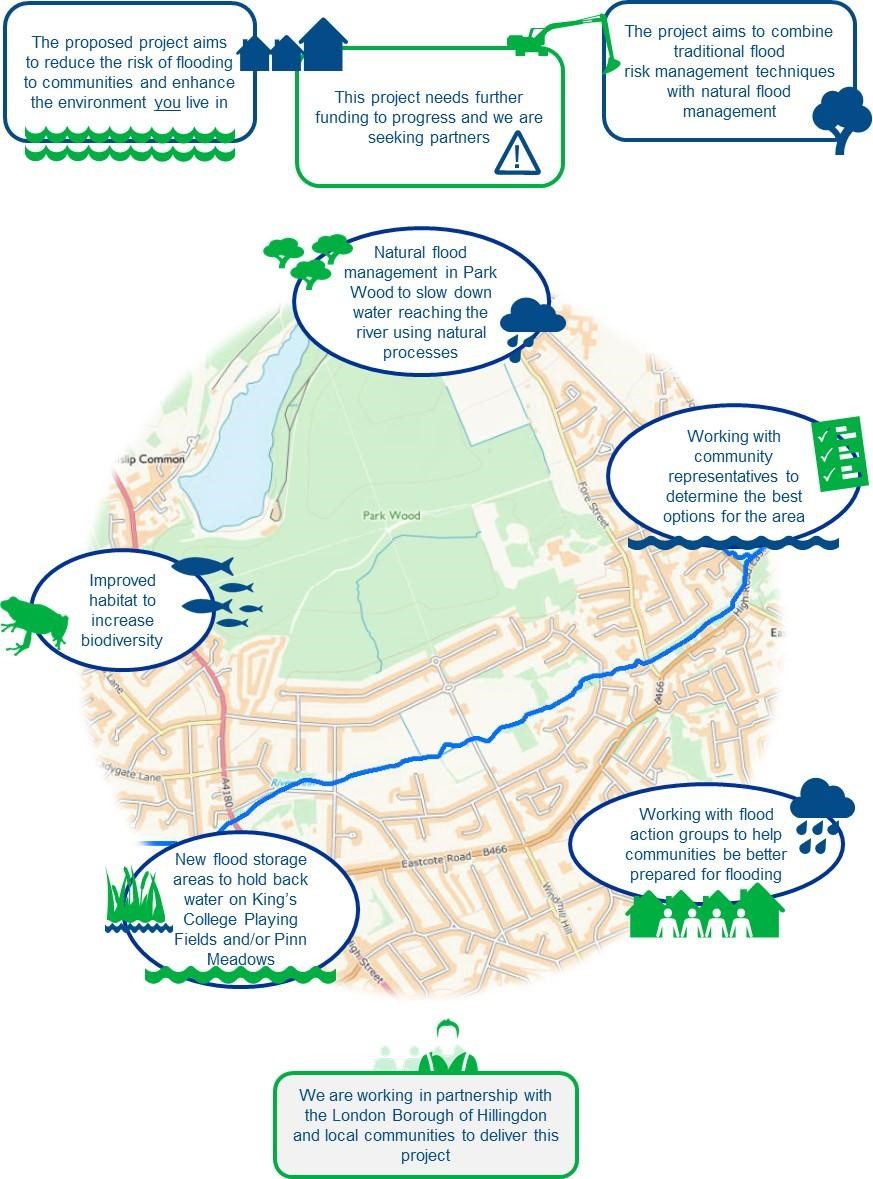 Project objectives:
Better understand the risk of flooding in the Ruislip – Park Wood and Pinn Meadows project area
Take a collaborative approach to develop flood reduction proposals which maximise benefits for people and the environment
Work with local communities to help them understand what actions they can take to be more prepared for flooding
Work together to secure additional funding from other sources to help us deliver viable options to manage flood risk
How you can help:
Champion the need for flood risk to be managed locally
Help to identify additional sources of funding
Tell us how you have been impacted by flooding
Share your knowledge of the local area with us
Report sewer flooding to Thames Water using their questionnaire (link at the bottom of this page)
Please understand that these proposals will not eliminate the risk of flooding altogether, only reduce it.
Work to date
Work on this project so far has focussed on drawing together what we know about the flooding and how it happens, from different sources to identify potential options for managing the risk. This has included looking at previous studies and gathering knowledge about the flooding issues. We have gathered information from Environment Agency records, communities, the council and Thames Water.
We have also improved our understanding of the area as a whole through both consultation and engagement with communities. We now appreciate better, what local people think is important about the area and the importance of local sites like Park Wood, both locally and nationally.
The "River Pinn Initial Assessment Report", which summarises the work completed before our consultation in March 2018, is available as a PDF at the bottom of the 'River Pinn project information page' here. Our summary of our March 2018 consultation is also available to download here. Please note that the costs included in this report are an indication only and will be revised to make sure they are realistic prior to options being developed in more detail. This report was the start of the process, identifying options for the River Pinn catchment as a whole. The next section below summarises the current situation and the options that we are continuing to develop for the Ruislip area.
Option development
The responses to the consultation and engagement with communities has shown us that people want to see more detail about how the options will affect them. The work we are doing now will continue to develop our understanding of how the options need to be designed to be most effective. The project team will continue to work with communities to develop these options.
The options currently being considered are a combination of:
natural flood management (NFM) led by the council and/or an embankment within Park Wood (precise location to be determined) to supplement the NFM and reduce the flood risk further
flood storage area on King's College Playing Fields and/or Pinn Meadows including surface water storage to reduce flooding from both the river and surface water draining from surrounding roads
flood wall and/or embankments around King's College Playing Fields and/or Pinn Meadows along with the storage area to ensure that water stays in the green space away from properties
The work done to date has demonstrated that these are likely to be the most viable options for this area. The image below shows indicative information about the location of these options, but please note that there is still scope to change the detail of these as we progress through the next stages of the project.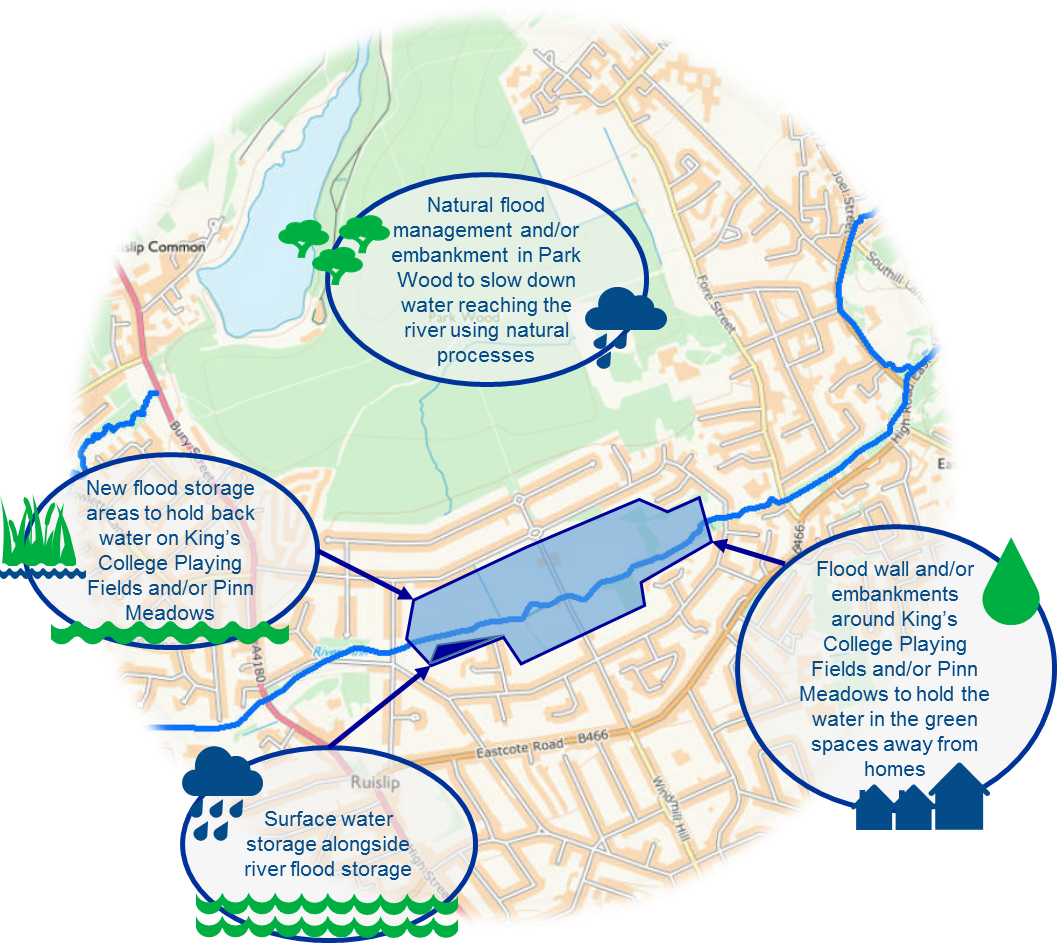 Natural flood management in Park Wood:
You can find the latest updates on Hillingdon's project to deliver NFM in Park Wood (part of Ruislip Woods SSSI and National Nature reserve) on their website at https://www.hillingdon.gov.uk/flooding.
The training sessions led by Thames 21 have commenced in Park Woods to help inform local residents and interested parties on how to construct NFM structures in accordance with the plan to reduce flood risk to the area. The works constructing the leaky dams will continue over the next year to build a network of structures that slow the flow from the woods towards the River Pinn. This work is fully funded.
As this work is commencing earlier than the work for the project, all the information and data residents have provided on the woods and how water flows through the woods has been collated by Hillingdon and will be provided to the project to help inform wider works.
Alongside any NFM, an embankment will likely be required. The precise scale, location and design of this will be based on the assessment of the benefit of the NFM to the area. We will continue to work with residents in this area to consider the best approach for the local environment.
Once we better understand the benefits and costs of NFM, we will be able to make a decision about the best way to reduce risk.
Project progress update:
In our last update in spring 2019, we explained that we have gathered more information in order to help us better understand how flooding happens. We have:
gathered topographic survey information (in November 2018) so we can better understand the lay of the land and exactly where water is likely to flow in times of flood
provided this information, along with all of the information we have gathered from our consultation and other engagement with partners and communities to our consultants to update our computer model (in March 2019)
met with flood action groups (in April 2019) to update them on the project, the timescales and check with them that we have interpreted all of the information they have provided to us correctly
expanded the project team (in June 2019) to include community representatives and key partners so that we can make effective decisions as the project continues to progress
scoped out what we would like our consultants to do for us as part of the next phase of work – the project team has developed the scope and provided it to our consultants (in August 2019)
organised a site visit (in September 2019) with key community representatives, other partners and our consultants so that they can share knowledge and important information with them directly
met with sports clubs (in October 2019) who utilise the playing field on a regular basis to help the project team better understand their use of the area and any concerns they might have
The next steps are to:
finalise our computer model of the river with our consultants to help us identify the benefits and costs of the options in more detail
define costs and a programme with our consultants so that we have improved confidence in timescales and funding requirements for the next phase of the work
consider short-term measures that can be delivered in the area to help reduce flood risk whilst we are developing the wider project
Below, you can see an updated timeline for the project. We have also included a simplified project governance structure chart to show who is involved in the project at different levels.
Ruislip – Park Wood and Pinn Meadows project timeline – October 2019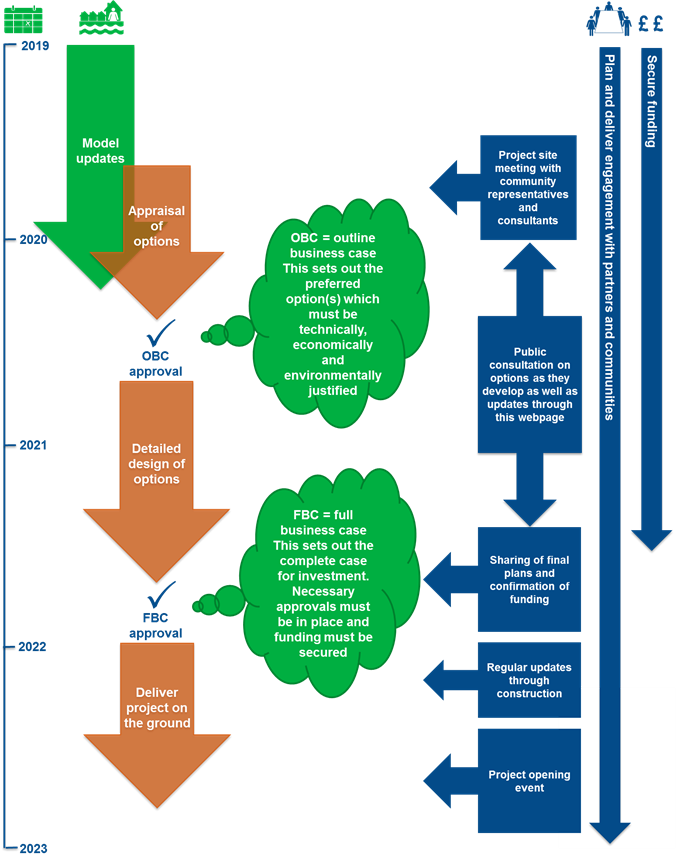 Ruislip – Park Wood and Pinn Meadows project structure – October 2019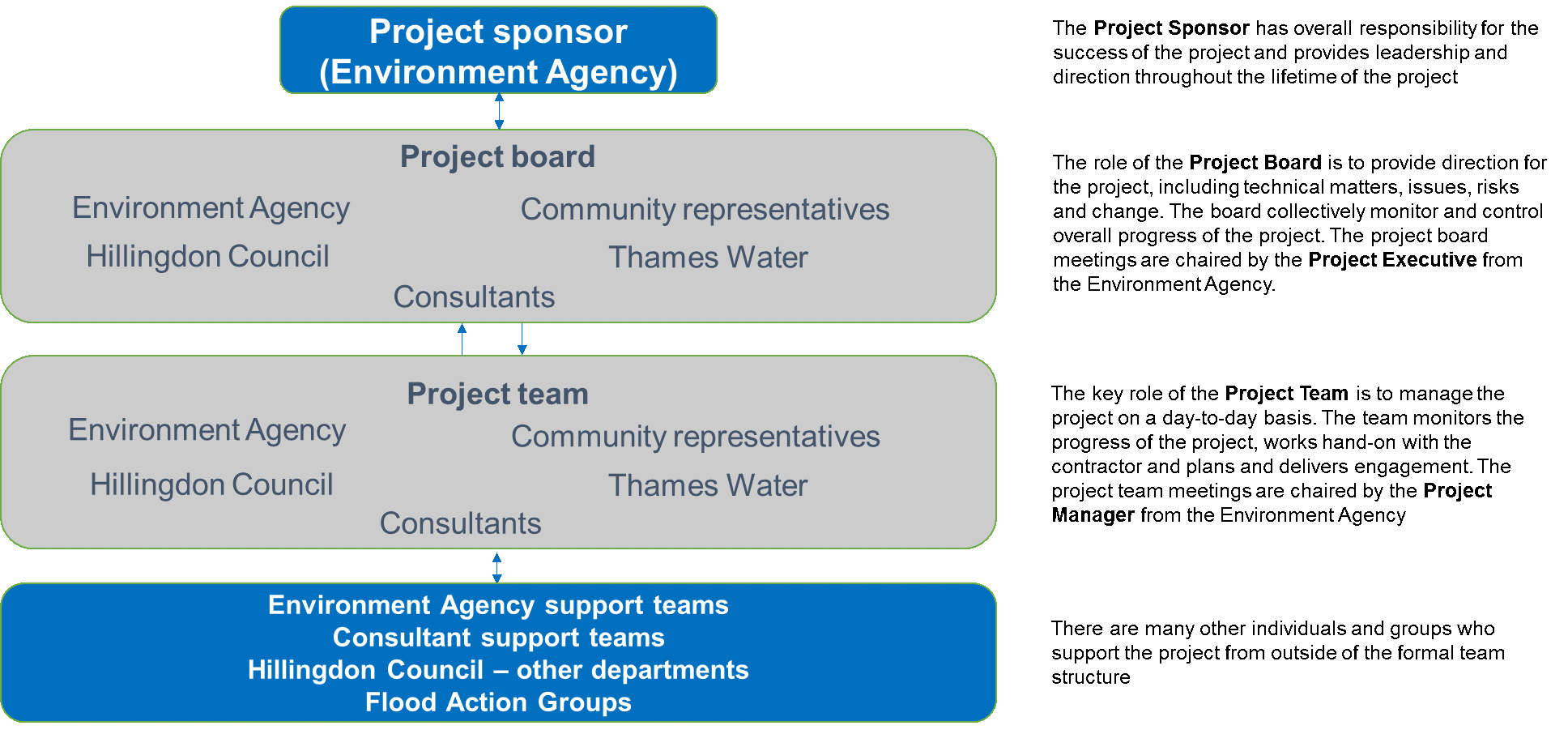 Funding
We have produced the diagram below to show spending so far on each of the project stages. We will update this as the project progresses. By our next update in early 2020, we will have more certainty over how much the "appraisal of options" stage will cost and how long it will take.
The money spent so far on this project has come from a combination of Thames Regional Flood and Coastal Committee (RFCC) Local Levy and Central Government Flood Defence Grant in Aid.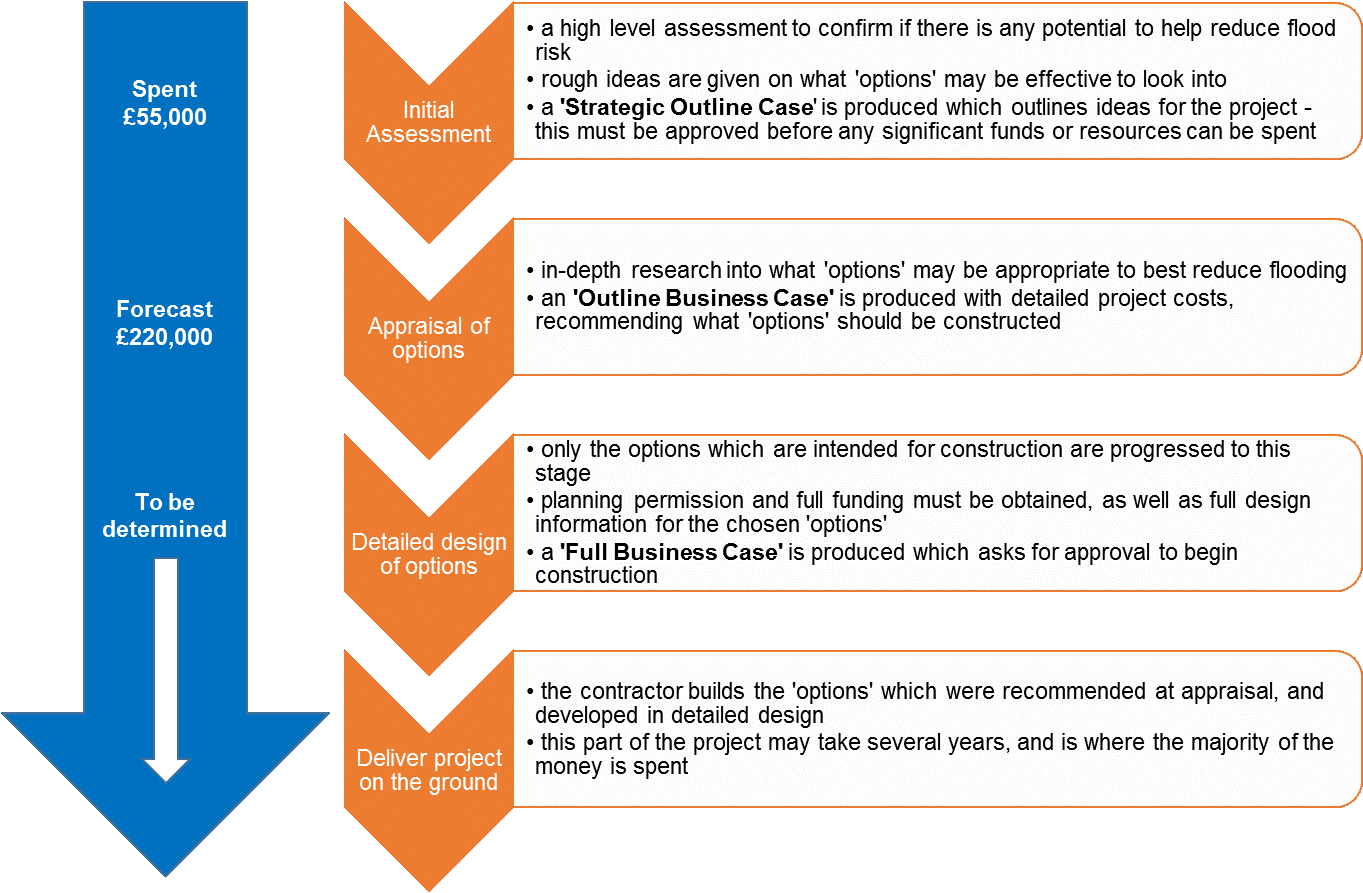 Working with communities
Since March 2018, when we carried out our formal consultation on our option ideas, we have been keeping communities up-to-date through these webpage updates and meeting with local community groups. There are two flood action groups in the area, representing their local communities on the project team. These are:
North Ruislip Flood Action Group, covering the area to the north of the River Pinn, including Broadwood Avenue, Park Avenue and Park Wood
Evelyn Avenue and Brook Drive Flood Action Group, covering the area to the south of the River Pinn including Brook Drive, Evelyn Avenue and Brook Close
We are also actively engaging with theRuislip Residents' Association (RRA) and Ruislip Woods Management Advisory Group (RWMAG) to make sure that these groups understand the project and can take the latest information back to the communities that they represent.
Since June 2019, representatives from these groups have been a formal part of the project team structure and will attend monthly progress meetings. This approach will make sure that the relevant local people are involved in any decisions taken, understand the project progress better and keep the communities they represent fully informed. These meetings will allow the project team to consider local community requirements in any options to manage flood risk.
This approach will supplement, not replace, the updates to this webpage. We will also continue to carry out wider engagement with communities to make sure that everyone who is potentially affected by the options to manage flood risk has access to the latest information.
In September 2019, we published an article in the Ruislip Town Crier to help us get information about the project out to a wider audience. This is available as a downloadable PDF here.
We will be building on these relationships in the coming months and will be using these networks to make sure that information is circulated to the wider community. The Environment Agency's Lucy Allard and Natalie Wren attended the Ruislip Resident's Association AGM on 26 September to provide an update on our work to manage flood risk in the Ruislip area.
If you would like to become part of one of the flood action groups listed above, or would like to get in touch with them, please contact the following:
Brook Drive, Evelyn Avenue and Brook Close flood action group: floodactiongroup@gmail.com
North Ruislip flood action group (Broadwood Avenue, Park Avenue and Park Woods): nruislipflag@gmail.com
What happens next?
The project team will continue to work with communities and other partners to secure funding for this project. It is currently partly funded by central government, but there is still a need to find more funding, for example from organisations and businesses that will benefit. We can only progress to the point where we are ready to undertake work on the ground if we have secured full funding.
Over the next few months we will be engaging with communities at the following key points:
in spring 2020, we will share our updated river model with the project team to make sure it represents what happens on the ground during flooding
later in 2020, we hope to be in the position to undertake a formal consultation on the options we are likely to take forward – a date for this will be confirmed when the project programme for the next phase is finalised
Over the next few months, you may notice Environment Agency staff and consultants visiting the area around the River Pinn in Ruislip. They will be gathering specific information about the river and the surrounding environment. We are unable to confirm when the dates for all these visits will be, however, the project team will organise specific joint site visits with members of the public and our consultants at key points during the project.
Flood insurance
The insurance industry launched the Flood Re scheme in April 2016 to help households in flood risk areas to find affordable home insurance.
Flood Re is a joint initiative between the Government and insurers. Its aim is to make the flood cover part of household insurance policies more affordable.
More information on how this works is available on the Flood Re website:https://www.floodre.co.uk/
Thank you for visiting our project information page. For any comments or feedback on our information page, please email our new dedicated project email address: RuislipPWPM@environment-agency.gov.uk
If you would like to be kept updated or share your experiences of flooding please fill out the forms below. If you are already on our list you do not need to fill out a form.
Our next webpage update will be in early 2020 unless we have any new information to share before that.