Overview
Updated: 21 August 2020
COVID-19 Update
We are aware this is a very uncertain time for everyone and we want to make sure we are putting people's health and wellbeing first.  Therefore all aspects of this project will be guided by the latest government advice.
Flood Risk in Lower Nazeing
Did you know there over 60 properties that could be at very significant risk of river flooding in Lower Nazeing? The Nazeing Brook runs through the heart of Lower Nazeing and caused garden and property flooding in 1990 and 2000. With the impacts of climate change, flooding is predicted to happen more frequently unless we act now.
The Environment Agency are working in partnership with Essex County Council and Lakeside Flood Solutions Ltd to help reduce the risk of flooding. Get in touch today to find out if you're eligible for the grant.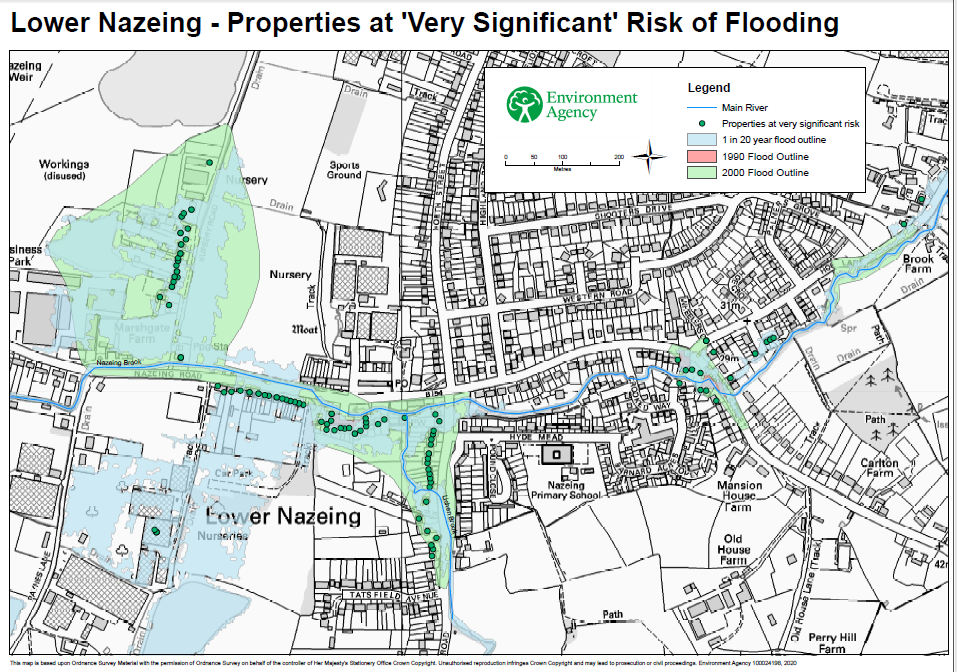 What is a Property Flood Resilience Grant?
A Property Flood Resilience (PFR) grant is an amount of money you can apply for to protect your property from river flooding. You can use the PFR grant to reduce the risk of flooding to your home by fitting discreet flood resilience measures to your property. These include:
Automatic closing Airbricks - When water reaches the airbrick they automatically close to prevent water from entering the property. When water levels subside they re-open to allow air circulation.
Non-return valves - fitted to pipes which exit the property ensuring wastewater to only flow in one direction and prevent backflow.
Flood doors or barriers - Flood doors replace existing doors, or barriers are fitted outside the existing door to prevent water from entering through these points.
Wall defence – water sealants, re-pointing and rendering

Pumps to remove water - puddle sucker pump or sump and pump
PFR products offer an alternative and more permanent means for homeowners to manage their flood risk, without having to rely on sandbags. PFR measures can be more cost-effective and easier-to-implement providing peace of mind and helping to reduce the stress and damage that flooding causes.
If you want more information on PFR, you can download Lakeside's Resident Brochure linked below and read about it on the National Flood Forum's website.
How much can I get?
We are offering £8,000 to properties at 'very significant' risk of river flooding in Lower Nazeing.
How do I register my interest?
To register your interest, please complete this application form and email it to PSO-HNL@environment-agency.gov.uk
Registrations close in October 2020.
Can I talk to someone?
You can find a recording of our virtual community meetings here.
Alternatively, you can email the team at PSO-HNL@environment-agency.gov.uk.
The process
In order to determine whether your property can become more resilient to flooding, Lakeside Flood Solutions Ltd can organise an independent property survey. This will identify which of the features mentioned above are most suitable for your property. These products have been designed to minimise water entering your property and/or to slow it down so you have time to lift your possessions to a safer level. Each property survey is completed by an independent surveyor and is entirely tailored to your property, therefore you and your neighbour will have a different set of options depending on the features of your property.
The flood product survey will be completely confidential, will not affect your home insurance and will be carried out free of charge.
If flood resilience and resistance products are suitable for your property then funding from the Thames Regional Flood and Coastal Committee can contribute up to £8,000 towards the overall cost of the products and installation. In order to provide full property protection, the whole quotation must be accepted. Where the measures exceed this cap, householders will be required to pay all additional costs.