Overview
Last Updated: 7 June 2022
Flood Defence works to take place in Lime Kiln Wharf
There will be some flood defence work taking place in Limekiln Wharf. The works will include essential non-intrusive site investigation works to assess what maintenance work is needed on the flood defence wall.
The proposed works will be taking place on:
The flood defence wall which is situated next to Lime Kiln Wharf at 96 Three Colt St, London, E14 8AP,
both the riverward and landward sides of the wall.
The majority of works will take place between 08:00 and 18:00, Monday to Friday, using relatively small items of machinery will not cause excessive noise or vibration. There will not be any access restrictions or impact on public amenities, so disruption in the area should be minimal.<
The works began on 7 February 2022 over 2-3 days. The project team has returned every month since then to monitor the wall and to take further measurements.
We need to set up a compound area in close proximity to the flood defence wall in order to carry out these essential site investigation works. The compound area will be temporary and be in place for approximately 4-6 weeks and removed once the works are completed.
We are taking steps to make sure we keep local residents, businesses and the general public well informed about the works taking place and any updates will be added to this project webpage. We will also have signs around the site area.
Our project factsheet gives further information about the project and potential impacts. 
Please see below a map of the project works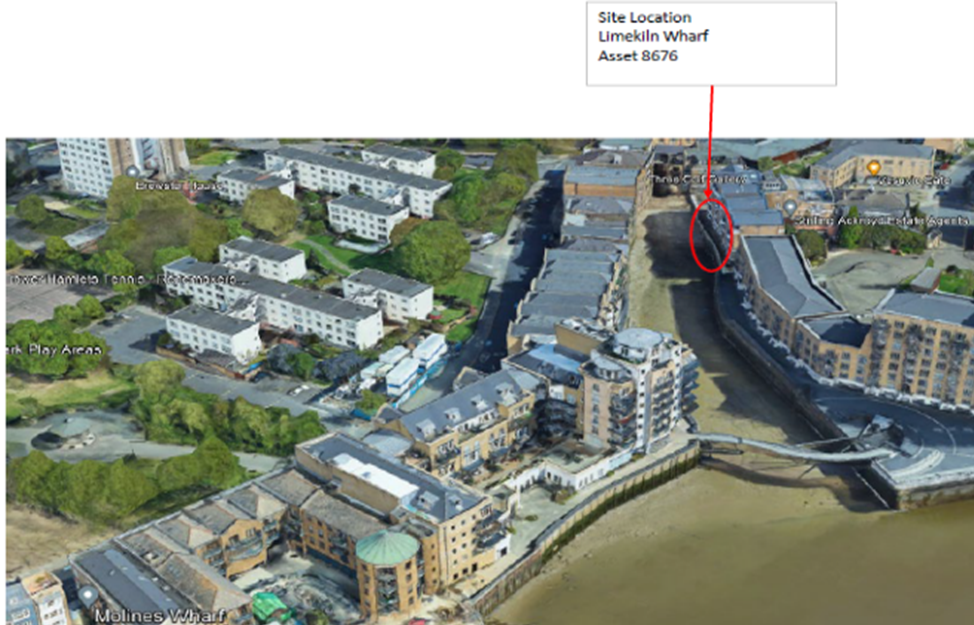 Background
The Thames Estuary Asset Management 2100 (TEAM) Programme is a 10 year capital investment programme to refurbish and improve existing tidal flood defences, one of the key first steps in delivering the Thames Estuary 2100 Plan. The programme runs until March 2025. The TEAM2100 programme pioneers a new asset management approach for the Environment Agency, investing early to maintain the condition of our flood defence assets to reduce the risk of failure. The programme started in 2014 and is being jointly delivered by the Environment Agency, Jacobs and Balfour Beatty, along with other suppliers. The works in Barnes and Mortlake are being carried out by TEAM2100.
Within the Thames Estuary, a complex network of defences, including 9 major barriers, around 330km of walls and embankments, and over 400 other structures (such as flood gates, outfalls and pumps), work together to protect over 1.4 million people and £321 billion worth of property from tidal flooding.
Climate change, population growth and aging flood defences mean that tidal flood risk will increase over time, unless this risk is carefully managed. In 2012, the Environment Agency and partners published the Thames Estuary 2100 Plan, which sets out a strategy to manage this risk until the end of the century and beyond.
You can read more about Thames Estuary 2100 here: www.gov.uk/government/publications/thames-estuary-2100-te2100/thames-estuary-2100-te2100 and download a copy of the Plan here: https://www.gov.uk/government/publications/thames-estuary-2100-te2100.
Want to know more?
If you would like to know more about the project or have any questions or concerns, please contact the project stakeholder lead using the details on the side of this page.