Overview
We have worked together with Lead Local Flood Authorities (LLFAs) and other Risk Management Authorities (RMAs) to produce draft Flood Risk Management Plans (FRMPs) for public consultation, and we now want to hear your views.
FRMPs are strategic plans that set out how to manage flood risk in nationally identified flood risk areas (FRAs) for the period 2021-2027, and are statutory plans required by the Flood Risk Regulations 2009.
The 3 month public consultation on the draft FRMPs will run from 22 October 2021 to 21 January 2022. We want your views and comments to help inform a final set of plans and actions to manage flood risk between 2021-2027.
There are 10 draft FRMPs, one for each river basin district.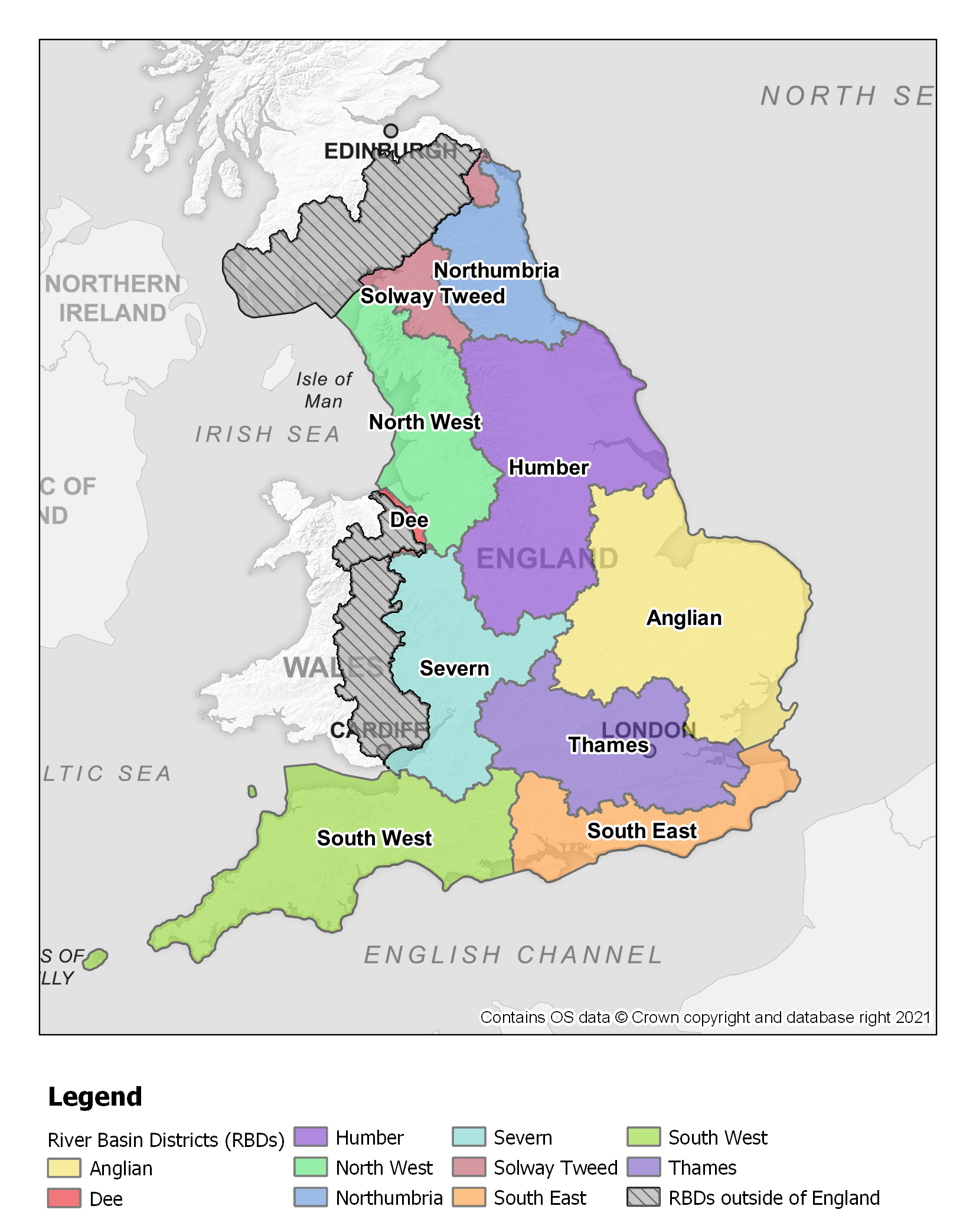 A strategic environmental assessment (SEA) was undertaken for each FRMP to ensure that environmental effects were considered during the development of the plans. We are also consulting on the 10 SEA reports and their non-technical summaries. The reports set out the findings of the SEA.
There are a number of new features for FRMPs 2021 to 2027:
Strategic. They are strategic and focus on areas where the risk of flooding has been identified as nationally significant. These areas are FRAs, where there is the potential for significant risk or impacts should major flooding occur from surface water, main rivers and the sea. We continue to work with other RMAs to manage flood risk outside of FRAs for other communities.
Accessible. They aim to be more accessible and easier to use for our stakeholders and the public than the 2015-2021 FRMPs, with greater use of online mapping.
Flood plan explorer. The measures will be displayed on an online map-based tool called flood plan explorer. This will show what flood risk management measures are proposed at a national and local scale and how they are progressing. Flood plan explorer can be found on DATA.GOV.
National Flood and Coastal Erosion Risk Management Strategy for England. They aim to support and contribute to the delivery of the ambitions in the National Flood and Coastal Erosion Risk Management Strategy for England (FCERM Strategy), such as 

nature-based solutions, and longer term adaptive approaches for taking action at the right time.
Why your views matter
Flood risk management plans will help to contribute to creating a better place for people and wildlife. There are over 5.2 million homes and businesses in England at risk of flooding and coastal erosion.
With a rapidly changing climate, the need to plan together to improve the overall resilience of our local places is more important than ever before. The more we plan together and deliver in partnership, the more we can deliver together for local people, places and our environment.
The plans will also help to inform and drive existing programmes of work, such as the Programme of flood and coastal erosion risk management schemes, and work with local communities to improve resilience.
The plans will explore wider resilience measures like nature-based solutions for flood and water, and to set out longer term adaptive approaches for taking action at the right time.
They will also help us implement the ambitions of the government's 25 year environment plan and flood and coastal erosion risk management policy statement (2020).
Responding to the consultation
You will find all the consultation documents and questions when you click on the 'Give us your views - online consultation' box at the end of this page.
We encourage you to submit your response to the consultation online, which will enable you to manage your comments more effectively. It will also help us to gather and summarise responses quickly and accurately. 
If you respond online and provide an email address, your response will be automatically acknowledged and you will receive a receipt. We will publish a consultation response document summarising key themes on the GOV.UK website within 12 weeks of the consultation closing.
If you prefer, you can download the response form and once completed send to enquiries@environment-agency.gov.uk before 11:45pm on 21 January 2022. Or you can submit your response by post sending it on or before the 21 January 2022 to: 
Environment Agency
Draft FRMPs consultation
National Customer Contact Centre
PO Box 544
Rotherham
S60 1BY
To request a hard copy of the consultation document or the response form, please contact us on 03708 506 506, Monday to Friday, 8am to 6pm, or email enquiries@environment-agency.gov.uk.
If you have any questions specifically about this consultation, please use the email address on the top right hand side of this page.
Give us your views