Overview
We have created this page to provide easy access to information on the move of abstraction and impoundment licensing into the Environmental Permitting Regulations (EPR) regime. We will be adding more documents onto this site so please keep checking back for what's new.
At present, the abstraction and impoundment of water is authorised through the granting of licences by the Environment Agency. Government intends to move the regulation of abstraction and impoundment of water from the Water Resources Act 1991 into the Environmental Permitting Regulations 2016 (EPR). Within EPR, the main authorisation for activities are called permits. Therefore, after the move has taken place, permits instead of licences will be granted for the abstraction and impoundment of water.
Background
In December 2017, Defra and the Environment Agency, published the Abstraction Plan. The plan aims to address unsustainable abstraction, to have stronger catchment focus and to modernise the abstraction service.
The Abstraction Plan outlines options to modernise the regulation of water abstraction and impoundment licensing, including moving water resources into the Environmental Permitting Regulations (EPR) regime. This regulatory regime aims to adequately protect the environment as well as existing abstractors, and to be flexible enough to respond to changing circumstances.
What is happening?
Some of the fundamental principles that protect abstractors and the environment are specific to water resources legislation and are not found in the existing EPRs. As such, we are exploring whether and how we can use common environmental permitting provisions included in other regimes to deliver outcomes for water resources.
The approach we are following is similar to that of a house move. Just as you would ensure that the cooker ends up in the kitchen, we need to ensure that the principles relating to licence variations for example, end up in the right part of the EPRs. Therefore, we have been mapping the water resources legislation over to the EPRs and now need to consider how to amend the current EPRs with abstraction and impoundment principles in mind.
We plan to consult on our proposals in 2020 and migrate the regulation of abstraction and impoundment licensing into the EPR regime in 2021.
Timeline for moving abstraction and impoundment licensing into EPR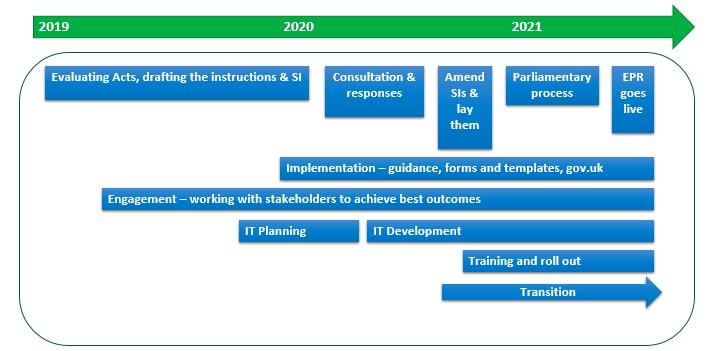 What are the benefits of the change?
The move into the EPR regime will rationalise and unify regulations to allow for all of your environmental permissions to fit under one legal framework. This will be especially advantageous to the growing number of our customers who hold more than one legal permission with us and conduct multiple activities on the same site.
The move will provide consistency throughout our legal permissions and ensure that all our permissions use the same language, format and processes to allow for clearer and smoother regulation. It will also offer the opportunity to modernise the existing abstraction and impoundment processes, including increasing the use of digital services (such as electronic permits), focusing our regulatory efforts on a risk based approach and streamlining where possible.
What will happen to your licence?
On day one of EPR going live, we propose there will be no changes to your existing licence – it will simply become a permit. We plan not to re-issue any documents on transition; an existing licence document will become a permit and still be lawful and it will authorise abstraction or impoundment. All the existing conditions within a licence will remain exactly how they currently are. Any new application (including renewals for time limited licences), will be determined under the new regulations and will be issued as an environmental permit. A change to a licence (permit) will only happen if a licence is varied.
What do you need to do?
Currently you do not need to do anything. We will be carrying out a formal consultation in 2020 where you will be able to provide any feedback on our proposed approach. The consultation will be published online and you can share your views on the proposals via the consultation. We are already actively engaging with our external advisory group to ensure all aspects of water resources licensing are captured. Licence holders and other stakeholders will be contacted to inform them of the consultation and how to take part. They will also be contacted when any changes are coming in.