Overview
The village of Lowdham is currently the focus of two Environment Agency projects. One falls under recovery work from recent flood events and involves reinstatement of a flood embankment to its designed level. The other is referred to as a capital project and is focussed on flood storage options upstream of Lowdham.
For general information, please see our Lowdham Flood Risk Information and FAQs.
Background
Lowdham is a village to the East of Nottingham with a population of over 3000 people. Through the centre of Lowdham runs the Environment Agency managed section of the Cocker Beck that flows as a tributary of the much larger River Trent. The village has a history of flooding as a result of extreme rainfall events falling over the large catchment area of 12km2. Pinch points in the channel through the village can constrict the flow of water during high river levels which causes the river to spill out of bank causing fluvial (river) flooding of local infrastructure and surrounding properties. This fluvial flooding has previously combined with the surface water system being overwhelmed which adds to the amount of water in the system that increases flood risk.
The village green (football and cricket pitches) in the centre of the village are used as a flood storage area. This storage area that was constructed after a large flood event in 1999 can still be overwhelmed in extreme flood events. A brief summary of previous flood events in the village;
Feb 2020 – over 95 properties. Surface Water & Fluvial. Disruption to roads and transport links.
Nov 2019 – 12 properties flooded – Surface Water & Fluvial.
June 2019 – 2 properties flooded – Surface Water & Fluvial.
July 2013 – ~70 properties flooded – primarily Surface Water, some Fluvial.
Nov 2012 – Surface Water & Fluvial.
June 2007 – 150 properties flooded – largely fluvial
1999 – 300 properties affected – Fluvial. Disruption to roads and transport links.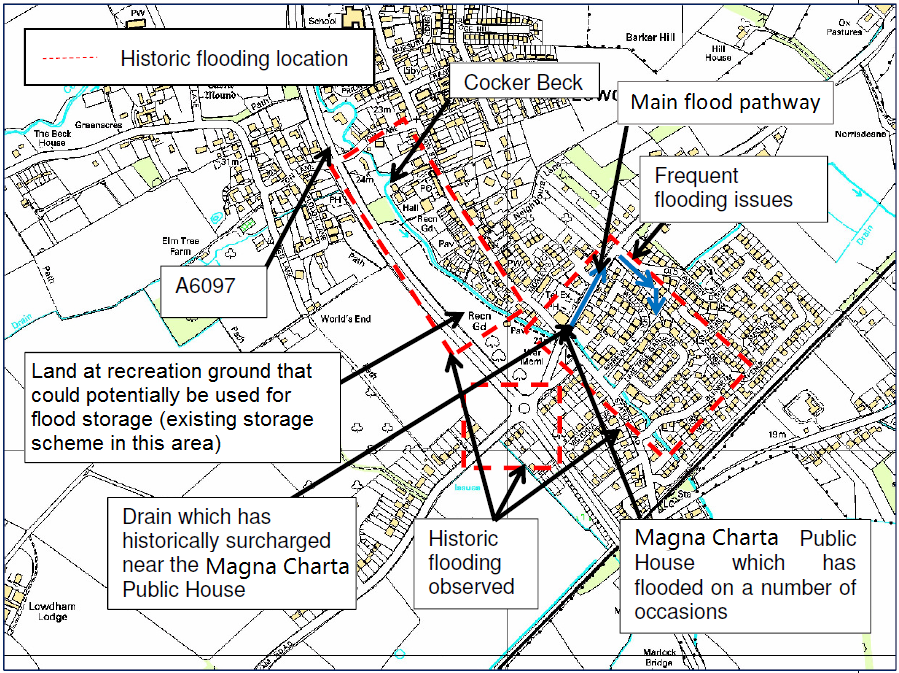 Lowdham areas of interest (Aecom, 2016)
You can find details of our current maintenance programme by searching for Lowdham on our Asset Management website or downloading the Cocker Beck maintenance schedule.
Recovery work - Embankment
The focus of our work on the embankment is to reduce the likelihood of flooding by diverting flood water to the storage area (playing field). We will reinstate the embankment to its designed flood protection level. Our work on the identified 200m section of embankment follows recent Cocker Beck flooding incidents

This recovery work will complement the proposed capital scheme to create additional upstream storage.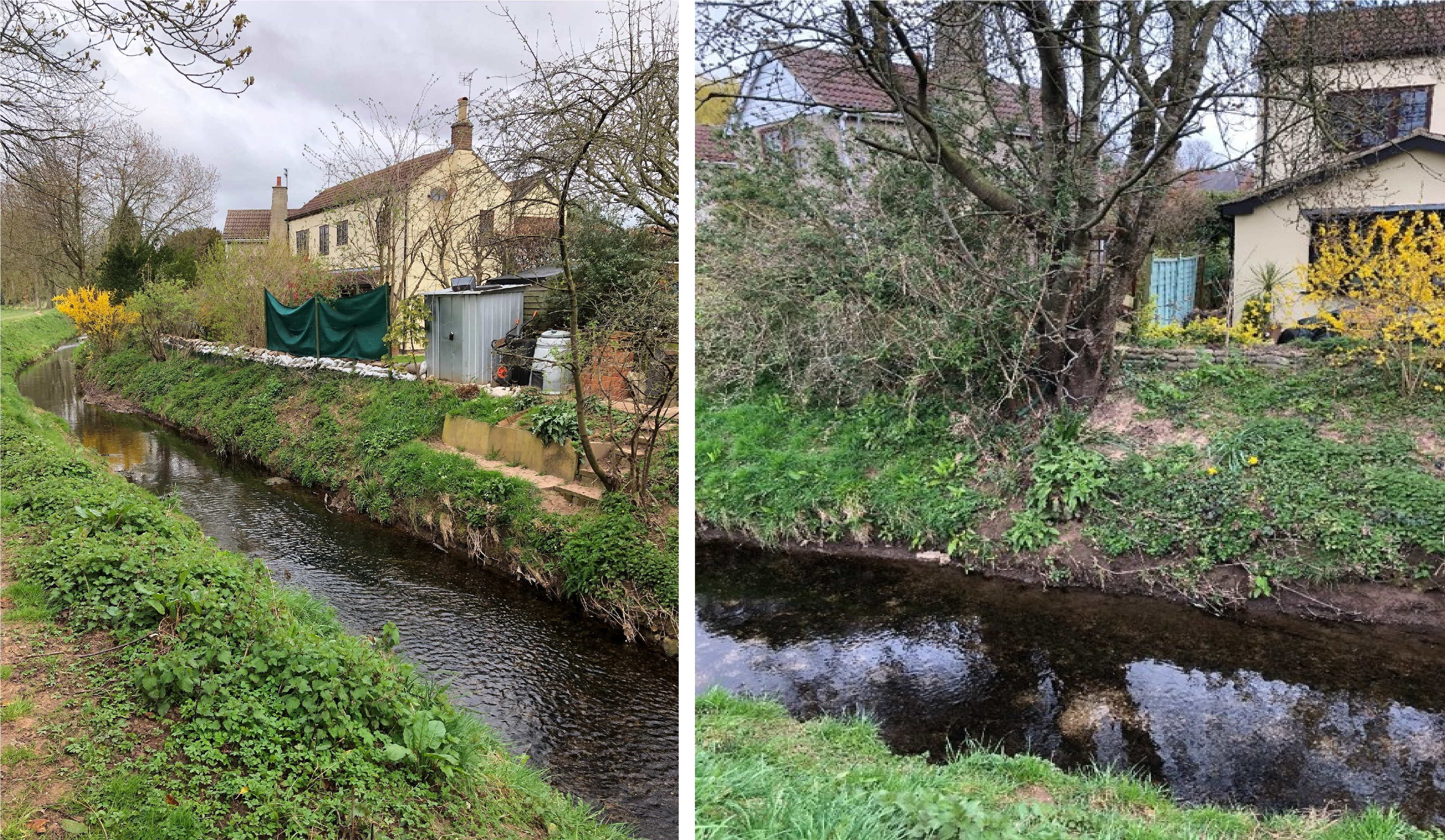 Images of the embankment that needs reinstating to the designed flood protection level.
Work to date
We have carried out an options appraisal, with a flood wall built from modular units being the preferred option due to appearance and cost, which has been initially verified by designers. The alternative option would be to use sheet piling, if for any reason we are unable to use a modular flood wall.
Ground investigations have been completed through our supply chain and we have e
arly contractor involvement in the work.
We have also held initial discussions with the planning department at Newark and Sherwood District Council.
Option 1 - Flood wall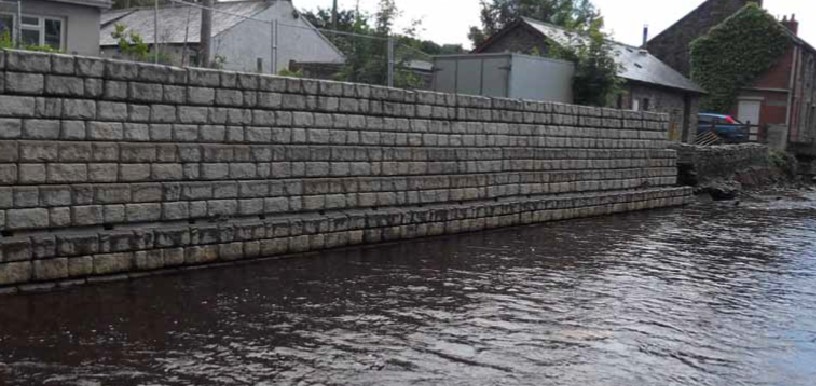 Example of a flood wall from another scheme.
Option 2 - Steel piling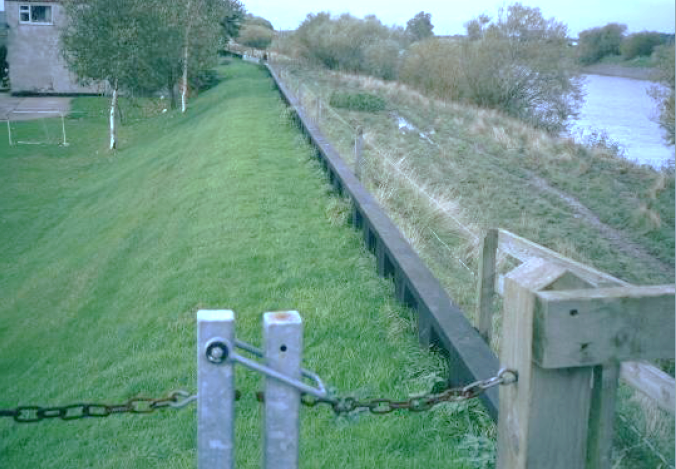 Example of sheet piling from another scheme.
Programme
The approximate dates below are tentative given the changing situation with Coronavirus, in addition to the usual
design development variations.
•
Ecology surveys - must be completed due to the new season, however previous surveys were done in S
eptember 2020.
•
Ground
investigations - completed July 2020
•
Design of main works - February/March 2021
•
Any relevant planning consent and permits - ongoing
•
Start work on site - May 2021
Contact details
For further information on the recovery work to the embankment, please contact Eric Burgess on eric.burgess@environment-agency.gov.uk
Capital project - Upstream storage
The Environment Agency is developing the Lowdham Flood Alleviation Scheme (FAS) with the aim of protecting up to 200 residential properties as well as several local businesses.
The preferred option to help reduce Lowdham's flood risk is to store water in a reservoir upstream of the village; data the Environment Agency has gathered shows this option has great potential. The reservoir will remain dry for the majority of the year, only filling with water when a high rainfall event occurs.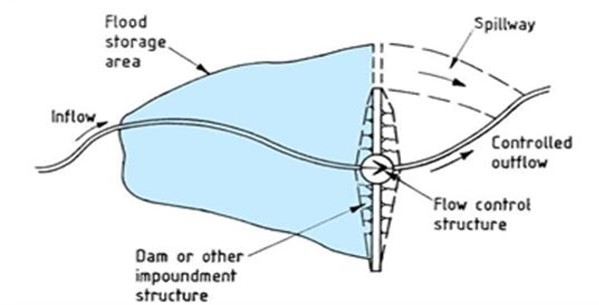 Example of a flood storage area
There are multiple factors that need to be considered, including landowner consent, storage locations and ground conditions, to name a few.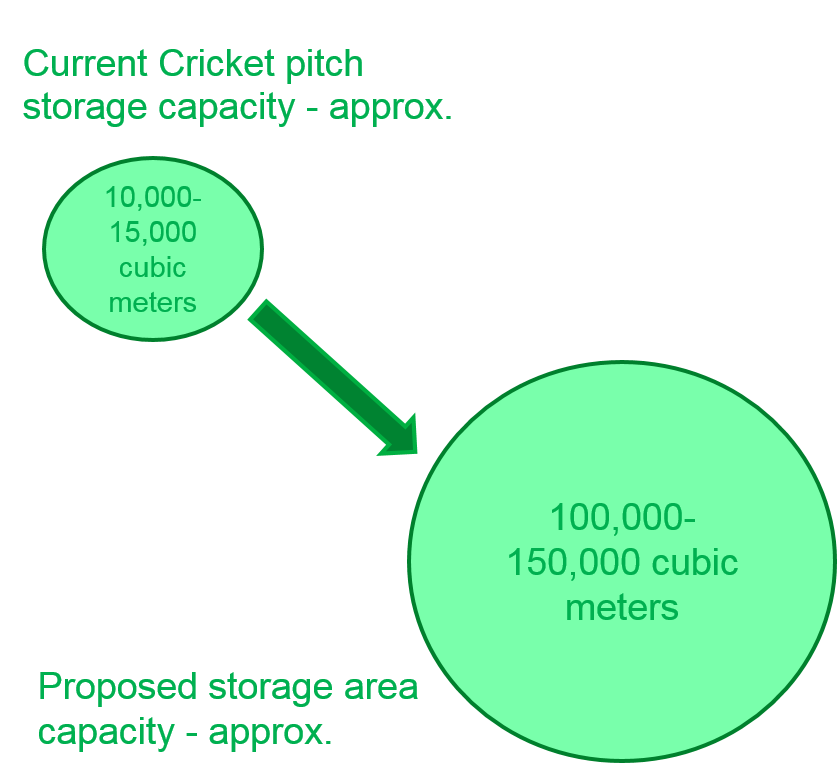 Comparison of current storage capacity with proposed storage capacity.
We have been working closely with Severn Trent Water to ensure our scheme compliments the work they have done to enlarge the capacity of the surface water drainage system. We have conducted our own investigations to establish if surface water issues will be managed sufficently once the upstream storage solution is in place. We have found that by keeping the Cocker Beck within the channel through the centre of Lowdham, the new Severn Trent Water system will cope with the surface water issues it is designed to withstand, which is good news for the scheme as the interaction between surface water and the Cocker Back has been an issue in the past.
Benefits of this option:
The new storage areas combined will provide approximately 10 times the capacity of the current cricket pitch

The storage areas will provide a high standard of protection to the whole village

The solution is cost effective

There is potential for environmental enhancement

The scheme will compliment Natural Flood Management

The option will minimise construction needed in the village

It can be designed to have minimal operational requirements
Partners we are working with:
Nottinghamshire County Council

Newark and Sherwood District Council

Trent Regional Flood and Coastal Committee

Gedling Borough Council

Trent Rivers Trust

Severn Trent Water

Landowners

Parish Council and Flood Action Group (FLAG)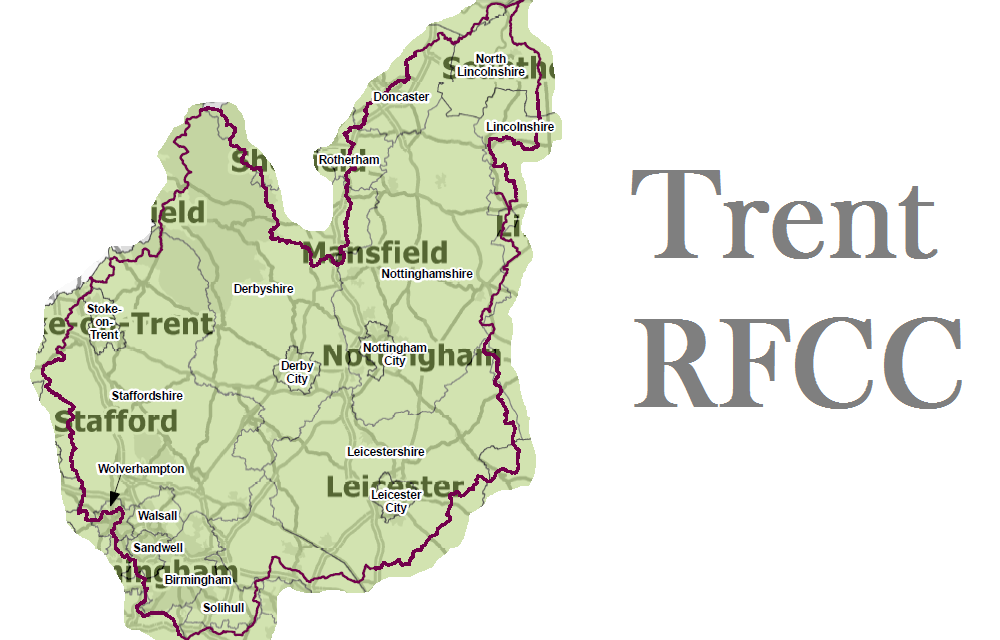 Natural Flood Management
In addition to the development of a flood alleviation scheme, the Environment Agency has been working in partnership with the Trent Rivers Trust and Nottinghamshire County Council to develop a Natural Flood Management (NFM) scheme. The scheme is in the upper Cocker Beck catchment and is part of a £15m Defra funded pilot project to test some of the techniques of NFM.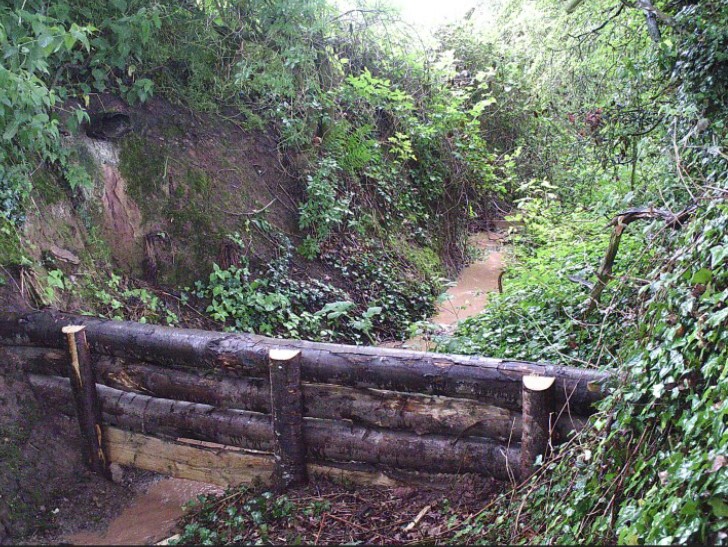 One of the Natural Flood Management interventions currently installed upstream of Lowdham
Early evidence in the Cocker Back catchment has been positive and there are indications to show that the NFM works carried out have made an effective contribution to holding back water during heavy rainfall events.
This is an ongoing project which will be monitored until March 2021, providing the Environment Agency with important data to inform how work can be expanded over the wider catchment.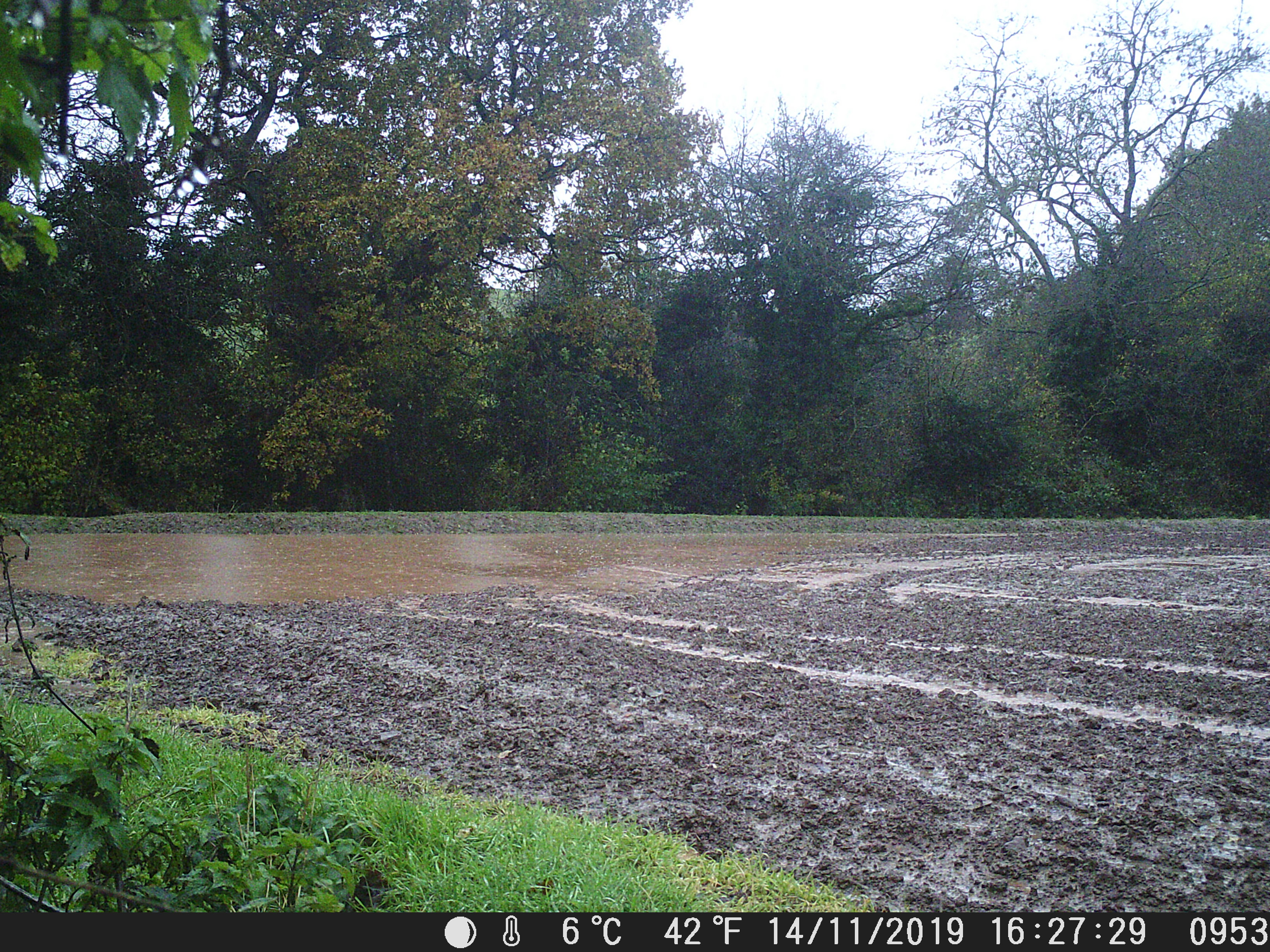 Another Natural Flood Management method
Feedback
We would appreciate if you could spare a few minutes to complete a short survey about this information page.