Overview
Hoveton Great Broad - Minded to Consultation – 3 Temporary Fish Barriers, EPR/RB3557SW: Flood risk activity permit
From 10th March 2021 to 6th April 2021 we invited you to comment on an application from Natural England for a Flood Risk Activity Permit, for the installation of temporary fish barriers at Hoveton Great Broad.
We reviewed all application documents, all consultation responses from external parties and internal consultees, and have now reached a 'minded to' decision in respect of the application.
We are now seeking your comments on our proposed decision to grant a flood risk activity permit to Natural England for temporary fish barriers at the entrances between Hoveton Great Broad and the Main River Bure.
This is the opportunity to view and provide any final comments on the draft permit and draft decision document including both internal and external consultation responses and how we have considered them.
This application is for a permit to install three fish barriers to isolate Hoveton Great Broad from the Main River Bure. These fish barriers are to be installed at the following three entrances to Hoveton Great Broad:  Foxborrow dyke (TG32071581), the Dam (TG32421614) and Hoveton marshes (TG31891651). The fish barriers will be in place for up to 10 years.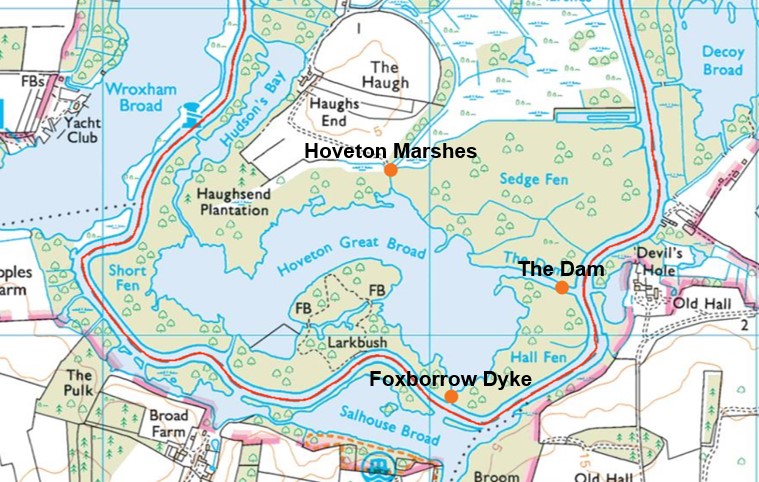 ©Crown Copyright. All rights reserved. Environment Agency, 100024198, 2021
How to respond to the minded to consultation
Please click on the 'Give us your views' link below to answer the 'minded to' consultation questions.
However, if you prefer, you can submit your response by email or post by downloading the response form found in 'related documents' below and sending it to:
Environment Agency
FAO - PSO Norfolk & Suffolk
Iceni House
Cobham Road
Ipswich
IP3 9JD
Or email: Enquiries_EastAnglia@environment-agency.gov.uk
All relevant application documents, including our draft decision document, draft permit and all internal responses are available to view in the 'related documents' field at the bottom of this page.
Where are the external responses to the consultation held earlier this year?
In the 'related documents' you will find the link to the consultation held earlier this year. Via that link is where you will find all external responses published.

Public Register for Flood Risk Activity Permits
Citizens Space is the Environment Agency's public consultation portal and is not our Flood Risk Activity Permit public register. The Environment Agency's Flood Risk Activity Permit public register is not web-based.
The documents which are on the public register which are not available on the Citizens Space portal are correspondence between the applicant Natural England and the Environment Agency in administering and receipt of the application.
To gain access to our public register records for this permit application you can either contact us via email on Enquiries_EastAnglia@environment-agency.gov.uk or under normal circumstances they could also be viewed on the public register at The Environment Agency, Iceni House, Cobham Road, Ipswich, IP3 9JD between 9.30am and 4.30pm, Monday to Friday. Unfortunately we cannot currently allow the public into our offices to view the public register, due to our COVID-19 risk assessments. Electronic copies of the documents on the public register can be emailed. If you don't have access to email or the internet please call us on 0203 0255472 to arrange for hard copies of the public register records to be provided, free of charge.
When contacting us in relation to the public register documents for this permit application, please state the permit reference (EPR/RB3557SW). We will aim to respond to your request within 10 working days as per our customer charter which can be found here: https://www.gov.uk/government/publications/environment-agency-customer-service-commitment--2
Previous Permit Application
Please note that there was a public consultation for the previous permit application that ran from 20th January 2020 to 17th February 2020 (EPR/NB3494JP) for the proposed works that are the subject of this application. That previous permit was quashed. The documents relating to that previous application may be accessed via the existing consultation link and found at the bottom of the related documents section of that consultation page. Here you will be able to view our previous permitting decision documents as well as both internal and external consultation responses on that original application.
What happens next
Thank you for visiting our consultation page. This consultation is now closed. We are in the process of considering all received responses and will use these in our final determination process.
If you have left your email address we will notify you that our decision has been confirmed and published. We will publish a consultation summary report within 12 weeks of the closing date.
If you have any questions in the meantime, please feel free to get in touch via:
By Email: Enquiries_EastAnglia@environment-agency.gov.uk 
By Telephone: 02084748663
By Post: 
PSO Norfolk & Suffolk
Environment Agency
Dragonfly House
2 Gilders Way
Norwich
NR3 1UB.