Overview
Welcome
This is the Environment Agency's information page dedicated to essential construction work at Castle Mill Sluice, on the River Great Ouse, Bedford.
The Environment Agency is carrying out the decommissioning of the mechanical and electrical components of Castle Mill Sluice and replacing the three gates with a fixed weir structure. In addition, we will remove the operators bridge, this will provide aesthetic benefits and once works are complete, the bridge will be surplus to requirements.
Where is this work happening?
We will be working on the Castle Mill Sluice structure and associated areas on the northern bank. (In the aerial photograph below the northern bank is to the left-hand side.)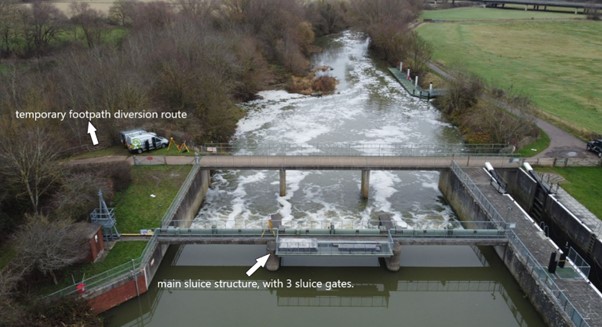 Associated access and infrastructure works include.
The existing entrance to the Anglian Water site, off of the St Neots Road, A4280.

Establishment of an access track and widening of the existing track

Footpath diversion route

Crane and works area on the northern bank.

Site security and welfare 
When are we doing the work?
The pre works to the access and infrastructure for the main works will start from June 2022.
The main works will start from August 2022 with an estimated completion by Winter 2023.
There is a planned pause in the works between October 2022 to April 2023 when river flows are expected to be at their highest.
Work hours will usually be Mondays to Saturday 07:00 – 19:00. There may be some need for weekend working, but this will not be regular.
How will this work be of benefit?
The works will extend the life of the existing weir structure which provides the primary function of maintaining navigation water levels.
The existing three tilting gates have reached the end of their design life and could present an increased risk of failure. This project looks to address these issues.
Bridleway and footpath information
There is a short bridleway diversion in place for the safety of users. This will separate footpath users and site traffic.
The diversion is suitable for foot passage only. The following applies in agreement with Bedford Council:
Cycles – must dismount and walk bikes along the diversion route.

Horse riders – The bridleway is closed to horses and riders for the period when works are taking place.

When works are not in place the original bridle way will be re-instated to allow for regular use where possible.
Navigation and the Lock
There are no planned works to the Lock and the Lock will remain open with access from both sides.
There may be temporary 30 minute closures at set intervals to protect river users when the crane is in operation. Any longer closures will be subject to permission and consultation.