Overview
Page created 18 September 2020. Last updated 7 January 2021.

Flooding in Tenbury Wells
Tenbury Wells in Worcestershire is situated on the banks of the River Teme. A tributary, the Kyre Brook, also joins the River Teme in the town. Tenbury has suffered from extensive flooding to large parts of the town on a number of occasions, most recently in November 2019 and in February 2020, when levels were just below those which occurred in 2007. The community is at risk of flooding from both the River Teme and the Kyre Brook.
These flooding events impact on people's homes, businesses and the local economy. Transport links and commuter routes through the town are also affected when flooding occurs. Both the River Teme and the Kyre Brook have a long history of flooding.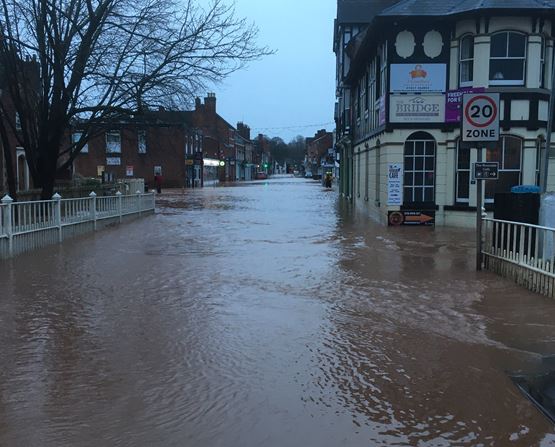 Background to the flood risk management scheme
Environment Agency engineers have carried out technical assessments in the past to explore whether a public-funded flood risk management scheme was technically feasible, environmentally acceptable and economically viable. Whilst a scheme has been potentially viable in the past, progressing it has not been possible due to other national flood risk priorities and the amount of public money available.
In 2019 we updated our assessment for a Tenbury Wells Flood Risk Management Scheme (FRMS), reconsidering a number of options and exploring new ones. The preferred option (proposed scheme) is explained below. Unfortunately at that time, a large amount of local money was needed to access national funding before a scheme could be progressed.
After the flooding in February 2020, the Government committed an additional £4.9 million of public money to allow a flood scheme for Tenbury to be progressed.
The Tenbury Wells Flood Risk Management Scheme is one of two water management schemes currently being developed through funding secured by the River Severn Partnership (RSP).
The RSP was chosen by Ministers as one of 4 pilots, and allocated funding to assess a range of climate change scenarios and identify the decisions that need to be taken now, and those that may need to be taken in the future, to manage the risk of flooding and coastal change along the length of the River Severn. For further information on the River Severn Partnership, please see the website http://www.riversevernpartnership.org.uk/
Proposed scheme details
The proposed Tenbury Wells FRMS will involve the construction of embankments and flood walls through the town. It will include some improvement to existing structures and flood gates are also being considered in specific locations. This map is indicative of what could be achieved.
The alignment shown on the map is approximate. The precise location and height of the bunds and walls is subject to detailed design and consultation with key stakeholders and the community.
We are reviewing some specific areas of the scheme, in particular, for example at St. Marys Church, with a view to incorporating additional properties or assets if possible.
The FRMS would be designed to provide a 1 in 100 year Standard of Protection (SoP) (equivalent to a 1% chance of flooding at any given year), with an additional allowance for climate change.
At this stage in the design process, we predict that the scheme, when complete, will reduce risk of flooding to approximately 120 residential and 145 commercial properties.
The Tenbury Wells FRMS will be designed so as not to increase flood risk elsewhere.
Timescales – what we are doing and when
We are at the start of this process and many things still need to be considered for this scheme.
We have been working with our partners and key stakeholders to progress the design of the scheme. We have been focusing on the following areas:
Design and engineering of the proposed flood defences.

Desk top studies and specifications have been produced for critical site surveys including ground investigation, topographical surveys and structural surveys.

Preparation for environmental and ecological surveys, which are planned to start in Spring 2021.
The key next steps for the project are as follows;
Sharing further information with the community

Ground investigation and site survey work, due to start in early 2021

Ecological and environmental surveys planned for Spring 2021

Ongoing design of the scheme, including more detailed engineering and landscaping designs
Our aim is to start construction by early 2022.
Sharing information with you
Over the next few months we want to make sure that the community is engaged with the project and kept informed of progress. Due to the current Coronavirus (COVID-19) restrictions, we will provide you with further information about the scheme in the following ways:
Launch of 'virtual' engagement event in December 2020

Information displayed around Tenbury

Facilitated phone calls in January 2021

Regular newsletters and our online information page
Launch of virtual engagement event
We were excited to launch our virtual engagement room, providing more information about the Tenbury Wells FRMS.
Due to the current Coronavirus (COVID-19) restrictions, information about the scheme has been displayed on notice boards in a virtual online room. It has been developed to provide a similar experience to a face to face event; you can find out more information on the scheme, hear from our Project Sponsor and provide feedback.
Please visit the engagement event (virtual online room) by clicking on the link below or by typing this into your web browser:
https://virtualengage.arup.com/Tenbury-FRMS
The engagement event will run from the 7 December 2020 until the 31 January 2021.
We invite you to explore the virtual room and find out more about the history, options reviewed and current proposals for the scheme. There is also an opportunity to provide feedback through the virtual room. We would love to know how you find the 'virtual' experience.
Facilitated phone calls
We understand that not everyone has access to the internet and will be able to use this room. This is why we are also holding 2 facilitated phone calls in January 2021. The aim of these calls is to provide the same information as the virtual engagement room, for those who cannot access the website materials. There will also be an opportunity to ask questions during these calls. Please note, you only need to join one of these calls as we will be sharing the same information. The calls will be approximately 1 hour long and the details of how to join them are below:
Call Number 1:
26 January 2021 at 11:00

Please join the call 5 minutes before the scheduled start time as it will start promptly

UK Local UK-Wide: +44 (0) 33 0551 0202

UK Toll Free: 0808 109 0701

1557694#
Call Number 2:
28 January 2021 at 18:00

Please join the call 5 minutes before the scheduled start time as it will start promptly

UK Local UK-Wide: +44 (0) 33 0551 0202

UK Toll Free: 0808 109 0701

5740455#
Ground investigation and survey works
In early 2021, there will be ground investigations, structural surveys and topographical surveys (to check the levels of the site) ongoing along the proposed footprint of the flood defence. The results of these investigations are important and will help us to collect geological, ground water and archaeological information from the proposed flood defence route. The ground investigation results will be used to inform the design of the walls and embankments.
We will provide further details of the proposed locations and timings of these works over the coming months.
We will have an increased presence around the town while we prepare and carry out onsite investigations. During this period of social distancing due to Coronavirus (COVID-19), to help keep everyone safe we ask that you:
Avoid/minimise your contact with our site staff and contractors as much as possible. Please follow the 2 metre distancing guidance.

If you have concerns or queries relating to the scheme, please do not approach our staff and contractors on site. We ask instead that you get in touch through the email address and telephone number provided in the green box at the bottom of this page.

Our frequently asked questions document (mentioned below) may also answer some of your queries about the scheme.
Signing up to our newsletter
Keeping you up to date on our progress with this scheme is very important to us. We will continue to provide updates through this information page and via our newsletter. If you would like to receive our newsletter, please email your contact details to Tenbury.FRMS@environment-agency.gov.uk or call our National Customer Contact Centre during office hours on 03708 506 506 and we will add you to our mailing list.
PLEASE NOTE- By providing us with your contact details you consent to the Environment Agency using the details provided to contact you with updates about the Tenbury Wells Flood Risk Management Scheme. We will keep your contact details until the project is closed or until you withdraw your consent, whichever is sooner. You can withdraw your consent to receive these updates at any time by emailing us at Tenbury.FRMS@environment-agency.gov.uk or calling 03708 506 506. We will not share your details with any other third party without your explicit consent, unless we are required to by law.
The Environment Agency is the data controller for the personal data you provide. For further information on how we deal with your personal data please see our Personal Information Charter on GOV.UK (search 'Environment Agency personal information charter') or contact our Data Protection team. Address: Data Protection team, Environment Agency, Horizon House, Deanery Road, Bristol, BS1 5AH. Email: dataprotection@environment-agency.gov.uk
You can follow us on Twitter too at @EnvAgencyMids as we will be tweeting about the work we are doing on this scheme.
Local considerations
Tenbury Wells has both environmental and historic features that we will take into consideration during this scheme. These include a number of listed buildings within the town and the River Teme being a Site of Special Scientific Interest (SSSI). We have already started consulting with Historic England and Natural England over the scheme and will continue to work with them to safeguard or enhance these assets as much as possible.
Frequently Asked Questions (FAQs)
We have produced an FAQ document for this scheme, which you can read here. This document will be added to and updated as the scheme progresses, so please continue to refer to this document in the first instance if you have any questions.
Remaining flood aware
Please make sure you remain flood aware and ensure you are signed up to our flood warning service. Visit www.gov.uk/sign-up-for-flood-warnings or call 0345 988 1188 to sign up to get Flood Alerts and Warnings by phone, email and/or text message. This is a free service. Alternatively contact our Flood Resilience Engagement Advisors at Floodresilience@environment-agency.gov.uk
Know what to do when you receive a flood warning - use the 3 point plan.

Thank you for visiting our information page. Please keep visiting this page as we will be updating it regularly. This page will be open to the public until the end of construction in 2022.