Overview
Page created 18 September 2020. Last updated 12 May 2023.

Flooding in Tenbury Wells
Tenbury Wells in Worcestershire is situated on the banks of the River Teme. A tributary, the Kyre Brook, also joins the River Teme in the town. Tenbury has suffered from extensive flooding to large parts of the town on several occasions, most recently in November 2019 and in February 2020, when levels were just below those which occurred in 2007. The community is at risk of flooding from both the River Teme and the Kyre Brook.
These flooding events impact on people's homes, businesses and the local economy. Transport links and commuter routes through the town are also affected when flooding occurs. Both the River Teme and the Kyre Brook have a long history of flooding.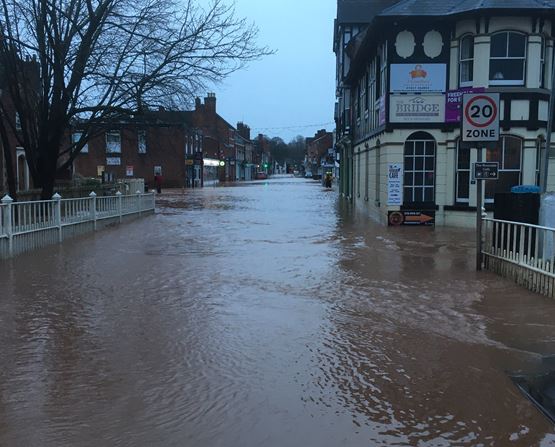 Background to the flood risk management scheme
Environment Agency engineers have carried out technical assessments in the past to explore whether a public-funded flood risk management scheme was technically feasible, environmentally acceptable and economically viable. Whilst a scheme has been potentially viable in the past, progressing it has not been possible due to other national flood risk priorities and the amount of public money available.  
In 2019 we updated our assessment for a Tenbury Wells Flood Risk Management Scheme (FRMS), reconsidering a number of options and exploring new ones. The preferred option (proposed scheme) is explained below. Unfortunately at that time, a large amount of local money was needed to access national funding before a scheme could be progressed.
After the flooding in February 2020, the Government committed an additional £4.9 million of public money to allow a flood scheme for Tenbury to be progressed.
The Tenbury Wells FRMS is one of two water management schemes currently being developed through funding secured by the River Severn Partnership (RSP). 
The RSP was chosen by Ministers as one of 4 pilots, and allocated funding to assess a range of climate change scenarios and identify the decisions that need to be taken now, and those that may need to be taken in the future, to manage the risk of flooding and coastal change along the length of the River Severn. For further information on the River Severn Partnership, please see the website  http://www.riversevernpartnership.org.uk/
Proposed scheme details
The proposed Tenbury Wells FRMS will involve the construction of raised ground and flood walls through the town, improvements to existing structures and consideration is being given to flood gates in specific locations.
This map is indicative of what could be achieved. The alignment shown on the map is approximate. The precise location and height of the walls is subject to detailed design and consultation with key stakeholders and the community.
The FRMS would be designed to provide a 1 in 100 year Standard of Protection (SoP) (equivalent to a 1% chance of flooding at any given year), with an additional allowance for climate change.  
At this stage in the design process, we predict that when the scheme is complete it will reduce risk of flooding to approximately 120 residential and 145 commercial properties.
The Tenbury Wells FRMS will be designed so as not to increase flood risk elsewhere.
Timescales – what we are doing and when
We have been working with our partners and key stakeholders to progress the design of the scheme. We are making good progress and our intention is to start construction in 2024, but it remains a complex and challenging scheme. We have been focusing on the following areas:
Ongoing design of the scheme, including landscape and environmental considerations and more detailed engineering options.

The design team are working to address specific complexities to meet the challenges of the scheme.

Ongoing groundwater monitoring across the town so that we can better understand how the groundwater behaves.

Ongoing works with our partners to review opportunities to improve the drainage on Market Street.

Site surveys, including ground investigation, topographical surveys and utilities surveys have been undertaken.

We have produced an updated hydraulic model of the town, which allows us to better understand how the water behaves during a flood event.
Previous site surveys identified a number of underground services, including electricity cables, sewers and water mains. The location of these services have informed the current design options, with diversion of some of these services likely as part of the scheme. We will let you know in advance when this work is expected to start on site.
Understanding the utilities information and ground conditions across the site allows us to produce options that are technically viable and will be able to resist the force of the flood waters around the site.
Current project activities
The properties already identified as benefitting from Property Flood Resilience (PFR) measures have all now been surveyed. The next stage of the PFR element of the scheme will be to assess what measures may be suitable for each property in partnership with those homeowners.
Funding gap
The Flood Risk Management Scheme in Tenbury Wells remains a complex design. It must consider the significant context of the area such as heritage, history, the environment and working within the church graveyard.
There have been more than expected engineering constraints, unforeseen changes in design, and industry wide increases in material costs. This has led to cost increases and programme delays of several months.
The project team continue to work hard to meet any funding gaps. All partners, including the Environment Agency, Worcestershire County Council and Malvern Hills District Council are working very hard to bridge this gap. We have identified, and applied for, additional sources of funding which could satisfy this demand.
Next steps
Future public engagement
We want to keep working closely with the community and key stakeholders and are keen to engage with you throughout the project. We will share more detailed information about the scheme at the following key stages;
Once design and landscaping options have been further developed.

Prior to submission of the planning application.

Prior to starting construction on site.
As before, we will provide regular updates about the scheme through our newsletters and online information page. Details of how to sign up to our newsletter are below.
Signing up to our newsletter
Keeping you up to date on our progress with this scheme is very important to us. We will continue to provide updates through this information page and via our newsletter. If you would like to receive our newsletter, please email your contact details to Tenbury.FRMS@environment-agency.gov.uk or call our National Customer Contact Centre during office hours on 03708 506 506 and we will add you to our mailing list.
PLEASE NOTE- By providing us with your contact details you consent to the Environment Agency using the details provided to contact you with updates about the Tenbury Wells Flood Risk Management Scheme. We will keep your contact details until the project is closed or until you withdraw your consent, whichever is sooner. You can withdraw your consent to receive these updates at any time by emailing us at Tenbury.FRMS@environment-agency.gov.uk or calling 03708 506 506. We will not share your details with any other third party without your explicit consent, unless we are required to by law.
The Environment Agency is the data controller for the personal data you provide. For further information on how we deal with your personal data please see our Personal Information Charter on GOV.UK (search 'Environment Agency personal information charter') or contact our Data Protection team.  Address: Data Protection team, Environment Agency, Horizon House, Deanery Road, Bristol, BS1 5AH. Email: dataprotection@environment-agency.gov.uk   
You can follow us on Twitter too at @EnvAgencyMids as we will be tweeting about the work we are doing on this scheme.
Local considerations
Tenbury Wells has both environmental and historic features that we will take into consideration during this scheme. These include a number of listed buildings within the town and the River Teme being a Site of Special Scientific Interest (SSSI). We are consulting with Historic England and Natural England over the scheme and will continue to work with them to safeguard or enhance these assets as much as possible.
Frequently Asked Questions (FAQs)
We have produced an FAQ document for this scheme, which you can read here. This document will be added to and updated as the scheme progresses, so please continue to refer to this document in the first instance if you have any questions.
Remaining flood aware
Please make sure you remain flood aware and ensure you are signed up to our flood warning service. Visit www.gov.uk/sign-up-for-flood-warnings or call 0345 988 1188 to sign up to get Flood Alerts and Warnings by phone, email and/or text message. This is a free service. Alternatively contact our Flood Resilience Engagement Advisors at Floodresilience@environment-agency.gov.uk
Know what to do when you receive a flood warning - use the 3 point plan.

Thank you for visiting our information page. Please keep visiting this page as we will be updating it regularly. This page will be open to the public until the end of construction.
If you have any feedback about this page, or use assistive technology (such as a screen reader) and need a version of any document in a more accessible format, please email Tenbury.FRMS@environment-agency.gov.uk or call our National Customer Contact Centre on 03708 506 506.
Please tell us what format you need. It will help us if you say what assistive technology you use.