Overview
Welcome to Park Wood information page.
We have created this page to provide easy access to information on the project. We will be updating this site as the project progresses, so please keep checking for what's new.
Introduction
The Environment Agency has an ambition to be a leader in our response to the climate emergency. We want to remain resilient, whilst optimising our use of resources, benefiting people and communities and delivering environmental net gain. Park Wood provides an opportunity for us to create a better place.
Park Wood is one of the largest areas of unfragmented woodland in the Hailsham area.
The entire woodland is designated ancient, semi-natural woodland and it has a long history of coppice management back to mediaeval times when iron smelting was an important local industry. It is designated as a Local Wildlife Site, important for its species richness including a number of bat species, hazel dormouse, amphibians, reptiles, birds and bryophytes (plants). The woodland is highly valued by the local community both as wildlife habitat and as a place for a wide range of quiet informal recreation activities. Park Wood is designated as an Asset of Community Value and is designated as open-access under the Countryside and Rights of Way Act.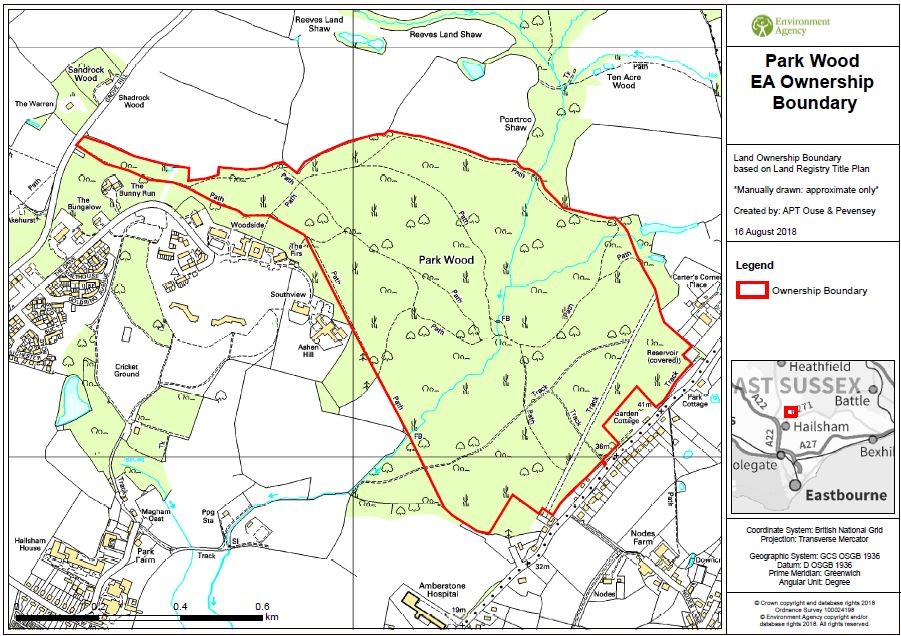 (Image above) Park Wood location map
Government guidance directs the public sector to only hold land necessary for its requirements. We have previously proposed selling Park Wood as it was originally considered surplus to our operational need. The woodland is not for sale as we have recognised the potential for its operational use of sustainable woodland produce in Natural Flood Management and fencing etc. The woodland is also helping us to meet our ambitious goal to reach Carbon Net Zero by 2030.
In recent years, Park Wood has been under-managed. Much of the coppice has been growing unmanaged and a significant proportion is diseased. The woodland canopy has closed over leading to a decline in the quality and extent of wildlife habitat.
Community groups have been raising awareness, undertaken survey work and commissioned an ancient woodland restoration plan. Building on this useful work we need to develop detailed information to allow us to justify and plan for our long term retention and sustainable management of the woodland.
We are currently producing a woodland management plan, undertaking ecological and historical surveys and planning some public access improvements.
The Environment Agency's vision is to restore the woodland and to conserve and enhance its biodiversity through a sustainable woodland management approach that works with natural processes. We will be guided by the Government's 25 year environment plan; this is driven by the need to leave the natural environment in a better state than we inherited it.
At the same time, community access will be improved and maintained with the aim of enhancing recreational opportunities for local people and providing training and educational opportunities both for the local community and Environment Agency staff. Some areas will be left undisturbed with minimal intervention in order to benefit those species that depend on old growth woodland.
Where to find out more information
Please check this page for project updates. You can also email us.
We are exploring opportunities for volunteers to get involved with ecological surveys heritage and archaeology work.
Get in touch
Thank you for visiting our information page.
Please contact:
park.wood@environment-agency.gov.uk
if:
you are not able to access any of the info on this page.
you have any comments or feedback on our information page.
you have any questions or concerns about the project.
If you would like to be added to our distribution list to receive updates on the project, please complete and return the form below.
For more information on how we will use and share your data, please see our Privacy Notice below and our Personal Information Charter