Overview
Welcome to the Lydd Ranges Sea Defences Scheme information page. Work on the scheme started in July to improve the existing sea defences to reduce the risk of coastal flooding. Once completed it will help better protect this environmentally important area, the Ministry of Defence (MoD) Lydd firing range and people, property and businesses within the Romney Marsh area from coastal flooding and erosion. To learn more about the scheme please watch our welcome video.
From this page you can view an introduction to the scheme and links to pages where you can find out more information about this project.
Contents
The Lydd Ranges Sea Defences Scheme is one of a number of schemes that together form the Folkestone to Cliff End Strategy (FoCES). FoCES sets out our plans to manage coastal flood and erosion risk to the low-lying Romney Marsh area over the next 100 years, taking into account the predicted impacts of climate change.
Much of Romney Marsh is below the present-day high tide level, resulting in 14,500 homes, 700 businesses and nationally important critical infrastructure being at risk of flooding if adequate sea defences are not provided.
Several flood defence schemes around Romney Marsh have already been completed at a value of £130 million.  These include new defences on the western bank of the tidal River Rother (2007), a 0.7km wide groyne field with shingle and a 1.8km long rock revetment at Broomhill Sands (2016) and a 3km groyne field, beach recharge and a rock revetment at Hythe Ranges (2021).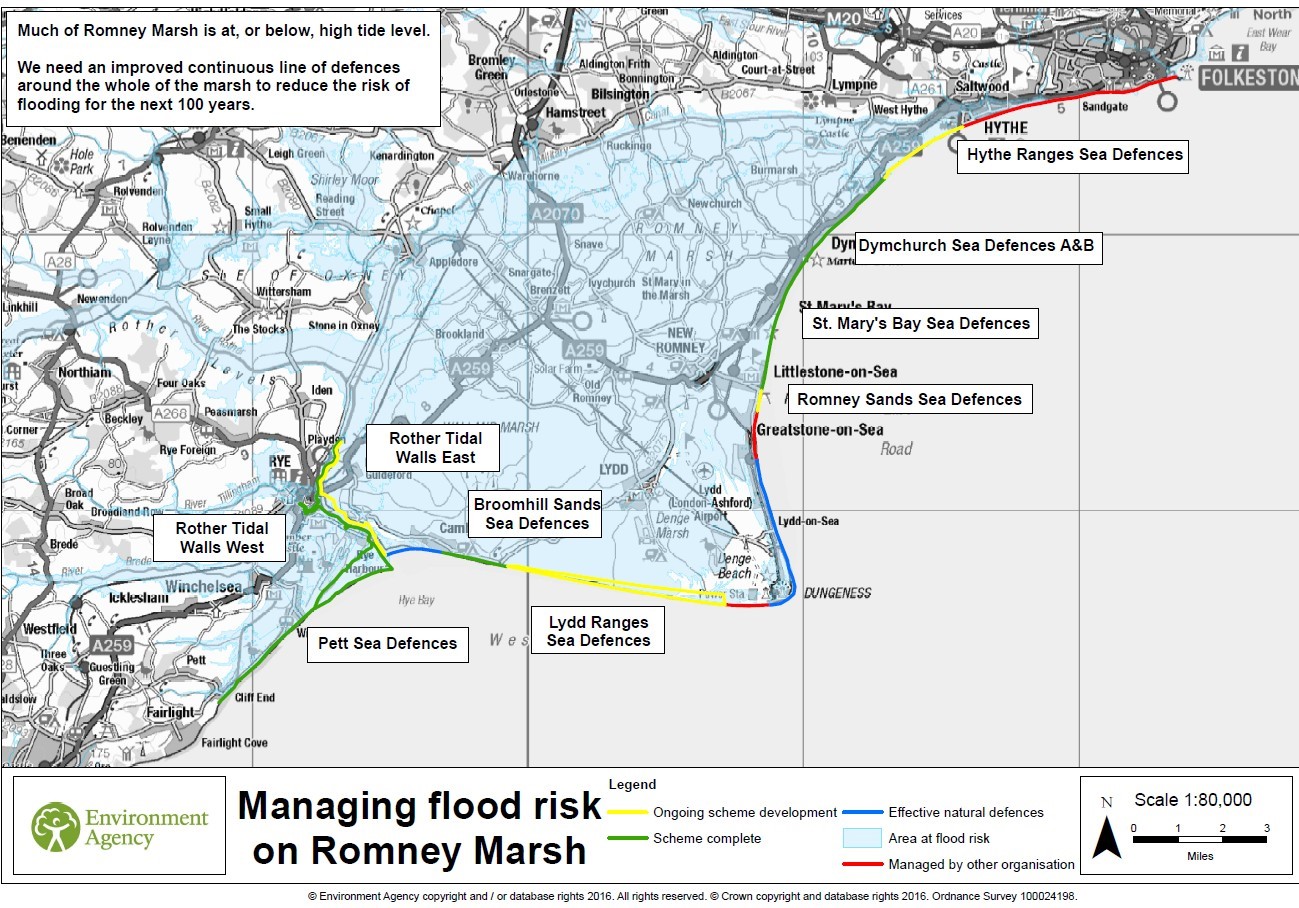 Work started at Lydd in July 2021 to improve the existing frontage to maintain a sea defence along the existing sea defence alignment. The beach is vulnerable to storm damage which has been experienced over recent winters. The frontage is owned and operated by the Ministry of Defence (MoD) and is a live firing range. It is one of the MoD's most important training sites in the country, contributing to national and international security.
Construction will take place over 3 years. The Environment Agency has appointed specialist marine contractors Van Oord (VO) to carry out Sea Defence works at Lydd Ranges which is scheduled to take place over the spring, summer and autumn months of 2021, 2022 and 2023.
For more information on the works that will be carried out please see our 'Upcoming works' page.