Overview
Last updated on 19 October 2022
What is happening and why?
We have created this information page to keep residents informed of current and future developments to the Stanstead Abbotts Drain. We will be updating this page as the project progresses.
In the winter 2013/14 the community of Stanstead Abbotts experienced extreme weather resulting in significant flooding from the Stanstead Abbotts Drain.  Several properties were flooded internally on 7th February 2014.
Flooding was exacerbated by large amounts of debris collecting on the trash screen located before the river passes underneath Roydon Road. This combination of high rainfall and large amounts of debris caused the river to overflow.  Surface water flooding was also exacerbated by this event.
Flood risk explained
The map below shows the project area. It displays the probability of flooding as a 1 in 20, 1 in 50 or 1 in 100-year event. For example, 1 in 20 floods have a 1 in 20 (5%) chance of occurring in any given year. Therefore, it is possible to have a 1 in 20-year event today and another one tomorrow. Households within the 1 in 20 outlines below are classified as at "very significant risk", those within 1 in 50 (2%) at "significant risk", and those within 1 in 100 (1%) at "moderate risk".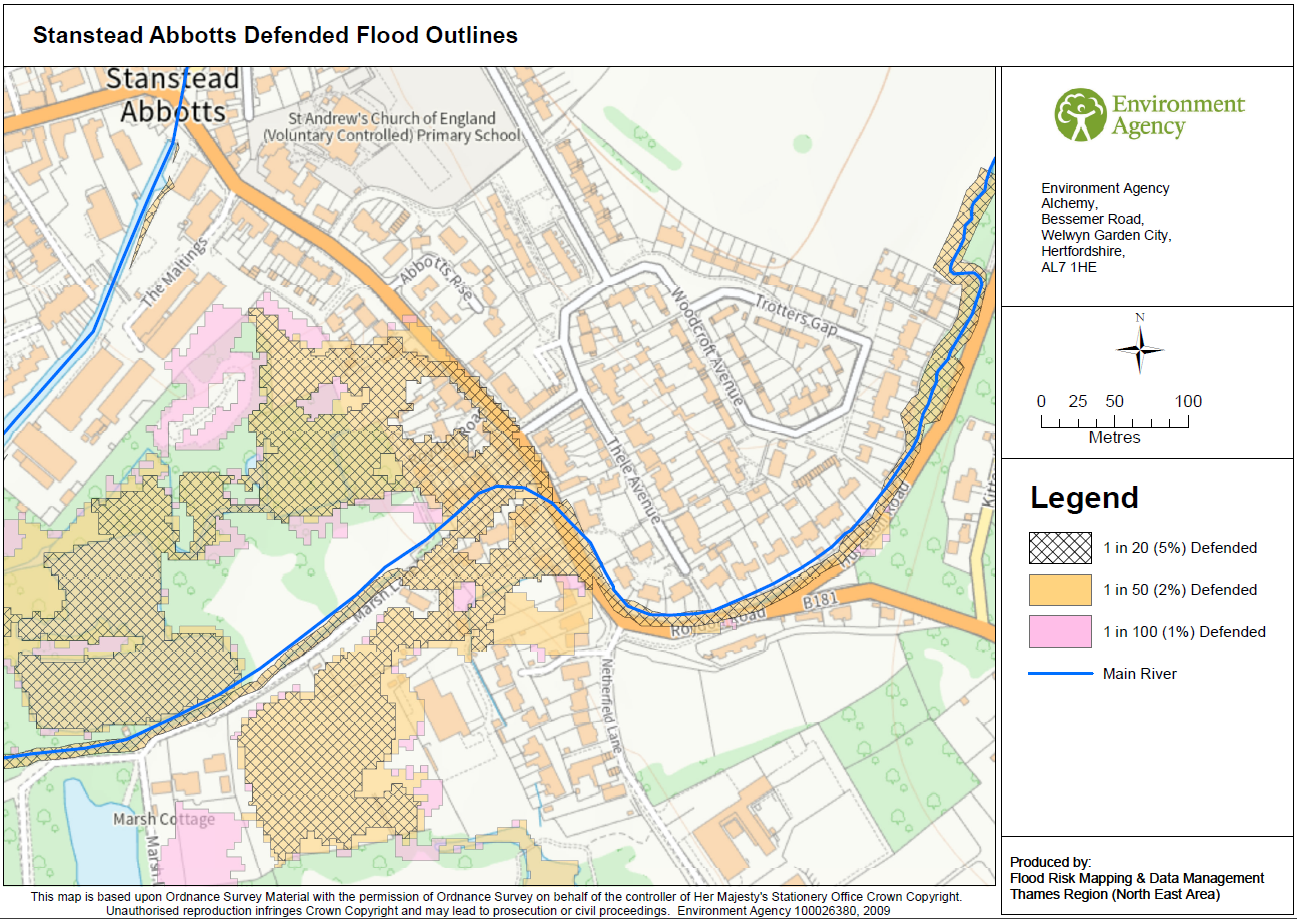 What we have done
In 2016 the Environment Agency replaced the trash screen on Stanstead Abbotts Drain at Roydon Road. The upgraded screen increases the surface area and reduces the chance of it becoming blocked in the future. This new screen is being monitored for performance to ensure it performs well under high river flows.
The Environment Agency has also been trialling debris traps further upstream of the Drain to reduce the amount flowing directly to the trash screen.
What we are doing
To compliment work we have recently done, the Environment Agency has identified residential properties that may be eligible for Property Flood Resilience (PFR).
We will be contacting residents to gauge their interest in PFR, as well as inviting them to share their knowledge and experience of flooding in the area. This is to inform our approach to better reflect residents' experiences and concerns.
What is Property Flood Resilience (PFR)?
PFR is a combination of different products installed in your property and designed to make it more resilient to flooding. PFR is tailored to each individual property following a survey. It should be noted that PFR is only available to those properties at significant and very significant flood risk.
Examples of PFR products include the following:
Automatic closing Airbricks which close to prevent water from entering the property.
Non-return valves fitted to pipes which exit the property, ensuring wastewater only flows in one direction and prevents backflow.
Flood doors or barriers to prevent water from entering.
Wall defence such as water sealants, re-pointing and rendering.
Pumps to remove water.
PFR products offer an alternative and more permanent means for homeowners to manage their flood risk, without having to rely on sandbags. PFR measures are cost-effective and easy to implement, providing peace of mind and helping to reduce the stress and damage that flooding causes.
These products are best combined with Flood Resilience measures so that you are warned and can set up your PFR products in good time.
Building your flood resilience
Being resilient reduces the stress around flooding as it means you are more in control, it also reduces the time spent out of the house because of flooding, reducing the stress and upheaval of being away from your home, work and community.
Take these steps to increase your flood resilience: