Overview
Introduction
The future is going to be challenging. Our climate is changing with increased risk of stormy weather and rainfall. Our population is growing. And society has high expectations. Between us we will face difficult decisions about how to manage the impact of this on flood and coastal erosion risk. We need a vision for the future - a strategy – to help us make those decisions in the right way.
We began a collaboration in 2017 with the very people who will be affected by flood risk or coastal erosion, to deliver the national flood and coastal erosion risk management (FCERM) strategy. Working with a small group of partners from across the flood family, we scoped the questions we need to ask of ourselves. The group synthesised this into four core questions, which formed the basis of the Working Groups.

You can find more information about these individual Working Groups, as well as key documents coming from their meetings by clicking on the links below. There is also information available about the FCERM Ambition for 2050 and the Evidence Pack which informed the Scoping phase, and continuing to be developed.

Communities & Businesses Working Group - What part do individuals, communities and businesses play? What should our expectations be of each other? How can we improve the way we work together?
How can you get involved?
People from across the flood and coastal community are coming together to discuss, develop and influence the strategy. We have widened our engagement out from our initial scoping group and now is the time to have your say! Whether you've been involved in the working groups or not, we've even provided a DIY engagement pack to help you gather views and feed them back to us.
We want to know: What is your ambition for flood and coastal erosion risk management in the future? What are your ideas for changes the flood family could make to help achieve that ambition? And what actions can you or others take to help deliver those ideas?

Schedule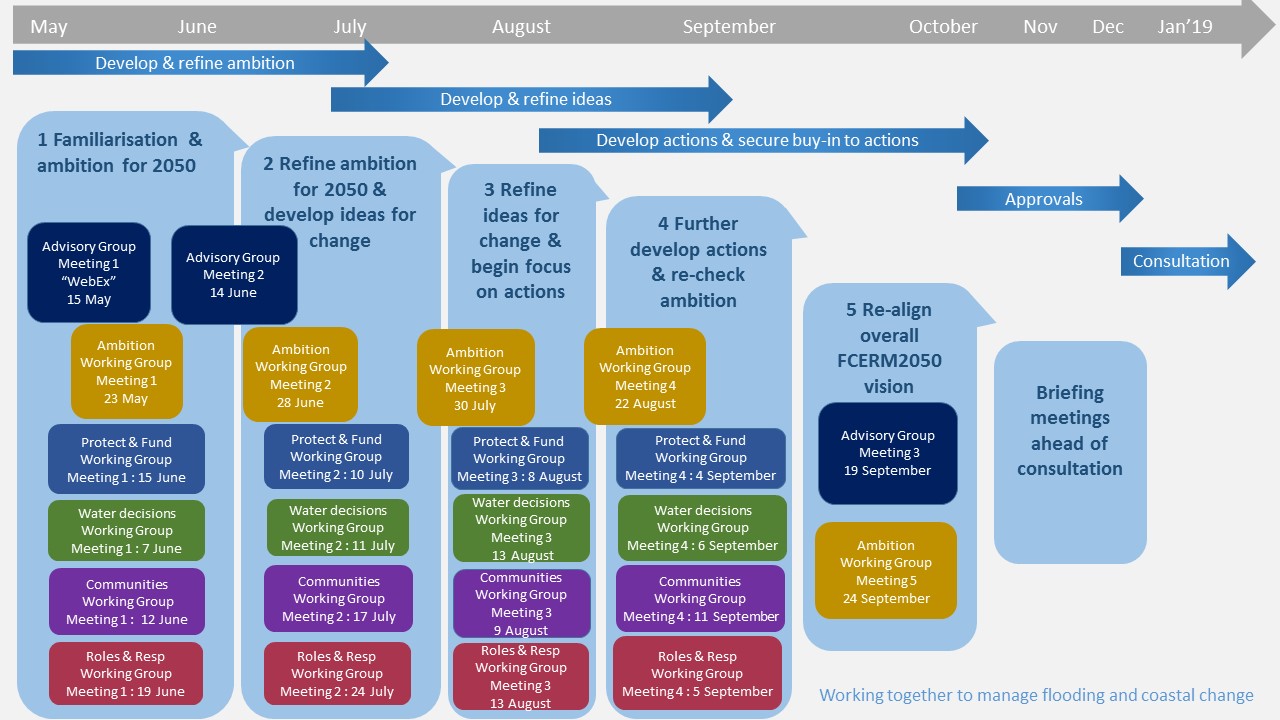 Strategic Environmental Assessment (SEA)
Part of the process of creating a new National FCERM Strategy includes a Strategic Environmental Assessment. This is a legal part of the process and we are keen to ensure that our new Strategy will work in the long term for both people and the environment.
The first part of this process is the Scoping Report, which identifies the potential ways in which our Strategy could impact on the environment. That report is now complete and available for you to read here.
If you have comments on the report, please follow the instructions on "How to Comment within the report".